Oldham Athletic
Written by Mark W
Monday, 18 January 2016 23:40
When Oldham Athletic's Board sacked Darren Kelly after a handful of games in September it was imperative that they made the right decision when replacing him. The failure to appoint a manager following Lee Johnson's departure in February had led to a season of great promise petering out and the Kelly appointment had been farcical (as I wrote about when he left the club HERE).
The start to the season under Kelly had not been all we would have wanted but whilst it was difficult to see a promotion challenge on the horizon, we'd picked up seven points in as many games so there was a base for the new manager to build upon.
Add a comment
Last Updated on Friday, 22 January 2016 12:39
Read more...
Oldham Athletic
Written by Mark W
Saturday, 12 September 2015 21:07
We've all done it… you hear it on the radio or see it on Twitter and then have a right good snigger to yourself at the team who have just sacked their manager after a handful of games. "How ridiculous" you say, you can't possibly judge him off ten or fifteen matches. You do this safe in the knowledge that your football club would never do anything like that.
Based on this, I should now be writing an article about how Oldham Athletic should have stuck with Darren Kelly for a least a season as you have to back your manager and give him time to build a team that can do him justice. I am not writing that article, though.
When Lee Johnson departed for Barnsley in February, we were sat 9th in the league with our best chance of a promotion push in many a year. The disappointment of losing the boss could have been partially offset by the appointment of someone who the fans believed could push us into a play-off place. Instead, the Board opted to give the reigns to Dean Holden and in doing so, accept that it was all about staying up. Many people slated Corney for this but to me, I thought it was sensible. The tide had already started turning and I don't think anyone in our price-range could have led us to a top 6 finish.
The key was getting the right man in place for the start of the 2015/16 season. We all know that fans have been dwindling away for the last 20 years but this season had the potential to be different. As season tickets went on sale for the new stand, I couldn't recall such a feelgood factor about the club during our time in League One. There was real excitement about the long awaited stand and I felt that a big appointment could have gone a long way towards securing an increase in attendances. I was in shock, therefore, when we announced the unknown Kelly would lead us into the new season.
It didn't surprise me that we had opted for someone with little managerial experience as this tactic had proved relatively successful in our last couple of appointments. I was expecting someone I had heard of, though, and someone with real pedigree.
The early signs were not good. I listened to snippets of his interview on local radio and heard what sounded like someone who'd been fairly successful on a football manager computer game and thought he could transfer this skill into real life management.
The early summer brought a lack of transfer activity barring the signing of Lee Croft who presumably, given his previous ties with the club, was not chosen by the manager. The key players were retained though and as the season approached there were some decent signings. The worrying thing was that there were strong rumours that none of these were being identified by the manager and there was also talk from people who usually get these things right that Kelly was already on borrowed time. A week before the season, word was that he might not make it to the opening match.
Before a ball had been kicked in a competitive game Kelly's position was already becoming untenable as these rumours would not go away and the club opted not to comment and dismiss them.
Seven league games in and he has gone. It should be pointed out that he only actually lost 2 of those 7 games. It is clear that whilst the team looked clueless today against Peterborough, it was not this defeat that ultimately cost him his job.
If it is true that the Board realized that they had made a mistake in pre-season, why did they not act then? Sacking Kelly before the Walsall game would not have appeared any more ridiculous than doing so now but it would have given us more time to move forward with the right man and would also have been fairer to him.
Simon Corney and his Board have significant experience of running a football club now, with him being in his second decade in charge. He also has a decent track record of appointing managers, although some may disagree. I do not understand how an error of this magnitude has been allowed to occur. I struggle to believe that when presented with over a hundred CVs earlier on in the year a decision was made that Darren Kelly's stood out. I also don't follow the common belief that it was simply a case of choosing the cheapest option. Risking relegation is certainly not a cheap option.
It feels as if those charged with running this club have taken their eye off the ball, especially when the manager situation is paired with the North Stand fiasco, which I am purposefully steering clear of. You could probably chuck Ched Evans into the mix if you really wanted to. We cannot afford to lose any more fans but everything I am witnessing can only lead to just that.
I am not naive enough to think that we should 'sack the board' as it doesn't work like that. There is not a big queue snaking up Sheepfoot Lane of rich investors desperate to pour their wealth into the bottomless pit that is Oldham Athletic Football Club. I am also savvy enough to realize that Simon Corney is already on the lookout for someone who he may be able to offload the club to. I do think, however, that if he cares about the club (and I genuinely believe he does) he needs to re-engage with it or find someone who can.
When the fans of other clubs look at us and snigger this weekend they will make that usual accusation that the Board have acted fair too hastily. They will almost be right and they will certainly be pointing their fingers in the right direction.
Add a comment
Last Updated on Saturday, 12 September 2015 21:13
General Football
Written by Terryy
Saturday, 02 May 2015 16:08
I doubt whether any other town in the country of the size of Burton-on-Trent can claim to have had four Football League Clubs.
In the pre-war years Burton could proudly lay claim to three Football League sides in Burton Wanderers, Burton Swifts and Burton United.
Burton Wanderers inflicted Newcastle United's worst ever defeat 9-0 in Division Two on 15th April 1895. A contemporary report in the Newcastle Evening Chronicle Sports Edition included quotes about a match on February 8th 1896, when Newcastle United (6th) were due to play Burton Wanderers (2nd) at St James' Park in the League Division Two return fixture:
About 7,000 people lined the barriers (about average for that time) waiting for the two teams to take the field. The game was advertised to start at 2.45pm and at the allotted time the Newcastle team began to warm-up, but the opposition failed to appear as only six Burton players had arrived; the others having missed their connection at Sheffield. The Newcastle players approached referee Mr. Cowley claiming that the match should be awarded to Newcastle. However, although nothing was certain, it was believed that the rest of the team would arrive by 3.30pm and the decision was taken to delay the kick-off.

Shortly before 3.30pm the Newcastle players returned followed a couple of minutes later by eight of the Burton team (not including the keeper) and the match was on! The Burton captain lost the toss but Newcastle had the decency to kick up the hill in the first half. Within minutes a long low shot by defender Graham found the net. At 3.45pm "the first of the missing lot, namely Watts, the regular goalkeeper, turned up and immediately took up his position under the crossbar, attired in ordinary long trousers and jersey". A couple of minutes later the remaining tawdry two arrived having kitted themselves out.
Thus United only had one goal for their early numerical advantage as they "had taken things easily" and only when the opposition was up to their full quota did their "tactics become more vigorous".

Initially it was United who continued to dominate the game and kept Burton's custodian well occupied, but The Wanderers gradually worked their way back into the game as the "attack of the visitors became more spirited". They hit the bar and had another goal chalked out for offside.

"Remarkably fast play next became the rule, and the excitement grew in intensity as both sides pressed in turn" but there were no further goals in the first period. The players retired from the field and the visitors were "cordially applauded for their plucky stand under such unfortunate circumstances".

In the second half Watts now had his kit on, but United had both the incline and the wind in their favour and they laid siege to the Burton goal. Lennox soon scored a brace. The first a "flying kick banged into the net" the second following "a splendid piece of combined play" brought "to a magnificent conclusion by swinging the ball into the net".
There were more chances for both sides and United had a goal disallowed while Burton defender Hanford "elicited tremendous cheering" when he blocked an Aitken "stinger". United added a fourth just before the end; Graham scoring his second (his only goals of the season).
In 1897 both Burton Swifts and Burton Wanderers faced re-election and the Wanderers were voted out, their place being taken by Luton Town.
The club rejoined the Midland League but in 1901, it merged with Burton Swifts who were facing re-election once again. The new club, known as Burton United continued to play in the Football League for another six years, before it too lost its place and went out of business in 1910.
Senior football in the brewing capital was represented by Burton Town but the club was wiped out during the War in 1940. A 10-year void was filled with the formation of Burton Albion F.C. (The Brewers), at a public meeting in 1950, playing at the Lloyd's Foundry ground on Wellington Road.
The Brewers worked their way up the football pyramid via:
The Birmingham League (including a F.A. Cup third round appearance at Charlton Athletic);
The Southern League (including a move to Eton Park in 1958 and a period of three-years from 1962 managed by Peter Taylor, who went on to be Brian Clough's managerial partner);
The Northern Premier League part under the player/management of ex- Nottingham Forest and Manchester united Ian Storey-Moore.
During the Club's Northern Premier League days, local businessman Ben Robinson became Chairman and Storey-Moore was succeeded in 1981 by Neil Warnock, who had worked previously for an undertaker and was a qualified football referee and chiropodist. Warnock's team won the Northern Premier League Challenge Cup beating Macclesfield Town in the Final at Maine Road, Manchester in April 1983. Also during his reign, the Club hit the national headlines in 1985 when it lost in the third round of the F.A. Cup to Leicester City at Derby County's Baseball Ground. A 6-1 defeat (including a hat-trick for Gary Lineker) was due in part to the fact that the Albion goalkeeper, Paul Evans, was hit by a missile thrown from the crowd. After huge national publicity and a Football Association review, the game was replayed behind closed doors at Highfield Road, Coventry with Albion losing by a far more respectable 1-0 score-line.
Warnock was succeeded by his assistant Brian Fidler and the Club reached Wembley in the F.A. Trophy Final in 1987. A goalless draw with Conference side Kidderminster Harriers was followed by a replay at The Hawthorns, West Bromwich where 15,685 saw Albion go down 2-1. In 1988 Burton-born and ex-Latics player Vic Halom ('King of all Geordies') became The Brewers' manager.
After a further ten years in the Northern Premier League/Southern League (based on geographical balance), Ben Robinson started his second spell as Chairman, and appointed Nigel Clough as player/manager in October 1998, with his former Forest team-mate Gary Crosby as his assistant. After struggling in the remainder of the 1998-99 season there followed a period of continual improvement that saw the club finish as runners-up in the Southern League Premier Division in successive seasons, just missing out on promotion to the Conference.
Another geographical alignment of the feeder leagues saw Albion return to the Northern Premier (UniBond) League in 2001, when Clough's team of part-time players swept all before it, with a league record number of points gained, over 100 goals scored and only 30 conceded achieving the goal of Conference football.
The players went full-time and the first three years in the Conference were all played at Eton Park, with the Club finishing in the bottom half in each campaign. It became clear that the only way for the club to progress was to move away from their home of more than 45 years. Chairman Ben Robinson negotiated the free acquisition of land from Pirelli against naming rights, and the Pirelli Stadium was built on the site of the Italian tyre giant's Sports and Social Club at a cost of £7.2m in 2005, only a stone's throw from the Club's former home. The Stadium is paid for and its conference and meeting facilities have generated a steady income from non-football-related activities, leading to the Club being in the enviable position of having no debt.
Although the Pirelli Stadium opened for business in July 2005 with a low key pre-season friendly against Chester City, it was officially opened in November 2005 by Manchester United, who ironically returned to the Pirelli two months later in the F.A. Cup third round. Albion held the Premier League giants to a 0-0 draw in front of a then record ground attendance of 6,191 and TV audience, before losing in a replay at Old Trafford, while coming away with enough money to bring forward by four years the Club's 5-year plan. The team kicked on to earn a best-ever Conference finish (9th), only to better that the following season with a 6th place finish, and then the play-offs in the 2007/08 season before losing to Cambridge 4-3 on aggregate.
The Club's ability to generate significant off-field revenues through the Stadium's excellent banqueting and conferencing facilities enabled Clough to have the backing to put together the side that ultimately achieved Football League status, 102 years after their predecessors, Burton United, lost their League status. The Brewers racked up an impressive run of twelve straight wins mid-season to streak ahead of the pack, and even when manager Nigel Clough left for Derby County in January 2009, with the Club in great form, it seemed the title was a formality. Under caretaker-manager Roy McFarland The Brewers won four of his first five games. Bookmaker Bet Square paid out in February in anticipation of The Brewers being Champions. That appeared to be the kiss of death with them winning only four of their next 12 matches as the momentum dissipated and nerves crept in, with what had been a 19-points lead being whittled away. It was squeaky-bum time, as the title-decider went to the final day when, despite Albion's 2-1 defeat at Torquay United, Cambridge United's failure to beat Altrincham handed the Blue Square Premier title to The Brewers.
Ahead of the 2009/10 season in the promised land of the Football League, the Club was granted permission to increase capacity at the Pirelli Stadium to 6,912.
When caretaker-manager Roy McFarland opted not to apply for the full-time role it was turn of former Birmingham City and Derby County striker Paul Peschisolido to benefit from the Chairman's desire to give ambitious young managers a chance to succeed. The former Canadian international brought in another ex-Blues' and Rams' man, Gary Rowett as his assistant.
After a first season that saw The Brewers comfortably consolidate their new-found status with a thirteenth place finish, the second term in the Football League was a more difficult campaign, given that the club had to play over half of its league matches in the final three months of the season, after numerous postponements left them with up to eight games in hand on their rivals.  From a comfortable position just five points off the play-offs in December, their inactivity meant that at the start of February a relegation battle ensued, with a six game unbeaten run at the end of the season eventually confirming League status for a third season with a game to spare. The backlog of games was also affected by the club's best ever FA Cup run. Championship club Middlesbrough was beaten in the third round but the Club's first-ever appearance in the fourth round ended in a 3-1 defeat to another Championship club, Burnley.
The Club has the best training facilities in the country to call upon at St George's Park, Rangemore, on the outskirts of Burton, which have been used since long before the F.A. found the money to finish the project. I saw Latics Reserves beat Burton Albion Reserves there in 2012.
Peschisolido was sacked as manager in March 2012 following a run of poor results, and Gary Rowett was promoted from within to lead the club to Football League safety. Rowett's first full season brought the club's highest ever league finish of 4th in League Two, qualifying for the League Two play-offs against Bradford City. The Brewers won the first leg at Valley Parade 3-2, but the Bantams fought back in the second leg to progress to Wembley and break Albion hearts.
The Brewers bounced back however, and this time reached the play-off Final in 2013/14. Over 8,000 Albion fans made the trip to Wembley to see the Club make its first appearance there in 27 years. A tight game against Fleetwood Town looked to go either way until Antoni Sarcevic scored with 18 minutes left to consign the Albion to a second successive year of play-off disappointment.
With Albion achieving six wins and a draw in the opening seven League Two fixtures of the in the 2014/15 season, and progressing well under Gary Rowett, he left to become manager of Birmingham City in late October 2014.
Ben Robinson made another astute appointment from sixty applicants, in the form of Jimmy Floyd Hasselbaink, to his first managerial role in England after a year at Royal Antwerp. On 18th April 2015 Burton won 2–1 away at Morecambe to earn promotion to Football League One for the first time in the Club's history. On 2nd May 2015 The Brewers graduated from the Abbey Stadium Cambridge with full honours as Champions of Football League Two.
With Louis van Gaal and Ronald Koeman faltering, and Dick Advocaat unable to create a snowball effect, Jimmy has turned out to be the season's flying Dutchman, and now he appears to be attracting the attention of Leeds United. If the opportunity arises, he faces a tough decision whether to quit the progress he is making with Burton, for a role in the quicksand of Elland Road, with a crack at promotion to the Premier League.
I have supported Oldham Athletic for longer than Burton Albion has existed, but since moving to Burton in 1974 to work at the Town Hall and living in the town for 40 years, I have taken a close interest in The Brewers' progress.  At work I enjoyed first-hand news about the Club from a colleague who was in daily contact with Maurice Edwards, a former Albion player/referee/scout and close friend of ex-Brewers' manager Peter Taylor. With Brewers' fixture dates nearly always coinciding with those of Latics, the opportunities to watch them have been few and far between, but, in addition to home games, I have seen them play at places such as Accrington, Altrincham, Barnet, Boldmere, Halesowen, Sutton Coldfield and, of course, the old Wembley Stadium.  When watching The Brewers, I do not have the same emotional attachment as I do with Latics, and sometimes it has proved difficult to remember to sing the appropriate words to the same songs.
Pre-season has often provided the best opportunities to see them play, particularly in the form of the Bass Charity Vase competition, which was founded in Burton-on-Trent in 1889, to be competed for annually by Midlands' teams, particularly Football League clubs. The proceeds from the games would be donated mainly to medical-related and hospital charities. Its Patrons were Lord Burton and Hamar Alfred Bass who presented a magnificent inscribed silver Rose Bowl (reputed to be one of the most valuable trophies in British football) to be held by the competition winners.
Many famous clubs and players have taken part since the competition started. Innovation has been a key to its continuing success: even during the difficult times of the two World Wars, the competition took place. Coalville Munitions Girls won during the Great War and a Royal Artillery team was successful during the 2nd World War. Other past winners include Aston Villa, Birmingham City, Coventry City, Derby County, Leicester City, Liverpool, Notts County, Nottingham Forest, Stoke City and West Bromwich Albion. On one occasion I tipped-off Oldham Athletic's manager Joe Royle that West Brom was to field its strongest side in the competition at Eton Park, five days before playing Latics. Joe sent a scout to watch, and Latics came away from The Hawthorns with a point in the opening game of the season. In addition to The Brewers' homes, I have seen games in the competition at Bass Meadows, Gresley Rovers, Rocester F.C. and Stapenhill F.C. I also remember watching one of the games in the competition played at Peel Croft, Burton Rugby Club's ground, when a young Stan Collymore played for Wolves. The competition is played pre-season and current holder Burton Albion is the most successful club, having won the trophy 27 times.
My hope was always that one day The Brewers would play Latics, and so it came to pass in the first round of the F.A. Cup in November 2002 at Boundary Park. Josh Low gave Latics the lead only for Aaron Webster to equalise just before half-time from the penalty spot. When ex-Latics Craig Dudley sprinted through to put The Brewers in front in the 59th minute, the Rochdale Road End exploded, and the long-arms of the law could see no further than the colour of the shirt when arresting not only a fan for pitch encroachment but also Aaron Webster for….your guess is as good as mine!
Picture courtesy of Oldham Athletic fanzine 'Beyond The Boundary'
It took a 90th minute goal from Fitz Hall to realise my dream of seeing Latics playing in Burton in the replay. The script for that replay at Eton Park read that Albion were to play well, but Latics were to go through to the next round. The game followed the script, but it had so many twists and turns, that it would have done Alfred Hitchcock proud. Latics went in front in the 59th minute through Clyde Winjhard, but succumbed to Albion pressure when Christian Moore scored in the 84th minute. In the 20th minute of extra time, Albion took the lead when Moore scored again and, with the sound of my friends in the adjoining home stand chanting my name and asking me the score, my blushes were spared when the legendary David Eyres equalised with only four minutes of extra time remaining. In the ensuing penalty shoot-out Albion went first and both teams had seven attempts, including one scored by Albion player/manager Nigel Clough, but Carlo Corazzin scored the winner for Latics to end an epic contest. Albion fans rated the two games against Latics as the best in their Club's history up to that date.
I had to wait nine years for Latics to be drawn out of the F.A. Cup hat to play The Brewers again at Boundary Park in the first round. This time a series of mistakes by Albion gave Latics a 3-0 lead by the 35th minute and all the visitors had to show was a Calvin Zola consolation goal in a tepid encounter.
In July 2009 The Brewers' Chairman Ben Robinson went out of his way to greet the '92 in Blue' team of Oldham Athletic supporters and to support their 92-club charity challenge, when they visited the Pirelli Stadium.
Even when I was one of the many co-owners of Ebbsfleet United, I watched from the home end as 'my' club played at the Pirelli Stadium, because The Brewers had a greater need for the points.  Now I am looking forward to watching The Brewers from the away end of the Stadium, with all the emotion that goes with supporting Oldham Athletic.
Ben Robinson has told the Burton Mail that promotion could provide a 'major boost' to the club's coffers, and business leader Chris Plant has claimed that promotion will put the town 'on the map for all to see'. Many Latics supporters are planning to boost the Burton economy next season and, with so many pubs to visit and the town's renowned Beer Festival, it may take more than one visit, with possible away draws against The Brewers in the Carling Cup, F.A. Cup and Johnstone's Paint Trophy, helping to quench those thirsts.
Add a comment
Last Updated on Saturday, 02 May 2015 16:20
Oldham Athletic
Written by Mark W
Sunday, 15 March 2015 23:29
As another season comes apart at the scenes, there appears to be a growing sense of depression at Boundary Park.
At the start of the season there was little belief that this season would end up being anything other than a battle against relegation and it is beginning to look as though that is exactly how it will turn out. For a long time, however, we were in or around the play-off picture and there was genuine optimism that things were going to be different. We had a manager who said all the right things and he had the team playing better football than we had seen in several years. We were, however, only ever in the pack with ten to fifteen other clubs and a combination of factors including the demise of the manager and an injury backlog have shown talk of the play-offs to be nothing more than a pipedream.  
You might imagine that the brief flirtation with the top six might have led to something of a feelgood factor but if anything it seems to have gone the other way. It seems that it has simply led to a growing realization as to just how difficult it will be for this club to achieve the promotion that the fans long for. This becomes even more apparent with the move towards the new financial fair play rules as the spending required to deliver success is to be closely linked to income and so any reduction in attendances will inevitably lead to even longer odds on success.
Much has been made of the difficulties in attracting supporters into Boundary Park these days and in particular the fact that an upturn in form tends to lead to little improvements in crowds. Last month, on Valentine's Day the club made a real effort for the game against Colchester by reducing admission to just £5. They seemed shocked and hugely disappointed that this did not lead to the kind of uptake they clearly anticipated. I think they are missing the point though.
Whilst there are massively different expectations from supporters at different clubs, ultimately all football fans want the same thing. They want to see their team being successful and the thing that keeps them going to games, or attracts them in the first place, is a belief that success is on the horizon. It is no coincidence that I started to go to Latics when the team was successful in the late 1980s, early 1990s. Yes, I now go partly because "that's just what I do on a Saturday afternoon" but it is that desire to see us achieve something and the belief that we might that keeps me passionate. If that belief isn't there, what's the point?
It is this that explains the difficulties in attracting support at Oldham and why the odd good result just won't make a difference. To understand that you have to realize that Oldham Athletic's recent history is not like most clubs.
To me, success relates to one of the following:
Winning something. Again, this will differ for different clubs with different expectations but be it the Champions League, Europa League, FA Cup, League Cup or even the JPT, that moment of glory gives the fans what they are looking for.

Qualifying for Europe. There are 20 clubs in the Premier League and realistically, 15 or 16 of them know that they are highly unlikely to claim the title. These teams do know, however, that a good season can deliver a European adventure.

Promotion. For most of the clubs in the league it is promotion that offers them the best chance of glory. Every season 72 clubs set out with a hope that they can claim a spot in the top six (or seven in League two) and grab a place in the division above.
There are other moments of glory such as a big win in the cup against higher division opposition but those memories soon fade. It is only the three examples I list above that really go down in the club's history.
If you accept this definition of success you soon realize why I say that Oldham are out of the ordinary. In the last five years, sixty percent of league sides have had some sort of success. That means that almost two thirds have had an event that will galvanise the fan base. If you look back a bit further, all bar three of the current 92 league clubs (97%) have had success in the 21st century. The three clubs who can't make this boast all have to go back well before the turn of the century. Both Oldham and Tranmere Rovers last tasted the sweet smell of success in 1991 whilst Coventry city have to go back another four years to 1987 for their FA Cup victory.
Looking back over that 24 year period since Oldham last won something, it is interesting to compare the demise in league position with the demise in crowds. The following demonstrates how closely the two are aligned (for demonstration purposes the graph shows league position in reverse ie. Bottom of league 2 would be 1 whilst top of the Premier League would be 92).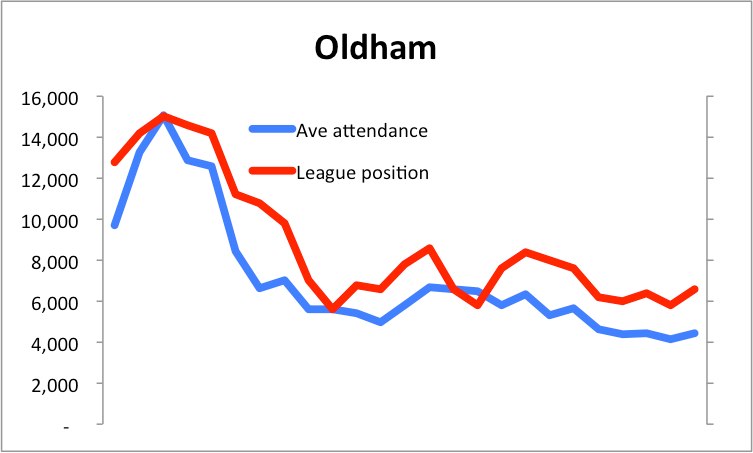 Taking just the period whilst we have been trapped in League one, we have seen a 21% fall in crowds between our first season in 2007/8 and last season.
This is how that graph looks for our two most comparable opponents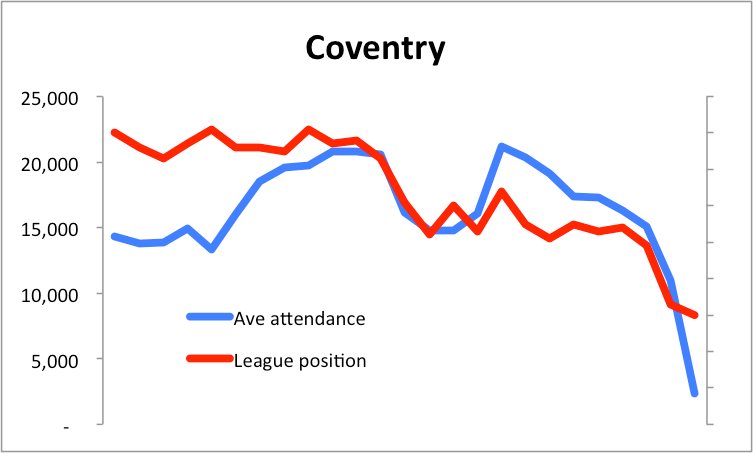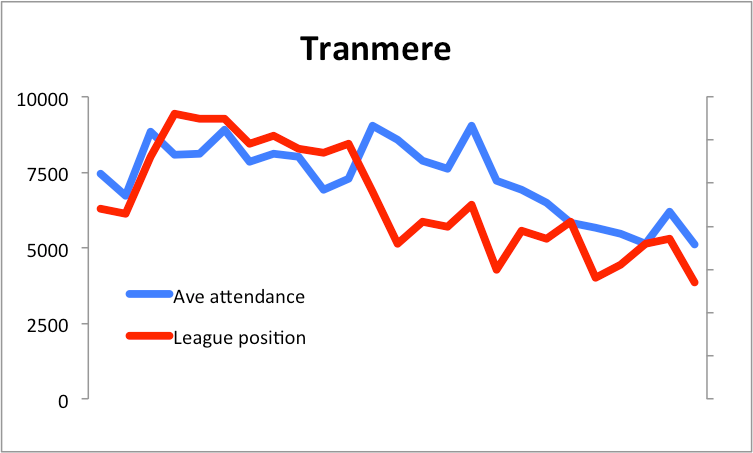 As you can see, the trend is almost identical. Both Coventry and Tranmere have blips in those charts but both are easily explainable. Coventry saw a spike in support in 2006 when they moved to the Ricoh Arena but that only lasted three years before they reverted back to where they were and then the support almost completely disappeared when they were forced to leave the Ricoh and play in Northampton. Tranmere on the other hand saw crowds increase in their final season in the Championship in 2001 and then witnessed another increase in 2005 when they finished third in League one, narrowly missing out on promotion. In both cases, the increases lasted just the one season before returning to usual levels.
Comparing the drop in crowds over the period since Oldham joined League one, it seems most reasonable to look at Coventry up until when they left the Ricoh and to exclude last season for Tranmere when they crashed into the basement division for the first time since 1989. From 1997 to 2012, Coventry saw a 23% fall in crowds whilst from 1997 to 2013, Tranmere also saw a 23% decrease.
It appears that Oldham's exodus of fans is exactly what you would expect to see in the circumstances.
When you look at this context, it is easy to see why much of the Oldham public responds to the football club in the way that they do. There have been many false dawns in the last eighteen years and they have all ended up in some sort of failure. We have seen countless seasons collapse after a good start, we have seen a chairman walk out on us just as we seemed to have finally got somewhere and now we have seen a manager desert us too. It is only natural that each time something like this happens, you lose a few more people who just can't bring themselves to believe any more. Other clubs have these disappointments too but for the vast majority they have them intermingled with seasons that do deliver.
I am concerned at the moment because I am watching people walk away who I would have never imagined would do so. Not only that, I am finding my own blind faith tested like never before. If this club can't convince people like me they really are in trouble.
I acknowledge the downbeat tone of this blog and I am well aware that I am calling out the problem without offering up any solutions. If I knew what the solution was I would certainly call it out. What I do know, though, is that as fans we need some hope. We need to be hearing the right things coming out of the club and we need to know that the owner has a clear strategy about how we might one day achieve something once again.
Add a comment
Last Updated on Friday, 17 April 2015 11:22
Oldham Athletic
Written by Mark W
Thursday, 26 February 2015 23:41
I have been a huge fan of Lee Johnson during his 23 months in charge of Oldham Athletic yet despite being disappointed at his departure this week, I am far from devastated. The overwhelming feeling I have is one of surprise.
From everything I have heard from Lee, and said about him, I have gained the view that he is both confident and highly ambitious. The decision to leave for Barnsley, however, calls this into question.
I need to clarify that statement as it could easily be misunderstood. I am completely willing to accept the view that Barnsley are, at this moment, a 'bigger' club than Oldham. It you determine size based upon the average attendance, potential fanbase or recent seasons' league positions, you have no choice but to accept it. I would never hold it against a manager to walk out on a club per se as every manager knows that he is only a bad run of results away from facing the sack. Why should a manager show loyalty when clubs rarely show loyalty to them.
In this situation, though Lee Johnson is a manager who was in his first managerial job and whilst he had got Oldham playing some decent football (on the whole) he hasn't actually achieved anything. If you are in the early stages in your career, you need to create some kind of a legacy. Should Lee fail at Barnsley, as other decent young managers have done in the recent past, his CV is going to look rather bare.
When Lee took over in March 2013 we were 21st in League One whereas he leaves us sat in 9th. I think this has to be caveated though. We might have been 21st but we had recently beaten Nottingham Forest, Liverpool and taken Everton to a replay in the FA Cup. We might have been struggling in the league but nobody could argue that we didn't have it within us to stay in League one. I am not taking the credit for keeping us up that season away from him but I do believe that it will be something that he will struggle to hold up as a major achievement.
Perhaps I am misreading the situation. Perhaps his legacy will be that he stabalised the club and produced significant profits on a number of players that he brought in, developed and sold on. Sadly, in this era of the undisclosed fee, we will never know and he will struggle to validate the claim in future job interviews.
I also think that despite my previous statement about clubs not showing loyalty to managers, Simon Corney has tended to show more loyalty than most. He showed this by sticking with Dickov long past the point when most would have given him the chop and the long term deal he gave to Johnson showed that he saw him as someone he would give time to.
Had Lee stayed with the club until the end of the season at the earliest, he could have genuinely achieved something. For what it's worth, I don't think we would have made the play-offs but even if we had finished in the top ten, that would have been an achievement in itself, certainly something that looks better than a 15th place position in your only full season in charge. Furthermore, I feel that if Lee had stuck with the project into next season he could, given support from the Board, have instigated a genuine promotion push. In those circumstances his stock would have been much more in demand than it was this week.
I like Lee and I hope for him that I am wrong. I hope that he can take the lessons he has learnt here and use them at his new club to enhance his reputation and progress to the highest level in the game. I'm not bitter towards him and hope this piece doesn't sound as if I am. If I was a betting man, however, I would be putting my cash on him having moved to a club with a lot less patience than he is currently used to and he will be out on his ear within 18 months.
Add a comment
Oldham Athletic
Written by Mark W
Sunday, 04 January 2015 20:02
It appears that my football club is on the brink of signing a convicted rapist and to be honest the thought sickens me.
A month ago it was reported in the press that Oldham Athletic were speaking to Ched Evans but after outcry from the fans the club were quick to issue a statement denying that he would be allowed to train with the club or that he would be signed. It appears that the stance has now changed.
I have supported the club for the last 25 years and right now I have never felt more distanced from them. It strikes me that whilst there may, on the face of it be some business sense for making such a controversial signing it stinks of having been made by people who just don't understand what it means to be a fan. It may be that he can score the goals to finally fire us to promotion after 18 years in League One. I'm not sure that's how I want us to do it though.
It was no surprise to see Oldham being linked with Evans following his release from prison due to our signing of Lee Hughes in 2007 in similar circumstances. It is the history with Hughes, however, that to me means we cannot be the club to give Evans a second chance. I don't want my club to be known as "that club that will sign anyone no mater of the moral issues involved". I also know what having a universally unpopular player playing for your club means to a fan.
I was far from happy with the signing of Lee Hughes but I supported him wholeheartedly whilst he was an Oldham player. He scored goals galore for us and each one I celebrated as I would had anyone else scored. He was also abused everywhere we went and as is human nature, that simply led to the Oldham fans giving him even more support. When you have 10,000 opposition fans abusing someone you have taken as one of your own, it is difficult not to respond with adulation for the object of their detest.
Whilst I was able to justify the support for Hughes in my own mind at the time, following his departure I felt dirty for it. I don't want to be in that place again.
I have read several arguments today referring to the fact that Evans may not have committed the crime he was convicted of. I'm sorry, but that is almost irrelevant. He has been convicted and as such I have no choice but to assume that he did it. If at some point in the future he has the conviction overturned I can reassess the situation but until that point, he is simply a convicted rapist. For those who do follow this line of argument to defend the signing, I presume they must have spent longer reviewing the case notes than the judge did during his trial.
Whilst I couldn't feel much stronger about the fact that we should not be making this signing, I do not understand in my own mind quite where this leaves me. As I see it I have two options, I either embrace the player as I did with Hughes or I stop giving my support to the team.
I don't feel that I am able to separate my support for the player with my support for the team. When a goal goes in, I am far too passionate to take a moment to consider who has scored it before celebrating. When your team scores that is the best feeling in football, you can't start diluting it because of a fear of celebrating a goal from someone you don't like.
The other thing that I don't think the powers that be understand is that the club you support becomes part of your personality. To most people I know I am Mark the Oldham fan. It's just part of me. Rightly or wrongly, that means that I get tarred by things that the club do. Again, I know that from the Lee Hughes days. I don't want to spend my life trying to justify the signing of Evans.
This season has, the last month aside, been fantastic. We have been playing some excellent football and the atmosphere has been the best I have witnessed in over ten years. It seemed to be every other week that we would get home from an away game to read comments from opposition fans about how well we had played and plaudits for the 'loudest fans this season'. We can forget about that now. Nobody will be interested in how we've played. People will only be interested in 'the rapist'. I can't criticize opposition fans for that as I would be exactly the same if the roles were reversed. The atmosphere will suffer too as there is bound to be a split amongst fans. The improvement this year has been down to togetherness with supporters getting behind the club and players. I struggle to believe that the coming weeks will not be dominated by arguments between fans around the merits of Evans. I don't want to be sat next to people singing his name, with me wanting to distance myself from those very chants.
Whilst I am big enough and ugly enough to take it, lets also not pretend that having opposition fans screaming vile abuse in your face is a pleasant experience. It's not and it will happen. This certainly isn't going to help us attract more fans. If I had young children I would think twice about taking them to games to be subjected to that.
The nature of Ched Evans' crime can't be ignored. There is a victim of his specific crime but there are also thousands of other victims of rape who are likely to be psychologically affected by the intense media coverage of a rapist playing professional football. Every time it is mentioned on TV or in the press it will be a reminder of what happened to them. Whilst I accept that former inmates should be rehabilitised and reintegrated into society, this should not be in a way that causes further harm to victims. Whichever club signs Evans can not be held responsible for the media coverage but that coverage is inevitable and by making the signing we would be facilitating it.
I desperately hope that today's reports are untrue and Oldham Athletic are not the club who will be signing Ched Evans but whoever it is, I hope that they think about the fans and decide to reverse their decision before it is too late. If not, I and many like me will be left to contemplate exactly what it means for ourselves and whether it changes the way that we feel about our clubs.
Add a comment
Last Updated on Sunday, 04 January 2015 23:42
Other Stuff
Written by Terry Doran
Thursday, 18 December 2014 14:45
I first discovered Inspiral Carpets in 1985, when my Mum posted to me the Oldham Chronicle's music page, featuring the band, together with her weekly cuttings from that newspaper about Oldham Athletic. In those days, it was difficult to keep up to date with day-to-day matters at Boundary Park, if you lived further away than the boundary of the Chronicle's circulation area, and I was indebted to my Mum. The music page had regular articles about Oldham's promising Inspirals and their gig venues such as The Mare and Foal pub at Primrose Bank.
Add a comment
Last Updated on Monday, 22 December 2014 08:22
Read more...
«

Start

Prev

1

2 3 4 5 Next End »


Page 1 of 5