Oldham Athletic
Written by Terry Doran
Wednesday, 09 October 2013 15:59
Preston North End v Oldham Athletic – Johnstone's Paint Trophy 2nd Round
Deepdale, Preston
Tuesday 8th October 2013
I wasn't going to bother writing anything about our latest trip with the Flag. After all, it had been to Preston before, and Latics had played PNE as recently as a month ago.
There had been discussion on the Fans' Forum about the uselessness of the Johnstone's Paint Trophy competition, with many turning up their noses at the prize of a trip to Wembley, on the basis of it not being as worthy as getting there in one of the more prestigious competitions. I feel that the opportunity available at the end of a yellow-painted brick road, of a day-out at the National Stadium, is not to be scorned. In this deep dale hamlet, surely not to sleep: perchance to dream of Wembley: aye, there's the rub.
Although, in that recent League match, Latics had played brilliantly in defeat in front of the cameras, with unanimous critical acclaim, they had failed to rise to those heights since then and the first clean sheet was still awaited. Was it a question of TV or not TV – the players only raising their game when appearing on the 'box' (e.g. versus Liverpool last season), when no motivation was required?
On the approach to the stadium, roadside direction signs still read 'National Football Museum', but unsuspecting motorists have a long way to drive before reaching its new location in Manchester.
We had arranged to meet up with North End supporter Ian, to renew our 16-year friendship since a legendary trip to the Isle of Man in '97. Our venue was a back-street PNE-stronghold pub, so no colours were worn to avoid the slings and arrows of outrageous fortune.
We had a good session relating our respective exploits, some of which mirrored each other such as trips to Derry, Belfast and Paul Heaton's King's Arms pub in Salford. We also shared our disappointment at not being able to see Shamrock Rovers in the FAI Cup Final, after the players had apparently failed to turn up in last Sunday's semi-final defeat to Sligo Rovers.
At the stadium the North End/Latics supporter bond was displayed to passing home fans, with Ian joining Margaret in the Flag picture in front of the poorly-lit 'Splash' statue of North End legend Tom Finney.
There had been only 295 Orient supporters visiting Boundary Park last Saturday to see their table-topping, unbeaten team, but tonight 827 visitors had made the trip to Preston, including one who had amazingly left his hospital bed, and was hoping to avoid a penalty shoot-out to delay his return, before being missed by the over-worked NHS staff.
After seeing this caravan parked near the pub, was it a symbol – was a goal going to be scored after 515 seconds or at 5:15? Were we going to get maximum rhythm from the Blues? Who knows!
This welcome poster dotted around inside the stadium was a nice touch from one of the Football League's founder members in this 125th anniversary year.
Latics made a dream start after only 13 seconds. With many supporters, including PNE's Ian, still thinking about finishing their drinks and taking their seats, Danny Philliskirk met Rooney's low cross from the left and wrong-foot the keeper. The home fans thoughts may have drifted to Danny's dad Tony scoring 6 goals in 14 appearances for their Club.
The lead was doubled on nine minutes after a great passing move, when Dayton cut the ball back for Wesolowski to drive in off the bar from about 12 yards. With 81% possession by 30 minutes, Latics went on to dominate the first half, with slick passing, pace and composure to slice-open repeatedly a dreary Preston side. It was a real football master-class, and the visiting supporters salivated over it, while out-singing the home fans throughout the match. Ian didn't miss the second goal and he texted to say Latics were playing like Barça, with the way they were closing-down North End.
The second half was much more even, with Preston manager 'Larry' Grayson getting his limp defence to shut that door. In the seats Latics continued to win easily, despite frequent visits from the 'Search and Response' team to extract perceived transgressors. On the pitch the visitors' failure to climb to the first-half heights was understandable, when it was revealed that they were carrying casualties: Tarkowski had been ill and got out of his sick bed to play; Mills played with a calf strain and a golf ball-sized lump on his leg; and Smith had pulled a thigh muscle in the pre-match warm-up.
A 4-1 away taming of the Shrews and this 2-0 victory has put gloss on this competition, compared to some lack-lustre results in the League. Wembley is still a long way off and it's much too soon to tell your ma to put the champagne on ice, but a place in the Northern Area Quarter-Final keeps the dream alive. Que sera, sera…
Meanwhile more 'total football' displays like this must surely mean onwards and upwards from now on.
Add a comment
Last Updated on Wednesday, 09 October 2013 16:04
Oldham Athletic
Written by Terry
Friday, 04 October 2013 07:31
Walsall Reserves v Oldham Athletic Reserves – Central League West Division
The Scholars Ground, Chasetown
Wednesday 2nd October 2013
Having had custody of the Flag since Rotherham, we took the opportunity to display it at Chasetown F.C.'s Scholars Ground, the venue for this Reserve fixture.
The return to this ground was a sentimental journey for us, as in the 2005-06 season it was the scene of the F.A. Cup First Round tie between Chasetown and Latics in front of 1,997 supporters and watched by a Sunday lunch-time audience of 3.2 million on "Match of the Day Live", in which the minnows earned a replay at Boundary Park.

In 2007-08 this little Club became even more firmly embedded in F.A. Cup folklore when it defeated Football League Division One side Port Vale in a Second Round Replay, to become the lowest-ranked side ever to make the Third Round. The marathon ten-game Cup-run was rewarded with a home tie against Championship side Cardiff City, who boasted multi-millionaire players like Robbie Fowler, Jimmy Floyd Hasselbaink and Trevor Sinclair amongst their highly-rated squad.
The Club's record-breaking achievements are recorded in a series of photo collages displayed in the Social Club together with trophy cabinet mementoes.
The name of this Ground was appropriate for the visitors' 14-man squad, which contained ten scholars. Latics were captained by Edijs Joksts, who has still to make his League debut, so it was an opportunity for us to see the Latvian under-21 international, whose wages we had been contributing towards through the supporters' PlayerShare Scheme.
The successful Cup runs had enabled Chasetown to improve the Ground with the introduction of stands behind both goals, and we had only just sat down in one of them, with some other visiting supporters, when the more experienced Walsall team took the lead through Amadou Bakayoko after only 11 seconds.
Latics' keeper Luke Simpson kept the score down
and he was also called into action to retrieve the ball from the back of the stand, with the ball-boys still being at school for this 2:00pm fixture.
The Saddlers scored a second goal through Bakayoko just before half-time and added a third in the second half when centre-back Matt Preston headed home.
The Walsall keeper Richard Jones was called into action eventually, when saving a shot from Danny Byrnes and two follow-up efforts from Emile Tancinda. Latics were finally rewarded with a last minute consolation goal, when Jordache Walters bravely headed home in the process of being clattered by an outstretched punch from keeper Jones.
More pictures available here:
http://www.flickr.com/photos/diego_sideburns/sets/72157636123663345/
Add a comment
Last Updated on Friday, 04 October 2013 07:38
General Football
Written by Terry
Monday, 12 August 2013 07:56
What better way to push to the back of your mind Friday night's nightmare memory of a 4-0 home defeat to rivals St. Patrick's Athletic, with two men sent off, than to leave Dublin to watch the real Athletic at Boundary Park?
So the lone Rover landed at Manchester Airport early on Saturday morning, with plenty of time to kill, before following my detailed instructions on the bus service to take him to the nearest point to Boundary Park, where we could meet up for lunch and a few jars before third-placed Latics took on second-placed Walsall.
It's easy to relax when taking in the delights of Manchester and, when relaxed, does it really matter than you haven't brought with you those detailed travel instructions? After all, it's just a matter of looking for a bus going to Oldham and getting on it. Oh no, it isn't! The intrepid traveller chose the Stagecoach 76 service, which took him on a tour of residential estates, including the never-before-heard-of Terence Street, Newton Heath. I wonder where that name came from…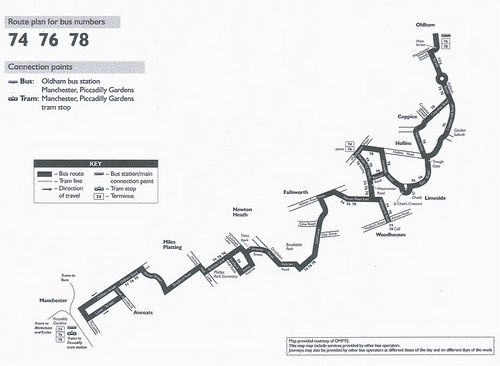 After doubling the length of the intended journey, and finding himself in Oldham town centre, a taxi took him to his destination. NOTE: Future fans visiting 'Ice Station Zebra' please avoid this route and take the First 181 service.
Better late than never, with the lunchtime session cut short and long queues at the bar of the Clayton Green, it wasn't long before we were off to the match, and what a let-down that turned out to be!
Only one team turned up, and it looked as though Walsall had come on the 181, with Latics still delayed on the 76. The visitors took the lead in the 25th minute and were never really troubled thereafter, in an instantly-forgettable game. The highlight of the afternoon for our Irish visitor was hearing at half-time from a Latics supporter about his trip from Dublin to Belfast with Rovers' supporters, which resulted in missed return transport and sleeping on the floor at the Cliftonville FC manager's house.
Back in the Clayton Green, we caught up with stories from our respective 'adventures', and the good news that Shamrock Rovers Ultras were to end the withdrawal of their Internet Forum service (in protest against the Club's mismanagement), which I had missed very much.
It's now 16 years since supporters of Latics and Shamrock Rovers struck up a long-lasting friendship in the Isle of Man, and discussion arrived at the Latics/Eintracht Frankfurt Supporters' 30-year friendship, and news of the forthcoming trip to Frankfurt for the Christmas Market and a match, which we have added to our 'must-do' list.
I was drinking Coke as I was acting as chauffeur, and a short drive took us to meet up with more Latics supporters in Royton's Blue Belle pub, where a karaoke was in full-flow.  It was a joy to see football supporters trusted to drink out of proper glasses instead of plastic ones.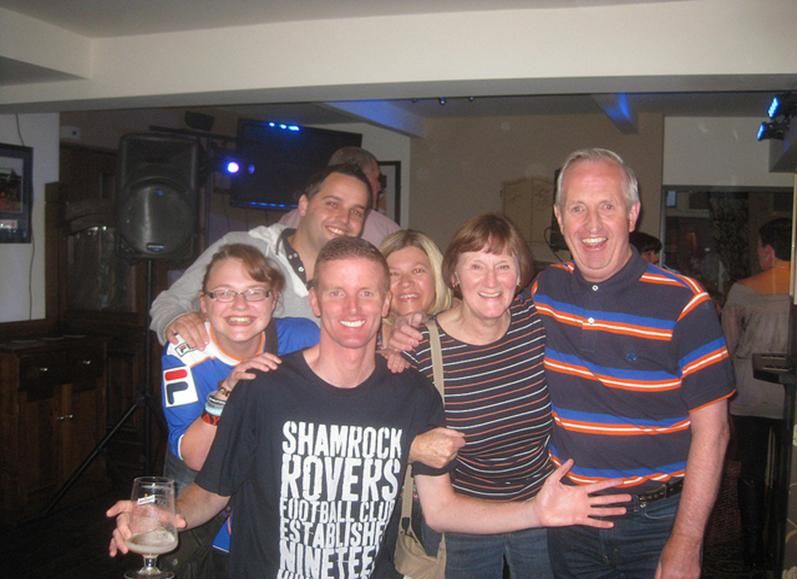 A great night ends in shirt-swapping, doesn't it? This one did, albeit only a temporary swap to our visitor's disappointment.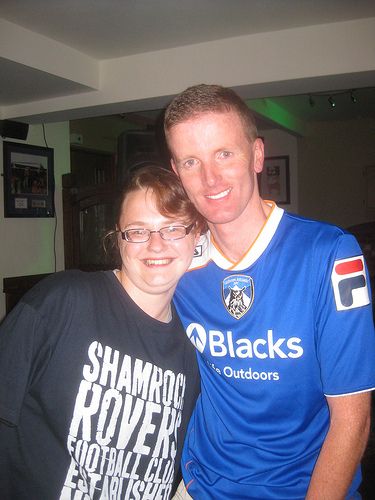 The quickest way back to the traveller's Manchester Airport hotel was by chauffeur-driven car. It was the least I could do, before we continued home via the M6 after a short stop at Knutsford Services to sample the Burger King 'Chicken Royale' – anything tastes good when you're hungry!
The return of the SRFC Ultras' Forum is just in time for this to be shared with the Hooperati.
Add a comment
Last Updated on Monday, 12 August 2013 08:00
Oldham Athletic
Written by Terry
Tuesday, 06 August 2013 07:49
Here we were again, eagerly anticipating another season in Football League One – the 17th consecutive one for Latics. The pre-season had gone well, with five games unbeaten against opposition ranging from Rumania's to Ashton under Lyne's second most successful clubs. Some players had jumped ship and others had been pushed overboard. The new arrivals had injected experience, skill and pace, and Lee Johnson, the League's youngest manager, had created a tangible camaraderie amongst the squad and backroom team, with everyone believing in his football philosophy.
There was the usual atmosphere of optimistic excitement amongst most of the supporters, but this time it seemed to be based more on realistic expectation rather than the usual blind faith. Could this be a repeat of the last time Latics spent the 17th consecutive season in one division, which had ended in promotion? 
We had arranged a day out in London on the Thursday, but when the Football League computer threw up an away game at Stevenage, it was converted into a two-night stay in the capital, in readiness for the short drive from Stanmore to Stevenage on the match-day.
This meant two days away from the computer without news of whether a potential major signing had taken place. Subsequently, I found out that, when taking this picture on Thursday, the announcement of Latics signing a goal-scoring Rooney had been completed - would you Adam and Eve it?
Our visit to Tate Britain had included the capital's first major exhibition of the work of L. S. Lowry, the affection for which is a lot to do with the familiarity of his subject matter to very many Northerners of a certain age, particularly 'Going to the match' (on loan from the Professional Footballers' Association).
The view of John Berger, art critic, novelist, painter and poet, that Lowry's pictures document the collapse of Lancashire's industrial heritage between the wars and express the workers' stoicism in the face of continuing decline, was captured in his 'New Society' article, which included: "These paintings are about what has been happening to the British economy since 1918, and their logic implies the collapse still to come. This is what happened to the 'Workshop of the World'. Here is the recurring so-called production crisis; the obsolete industrial plants; the inadequacy of unchanged transport systems and overstrained power supplies; the failure of education to keep pace with technological advance; the ineffectiveness of national planning; the lack of capital investment at home…; the shift of power from industrial capital to international finance capital…". If I didn't know this comment came from 1966, I would have thought it was of now. 
The exhibition seemed to be designed to introduce Southerners to the perceived grimness of life in the North.
Moving on to the match-day, this was our third visit to the Lamex Stadium, with the previous ones having been for night games, which had been inconvenient for many away supporters. The car park opposite the stadium is next to Monks and Whomerley Woods, which existed before 1600, so we used the spare time to follow the woodland trail through Shackledell, admiring the flora and fauna.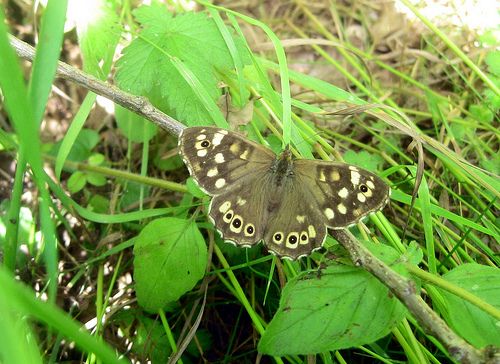 While some Latics supporters were enjoying the fixture-clashing Ashes cricket at Old Trafford, we were at Hertfordshire's only site inhabited by the great green bush cricket, Britain's largest insect.  
Last season's match had resulted in a 1-0 win for Latics with a Tarkowski goal, and I was determined to follow the same pre-match routine to avoid breaking the 'good luck chain'. This involved the taking of the picture of the Stadium fixture-board, before arriving at the 'Our Mutual Friend' pub three hours before kick-off, and sitting in the same seat. The pub had replaced an original one where Charles Dickens was reputed to have drunk with Lord Lytton, and it was appropriate that we were going into the new season hoping Hard Times would lead to the realisation of Great Expectations.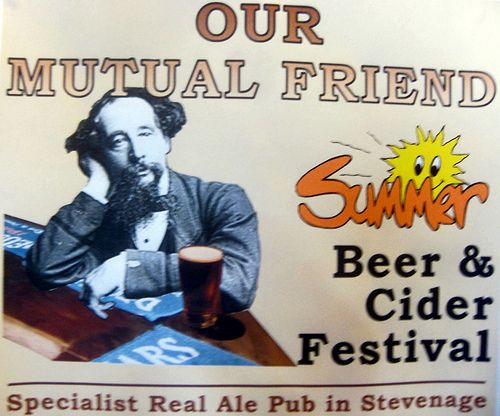 The barmaid was apologetic for the use of plastic glasses, which were a Police requirement (the cheaper option than the alternative of employing bouncers on the door) since the club was promoted to League One. Apparently, the Police believe that football supporters can be trusted with glass up to and including League Two, but then they evolve into members of one of the sub-groups discriminated against in British society.
The warm sunshine meant the pub's beer garden was doing roaring trade, with supporters of both clubs mixing happily.
Not only was it sixty years since the Queen's coronation, celebrated in an exhibition in Buckingham Palace, which we had also visited on Thursday, but it was the same time-length since Latics had shared eight goals in a season's opening day fixture at Luton. Such results are extremely rare and last season it had taken Latics five games to reach the four-goal total.
A turnout of 735 visiting supporters greeted Latics and they got behind the team throughout the match, creating a great atmosphere. After almost scoring in the first minute, creating several chances and having a 'goal' disallowed, Latics went into half-time one goal down, and some of that optimism was starting to waver a bit. At least we were only three points behind the League leaders, with the second half to come.
And what a half it proved to be! Tarkowski got the first goal and Baxter put Latics into the lead at the second attempt, after his penalty had been saved by Chris Day. Then we went 3-1 up with a sensational goal from Cristian Montaño. He intercepted a Stevenage pass on the edge of his own penalty area, and raced the length of the pitch supported by three team-mates, before going wide of the goal only to dink the ball over the keeper and a defender into the net – a definite contender for the 'goal of the season' award!
The rarely-heard "we are top of the League" chant reverberated from the visiting supporters, only for it to turn into cries of "typical Latics" as Stevenage scored two goals to set up a nerve-jangling finale. Dark satanic clouds appeared (no doubt from the North), the floodlights were switched on and heavy downpours helped to cool down the players. Then a rainbow appeared over the stadium with a pot of three golden points awaiting the victors.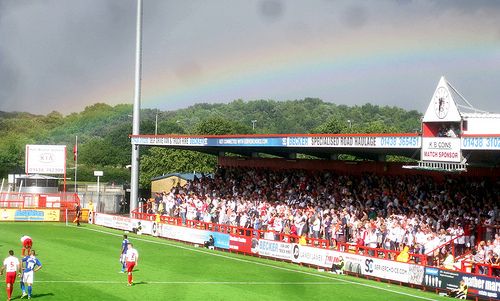 I had been wondering why manager Lee Johnson was wearing his pullover on such a hot day, but it was obviously his 'lucky' one, as his boys rose to the occasion and scored the fourth and winning goal from a Baxter penalty.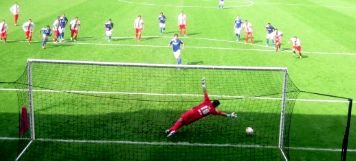 The manager paid tribute to the travelling supporters, saying: "It was a brilliant turnout and they sang their hearts out. Of course it lifts the players ... I thank them for the effort they put in because they were as much a part of the win as the players".
In his post-match interview, the Stevenage manager Graham Westley said :  "Oldham might not have been fancied to do particularly well in the league this season but we have seen from this match that they are going to be a real threat. They have brought some good quality in during the summer and they are going to upset a few teams."  Regardless of what many say about him, I always thought he was a man of great perception!
You can guarantee that if we visit the Lamex Stadium again, we'll follow the same routine which guarantees a Tarky goal and a Latics' victory by one goal. If the hosts are relegated, at least Our Mutual Friend's plastic glasses will be ditched and the drinks will taste even better.
Add a comment
England
Written by Mark W
Saturday, 30 March 2013 17:19
If you read my trip report from San Marino you will know that I was quite forthright in my criticism of elements of the England support. I was shocked however to read this article by Oliver Holt making accusations of racism. HERE
The article makes some very serious accusations about the English supporters in the Stadio Olympico and some of the songs that were being sung.
The key song that the article refers to is the 'Bonfire' song. I was at the game and have spoken to dozens of other people that were there. Not one of us heard this song. Of course, that does not mean that it was not sung. There were England fans all around the ground and it may have originated in an area away from where everyone I have spoken to were sat. I have no reason to think that Mr Holt would have invented this song and so can only take his word for the fact that it was sung.
What I can say, however, is that if there were people in the ground singing this, there could not have been very many of them. A group of say 30 fans singing a song would have been clearly audable in that small stadium. My assumption, therefore is that if it was sung there may have been perhaps 5-10 people involved.
It is the nature of the article that upsets me. The inference is that England supporters are racist and this inference is damaging. A lot of work has gone on from the FA in 'cleaning up' the England support over the last decade or so. In many cases, I think they have gone over the top in this but without doubt they have made fantasic inroads when it comes to racism. To suggest that the England support is still racist, therefore is truely unfair.
Do not get me wrong, I am not for one moment claiming that there are not people with racist view who still follow the England national team. Of course there are. There will always be people in all walks of life who hold these views, but to say England have some racist fans is completely different to saying that England's support is racist. Every club and every nation has some racist fans be it football, rugby, cricket or syncronised swimming.
If there were a small number of fans who were singing racist songs, they need to be dealt with by the FA and by the police. We do not need these people following England. Mr Holt is right here. One person shouting racist abuse is one person too many. If it just a handful though, they should be being dealt with in an appropriate manner, ie. identified and banned. This should not have been sensationalised headline news.
Having been in Rimini and San Marino on the day of the game, I can confirm that there was a lot of anger about Rio Ferdinand's decision to comentate on the game in the Middle East rather than play for his national side. You have to remember that many fans had paid a significant amount of money and booked a week off work to follow the team to San Marino and Montenegro. Is it surprising that they were frustrated with someone who was seen to 'not be bothered to play'? At no point during the day, however, did I hear one racist comment about him.
There is, of course a secondary issue. Assuming we take the song as read, is it actually racist? On the face of it, no. There is nothing at all in that song which uses any kind of racist language and as has been well documented the somg is used at grounds around the country with no racial conotations. The only way, however, to know whether a song like this is being sung with racist undertones is to know the individuals singing it. The same song could easily be sung by two different people for different reasons. As we are yet to identify any individuals as having sung it, I do not understand how a conclusion can have been reached that it was racist.
If you wonder why this matters so much, it is not because of the threat of England playing a game behind closed doors. FIFA are perfectly entitled to investigate and I fully expect the outcome to be that England have no case to answer. The problem comes from the perception of England fans to the general population. I have already heard friends tell me "That's why I don't follow the national team". Some members of the press seem to thrive off criticising the England supporters who care passionately and will follow the team all over the world. Surely we want to be encouraging fans to support England, not turning them away. Furthermore we want to attract fans from different backgrounds. There is a small but increasing number of black and Asian fans following England. That's a good thing but inaccurate reporting like this will put others off.
I care passionately about England and I care passionately about the image of England fans. I have many friends who follow England home and away much more frequently than I do. These are good people who are helping to promote the good name of England fans. It's a real kick in the teeth when someone comes along and tries to undermine this for the sake of a headline.
Add a comment
Last Updated on Saturday, 30 March 2013 18:20
Oldham Athletic
Written by Mark W
Wednesday, 20 February 2013 17:36
It's Saturday 16th Febrruary 2013 and the time is about 19.50. Latics are 2-1 down to Everton in the FA Cup 5th round.
We've played well enough, certainly haven't disgraced ourselves in front of the TV cameras but we're out of the cup. Despite the good performance, we've not created much in the way of clear cut chances in the second half and when that illusive chance finally fell to Robbie Simpson he fluffed it. Howard did well from the original shot but he should have buried the rebound. You always suspect that a chance will come but you simply have to take it at this level.
I shouldn't be as upset as I am. We never had any right to expect to get anything out of this game. We are playing the 6th best team in the country based on their current league position. I am upset though. Not devastated, that would be overstating it but upset all the same. I dared to believe. We were 2 games away from Wembley and I let myself get carried away. Instead of looking forward to tomorrow afternoon's quarter final draw, all I can look forward to is trying to scrape together enough points to stay in this league. I hate being in this league anyway. Perhaps we'd be better going down. New grounds to go to, new pubs to find… No, don't be stupid. We've picked up a bit of unforeseen revenue from this cup run but relegation could prove terminal.
They've done well though, if we play like this we will stay up. They don't play like this though do they? That's the reason we're in this situation.
Come on lads, last chance here. Swing it in and someone get their nut on it. Deano, what are you doing, don't gift them a free kick by handling… Ohhhh my Goddddddd, Yessssssssssss. Shit, check the lino, his flag's up, I know he's put his flag up. No he hasn't. We've done it, Ohhhhhh my Goddddddd. Who scored it? Was it Smithy again? Who cares? Get Innnnnnnnnnnnnnn.
By this point I'm two rows further forward than I was ten seconds ago. I don't know how I got here but the cuts and bruises on my legs suggest I've been dragged over the sharp backs of the seats. I only realise that later in the night as I certainly can't feel any pain now.
I'm screaming with delight but the overwhelming sense, ridiculously, is relief. All those feelings I had moments earlier have dissolved and been filled with pure euphoric relief.
Then it starts, I'm crying. Tears rolling down my cheek. Get a grip man, what are you doing? I don't know why, but there's nothing I can do. The whistles gone and I should be looking forward to Goodison but instead I'm blubbering like a baby. It's not the first time. I was close after Liverpool and a right state both when we were relegated at Norwich and when we lost the Play-off at Loftus Road. It doesn't make it any less pathetic though. The non-stop chanting I've witnessed from the small section of the Roachdale Road End is getting even louder and that's just making me worse.
It's twenty years since I've seen Boundary Park like this. This is what it's supposed to be like. I love football.
Add a comment
Last Updated on Wednesday, 20 February 2013 17:38
Oldham Athletic
Written by Mark W
Monday, 04 February 2013 16:54
My views on sacking managers were well documented in the blog I did at the end of September. I strongly believe that a manager has to be given time to complete the job he has been asked to do. Despite this, even I had come to the conclusion that Paul Dickov could not remain as manager.
The league run of one point in nine games that preceeded Dickov's resignation included a number of games where we could honestly claim to have been unlucky. Unfortunately that excuse eventually runs out. It is fair to say that you have to make your own luck at times.
When a manager leaves his post, it is common to hear the phrase "He lost the dressing room". On this occasion, couldn't seem to be further from the truth. Everything suggests that the players loved Dickov yet still they didn't play for him. Was he too 'matey' with them? I don't know. All I do know is he wasn't getting the best out of them.
A lot has been made about the strength of the squad this season. Indeed, Dickov himself described it as the strongest during his time at the club. Personally, I don't buy that. We had a decent first eleven but the squad was worryingly thin. That said, Corney did back him when he needed to. A number of loanees were brought in and the signing of Jose Baxter more than any showed that some money could be found when it really mattered.
By the time we lost to Notts County it was clear that Dickov had no future at Oldham. If it had been me I would have made the decision at that point. The Liverpool game was always going to muddy the waters. When we won, it made Paul unsackable in the immediate term and had we lost, the press would have had a field day with "Oldham sack manager because they lose to Liverpool". For whatever reason, Corney chose to give him that Liverpool game and in many ways it was an inspired decision. I wouldn't swap that victory for anything right now and you have to imagine that had Dickov gone, we probably wouldn't have won it. For once his tactics were spot on.
In the aftermath of the game, we became a big story in the media. It was inevitable that questions would be asked regarding the manager's position and I'm not sure I know what Simon's response should have been. I honestly believe he was in turmoil. It is clear that he and Paul are good friends and that he didn't want to lose him. Friendships shouldn't cloud a business judgement but it's hardly surprising that they do.
The way the manager was backed on deadline day shows to me that he really was being given a final opportunity to turn it round. If he could have done it, the Liverpool game could have been the biggest turning point in our history.
Sadly it was not to be. For twenty minutes against Walsall it looked like things might be on the up. Even after that there were signs that all might not be lost but the way we capitulated in the final twenty minutes meant that Dickov was a dead man walking. He'd shown that despite all that had gone on, he just couldn't motivate them in the way required.
The players have a lot to answer for. There are a number who simply have not performed at a level that they are capable of with any consistency. They claimed to like him but when he was relying on them to save his bacon they went missing.
I didn't like the way that his eventual dismissal was played out in the press but again, that was largely down to the furore following the famous cup victory. It struck me that the news he'd gone made the national news while Keith Curle's dismissal from Notts County the same day didn't warrant a mention.
What has happened has happened and I wish Paul well for the future. I believe that he can make it and at times we saw some superb football while he was here. As well as the big wins such as Liverpool and Sheff Utd there were games like Charlton away when we battered them with ten men without finding the goal to win the game. Crewe away and Preston at home this season saw some of the best football I've seen from an Oldham side in quite some time.
It's important now that we bring in the right man to take the club forward. I am not going to put specific names forward but it needs to be the right choice, not an emotional choice. I would not like to see us step backwards by appointing someone who's been here before. We need a clean break. I will support whoever gets it whether it is who I want or not. The only way we will be successful is if everyone is pushing in the same direction.
My one plea to Simon Corney would be to appoint who he believes will keep this club up and then play good football next season. Don't pick who the fans want, pick the best man for the job. Just remember, though, that this man is not Mark Hughes.
Add a comment
«

Start

Prev

1

2 3 4 Next End »


Page 1 of 4