As another season comes apart at the scenes, there appears to be a growing sense of depression at Boundary Park.
At the start of the season there was little belief that this season would end up being anything other than a battle against relegation and it is beginning to look as though that is exactly how it will turn out. For a long time, however, we were in or around the play-off picture and there was genuine optimism that things were going to be different. We had a manager who said all the right things and he had the team playing better football than we had seen in several years. We were, however, only ever in the pack with ten to fifteen other clubs and a combination of factors including the demise of the manager and an injury backlog have shown talk of the play-offs to be nothing more than a pipedream.  
You might imagine that the brief flirtation with the top six might have led to something of a feelgood factor but if anything it seems to have gone the other way. It seems that it has simply led to a growing realization as to just how difficult it will be for this club to achieve the promotion that the fans long for. This becomes even more apparent with the move towards the new financial fair play rules as the spending required to deliver success is to be closely linked to income and so any reduction in attendances will inevitably lead to even longer odds on success.
Much has been made of the difficulties in attracting supporters into Boundary Park these days and in particular the fact that an upturn in form tends to lead to little improvements in crowds. Last month, on Valentine's Day the club made a real effort for the game against Colchester by reducing admission to just £5. They seemed shocked and hugely disappointed that this did not lead to the kind of uptake they clearly anticipated. I think they are missing the point though.
Whilst there are massively different expectations from supporters at different clubs, ultimately all football fans want the same thing. They want to see their team being successful and the thing that keeps them going to games, or attracts them in the first place, is a belief that success is on the horizon. It is no coincidence that I started to go to Latics when the team was successful in the late 1980s, early 1990s. Yes, I now go partly because "that's just what I do on a Saturday afternoon" but it is that desire to see us achieve something and the belief that we might that keeps me passionate. If that belief isn't there, what's the point?
It is this that explains the difficulties in attracting support at Oldham and why the odd good result just won't make a difference. To understand that you have to realize that Oldham Athletic's recent history is not like most clubs.
To me, success relates to one of the following:
Winning something. Again, this will differ for different clubs with different expectations but be it the Champions League, Europa League, FA Cup, League Cup or even the JPT, that moment of glory gives the fans what they are looking for.

Qualifying for Europe. There are 20 clubs in the Premier League and realistically, 15 or 16 of them know that they are highly unlikely to claim the title. These teams do know, however, that a good season can deliver a European adventure.

Promotion. For most of the clubs in the league it is promotion that offers them the best chance of glory. Every season 72 clubs set out with a hope that they can claim a spot in the top six (or seven in League two) and grab a place in the division above.
There are other moments of glory such as a big win in the cup against higher division opposition but those memories soon fade. It is only the three examples I list above that really go down in the club's history.
If you accept this definition of success you soon realize why I say that Oldham are out of the ordinary. In the last five years, sixty percent of league sides have had some sort of success. That means that almost two thirds have had an event that will galvanise the fan base. If you look back a bit further, all bar three of the current 92 league clubs (97%) have had success in the 21st century. The three clubs who can't make this boast all have to go back well before the turn of the century. Both Oldham and Tranmere Rovers last tasted the sweet smell of success in 1991 whilst Coventry city have to go back another four years to 1987 for their FA Cup victory.
Looking back over that 24 year period since Oldham last won something, it is interesting to compare the demise in league position with the demise in crowds. The following demonstrates how closely the two are aligned (for demonstration purposes the graph shows league position in reverse ie. Bottom of league 2 would be 1 whilst top of the Premier League would be 92).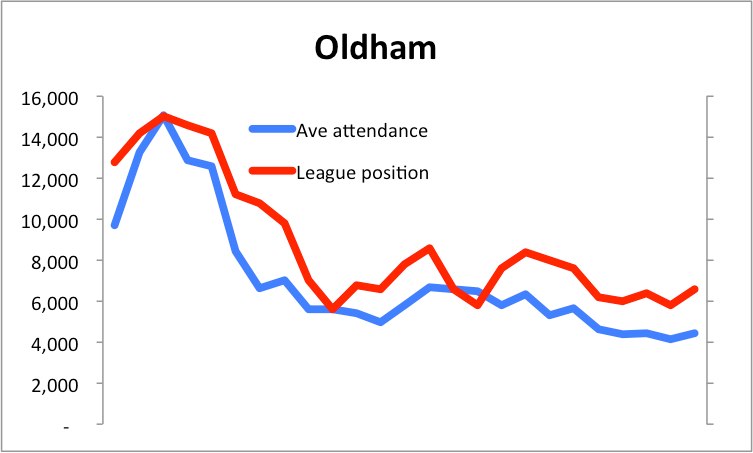 Taking just the period whilst we have been trapped in League one, we have seen a 21% fall in crowds between our first season in 2007/8 and last season.
This is how that graph looks for our two most comparable opponents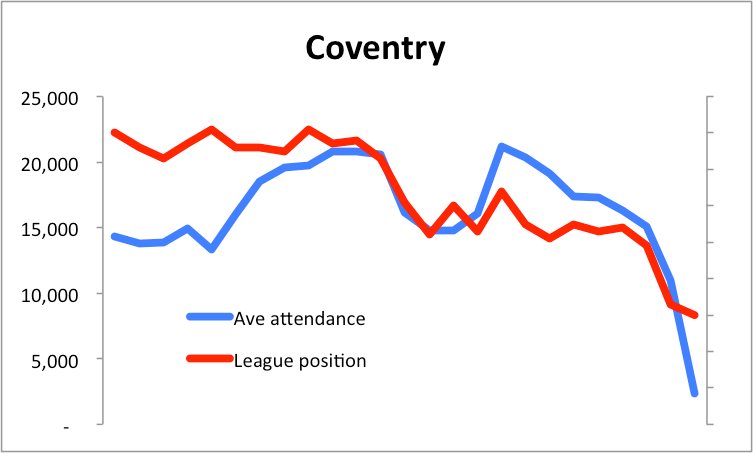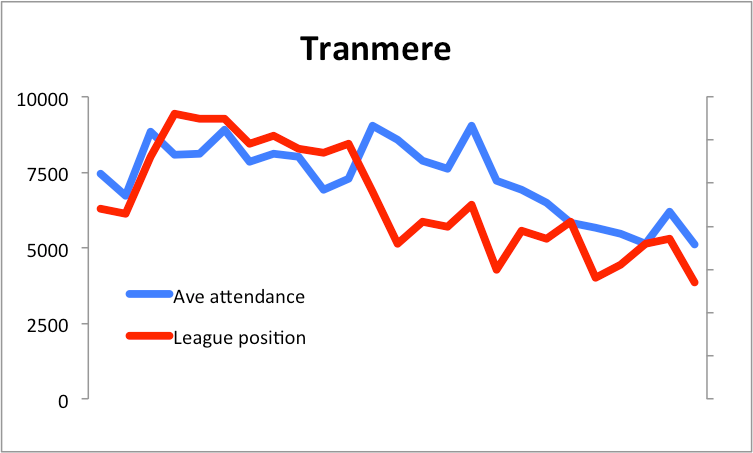 As you can see, the trend is almost identical. Both Coventry and Tranmere have blips in those charts but both are easily explainable. Coventry saw a spike in support in 2006 when they moved to the Ricoh Arena but that only lasted three years before they reverted back to where they were and then the support almost completely disappeared when they were forced to leave the Ricoh and play in Northampton. Tranmere on the other hand saw crowds increase in their final season in the Championship in 2001 and then witnessed another increase in 2005 when they finished third in League one, narrowly missing out on promotion. In both cases, the increases lasted just the one season before returning to usual levels.
Comparing the drop in crowds over the period since Oldham joined League one, it seems most reasonable to look at Coventry up until when they left the Ricoh and to exclude last season for Tranmere when they crashed into the basement division for the first time since 1989. From 1997 to 2012, Coventry saw a 23% fall in crowds whilst from 1997 to 2013, Tranmere also saw a 23% decrease.
It appears that Oldham's exodus of fans is exactly what you would expect to see in the circumstances.
When you look at this context, it is easy to see why much of the Oldham public responds to the football club in the way that they do. There have been many false dawns in the last eighteen years and they have all ended up in some sort of failure. We have seen countless seasons collapse after a good start, we have seen a chairman walk out on us just as we seemed to have finally got somewhere and now we have seen a manager desert us too. It is only natural that each time something like this happens, you lose a few more people who just can't bring themselves to believe any more. Other clubs have these disappointments too but for the vast majority they have them intermingled with seasons that do deliver.
I am concerned at the moment because I am watching people walk away who I would have never imagined would do so. Not only that, I am finding my own blind faith tested like never before. If this club can't convince people like me they really are in trouble.
I acknowledge the downbeat tone of this blog and I am well aware that I am calling out the problem without offering up any solutions. If I knew what the solution was I would certainly call it out. What I do know, though, is that as fans we need some hope. We need to be hearing the right things coming out of the club and we need to know that the owner has a clear strategy about how we might one day achieve something once again.
---