General Football
Written by Terry
Monday, 12 August 2013 07:56
What better way to push to the back of your mind Friday night's nightmare memory of a 4-0 home defeat to rivals St. Patrick's Athletic, with two men sent off, than to leave Dublin to watch the real Athletic at Boundary Park?
So the lone Rover landed at Manchester Airport early on Saturday morning, with plenty of time to kill, before following my detailed instructions on the bus service to take him to the nearest point to Boundary Park, where we could meet up for lunch and a few jars before third-placed Latics took on second-placed Walsall.
It's easy to relax when taking in the delights of Manchester and, when relaxed, does it really matter than you haven't brought with you those detailed travel instructions? After all, it's just a matter of looking for a bus going to Oldham and getting on it. Oh no, it isn't! The intrepid traveller chose the Stagecoach 76 service, which took him on a tour of residential estates, including the never-before-heard-of Terence Street, Newton Heath. I wonder where that name came from…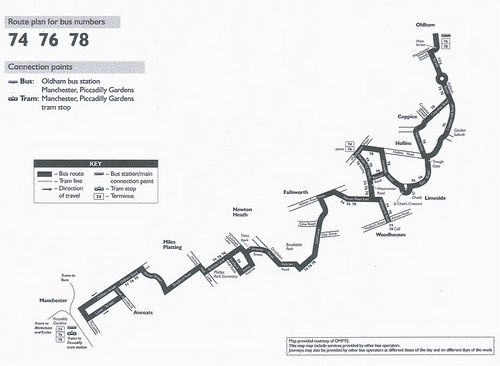 After doubling the length of the intended journey, and finding himself in Oldham town centre, a taxi took him to his destination. NOTE: Future fans visiting 'Ice Station Zebra' please avoid this route and take the First 181 service.
Better late than never, with the lunchtime session cut short and long queues at the bar of the Clayton Green, it wasn't long before we were off to the match, and what a let-down that turned out to be!
Only one team turned up, and it looked as though Walsall had come on the 181, with Latics still delayed on the 76. The visitors took the lead in the 25th minute and were never really troubled thereafter, in an instantly-forgettable game. The highlight of the afternoon for our Irish visitor was hearing at half-time from a Latics supporter about his trip from Dublin to Belfast with Rovers' supporters, which resulted in missed return transport and sleeping on the floor at the Cliftonville FC manager's house.
Back in the Clayton Green, we caught up with stories from our respective 'adventures', and the good news that Shamrock Rovers Ultras were to end the withdrawal of their Internet Forum service (in protest against the Club's mismanagement), which I had missed very much.
It's now 16 years since supporters of Latics and Shamrock Rovers struck up a long-lasting friendship in the Isle of Man, and discussion arrived at the Latics/Eintracht Frankfurt Supporters' 30-year friendship, and news of the forthcoming trip to Frankfurt for the Christmas Market and a match, which we have added to our 'must-do' list.
I was drinking Coke as I was acting as chauffeur, and a short drive took us to meet up with more Latics supporters in Royton's Blue Belle pub, where a karaoke was in full-flow.  It was a joy to see football supporters trusted to drink out of proper glasses instead of plastic ones.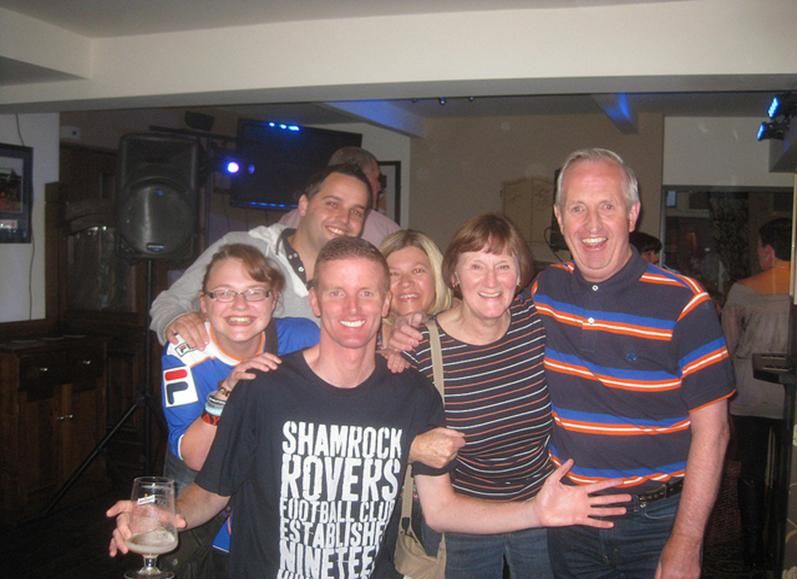 A great night ends in shirt-swapping, doesn't it? This one did, albeit only a temporary swap to our visitor's disappointment.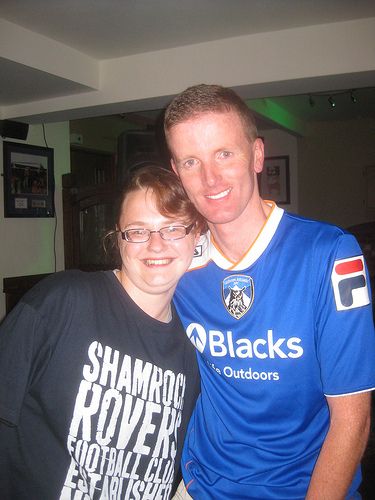 The quickest way back to the traveller's Manchester Airport hotel was by chauffeur-driven car. It was the least I could do, before we continued home via the M6 after a short stop at Knutsford Services to sample the Burger King 'Chicken Royale' – anything tastes good when you're hungry!
The return of the SRFC Ultras' Forum is just in time for this to be shared with the Hooperati.
Add a comment
Last Updated on Monday, 12 August 2013 08:00
General Football
Written by Mark W
Tuesday, 11 December 2012 22:26
There are two football stories dominating the media today with 13 clubs backing calls for a return to safe standing, while the PFA have mooted the idea of clubs installing netting to protect players from missiles. Both issues simply highlight how football fans are treated differently from other sections of society.
The call for safe standing is a no-brainer for me. Standing should never have been outlawed in the top two divisions and bringing it back should be an option available to all clubs.
I am well aware of the sensitive nature of this argument, particularly amongst Liverpool fans affected by the Hillsborough disaster but you have to look at these things objectively. Hillsborough was not caused by people standing. We have had it confirmed recently that there were a number of failings which led to the disaster but ultimately, it was caused by fences. The fans in the Leppings Lane end were crushed due to the fact that they had nowhere to go. If there had been no fences, there is nothing to suggest that there would have been any deaths. The overcrowding in there was due to critical errors by the police and stewards.
Technology has moved on and even if you accept that standing in the form we used to have will never return, safe standing areas have proved hugely successful in Germany. Why this technology has been repeatedly ignored by the powers that be in this country has to be questioned.
It seems that as a football fan, I do not have the right to choose how I watch a game whereas if I want to attend another event, I suddenly have that right. Not only have venues for other forms of entertainment not had to convert to seating, new venues with huge standing areas can still be built. In the last couple of years both Salford Reds and St Helens Rugby League teams have built new stadia with significant terraces. Not only that, but while Wembley Stadium has to be all seated for football matches, it is fine for 15,000 people to stand on the pitch for a rock concert. Either standing is dangerous or it is not, you cannot claim that it is only dangerous if you are watching football.
I should add here that I am not someone who believes that the reintroduction of terracing will reduce the cost of attending games. There will be a cost with installing terraces and I have no doubt this will get passed on to fans. I do, however still think that large numbers will choose to stand. It is interesting to note that in recent years the price of standing at gigs has risen above the cost of sitting for big artists, clear evidence that demand is for the experience, not the price.
To me, there is no comparison between sitting and standing at a game. The atmosphere that can be made by a few hundred stood together can easily outstrip tens of thousands sat down. At the same time, I have witnessed my parents have games ruined for them by fans standing in front of them in all seater grounds. Offer the opportunity to stand and you should remove this problem.
The idea of putting up netting is equally discriminatory. Why do some people insist on tarring all football fans with the same brush? It was disgraceful that someone threw a coin at Rio Ferdinand on Sunday but what has that got to do with me just because I like to watch football?
If I go into town on a Friday night and assault someone, I will be arrested and if the press take note, they will refer to me as a thug. If I was to commit the assault inside a football ground on a Saturday afternoon, I would still be arrested but the press would probably refer to football hooligans. Exactly the same act sees me blamed in one instance but football fans generalised in the other. Likewise, I ask the question whether should someone throw a coin at an actor in a West End play, would there be calls for audiences to be searched or barriers to be put up to protect actors in all theatres across London?
The same kind of discrimination exists in other areas too. It is illegal to drink alcohol within sight of a football pitch at a game in England. It is not illegal to drink in the stand at rugby or cricket. It is illegal to sell on a ticket to a friend for a professional at less than face value. If you sell a ticket for any other event at twice the face value to a total stranger, you have committed no offence.
I'm not claiming that these laws have all been brought in without reason. In the 1970s and 80s there were so many problems with hooliganism that some emergency legislation was required but football is not in the same place now that it was then. Maybe it is time to stop treating us all like animals and instead show us the respect that just we deserve.
Please note that these are my own views and do not represent the views of www.ernieflag.co.uk
Please feel free to follow me on Twitter… @oldham_mark
Add a comment
General Football
Written by Terry Doran
Thursday, 02 August 2012 17:00
So the question was how to fill the void between Euro 2012 finishing and the Olympics starting?
Read more...
General Football
Written by Terry Doran
Saturday, 17 December 2011 18:06
We were up at 3:30am for the now familiar early morning flight from East Midlands to Dublin, with Jenny flying in from Manchester, and meeting up in the airport for breakfast before catching the Flybus to Tallaght.
Add a comment
Last Updated on Friday, 15 June 2012 11:51
Read more...
General Football
Written by Terry Doran
Monday, 03 October 2011 09:29
Here we were again, it's a Thursday and we're Hooping in another capital city, but this time just a couple of hours down the M1. The car was parked at Stanmore, which brought back sad memories of when we followed the same route for Ernie's funeral. 
Add a comment
Last Updated on Friday, 15 June 2012 11:50
Read more...
General Football
Written by Terry Doran
Thursday, 15 September 2011 11:30
My blog on the Latics Six in Tallaght met with great approval amongst the Hooperati, at a time when Rovers had hit a bad patch of results, the assistant manager had left and there was a lot of gloom around the Tallaght Stadium. 
Add a comment
Last Updated on Thursday, 15 September 2011 11:39
Read more...
General Football
Written by Terry Doran
Monday, 01 August 2011 20:59
The luck of the Champions League draw had given us the chance to tick-off another one on our list of cities to visit, while supporting Shamrock Rovers against Football Club København (FCK).Copenhagen is ranked as the most expensive city in Europe and 6th most expensive in the world, so only a one-night stay was on the agenda.  As Denmark is not in the Eurozone, we had to have DK with us - not Dean Kelly, Danish Krone.
Add a comment
Last Updated on Thursday, 04 August 2011 15:34
Read more...
«

Start

Prev

1

2 Next End »


Page 1 of 2