General Football
Written by Mark W
Thursday, 02 March 2017 23:20
It is very rare that an issue at another club leads to me feeling strongly enough to write a blog. Today, however, I have been intrigued at strength of feeling on social media with Oxford United fans arguing amongst themselves. It has intrigued me because I understand it completely.
Last night Oxford won 3-2 at Luton in the final of the EFL Trophy to claim a spot in the final at Wembley at the start of April. Whilst a section of the Oxford fanbase looks forward to a 2nd trip to the national stadium in as many seasons, another sizable group of fans will continue their boycott of the tournament. Feelings are clearly strong with both factions trading insults throughout the day.
I have not attended one game in the tournament this season despite having previously been to most games in its predecessor over the last couple of decades. Indeed, I wrote a blog on the importance of the competition in 2011 here: http://www.ernieflag.co.uk/site/index.php/bloggs/14-oldham-athletic/127-jpt-a-golden-opportunity
I have never boycotted Oldham games before and not going to matches was not something that sat comfortably with me. Unfortunately, some things are more important and making a stand against the inclusion of B teams is one such issue to me. I genuinely believe that had fans simply accepted the inclusion of higher league U23 sides it would have only been a matter of time before the top Premier League clubs were allowed to enter a 2nd team into the Football League. This would be the death knell of football as we know it.
Clearly I am not alone as there has been the best supported cross-club boycott that I can remember in English football. Crowds have been over 50% down on JPT matches last season.
Ever since we kicked off the competition with a home defeat to Carlisle I had a real concern that we might make it to the final. I didn't want to have to make the difficult decision that the Oxford and Coventry fans are faced with now. I have to be honest and say that I wanted us to get knocked out as early as possible.
I did, however, go through the situation in my head and I can't 100% state what I would have done. I think I would have stuck to my principles and not attended the final but at the same time it would have been devastating to miss out on our first competitive final of any kind for 27 years. If I had attended I don't think I could have enjoyed it but if I'd stayed at home I would be missing out on a big part of the club's history.
This, in itself, is a reason why this tournament has been a disgrace this season. No fans should ever be put in this position. A trip to Wembley is something special so nobody should be put in a position where they have to even think about not going.
I hope the Oxford and Coventry fans make their own decisions and are not made to feel like they have let their club down whichever way they decide to turn. Above all, I hope that this ill-thought out experiment is abolished after just one season and that we can all get back to supporting our own clubs home and away in every game next year.
Add a comment
Last Updated on Friday, 03 March 2017 08:13
General Football
Written by Terryy
Saturday, 02 May 2015 16:08
I doubt whether any other town in the country of the size of Burton-on-Trent can claim to have had four Football League Clubs.
In the pre-war years Burton could proudly lay claim to three Football League sides in Burton Wanderers, Burton Swifts and Burton United.
Burton Wanderers inflicted Newcastle United's worst ever defeat 9-0 in Division Two on 15th April 1895. A contemporary report in the Newcastle Evening Chronicle Sports Edition included quotes about a match on February 8th 1896, when Newcastle United (6th) were due to play Burton Wanderers (2nd) at St James' Park in the League Division Two return fixture:
About 7,000 people lined the barriers (about average for that time) waiting for the two teams to take the field. The game was advertised to start at 2.45pm and at the allotted time the Newcastle team began to warm-up, but the opposition failed to appear as only six Burton players had arrived; the others having missed their connection at Sheffield. The Newcastle players approached referee Mr. Cowley claiming that the match should be awarded to Newcastle. However, although nothing was certain, it was believed that the rest of the team would arrive by 3.30pm and the decision was taken to delay the kick-off.

Shortly before 3.30pm the Newcastle players returned followed a couple of minutes later by eight of the Burton team (not including the keeper) and the match was on! The Burton captain lost the toss but Newcastle had the decency to kick up the hill in the first half. Within minutes a long low shot by defender Graham found the net. At 3.45pm "the first of the missing lot, namely Watts, the regular goalkeeper, turned up and immediately took up his position under the crossbar, attired in ordinary long trousers and jersey". A couple of minutes later the remaining tawdry two arrived having kitted themselves out.
Thus United only had one goal for their early numerical advantage as they "had taken things easily" and only when the opposition was up to their full quota did their "tactics become more vigorous".

Initially it was United who continued to dominate the game and kept Burton's custodian well occupied, but The Wanderers gradually worked their way back into the game as the "attack of the visitors became more spirited". They hit the bar and had another goal chalked out for offside.

"Remarkably fast play next became the rule, and the excitement grew in intensity as both sides pressed in turn" but there were no further goals in the first period. The players retired from the field and the visitors were "cordially applauded for their plucky stand under such unfortunate circumstances".

In the second half Watts now had his kit on, but United had both the incline and the wind in their favour and they laid siege to the Burton goal. Lennox soon scored a brace. The first a "flying kick banged into the net" the second following "a splendid piece of combined play" brought "to a magnificent conclusion by swinging the ball into the net".
There were more chances for both sides and United had a goal disallowed while Burton defender Hanford "elicited tremendous cheering" when he blocked an Aitken "stinger". United added a fourth just before the end; Graham scoring his second (his only goals of the season).
In 1897 both Burton Swifts and Burton Wanderers faced re-election and the Wanderers were voted out, their place being taken by Luton Town.
The club rejoined the Midland League but in 1901, it merged with Burton Swifts who were facing re-election once again. The new club, known as Burton United continued to play in the Football League for another six years, before it too lost its place and went out of business in 1910.
Senior football in the brewing capital was represented by Burton Town but the club was wiped out during the War in 1940. A 10-year void was filled with the formation of Burton Albion F.C. (The Brewers), at a public meeting in 1950, playing at the Lloyd's Foundry ground on Wellington Road.
The Brewers worked their way up the football pyramid via:
The Birmingham League (including a F.A. Cup third round appearance at Charlton Athletic);
The Southern League (including a move to Eton Park in 1958 and a period of three-years from 1962 managed by Peter Taylor, who went on to be Brian Clough's managerial partner);
The Northern Premier League part under the player/management of ex- Nottingham Forest and Manchester united Ian Storey-Moore.
During the Club's Northern Premier League days, local businessman Ben Robinson became Chairman and Storey-Moore was succeeded in 1981 by Neil Warnock, who had worked previously for an undertaker and was a qualified football referee and chiropodist. Warnock's team won the Northern Premier League Challenge Cup beating Macclesfield Town in the Final at Maine Road, Manchester in April 1983. Also during his reign, the Club hit the national headlines in 1985 when it lost in the third round of the F.A. Cup to Leicester City at Derby County's Baseball Ground. A 6-1 defeat (including a hat-trick for Gary Lineker) was due in part to the fact that the Albion goalkeeper, Paul Evans, was hit by a missile thrown from the crowd. After huge national publicity and a Football Association review, the game was replayed behind closed doors at Highfield Road, Coventry with Albion losing by a far more respectable 1-0 score-line.
Warnock was succeeded by his assistant Brian Fidler and the Club reached Wembley in the F.A. Trophy Final in 1987. A goalless draw with Conference side Kidderminster Harriers was followed by a replay at The Hawthorns, West Bromwich where 15,685 saw Albion go down 2-1. In 1988 Burton-born and ex-Latics player Vic Halom ('King of all Geordies') became The Brewers' manager.
After a further ten years in the Northern Premier League/Southern League (based on geographical balance), Ben Robinson started his second spell as Chairman, and appointed Nigel Clough as player/manager in October 1998, with his former Forest team-mate Gary Crosby as his assistant. After struggling in the remainder of the 1998-99 season there followed a period of continual improvement that saw the club finish as runners-up in the Southern League Premier Division in successive seasons, just missing out on promotion to the Conference.
Another geographical alignment of the feeder leagues saw Albion return to the Northern Premier (UniBond) League in 2001, when Clough's team of part-time players swept all before it, with a league record number of points gained, over 100 goals scored and only 30 conceded achieving the goal of Conference football.
The players went full-time and the first three years in the Conference were all played at Eton Park, with the Club finishing in the bottom half in each campaign. It became clear that the only way for the club to progress was to move away from their home of more than 45 years. Chairman Ben Robinson negotiated the free acquisition of land from Pirelli against naming rights, and the Pirelli Stadium was built on the site of the Italian tyre giant's Sports and Social Club at a cost of £7.2m in 2005, only a stone's throw from the Club's former home. The Stadium is paid for and its conference and meeting facilities have generated a steady income from non-football-related activities, leading to the Club being in the enviable position of having no debt.
Although the Pirelli Stadium opened for business in July 2005 with a low key pre-season friendly against Chester City, it was officially opened in November 2005 by Manchester United, who ironically returned to the Pirelli two months later in the F.A. Cup third round. Albion held the Premier League giants to a 0-0 draw in front of a then record ground attendance of 6,191 and TV audience, before losing in a replay at Old Trafford, while coming away with enough money to bring forward by four years the Club's 5-year plan. The team kicked on to earn a best-ever Conference finish (9th), only to better that the following season with a 6th place finish, and then the play-offs in the 2007/08 season before losing to Cambridge 4-3 on aggregate.
The Club's ability to generate significant off-field revenues through the Stadium's excellent banqueting and conferencing facilities enabled Clough to have the backing to put together the side that ultimately achieved Football League status, 102 years after their predecessors, Burton United, lost their League status. The Brewers racked up an impressive run of twelve straight wins mid-season to streak ahead of the pack, and even when manager Nigel Clough left for Derby County in January 2009, with the Club in great form, it seemed the title was a formality. Under caretaker-manager Roy McFarland The Brewers won four of his first five games. Bookmaker Bet Square paid out in February in anticipation of The Brewers being Champions. That appeared to be the kiss of death with them winning only four of their next 12 matches as the momentum dissipated and nerves crept in, with what had been a 19-points lead being whittled away. It was squeaky-bum time, as the title-decider went to the final day when, despite Albion's 2-1 defeat at Torquay United, Cambridge United's failure to beat Altrincham handed the Blue Square Premier title to The Brewers.
Ahead of the 2009/10 season in the promised land of the Football League, the Club was granted permission to increase capacity at the Pirelli Stadium to 6,912.
When caretaker-manager Roy McFarland opted not to apply for the full-time role it was turn of former Birmingham City and Derby County striker Paul Peschisolido to benefit from the Chairman's desire to give ambitious young managers a chance to succeed. The former Canadian international brought in another ex-Blues' and Rams' man, Gary Rowett as his assistant.
After a first season that saw The Brewers comfortably consolidate their new-found status with a thirteenth place finish, the second term in the Football League was a more difficult campaign, given that the club had to play over half of its league matches in the final three months of the season, after numerous postponements left them with up to eight games in hand on their rivals.  From a comfortable position just five points off the play-offs in December, their inactivity meant that at the start of February a relegation battle ensued, with a six game unbeaten run at the end of the season eventually confirming League status for a third season with a game to spare. The backlog of games was also affected by the club's best ever FA Cup run. Championship club Middlesbrough was beaten in the third round but the Club's first-ever appearance in the fourth round ended in a 3-1 defeat to another Championship club, Burnley.
The Club has the best training facilities in the country to call upon at St George's Park, Rangemore, on the outskirts of Burton, which have been used since long before the F.A. found the money to finish the project. I saw Latics Reserves beat Burton Albion Reserves there in 2012.
Peschisolido was sacked as manager in March 2012 following a run of poor results, and Gary Rowett was promoted from within to lead the club to Football League safety. Rowett's first full season brought the club's highest ever league finish of 4th in League Two, qualifying for the League Two play-offs against Bradford City. The Brewers won the first leg at Valley Parade 3-2, but the Bantams fought back in the second leg to progress to Wembley and break Albion hearts.
The Brewers bounced back however, and this time reached the play-off Final in 2013/14. Over 8,000 Albion fans made the trip to Wembley to see the Club make its first appearance there in 27 years. A tight game against Fleetwood Town looked to go either way until Antoni Sarcevic scored with 18 minutes left to consign the Albion to a second successive year of play-off disappointment.
With Albion achieving six wins and a draw in the opening seven League Two fixtures of the in the 2014/15 season, and progressing well under Gary Rowett, he left to become manager of Birmingham City in late October 2014.
Ben Robinson made another astute appointment from sixty applicants, in the form of Jimmy Floyd Hasselbaink, to his first managerial role in England after a year at Royal Antwerp. On 18th April 2015 Burton won 2–1 away at Morecambe to earn promotion to Football League One for the first time in the Club's history. On 2nd May 2015 The Brewers graduated from the Abbey Stadium Cambridge with full honours as Champions of Football League Two.
With Louis van Gaal and Ronald Koeman faltering, and Dick Advocaat unable to create a snowball effect, Jimmy has turned out to be the season's flying Dutchman, and now he appears to be attracting the attention of Leeds United. If the opportunity arises, he faces a tough decision whether to quit the progress he is making with Burton, for a role in the quicksand of Elland Road, with a crack at promotion to the Premier League.
I have supported Oldham Athletic for longer than Burton Albion has existed, but since moving to Burton in 1974 to work at the Town Hall and living in the town for 40 years, I have taken a close interest in The Brewers' progress.  At work I enjoyed first-hand news about the Club from a colleague who was in daily contact with Maurice Edwards, a former Albion player/referee/scout and close friend of ex-Brewers' manager Peter Taylor. With Brewers' fixture dates nearly always coinciding with those of Latics, the opportunities to watch them have been few and far between, but, in addition to home games, I have seen them play at places such as Accrington, Altrincham, Barnet, Boldmere, Halesowen, Sutton Coldfield and, of course, the old Wembley Stadium.  When watching The Brewers, I do not have the same emotional attachment as I do with Latics, and sometimes it has proved difficult to remember to sing the appropriate words to the same songs.
Pre-season has often provided the best opportunities to see them play, particularly in the form of the Bass Charity Vase competition, which was founded in Burton-on-Trent in 1889, to be competed for annually by Midlands' teams, particularly Football League clubs. The proceeds from the games would be donated mainly to medical-related and hospital charities. Its Patrons were Lord Burton and Hamar Alfred Bass who presented a magnificent inscribed silver Rose Bowl (reputed to be one of the most valuable trophies in British football) to be held by the competition winners.
Many famous clubs and players have taken part since the competition started. Innovation has been a key to its continuing success: even during the difficult times of the two World Wars, the competition took place. Coalville Munitions Girls won during the Great War and a Royal Artillery team was successful during the 2nd World War. Other past winners include Aston Villa, Birmingham City, Coventry City, Derby County, Leicester City, Liverpool, Notts County, Nottingham Forest, Stoke City and West Bromwich Albion. On one occasion I tipped-off Oldham Athletic's manager Joe Royle that West Brom was to field its strongest side in the competition at Eton Park, five days before playing Latics. Joe sent a scout to watch, and Latics came away from The Hawthorns with a point in the opening game of the season. In addition to The Brewers' homes, I have seen games in the competition at Bass Meadows, Gresley Rovers, Rocester F.C. and Stapenhill F.C. I also remember watching one of the games in the competition played at Peel Croft, Burton Rugby Club's ground, when a young Stan Collymore played for Wolves. The competition is played pre-season and current holder Burton Albion is the most successful club, having won the trophy 27 times.
My hope was always that one day The Brewers would play Latics, and so it came to pass in the first round of the F.A. Cup in November 2002 at Boundary Park. Josh Low gave Latics the lead only for Aaron Webster to equalise just before half-time from the penalty spot. When ex-Latics Craig Dudley sprinted through to put The Brewers in front in the 59th minute, the Rochdale Road End exploded, and the long-arms of the law could see no further than the colour of the shirt when arresting not only a fan for pitch encroachment but also Aaron Webster for….your guess is as good as mine!
Picture courtesy of Oldham Athletic fanzine 'Beyond The Boundary'
It took a 90th minute goal from Fitz Hall to realise my dream of seeing Latics playing in Burton in the replay. The script for that replay at Eton Park read that Albion were to play well, but Latics were to go through to the next round. The game followed the script, but it had so many twists and turns, that it would have done Alfred Hitchcock proud. Latics went in front in the 59th minute through Clyde Winjhard, but succumbed to Albion pressure when Christian Moore scored in the 84th minute. In the 20th minute of extra time, Albion took the lead when Moore scored again and, with the sound of my friends in the adjoining home stand chanting my name and asking me the score, my blushes were spared when the legendary David Eyres equalised with only four minutes of extra time remaining. In the ensuing penalty shoot-out Albion went first and both teams had seven attempts, including one scored by Albion player/manager Nigel Clough, but Carlo Corazzin scored the winner for Latics to end an epic contest. Albion fans rated the two games against Latics as the best in their Club's history up to that date.
I had to wait nine years for Latics to be drawn out of the F.A. Cup hat to play The Brewers again at Boundary Park in the first round. This time a series of mistakes by Albion gave Latics a 3-0 lead by the 35th minute and all the visitors had to show was a Calvin Zola consolation goal in a tepid encounter.
In July 2009 The Brewers' Chairman Ben Robinson went out of his way to greet the '92 in Blue' team of Oldham Athletic supporters and to support their 92-club charity challenge, when they visited the Pirelli Stadium.
Even when I was one of the many co-owners of Ebbsfleet United, I watched from the home end as 'my' club played at the Pirelli Stadium, because The Brewers had a greater need for the points.  Now I am looking forward to watching The Brewers from the away end of the Stadium, with all the emotion that goes with supporting Oldham Athletic.
Ben Robinson has told the Burton Mail that promotion could provide a 'major boost' to the club's coffers, and business leader Chris Plant has claimed that promotion will put the town 'on the map for all to see'. Many Latics supporters are planning to boost the Burton economy next season and, with so many pubs to visit and the town's renowned Beer Festival, it may take more than one visit, with possible away draws against The Brewers in the Carling Cup, F.A. Cup and Johnstone's Paint Trophy, helping to quench those thirsts.
Add a comment
Last Updated on Saturday, 02 May 2015 16:20
General Football
Written by Terry
Monday, 12 August 2013 07:56
What better way to push to the back of your mind Friday night's nightmare memory of a 4-0 home defeat to rivals St. Patrick's Athletic, with two men sent off, than to leave Dublin to watch the real Athletic at Boundary Park?
So the lone Rover landed at Manchester Airport early on Saturday morning, with plenty of time to kill, before following my detailed instructions on the bus service to take him to the nearest point to Boundary Park, where we could meet up for lunch and a few jars before third-placed Latics took on second-placed Walsall.
It's easy to relax when taking in the delights of Manchester and, when relaxed, does it really matter than you haven't brought with you those detailed travel instructions? After all, it's just a matter of looking for a bus going to Oldham and getting on it. Oh no, it isn't! The intrepid traveller chose the Stagecoach 76 service, which took him on a tour of residential estates, including the never-before-heard-of Terence Street, Newton Heath. I wonder where that name came from…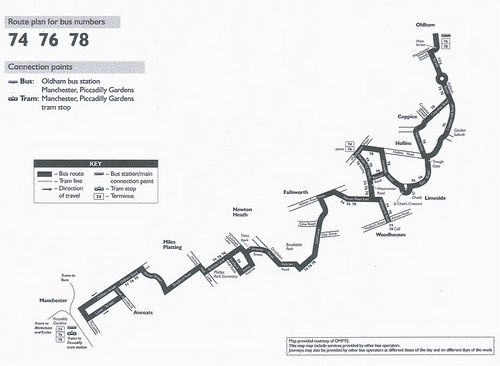 After doubling the length of the intended journey, and finding himself in Oldham town centre, a taxi took him to his destination. NOTE: Future fans visiting 'Ice Station Zebra' please avoid this route and take the First 181 service.
Better late than never, with the lunchtime session cut short and long queues at the bar of the Clayton Green, it wasn't long before we were off to the match, and what a let-down that turned out to be!
Only one team turned up, and it looked as though Walsall had come on the 181, with Latics still delayed on the 76. The visitors took the lead in the 25th minute and were never really troubled thereafter, in an instantly-forgettable game. The highlight of the afternoon for our Irish visitor was hearing at half-time from a Latics supporter about his trip from Dublin to Belfast with Rovers' supporters, which resulted in missed return transport and sleeping on the floor at the Cliftonville FC manager's house.
Back in the Clayton Green, we caught up with stories from our respective 'adventures', and the good news that Shamrock Rovers Ultras were to end the withdrawal of their Internet Forum service (in protest against the Club's mismanagement), which I had missed very much.
It's now 16 years since supporters of Latics and Shamrock Rovers struck up a long-lasting friendship in the Isle of Man, and discussion arrived at the Latics/Eintracht Frankfurt Supporters' 30-year friendship, and news of the forthcoming trip to Frankfurt for the Christmas Market and a match, which we have added to our 'must-do' list.
I was drinking Coke as I was acting as chauffeur, and a short drive took us to meet up with more Latics supporters in Royton's Blue Belle pub, where a karaoke was in full-flow.  It was a joy to see football supporters trusted to drink out of proper glasses instead of plastic ones.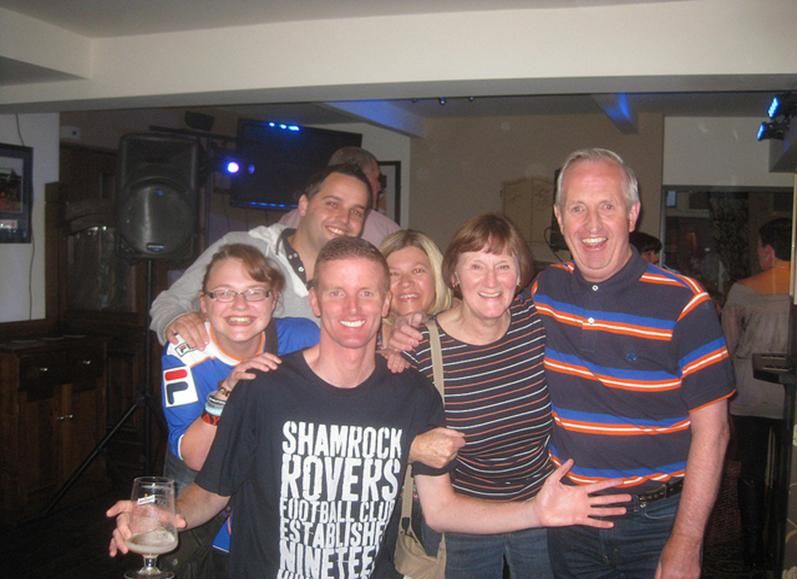 A great night ends in shirt-swapping, doesn't it? This one did, albeit only a temporary swap to our visitor's disappointment.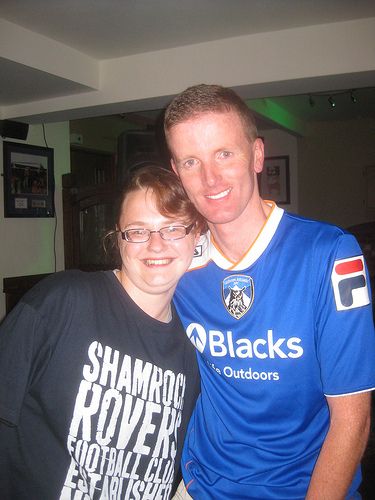 The quickest way back to the traveller's Manchester Airport hotel was by chauffeur-driven car. It was the least I could do, before we continued home via the M6 after a short stop at Knutsford Services to sample the Burger King 'Chicken Royale' – anything tastes good when you're hungry!
The return of the SRFC Ultras' Forum is just in time for this to be shared with the Hooperati.
Add a comment
Last Updated on Monday, 12 August 2013 08:00
General Football
Written by Mark W
Tuesday, 11 December 2012 22:26
There are two football stories dominating the media today with 13 clubs backing calls for a return to safe standing, while the PFA have mooted the idea of clubs installing netting to protect players from missiles. Both issues simply highlight how football fans are treated differently from other sections of society.
The call for safe standing is a no-brainer for me. Standing should never have been outlawed in the top two divisions and bringing it back should be an option available to all clubs.
I am well aware of the sensitive nature of this argument, particularly amongst Liverpool fans affected by the Hillsborough disaster but you have to look at these things objectively. Hillsborough was not caused by people standing. We have had it confirmed recently that there were a number of failings which led to the disaster but ultimately, it was caused by fences. The fans in the Leppings Lane end were crushed due to the fact that they had nowhere to go. If there had been no fences, there is nothing to suggest that there would have been any deaths. The overcrowding in there was due to critical errors by the police and stewards.
Technology has moved on and even if you accept that standing in the form we used to have will never return, safe standing areas have proved hugely successful in Germany. Why this technology has been repeatedly ignored by the powers that be in this country has to be questioned.
It seems that as a football fan, I do not have the right to choose how I watch a game whereas if I want to attend another event, I suddenly have that right. Not only have venues for other forms of entertainment not had to convert to seating, new venues with huge standing areas can still be built. In the last couple of years both Salford Reds and St Helens Rugby League teams have built new stadia with significant terraces. Not only that, but while Wembley Stadium has to be all seated for football matches, it is fine for 15,000 people to stand on the pitch for a rock concert. Either standing is dangerous or it is not, you cannot claim that it is only dangerous if you are watching football.
I should add here that I am not someone who believes that the reintroduction of terracing will reduce the cost of attending games. There will be a cost with installing terraces and I have no doubt this will get passed on to fans. I do, however still think that large numbers will choose to stand. It is interesting to note that in recent years the price of standing at gigs has risen above the cost of sitting for big artists, clear evidence that demand is for the experience, not the price.
To me, there is no comparison between sitting and standing at a game. The atmosphere that can be made by a few hundred stood together can easily outstrip tens of thousands sat down. At the same time, I have witnessed my parents have games ruined for them by fans standing in front of them in all seater grounds. Offer the opportunity to stand and you should remove this problem.
The idea of putting up netting is equally discriminatory. Why do some people insist on tarring all football fans with the same brush? It was disgraceful that someone threw a coin at Rio Ferdinand on Sunday but what has that got to do with me just because I like to watch football?
If I go into town on a Friday night and assault someone, I will be arrested and if the press take note, they will refer to me as a thug. If I was to commit the assault inside a football ground on a Saturday afternoon, I would still be arrested but the press would probably refer to football hooligans. Exactly the same act sees me blamed in one instance but football fans generalised in the other. Likewise, I ask the question whether should someone throw a coin at an actor in a West End play, would there be calls for audiences to be searched or barriers to be put up to protect actors in all theatres across London?
The same kind of discrimination exists in other areas too. It is illegal to drink alcohol within sight of a football pitch at a game in England. It is not illegal to drink in the stand at rugby or cricket. It is illegal to sell on a ticket to a friend for a professional at less than face value. If you sell a ticket for any other event at twice the face value to a total stranger, you have committed no offence.
I'm not claiming that these laws have all been brought in without reason. In the 1970s and 80s there were so many problems with hooliganism that some emergency legislation was required but football is not in the same place now that it was then. Maybe it is time to stop treating us all like animals and instead show us the respect that just we deserve.
Please note that these are my own views and do not represent the views of www.ernieflag.co.uk
Please feel free to follow me on Twitter… @oldham_mark
Add a comment
General Football
Written by Terry Doran
Thursday, 02 August 2012 17:00
So the question was how to fill the void between Euro 2012 finishing and the Olympics starting?
Read more...
General Football
Written by Terry Doran
Saturday, 17 December 2011 18:06
We were up at 3:30am for the now familiar early morning flight from East Midlands to Dublin, with Jenny flying in from Manchester, and meeting up in the airport for breakfast before catching the Flybus to Tallaght.
Add a comment
Last Updated on Friday, 15 June 2012 11:51
Read more...
General Football
Written by Terry Doran
Monday, 03 October 2011 09:29
Here we were again, it's a Thursday and we're Hooping in another capital city, but this time just a couple of hours down the M1. The car was parked at Stanmore, which brought back sad memories of when we followed the same route for Ernie's funeral. 
Add a comment
Last Updated on Friday, 15 June 2012 11:50
Read more...
«

Start

Prev

1

2 3 Next End »


Page 1 of 3