General Football
Written by Terry
Monday, 12 August 2013 07:56
What better way to push to the back of your mind Friday night's nightmare memory of a 4-0 home defeat to rivals St. Patrick's Athletic, with two men sent off, than to leave Dublin to watch the real Athletic at Boundary Park?
So the lone Rover landed at Manchester Airport early on Saturday morning, with plenty of time to kill, before following my detailed instructions on the bus service to take him to the nearest point to Boundary Park, where we could meet up for lunch and a few jars before third-placed Latics took on second-placed Walsall.
It's easy to relax when taking in the delights of Manchester and, when relaxed, does it really matter than you haven't brought with you those detailed travel instructions? After all, it's just a matter of looking for a bus going to Oldham and getting on it. Oh no, it isn't! The intrepid traveller chose the Stagecoach 76 service, which took him on a tour of residential estates, including the never-before-heard-of Terence Street, Newton Heath. I wonder where that name came from…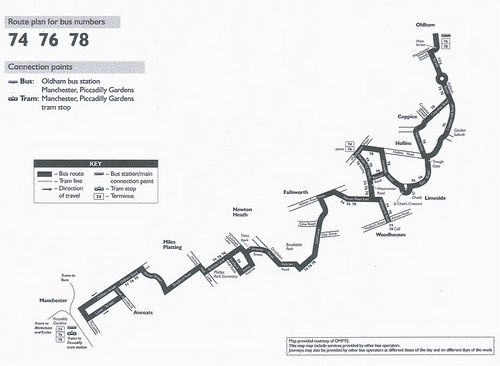 After doubling the length of the intended journey, and finding himself in Oldham town centre, a taxi took him to his destination. NOTE: Future fans visiting 'Ice Station Zebra' please avoid this route and take the First 181 service.
Better late than never, with the lunchtime session cut short and long queues at the bar of the Clayton Green, it wasn't long before we were off to the match, and what a let-down that turned out to be!
Only one team turned up, and it looked as though Walsall had come on the 181, with Latics still delayed on the 76. The visitors took the lead in the 25th minute and were never really troubled thereafter, in an instantly-forgettable game. The highlight of the afternoon for our Irish visitor was hearing at half-time from a Latics supporter about his trip from Dublin to Belfast with Rovers' supporters, which resulted in missed return transport and sleeping on the floor at the Cliftonville FC manager's house.
Back in the Clayton Green, we caught up with stories from our respective 'adventures', and the good news that Shamrock Rovers Ultras were to end the withdrawal of their Internet Forum service (in protest against the Club's mismanagement), which I had missed very much.
It's now 16 years since supporters of Latics and Shamrock Rovers struck up a long-lasting friendship in the Isle of Man, and discussion arrived at the Latics/Eintracht Frankfurt Supporters' 30-year friendship, and news of the forthcoming trip to Frankfurt for the Christmas Market and a match, which we have added to our 'must-do' list.
I was drinking Coke as I was acting as chauffeur, and a short drive took us to meet up with more Latics supporters in Royton's Blue Belle pub, where a karaoke was in full-flow.  It was a joy to see football supporters trusted to drink out of proper glasses instead of plastic ones.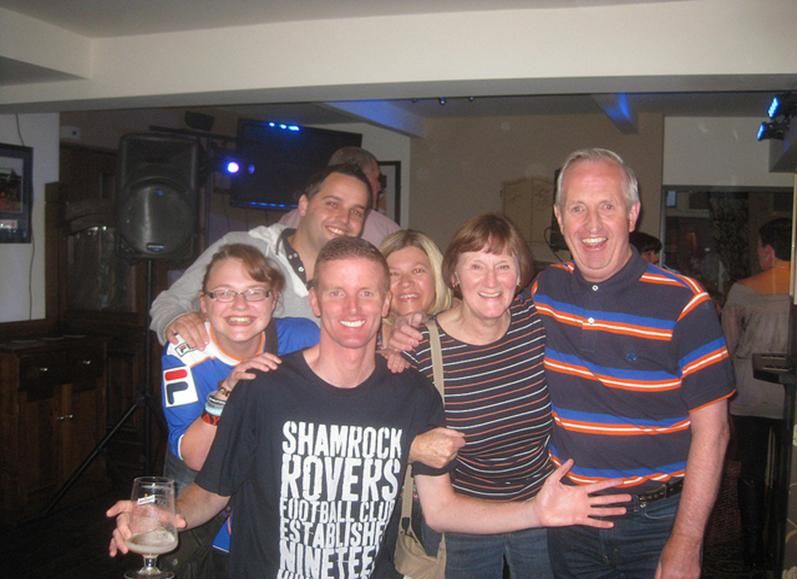 A great night ends in shirt-swapping, doesn't it? This one did, albeit only a temporary swap to our visitor's disappointment.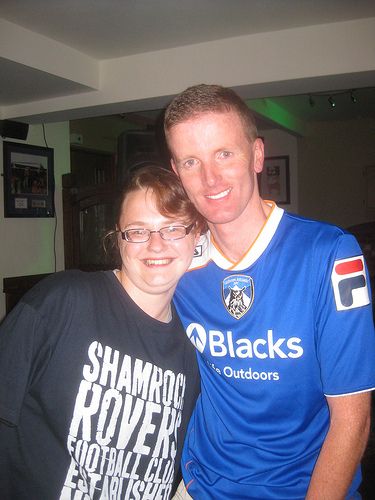 The quickest way back to the traveller's Manchester Airport hotel was by chauffeur-driven car. It was the least I could do, before we continued home via the M6 after a short stop at Knutsford Services to sample the Burger King 'Chicken Royale' – anything tastes good when you're hungry!
The return of the SRFC Ultras' Forum is just in time for this to be shared with the Hooperati.
---
Last Updated on Monday, 12 August 2013 08:00