Written by Mark W
Sunday, 09 October 2011 18:07
Montenegro v England - European Championships Qualifier
City Stadium, Podgorica
Friday 7th October 2011
The European Chanmpionships qualifying campaign has been a strange one. We've look fantastic away from home yet pretty shocking at Wembley. The fact that we were only in a 5 team group also means that it seems to have shot by ridiculously quickly. The campaign ended in Podgorica, Montenegro and having done the previous trips to Switzerland, Wales and Bulgaria I was determined not to miss out. Unfortunately it is that time of year where I start struggling for holidays so I had to make do with the dreaded day trip. To make matters worse, the only such trip was leaving from Birmingham.
When my alarm went off at 02.25 I reckon I might have had two hours sleep but I needed to go and collect Mark prior to Alan picking us up at half three. This is how I managed to find myself parked up in the middle of Glodwick at 3am. I half expected the police to arrive and search both me and my car.
I was so grateful that Alan was doing the driving to and from Birmingham. The thought of having to stay awake enough to drive was worrying. The thought of having to stay sober too was terrifying.
As you might expect, the roads were rather quiet at that hour but we tried to keep conversation flowing to keep Alan's mind alert. With three guys in the car though, the level of that conversation was not the most intellectual. I think the bottom of the pit was hit as we discussed this week's photos on the Latics website of Gunnar Halle and his daughters. I won't spell it out as I'm sure you know where it went. Needless to say, I do think the girls would find it off-putting if a potential suitor wore his 'Halle 2' shirt and there is definitely a time and a place where it is inappropriate to shout "Guuuuunnar".
Birmingham airport was a new one for both Alan and I but he had managed to pre-book parking in one of the short stay car parks. Parking wasn't an issue but finding our way to the terminal was. We got in the lift with a couple who were going on holiday but there was nothing to tell us where to go. We were on level two and went up to level 4. This was clearly not right so Al thought it would be a good idea to press all the buttons. We were, therefore bound to find the right floor eventually. Having stopped at every floor on the way up and the way down we did finally find the correct level. Yes, you guessed it, we needed to be on 2.
We left the car park feeling rather stupid but were about to feel better about ourselves. My phone rang – it was Neil. As Neil had to be at a stag do in Cambridge the following day he was driving down and carrying on the next morning rather than travelling with us. Neil was ringing from Altrincham. Neil was supposed to be at the airport! Setting alarms mustn't be his forte but he now had an hour and a quarter to get to Birmingham. We will have to wait and see whether his extra hour in bed has come at the expense of any points on his driving license.
We managed to do our bit for an Oldham institution at the airport. We had a choice of places to eat breakfast but went for Yates'. I still think it is sad that Oldham no longer has a Yates' despite it being the town where it was founded. The bad news for Alan was that they did not have any coffee. Yes, that's right, 6am and they had no coffee at all. The good news was that they did have some Amstel and even had it on offer if it was bought with a full breakfast.
Podgorica airport was actually very modern. I was expecting something ram-shackled but I was pleasantly surprised. It was also very well organised and within 15 minutes of landing we were sat on coaches waiting to be taken into town. We had a brief pep talk from one of the British coppers who told us that the ground was one of the worst he'd seen and that we would need to make sure that we were in there pretty early as it wouldn't be able to cope with a last minute surge. I can say now that if it genuinely was one of the worst he's seen, he really needs to get out more. He did, however manage to raise a laugh when someone asked if we would be able to leave coats and bags on the coach all day and pick them up on our way back to the airport. "You should be fine, there's not many scousers about today," he replied in his broad scouse accent.
We were soon in the centre of Podgorica where the coach parked up at a hotel just 5 minutes from the ground, next to probably the most picturesque bit of the town. It's not much, but it is as good as it gets.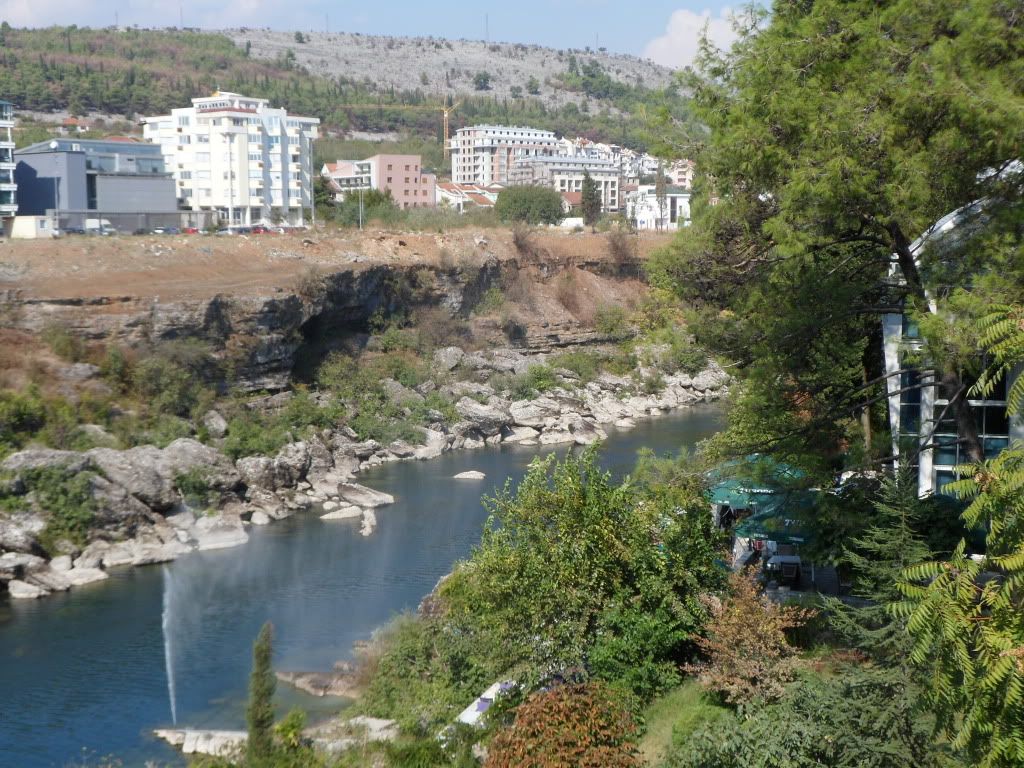 The walk to the hotel where we needed to pick up our match tickets should have only taken about ten minutes but we all made the mistake of assuming that the bloke at the front knew where he was going. This took us slightly out of our way but we got there eventually after passing a piece of graffiti that simply said 'Fuknuts'. I have no idea what that means but it sounds like a hell of an insult. This wasn't the best piece of graffiti we saw all day. That prize goes to the writing on the outside of the stadium which read "Always Ultra". I would imagine that someone was declaring their allegiance to the hard care support of a local team or maybe that team was simply going through a bad period.
The hotel was not just dishing out tickets, it was also the place to sign up for the Podgorica marathon. Our  room looked a lot busier than their's.
During the walk from the coach we had passed a road that looked to have a few bars on it so that is where we headed next. We set up in the first bar we came to and Neil tried to order some local beers. He was getting nowhere but as I had recently had a day in Montenegro during a holiday in Dubrovnik, I was able to help out. "Five Nik" was enough to set us on our way.
We were happily sat there when the table was approached by a young local girl. She was probably about six. She said something in Montenegran (I assume) and the waiter came over. He explained to her that we didn't speak the language and suddenly she snapped. She turned to us and screamed one word in perfect English, "Money". We told her we didn't have any but she wasn't going anywhere. Eventually Neil found a two pence piece and handed it to her. You've never seen so much disgust in someone's eyes. She picked up a cocktail stick and stabbed Neil in the arm. The rest of us were rolling around almost in tears. Next it was my turn to feel the wrath. She picked up the 2p and hurled it at me. I managed to bat it away just as it was going to hit me straight in the face. I can just imagine that, coming back from an England game with my a scar across my face and trying to explain it had been done by a 6 year old girl. Her next weapon of choice was a glass. Eventually she was sent on her way. And we watched her try her tricks on someone else.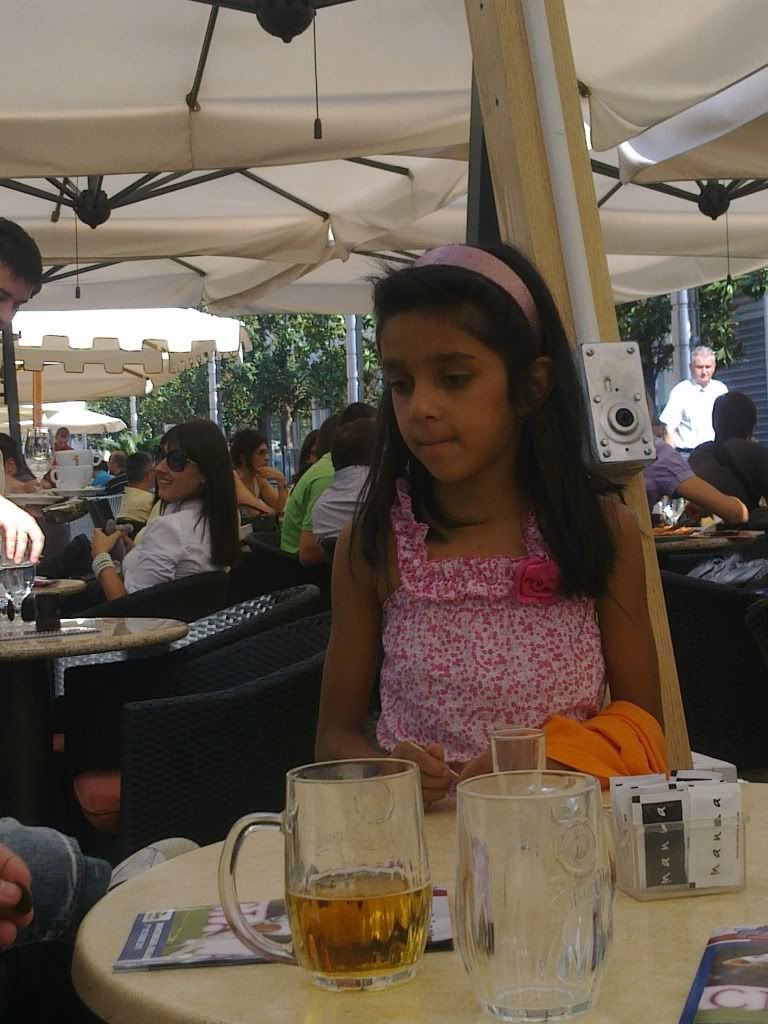 When we finally moved on, we must have gone a good thirty yards before we sat ourselves down at another bar and this then became our final resting spot of the afternoon. Our's was quite a quiet bar but the one opposite was a little more lively. Eveyone was behaving themselves but when some press came to take some pictures one of the guys in the other bar decided that it would be a good time to show is arse. What a lovely image to leave the locals with. It excited the press immensely and soon we were inundated with them. It takes all sorts. The press that came to interview people by where we were sat didn't get anything so newsworthy.
The only time that we left the bar was to go and have a look around the ground and only two of us made it that far. We got a picture of the flag and also a couple of the ground itself. As I suggested earlier, it was decent enough.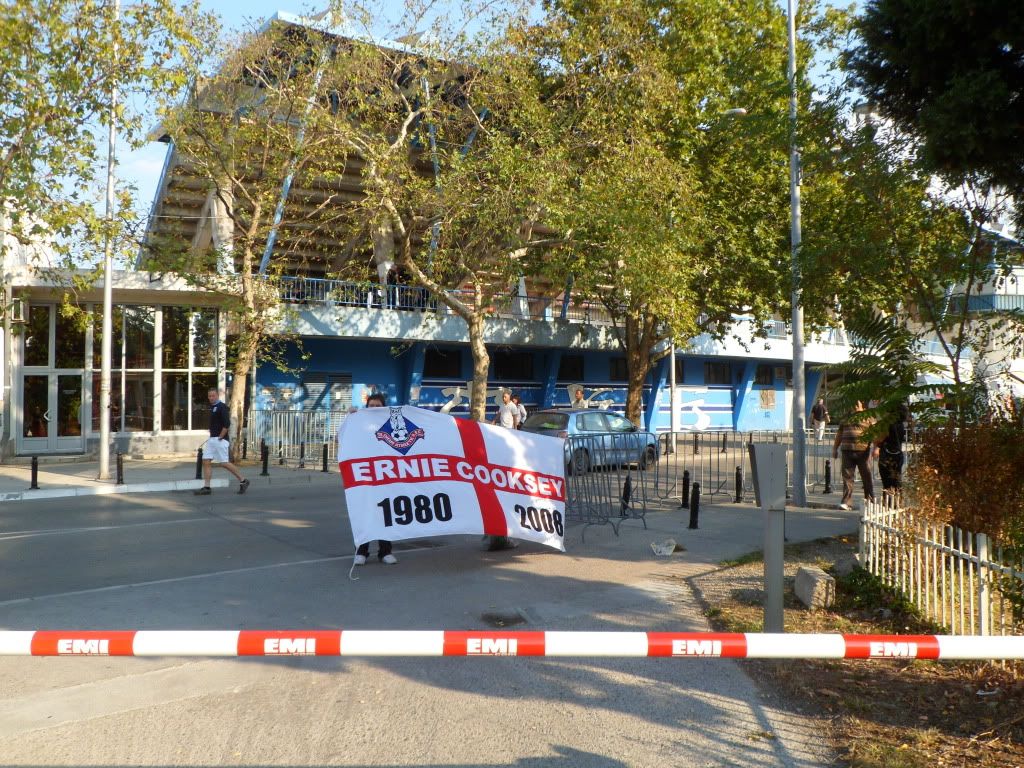 We were back at our resting point in time to see a show of strength from the local ultras. They were doing a walk to the ground complete with flags and flares. I don't know if they were looking for a reaction but certainly none of the English were looking for trouble. As they arrived they were greeted with a round of applause and I'm not sure they really knew what to do.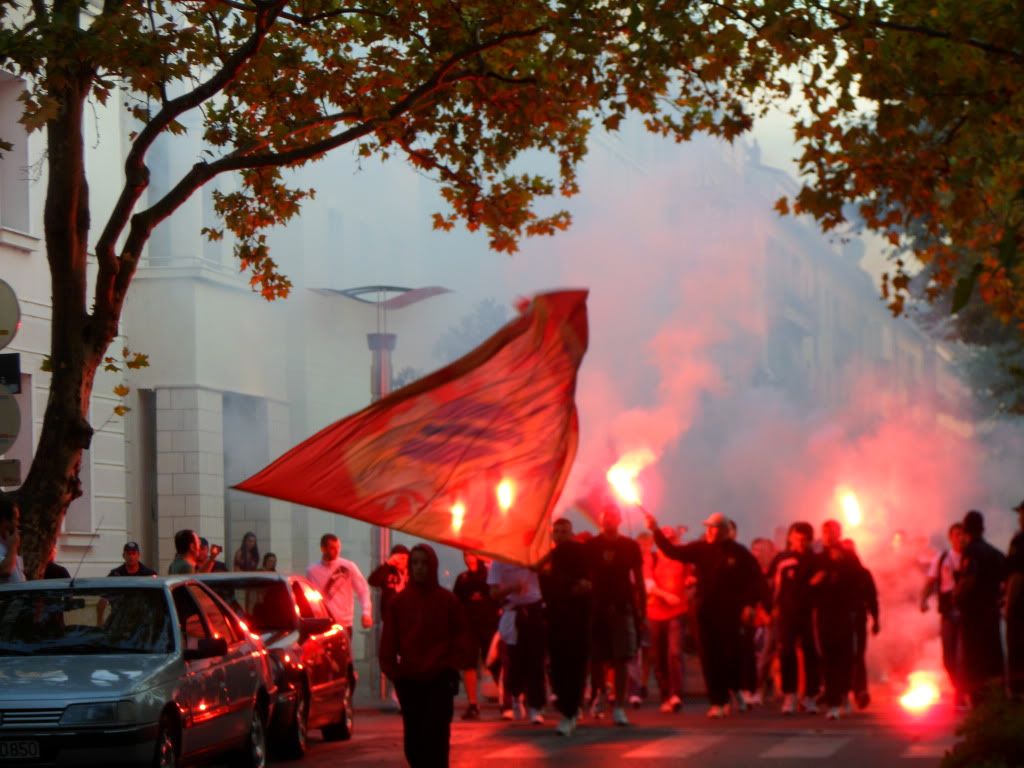 When a couple of locals asked to take pictures of us, we got out the flag and one of the women sat at a neighbouring table was amazed. Despite being from West Brom, she now lived in Oldham and to top it off her maiden name was Cooksey.
An hour or so before kick-off we headed up to the ground. There were already quite a lot of England fans making their way in and as expected , the best spots had all gone for flags. The ground had opened four hours before kick-off and I certainly wasn't going in then just to get a better spot. I did find some space on the side of the stand and so put it up there.
The locals were clearly highly excited about the game. They had a real chance to qualify which for such a young nation would be an unbelievable achievement. The flag in the home end summed it up.
The first half went superbly. With half an hour we had a two goal lead which our play merited. The home fans were more subdued but were clearly still enjoying what they were seeing. The only negative was the weather. It had been a gorgeous day but suddenly we were experiencing a storm. Where we were sat we were pretty much under cover but towards the front of the stand the England fans were getting drenched. I looked over to see that the flag was now being used as some kind of shelter by those who were feeling the full force of the rain.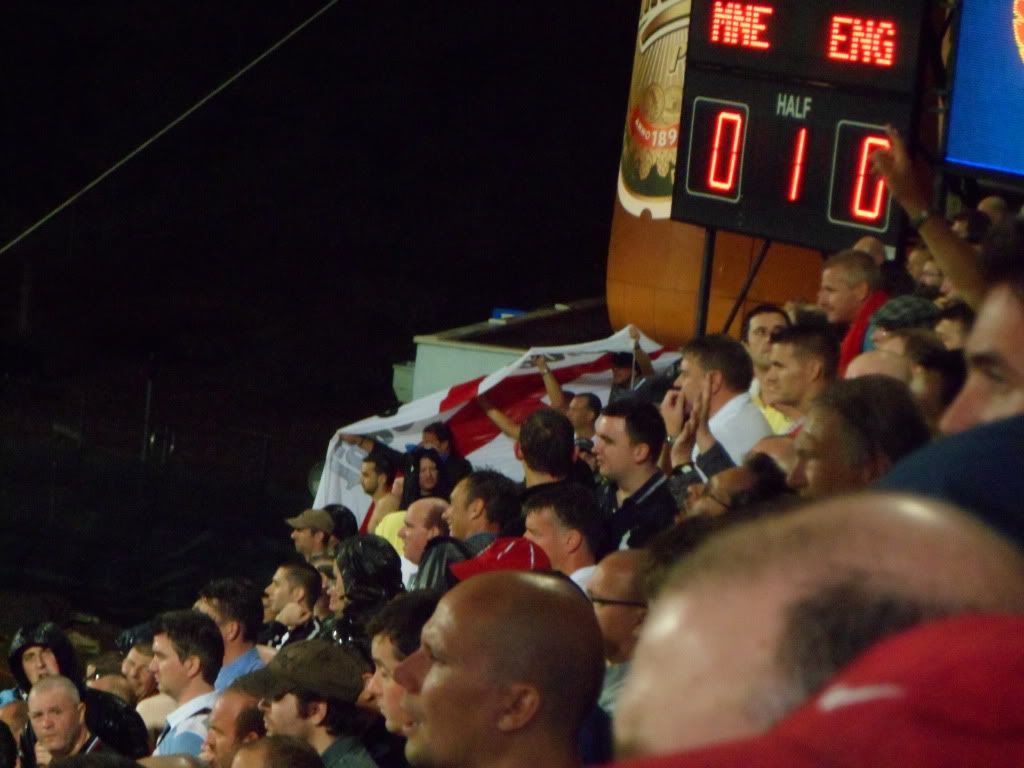 When Montenegro scored at the end of the first half I can't say it particularly worried me. We had thoroughly dominated and I could see us scoring another couple in the second half. In fact, up until Rooney's sending off I never felt we were in any danger of throwing the lead away. The sending off was crazy. It is difficult to get your head around why he does things like that but to some extent I guess you have to take his negatives with his positives.
The equaliser, when it came lead to unbridled celebrations in the home end. Quite how long the goal scorer would have had to spend on the fance to get sent out I'm not too sure though.
You would have thought that they had just won the world cup at the end. An outsider certainly wouldn't have been able to guess at which team had just qualified for the tournament. The fans streamed on to the pitch and celebrated in front of the England fans. I thing credit should go to the travelling army who not only created a superb atmosphere all game, but also failed to react to any provocation they may have felt following the pitch invasion.
The police finally managed to clear the fans and we were then held in the ground for over an hour while they were dispersed. It would have made more sense to get us out while they were still celebrating but we had celebrations of our own so nobody was too bothered.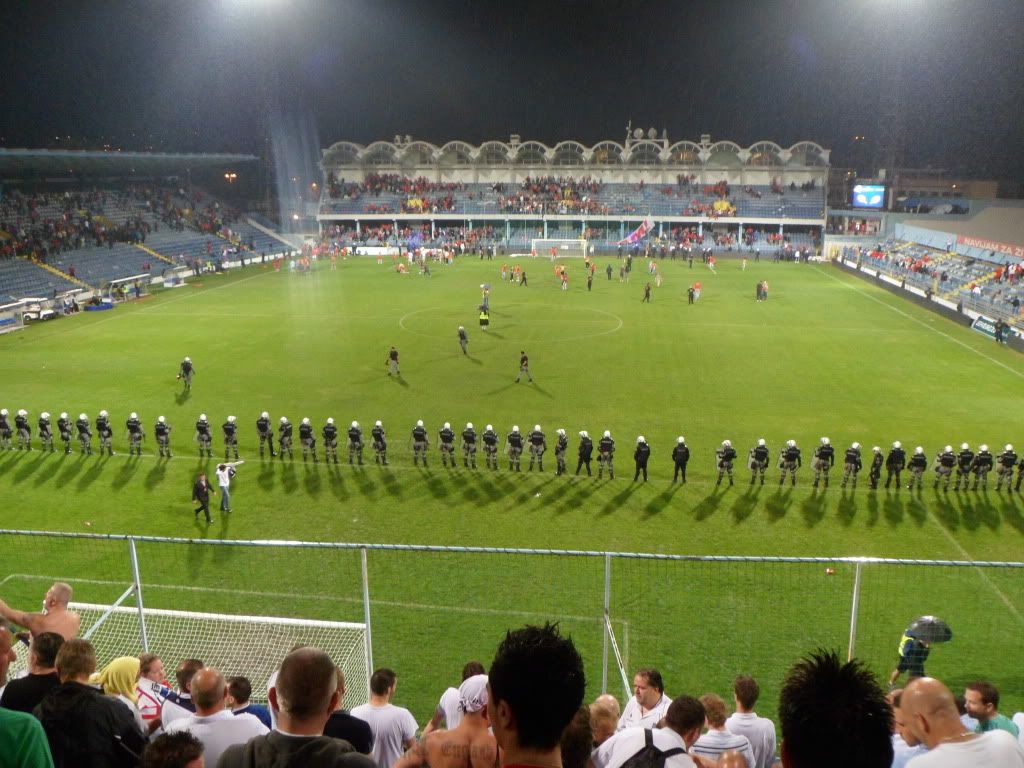 The weather got worse and worse. I would imagine that had the game taken place an hour later it would not have finished. This is what the pitch looked like by the time we left the ground.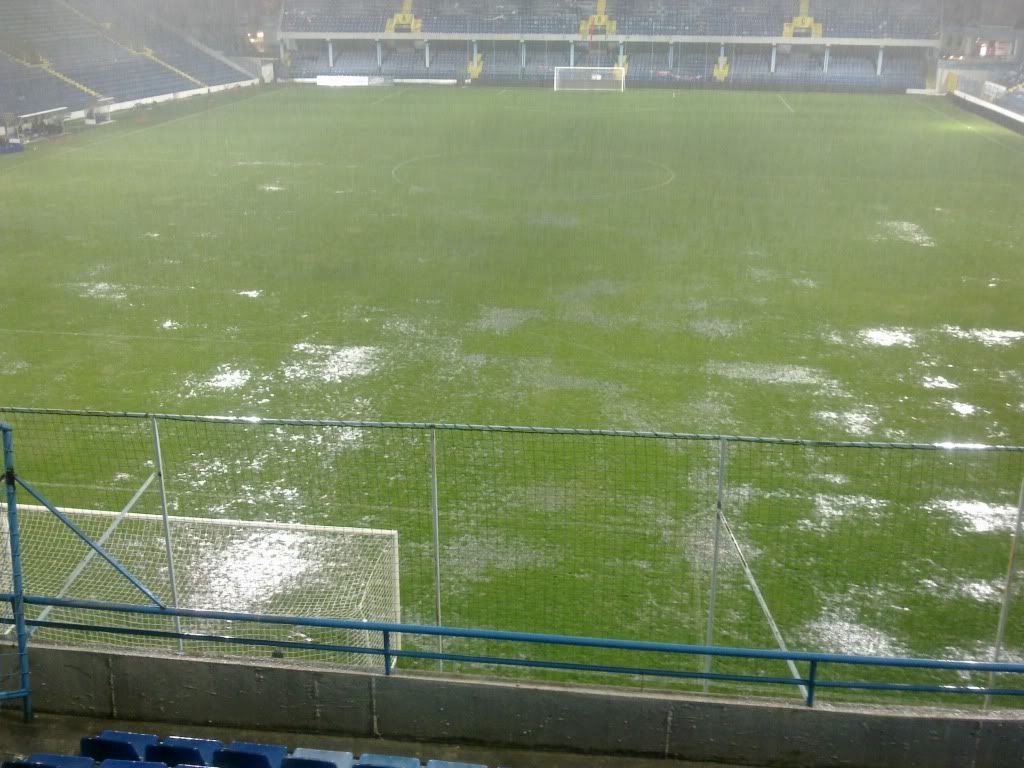 We were then delayed further when we returned to the coach and it was apparent that the flight would not be taking off at 00.45 as planned as we were still sat outside the stadium. In the end we finally got back to the airport and were made to run though and immediately board the plane.
The last thing we'd done before leaving the UK was to have a tour around the car park at Birmingham and when we returned, we did so again. We got into the car park, went to where we'd left the car but it wasn't there. We had left it in Car Park 3 but we were now traipsing round car park 2. I think we could probably be forgiven as it was well over 24 hours since we got up. We all managed to stay awake on the drive home so that we could make sure that Alan stayed awake. I finally got back home at 06.10. It had been a long day but we had got the result we needed and we can start planning our trips to Poland and Ukraine.
---
Last Updated on Wednesday, 26 October 2011 17:19