Written by Mark W
Saturday, 03 March 2012 23:06
Sheffield United v Oldham Athletic – League One
Bramall Lane, Sheffield
Saturday 3rd March 2012, 15:00 K.O.
Let's be honest, supporting Oldham isn't always the easiest pastime you could pick. Fifteen years of League One football has led to a lot more lows than highs and even this season, the high of playing at Anfield has been outweighed by the failure to make it to Wembley in the JPT. It's a fair question when, as they often do, people ask why we put ourselves through it, but then a game like this comes along.
A game against a side in one of the automatic promotion places would usually cause a modicum of excitement but I'd hardly heard anyone mention this one in the week leading up to it. The five goal hammering we suffered at MK Dons a fortnight earlier had left scars and I think plenty were suspecting that this could be even worse. The Blades had been on a great run barring the defeat in the Steel City derby last week and they had put that blow behind them with a victory in midweek. Latics on the other hand, had managed to bounce back from the trouncing in Milton Keynes with a win and a draw but even the most committed fans would struggle to argue that we'd been convincing in either game. The injury pile up we are suffering didn't help either.
In this climate of dread, I found myself as the only member of the usual mob who was actually going to make the trip. There was never a doubt that I would give it a miss as it was a long time since I'd visited 'Beautiful Downtown Bramall Lane' as the home fans like to call it. Besides, it was a new ground for the flag so someone needed to take it along. I decided that driving over wouldn't be much fun so booked myself on the mini-bus from the Rifle Range.
That's how I found myself sat in said pub at ten in the morning with a beer in my hand. That makes me sound like an alcy so I must defend myself by confirming that I did join the queue and purchase myself a sausage butty to soak a bit of the alcohol up.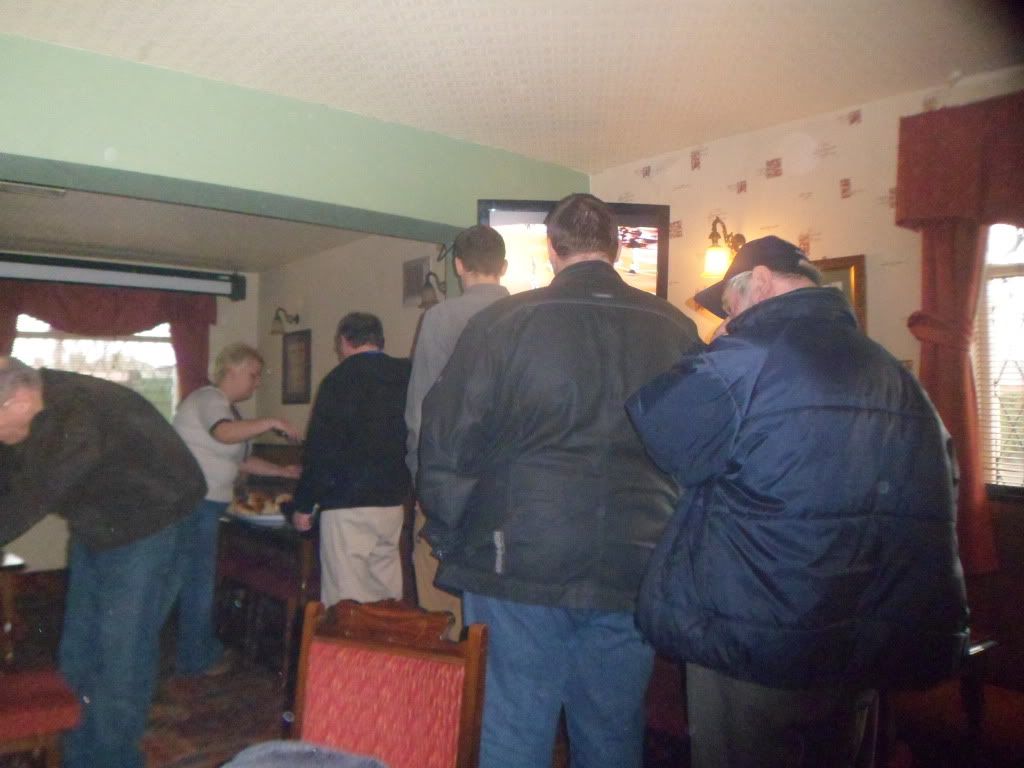 The plan was for a half ten departure but it was a bit later when we finally got on the road. There was a good set of lads on board. Some I knew and others I soon became acquainted with. The trip over Woodhead was a pleasant one with the sun providing some stunning views.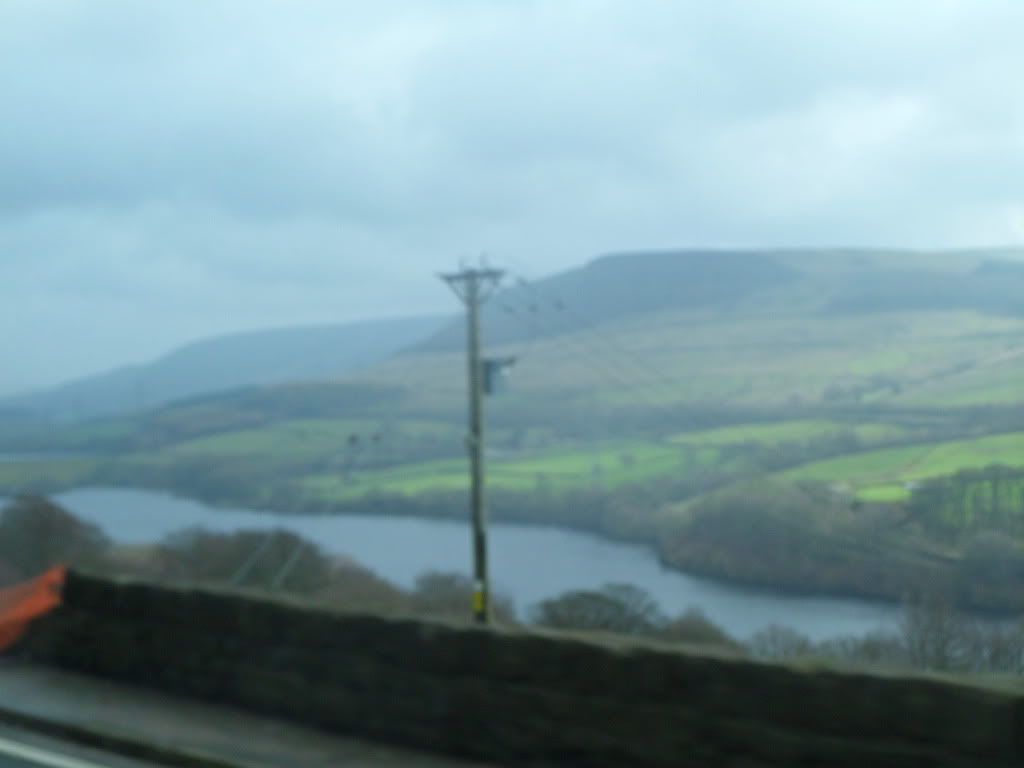 The views, however, were not the main thing on the mind of the lad sat behind me. We weren't far past Glossop when he decided that he needed to relieve himself but he didn't want to ask the driver to stop. He probably held it in for twenty minutes or so before it all became too much for him. You've got to be pretty desperate to fill the best part of two pint glasses. His plan was to launch them out of the window, but for the life of us, nobody at the back could get one open. His decision to simply hold them until we got there seemed a fairly sound one until we reached the speed bumps. He did a sterling job and I don't think there was a drop spilt.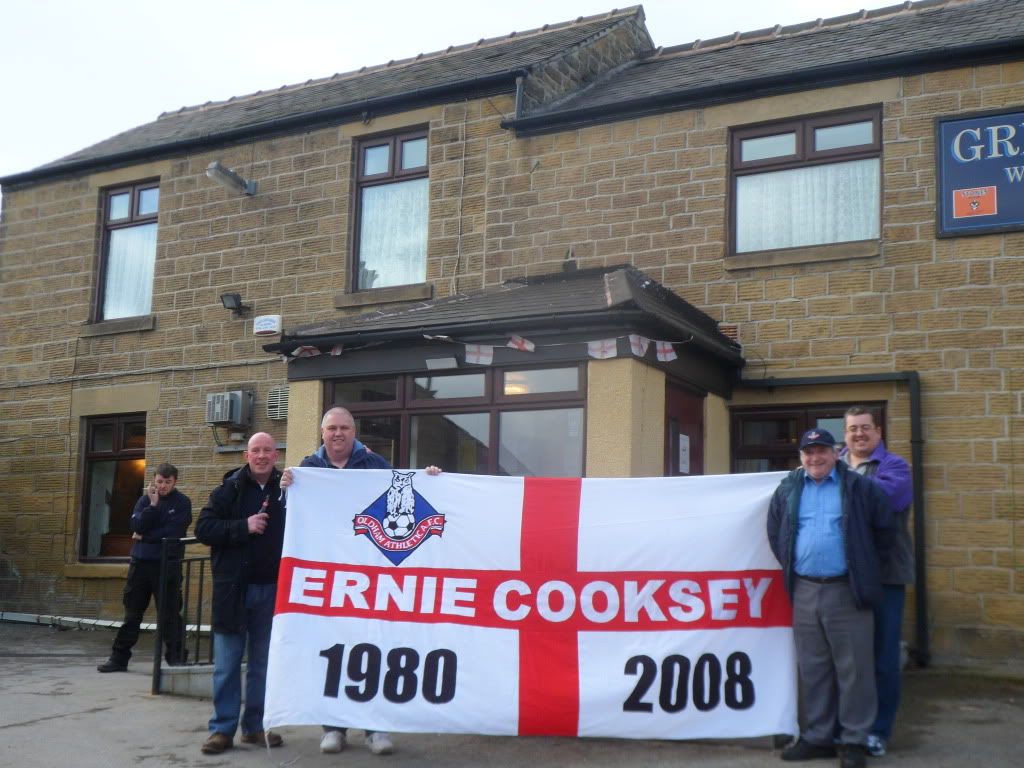 When we arrived at our designated pub, a working men's club on the outskirts of Sheffield, he was finally able to dispose of his 'handwarmers' and we could continue the drinking. That was not quite as rewarding as it promised to be as the drinks choice wasn't quite what I'd hoped for. It's never a good position to be in when bottles of Bud are the best option but, hey, they are wet and do the job. The club did have a couple of big screens showing the lunchtime game though and the beer was cheap enough. It was also plenty big enough, even when the other minibus arrived half an hour later. How it can take you an extra half hour to do a one hour journey, I don't know but they managed it. Perhaps they had stopped for people to use the loo!
After a couple of hours it was time to head for the ground. This was only a short journey but took us past Hillsborough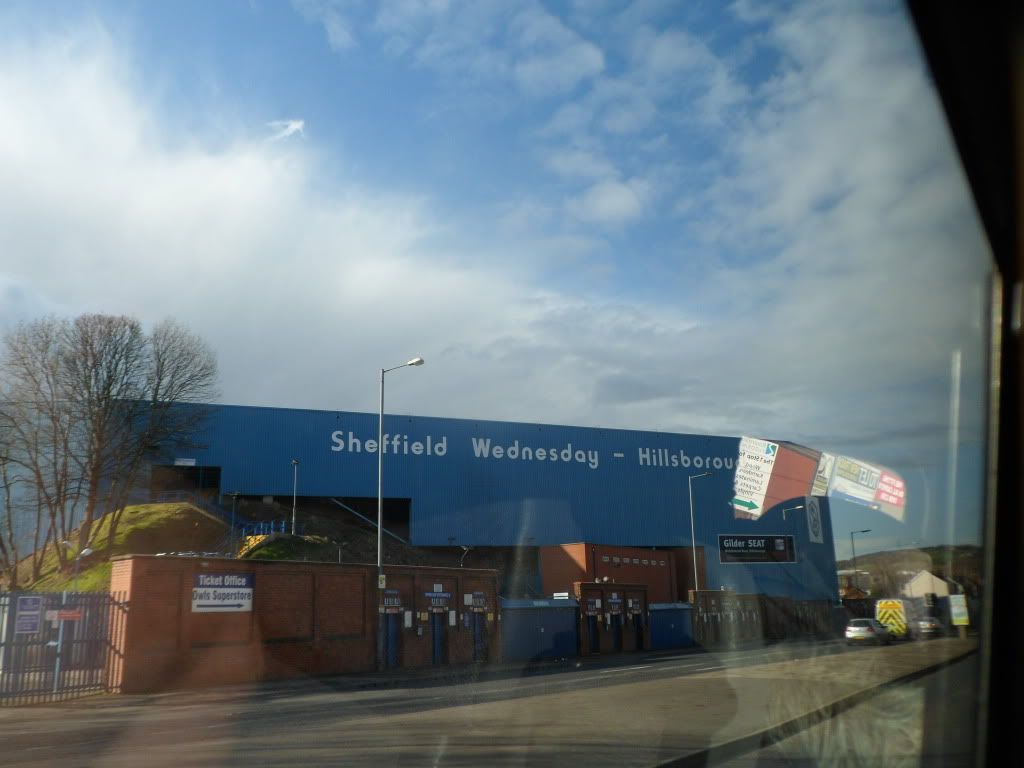 and some lovely looking closed down pubs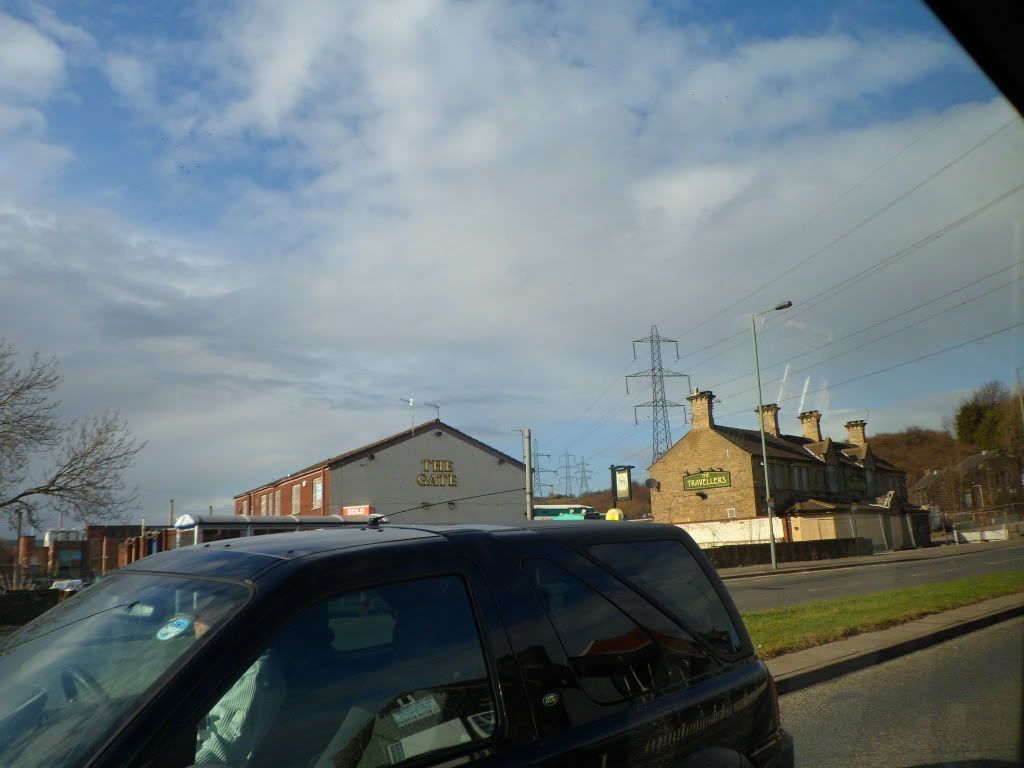 Perhaps the WMC wasn't such a bad option after all.
Once we made it to our destination, there was time for a flag photo before heading for the away ticket office. It's one of those grounds where they have the automated ticket readers which means that you have to buy your ticket before getting to the turnstile. This is clearly a good idea for clubs that sell out but it does make it a bit of a bind when you get there at ten to three. That said, there was actually little queue and I was still inside in plenty of time.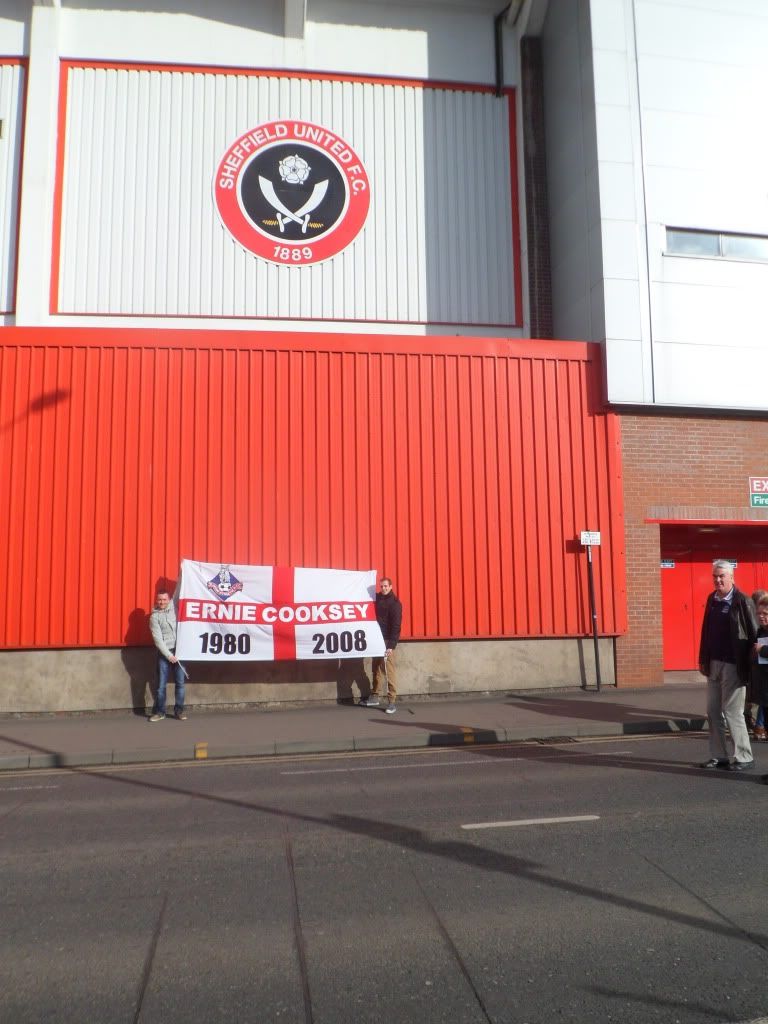 The next task was to get the flag in. The last trip to Sheffield had seen me get it into Hillsborough but be refused permission to display it as it didn't have a safety certificate. It now has a certificate and so luckily I had no such problems. I hung it on a rail to the left of our stand and everything seemed fine.
Bramall Lane is, without doubt, a superb ground and far too good for the division the club finds itself in. It holds over 30,000 and the Kop is very impressive wit a third of the capacity in that one stand alone. The away end, however is rather less salubrious. We were seated in the lower tier behind the goal with the seats towards the back being overhung by the upper tier making it a little claustrophobic. The major issue, though was the netting stretching out from the upper tier, presumably to catch any objects that the home fans may decide to lob at us. This drooped in the middle causing a bit of an obstruction to the view. Perhaps we would appreciate that netting later though.
The team news was not good. Robbie Simpson was out and the word was that he'd broken his toe and might not be seen again this season. He's been the only central midfielder we've had for weeks so things were looking even worse than they had done when we set out. We did have a debutant though with Wes Brown's brother taking Simmo's place in the middle. Much as I hate them, it is good to see that we seem to be building up some sort of relationship with those at Old Trafford meaning that we can bring the odd youngster in. It was a little disappointing to see Marsh-Brown left on the bench considering his promising display on Tuesday but you couldn't blame Dickov for showing caution against one of the best teams in the division.
For the first twenty minutes, I thought we matched them. There wasn't an awful lot in it and although United had a couple of chances, Tarky could have scored with a header and we didn't look under too much pressure. As so often of late though, it couldn't last. It looked like there was a foul on M'Voto but the ref didn't give it. We seemed to have cleared the danger but the ball went back to big Jean Yves again and this time he opted to let it go out for a goal kick. The home forward managed to get to it before it did and played the ball into the danger area for Lowton to score. A text from Jazz in the home end telling me he'd backed him for first goal didn't exactly lift my mood.
The away support had been unusually subdued so far for an away game and this turn of events did nothing to improve matters. What very nearly did help was a goal at the other end. Adeyemi ran through one on one with the keeper and hit a decent shot. The goalie got a hand to it but it still looked like it was going to end up in the back of the net. Unfortunately it fell the wrong side of the post and the chance was gone. Another chance went begging when Kuqi appeared to be taken out by a defender. The ref gave nothing and the home player needed to be stretchered off. I've no idea what happened but it definitely looked more like a foul on Shefki than a foul by him. Things went from bad to worse when Ched Evans doubled our deficit. I'm sure that the defending could have been better, but it was a great finish and looked for all the world to have killed the game.
My half time view was that we'd not played too badly but that there was absolutely no way back. We'd created bits and pieces but there was nothing to suggest that we had what it took to find a way back. To be honest, I was more concerned about what might happen if the players' heads went down. I'd have probably taken a 2-0 final score right then if you had offered it to me.
I wanted to try to grab a photo of the flag in the ground so I headed to the front only to find that it had been pushed back behind the railing. Apparently the stewards had been looking for me after deciding that it couldn't go exactly where they had told me to put it. I give up sometimes. I've learnt that there is no point in arguing (too much) so I moved it to the other side of the stand over some seats. The word 'Jobsworths' springs to mind.
A half time substitution meant that we were at least going to try to take the game to United. Marsh-Brown was on for Winchester which should give us more attacking options.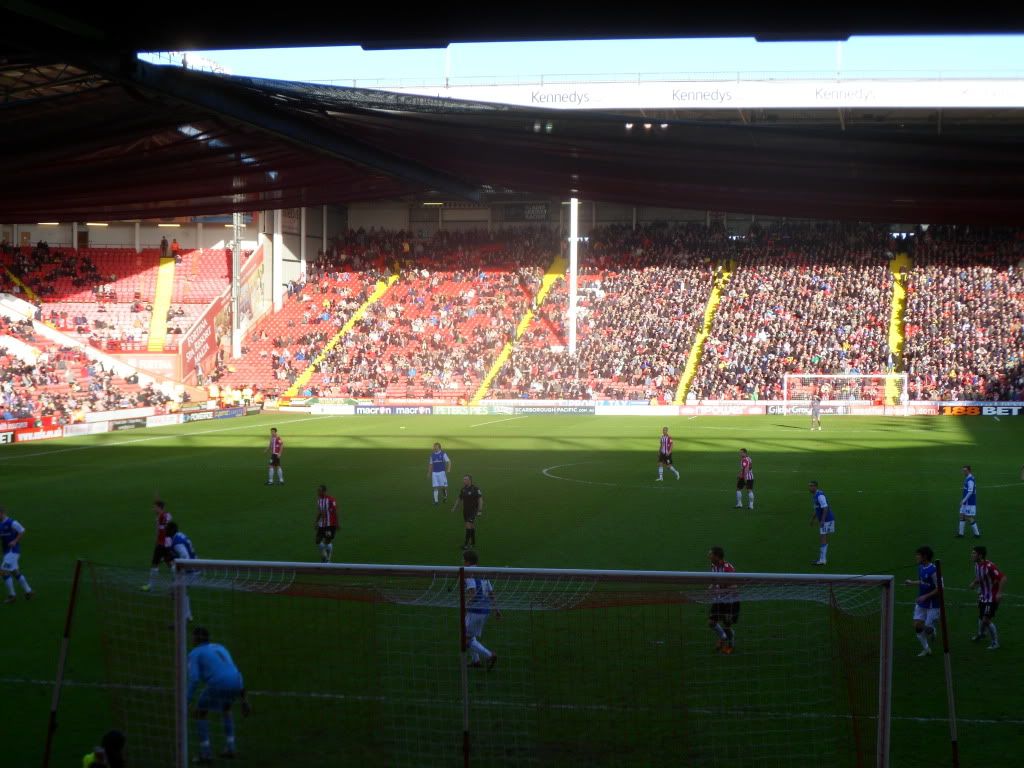 Once again there was a twenty minute spell where neither side could take control of the game. My fears about a second half capitulation seemed unfounded so I was taking this as a positive. Suddenly, things took a real upswing. I'd struggled to see who would provide the necessary firepower for us, but hadn't considered that it didn't need to be one of our players. In the pub earlier we'd seen a quality own goal from Arsenal, but Richard Cresswell now challenged it for own goal of the day. The striker seemed to panic in his own area when Morais put in a great corner and managed to find the back of his net. Amazingly we were back in it.
You could see in the faces of the players that they now believed we could get something. Taylor ran to get the ball so we could get on with the game as quickly as possible. The home players were not letting him have it though and he wrestled with one who simply threw it to Lowton. The ref told Lowton to get on with it at which point he threw the ball behind him to the other player. It was a stupid thing to do straight after the ref having words and he really couldn't argue when the yellow card came out. Quite why Taylor was booked as well I don't know.
Within a couple of minutes it really was game on. The ball was passed back to Tarkowski and one of the Sheffield players scythed him down. Immediately our fans were baying for blood. It looked like a straight red. What I hadn't realised was that it was Lowton.  The ref only deemed it bookable but it was a second yellow and we were up against ten men.
I turned to Mark, standing next to me, "We'll still lose 3-1". "At least" he replied. That's what being a Latics fan does to you.
How wrong we both were. It only took another minute or so before it was all square. Keiran Lee produced the goal of the game following a great ball from Marsh-Brown. Lee was in the corner of the box and simply passed the ball over the keeper's head and into the top corner of the goal. If it had been quiet in the away end earlier, it was absolutely rocking now. "Oh When the Blues" was ringing out around the ground. Nobody had seen this coming but suddenly we wanted a win.
United weren't giving up but Latics could sense blood and opted to throw on Reuban Reid. The extra man was telling and time after time, we cut through their defence. We couldn't quite make it count though and as we approached the end of 90 minutes, I decided to go and fetch the flag to save time at the end. We were still pushing forward though and when the board went up showing an additional four minutes, the travelling fans cheered in anticipation.
We didn't need all four as Reid again burst through. He managed to get goal-side of the defender who had no option but to pull him back. Immediately the ref pointed to the spot and we erupted again. The defender was sent off but that really didn't matter. Surely we couldn't actually do this. Reid, penalty king from the first month of the season, wanted to take it but after his successful conversion on Tuesday, Shefki wasn't having that. A couple of the lads from the bus grabbed the flag from me and held it behind the goal as Kuqi prepared himself. It seems strange to say this, but I never doubted him. When he missed at Chesterfield in the cup,
I watched him line it up and was convinced he'd missed. This time there were no such concerns. Sure enough he blasted it home and ran to the fans to perform his belly flop that we hadn't seen since his debut. I think the ex-Wednesday man enjoyed that. He wasn't the only one!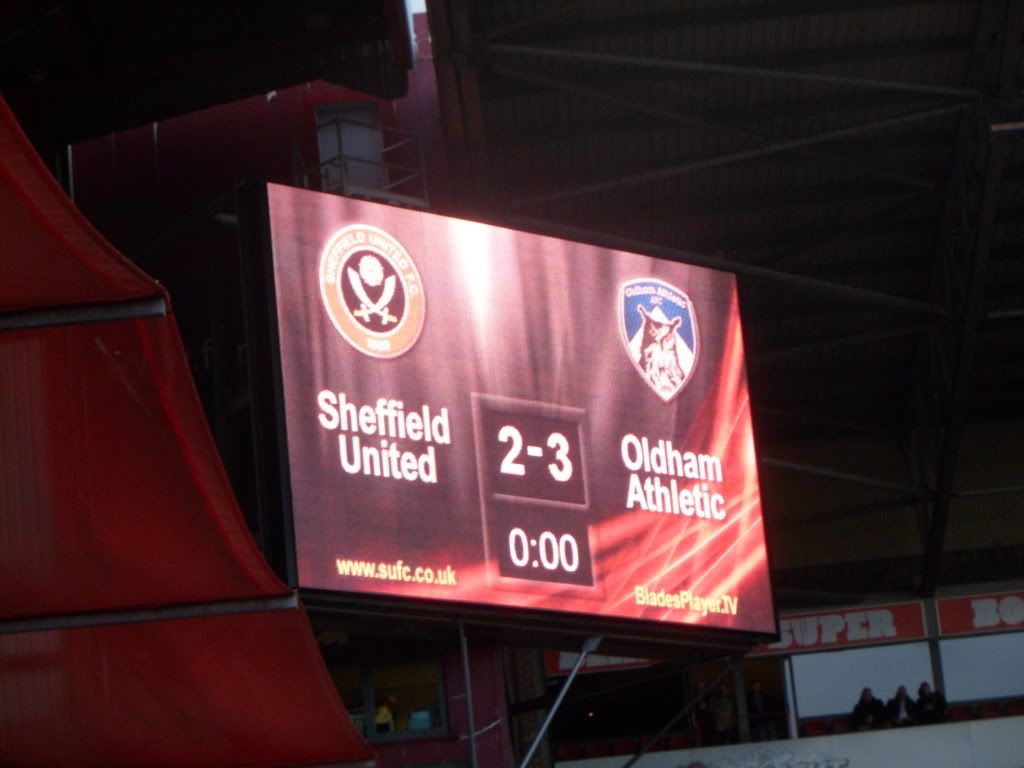 It seemed an age before the final whistle went but eventually the ref blew and we had managed to turn round a two goal deficit and leave victorious. Nobody wanted to leave yet though and the players came to us like they had just secured promotion. I still don't think that's going to happen but days like this make up for that somewhat.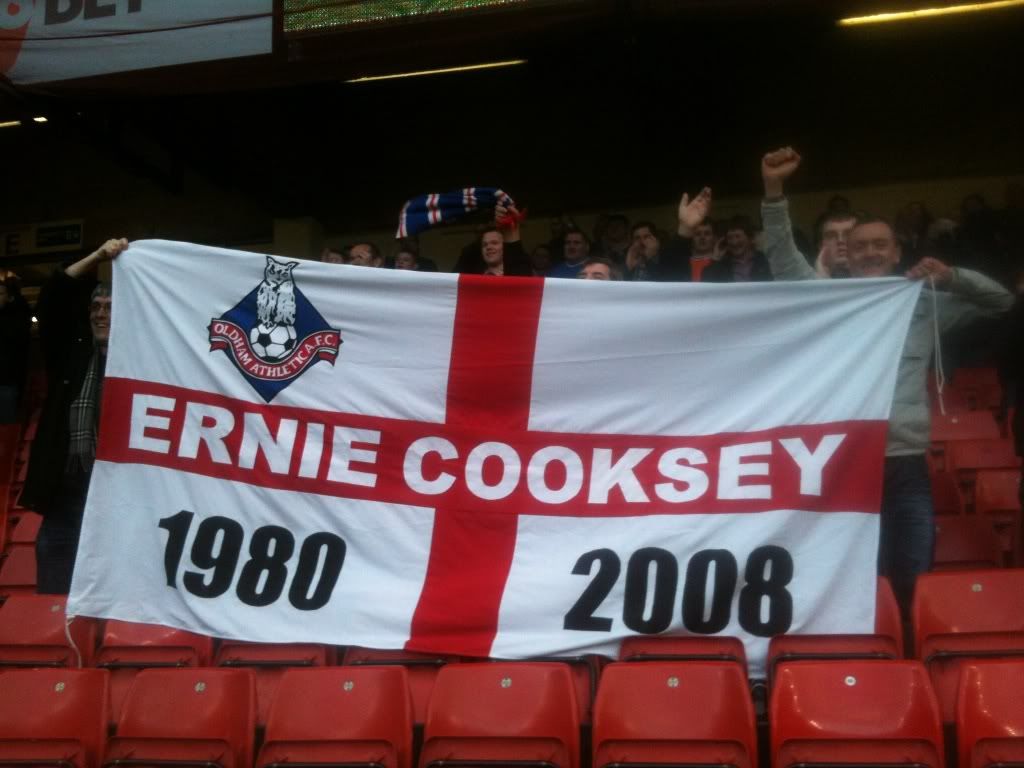 It was a little tasty outside the ground. Clearly these Yorkshire folk don't like losing, and like the away fans celebrating even less. We don't get many games like that so I'm sorry, but celebrate we will. There was no big deal though and eventually we got away. The songs rung out as we headed back up the M1 and car after car was blowing their hors as they passed us. The best wins are always the ones where you don't give them a prayer and clearly everyone was feeling the same.
---
Last Updated on Sunday, 04 March 2012 22:00