Written by Mark W
Thursday, 28 February 2013 23:21
Everton  v Oldham Athletic – FA Cup 5th Round Replay
Goodison Park, Liverpool 
Tuesday 26th February, 19:45 K.O.
Unfortunately this is not the story of glory that I had dreamt of writing. It is a story of pride though, a story of new memories that will be there for life.
With a minute left of the home game against Everton, I had accepted that I would be spending the evening of Tuesday 26th February 2013 at Deepdale as the lads tried to pick up three vital points to move us further away from the drop zone. We all know what happened next but if you want to relive it here's the blog I did last week. HERE
It's been almost twenty years since we've been this close to an FA Cup quarter final and the demand for tickets for the replay came as no surprise. Seeing the queues up and down Sheepfoot Lane after the Portsmouth game on Saturday really was like going back to the 'good old days'. If you witnessed the atmosphere in the second half of the 1st game, I don't know how you could possibly be prepared to miss out on the trip to Goodison. An evening on the sofa watching it in the company of Adrian Chiles really didn't appeal.
Realistically we knew that the game at Boundary Park had been our best chance of upsetting the Toffees but you never say never this season. When we'd played Doncaster in the 2nd round, we couldn't have had a more difficult draw yet we had won through. You may have read about the Forest experience in round three HERE  Dead and buried at half time yet we found something special in those seven minutes of magic. Against Liverpool it just got better still. One of my favourite ever days at Boundary Park. We beat Liverpool. It doesn't matter how many times I say those words, it doesn't get any less surreal. And so how could I not believe. After all, it's not like we'd ever done anything similar at Goodison before…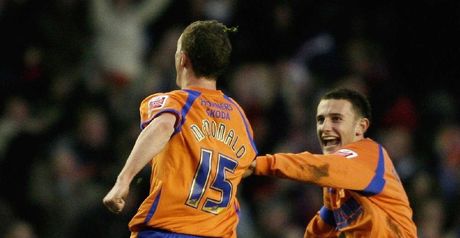 As I was couldn't really afford to take any time off work I agreed that I would work until half three and then meet Mike at Piccadilly for the 16.07 train to Liverpool. When we went to Anfield last year, the train was rammed with Latics fans but the threat of extra time and the lack of a late night train home meant that this time round most had opted for coach or car travel. Luckily my parents were driving over so we knew we were good for a lift back to Oldham. It was just us and some business men but we had some refreshments to keep us going.
The guy sat opposite us was leafing through some educational books but didn't say a word until we were the other side of Warrington. Eventually he couldn't hold himself back any longer. He was an RE teacher who actually worked for Everton, teaching kids who had been excluded from school. He was at pains to show us his season ticket while stressing that he didn't support Everton and only went because it was free. We weren't doubting him but he insisted on telling us this again and again. He seemed a decent guy though and felt that we had the potential to cause an upset. For an RE teacher he certainly wasn't averse to a bit of bad language. We were being ever so polite but he got rather animated when he started talking about Liverpool. Remember though, he wasn't an Everton fan! And just look at the state of the table after he got off:
There was nothing untrue in that last statement, that was the state of the table when he got off, I never said they were his.
Upon arriving at Lime St we headed for the Irish bar round the corner where the London lads had said they were setting up camp. We said a few hellos but the smell in there was far from pleasant. I'm not a big fan of Irish pubs as it is, ones that stink are never going to hold my attention for long. We needed some food anyway so we popped over the road for a bit of grub at Weatherspoons.
It was very quiet in the city centre, again I assume because not many had been able to take advantage of the train. There was the odd blue and tangerine shirt but nothing to suggest that there might be an atmosphere. We decided to make our way up towards the ground as soon as we'd eaten. Surely there would be more happening up there.
The taxi driver must have mistaken us for home fans. I really must get my hair cut. She commented on the weather before assuring us "Everton will warm you up later by scoring a few goals". That's not going to help us I'm afraid", I replied. Well, as soon as she realised we were Oldham fans her attitude changed. Everton's season is falling apart and it's about time that Moyes left. I was shocked, I know they've dropped a few points recently but surely they are still batting well above their weight. Based upon investment, they can't be much more than a lower mid-table team. I thought she must be alone in her view but once she put the radio on it was clear that far from it. The first caller stated that if they lost to us, which they all seemed to think was a very realistic possibility, Moyes should do the honourable thing. The next few were not ringing up to disagree.  It's sad that football has gone this way.
In all the excitement the driver had "forgotten" to put on the meter. I'm sure that is supposed to mean that you get the trip for nothing. It actually means she can charge what the hell she wants.
We'd asked to be dropped at The Spellows on Goodison Road but the road had been blocked off so we exited outside the ground. It gave us an opportunity to get a picture of the flag outside the ground before it went properly dark. There were a few Oldham shirts around so we grabbed a guy and his son. I'm not sure they knew exactly what was going on but they were good enough to help out and I got a snap. Not the best of the last 5 years but you can tell where it is.
The Spellows, when we got there was about as salubrious as that Irish bar earlier. Not only that, it had a similar odour. Oh well, we were there now, so we decided to make the most of it. It was still fairly quiet but you could already tell there was going to be a decent mixture of home and away fans. The beer choice could have been better but I don't remember the last time I saw somewhere with McEwans on tap. There's a good reason for that!
Over the next twenty minutes or so the pub filled up and there was plenty of banter and singing between the two sets of fans. When Paul Dickov came on the TV in the corner of the bar, the Oldham fans began to sing his name. It must be a fairly unique position whereby I haven't met anyone who thinks he should have stayed on as manager yet he is still a hero. The cup run has obviously helped a lot. We were in the 5th round because of Paul Dickov and in the process he had become the first manager in our history to win 4 consecutive FA Cup games. That is a remarkable statistic considering what's gone on in the league.
The other notable feature of the pub was the glass collector. I should have got a photo but couldn't bring myself to do it. She must have been late sixties at least and was wearing a bright pink Adidas tracksuit. You couldn't possibly have imagined a more stereotypical scouse woman if you'd tried.
A walk round to the away end took us past  part of the timeline which surrounds Goodison. It seems that all the major incidents in Everton's history are documented. What a fantastic idea. I would love to think that we could do something similar at Boundary Park when we build the new stand. We stopped briefly to take a picture of the man who sums up much of the connection that our two clubs have (no, not Nick Barmby).
We were quite early getting into the ground but it was already filling up in the away section. We'd opted for upper tier tickets following reports of poor views downstairs. I love the ground as it is one of the only traditional Premier League stadiums left. There is real character both inside and out. It nestles comfortably within the rows of terraced houses while providing a great example of old fashioned architecture. The church in the corner is a great feature and there's four unique stands. The problem is that all this comes at a cost. There is little potential for significant redevelopment and the view is often obstructed. Leg room is far from perfect too.
Our seats we not too bad. There were a couple of stanchions partially obstructing the view but we could see both goals so I could live with that.
By half seven the ground was getting quite full and the travelling fans were in full voice. It is wonderful to see and hear so many Latics fans. Obviously we need them to turn up more often but anyone who says that they prefer to be at Carlisle on a Tuesday night with a handful of fans there can only be trying to make a misguided point.
By the time the teams came out the atmosphere was electric. The full repertoire was being sung, Oh When the Blues, Jose Baxter Baby, Ole Ole, The Blue Flag and so many more all merged effortlessly.
Referee Michael Oliver blew his whistle and we were off.
The game was quite tight in the early stages but it was clear that we were up against opposition far superior to what we are used to. We were nullifying them but there was little in the way of Tangerine attacks. That said, it was a shock when Everton took the lead. A cross by Darron Gibson found Mirallas in far too much space and there was nothing that Bouzanis could do as the ball shot past him.
For the first time the Latics fans went quiet. We were only quarter of an hour into the game so there was still plenty of time for a come-back but this certainly wasn't in the script. This hush was only momentary though as the goal appeared to jolt us into action. That flair going forward which had been missing in the fist fifteen minutes was back. The Everton defence seemed to open up when the ball fell to Baxter thirty yards out. He took a couple of steps and expertly curled it past the helpless Tim Howard. The roar went up as we waited to see which side of the post it would go. The answer was neither. The ball hit the inside of the upright but instead of rebounding in it flew away from the net.
As the home side tried to clear, we won it back and swung over a cross. Phil Jagielka cleared it once more but hit the ball straight at Gibson. It was like watching it in slow motion as the ball flew towards the ex-United man's arm. As he moved his arm, it was struck and the ball fell at his feet. The appeal was deafening. Four thousand voices bellowed the word "Penalty" at once. It was right in front of the ref, he had no choice. Unbelievably he threw his arms out in front of himself to wave play-on.
I've had chance to see this again several times since Tuesday night and I haven't changed my mind. There is no way that was not a penalty. He moved his arm towards the ball and in so doing controlled it. I have heard the argument that it was not deliberate and to a degree I agree. I do not believe that he actively thought "I know, I'll handle this in the box right in front of the referee". Then again, who does? Certainly not Connor Brown fifteen minutes later.
When the second goal came, it was through a simple mistake. Another cross looked harmless enough but Brown misjudged it and it struck his arm. If the previous penalty was accidental, so was this but surprise surprise the Premier League team get a decision where the League One team doesn't. The really frustrating thing was that the penalty was not struck as well as Baines usually does. Dean got a hand to it but just couldn't keep it out. Ten minutes left until half time and we were two down.
As we tried to drag ourselves back into the game in the run up to half time you could really see the difference between playing good top flight opposition and most teams that we play on a weekly basis. When you are used to watching your team play and they counter-attack, you pretty much know what's going to happen. You don't need to look at which player is where on the pitch as you've seen it all before. As we tried to counter at Goodison, I looked up and nobody was where I would have expected them to be. You might not have been able to see them getting pulled out of position due to the pace of the game but they just were not there.
We started the second half well and when Matt Smith and Robbie Simpson came on we looked a different side. What Smith has done against Liverpool and Everton has been unbelievable and without doubt the home side were petrified of him. It also seemed to act as a huge confidence boost to our players. What a blow then five minutes later when we went three down. I haven't seen it again but at the time I was convinced that we should have been awarded a throw in. Instead it was given the other way and from it our fait was sealed.
Bouzanis has to take the blame. He was convinced that Jelevic was going to get a touch right in front of him but when it bypassed the Croatian Dean could only watch in despair as the ball meekly rolled into the unguarded goal.
We could easily have capitulated at that point. Three down against the 6th best team in the country. They must have been shattered too. We don't know when we are beaten during this cup run though and a couple of minutes later we had hope. Jonathan Grounds put over a cracking corner (surely Dickov knew he could take a corner) and that man Smith was there to nod home. 188 minutes Matt has played against Premier League opposition this season and has scored four goals. I'm guessing that there aren't many with a better scoring record than that.
As you could imagine the away section exploded again. There was belief that it wasn't over but above that there was pride. We'd shown what we can do.
We had chances to make a game of it after that although Everton had chances to wrap it up too. It was clear that the complaining that David Moyes had undertaken after the first game had produced the desired effect. We couldn't do anything without being pulled up by the ref. Not that I blame Moyes, he was simply sowing a seed in the referees mind much as most of the top managers do. They know what they are doing.
When the final whistle blew it was gutting to know that the dream of a trip to Wembley had died. It's 19 years since we last went there and there is no reason to imagine it will not be that long again before we get the chance to return. It's been an amazing cup run and I just didn't want it to finish. I was so proud of both the team and the fans though. We showed that we might just be a little club from the third tier of English football but on our day we are bloody good. Everton certainly knew that they had been in a cup tie.
---
Last Updated on Thursday, 28 February 2013 23:33