Written by Mark W
Thursday, 16 October 2014 22:23
Estonia v England – 2016 European Championship Qualifier
A Le Coq Arena – Tallinn, Estonia
Sunday 12 October 2014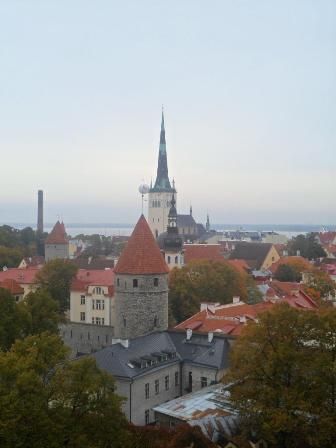 It's been 9 months since the last new ground for the flag and as tends to be the case these days, it was an England game that provided it. The Euro 2016 qualifying draw threw up a mixture of exciting and less inspiring trips and this was widely seen as one of the better ones. For me it was perhaps less tempting as I have seen England play over there before and was visiting Tallinn on holiday in August this year. My first thought, therefore was to give this a miss but the lure was too much and within an hour of the draw being made, I had flights booked.
Compared with many fans Neil and I were taking what we saw as an easy and reliable route. Flights to Helsinki and a ferry over to Tallinn sounded good but a little more complicated than we were looking for. Likewise, a flight to Riga and a 9 hour coach journey might have been fun but would have meant a longer trip than we could really justify. We were flying in and out via Frankfurt taking full advantage of Lufthansa's German efficiency. What could possibly go wrong?
The journey out was uneventful, though notable for the number of England fans on the flight. There was a fair few on the Manchester to Germany leg and by the time we were boarding in Frankfurt I bet 180 of the 200 passengers were travelling for the football. Some were more obvious than others as I can't imagine Adrian Chiles, Glen Hoddle and Ian wright amongst others were heading out there for any other reason. Considering we had only been given 1,100 tickets this seemed a lot of fans to be on one flight in view of the number of different routes available.
Upon arriving in Tallinn we had to pick up the keys for our apartment. It was a strange set up but we had an address, a code for the front door of an office and then a second code for a safe in the office. I had my doubts but it all worked well and we were presented with a safe full of envelopes, each with a name and an apartment address on them and a set of keys inside.
The apartment itself was right in the heart of the old town and despite being very basic there were one or two surprises. The 'bad surprise' was the radiator which fell off the wall the minute we moved the sofa. The 'good surprise' was that they had provided a mobile phone for free use for internal calls within Estonia. If only we knew anyone else in Estonia with a phone.
Here were a few of our neighbours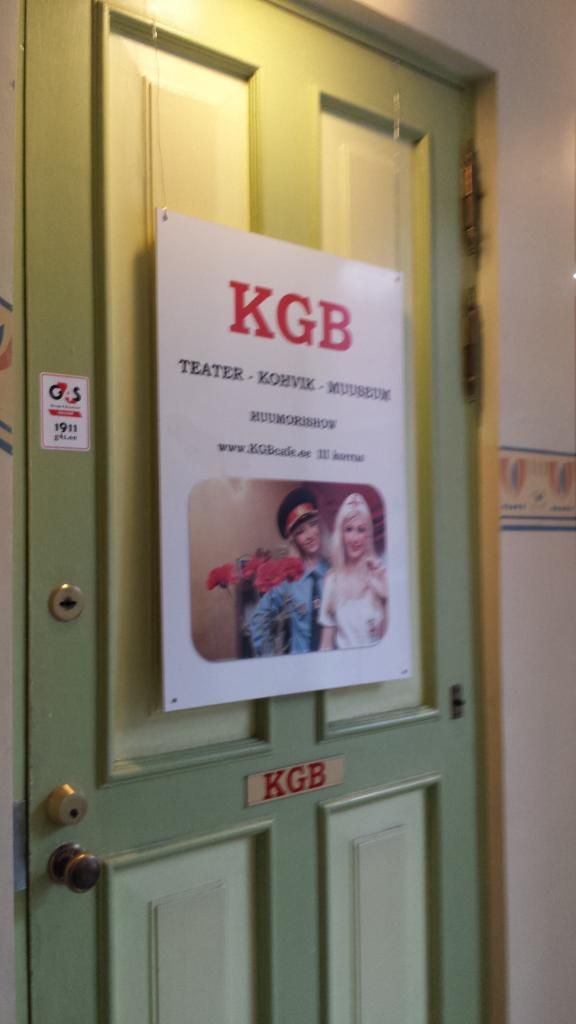 Our first night out started in Tallinn's first Gastro Pub which had been recommended to both myself and Neil separately. We were joined by Peter and Keith who had both arrived from London and had decided to book their own apartment rather than crash with us as is usually the case. We had no idea what an inspired decision that would become..
The main reason for choosing the pub was that Neil wanted to watch the Rugby League Grand Final. This decision did not appear to be universally popular amongst the largely southern contingent in there. A minute in when one of the worst assaults I have ever seen on a sports pitch took place, suddenly the sport attracted a whole new fan base.
It has been said that the England fanbase is unrecognizable from the one of 20 years ago. I think they might have a point when we are on an away trip and someone orders quail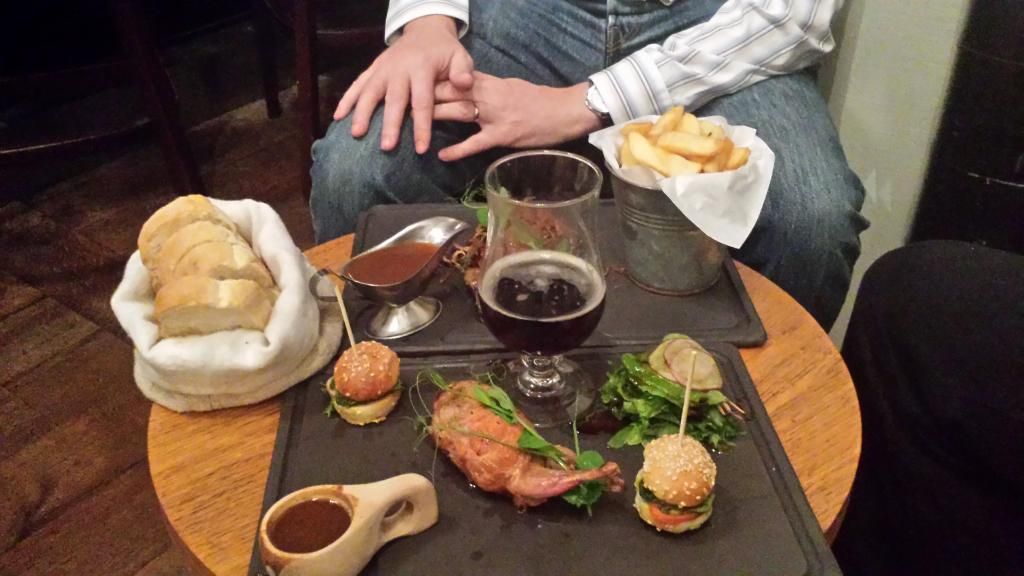 The northern contingent still haven't developed as far as quail though
After our meal we sampled a number of the hundreds of bars around the Tallinn old town. Probably the most unique was the Depeche Mode bar which is, unsurprisingly, the only bar dedicated to Depeche Mode anywhere in the world. I am not an expert on Depeche Mode but as a fan of "Just Can't Get Enough" I didn't want to miss out. Having spent an hour in there I can definitely say that they have made one good song. Sorry to all you DM fans reading this.
After a decent night's sleep we met up with fellow Latics fan Ian Hinchcliffe whilst picking up our match tickets. It was apparent that there were hundreds of English fans looking for tickets on top of those that had been allocated them by the FA. We headed to another bar that Pete and Keith had found on the way back to their apartment the night before. I can't think of anything better for breakfast than a bit of borst.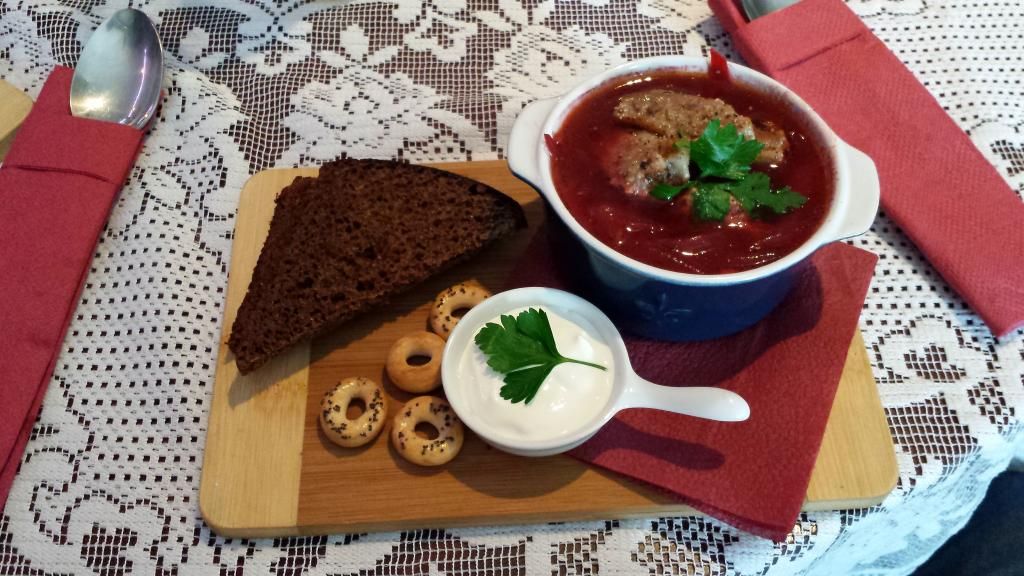 Whilst I was feeling OK, I'd had enough to drink the night before to not be planning on spending all day on the pop so I had time for a bit of sightseeing in what I would say is one of the most attractive old towns in Eastern Europe and the Baltic.
The coat of arms on the parliament building is a little familiar too: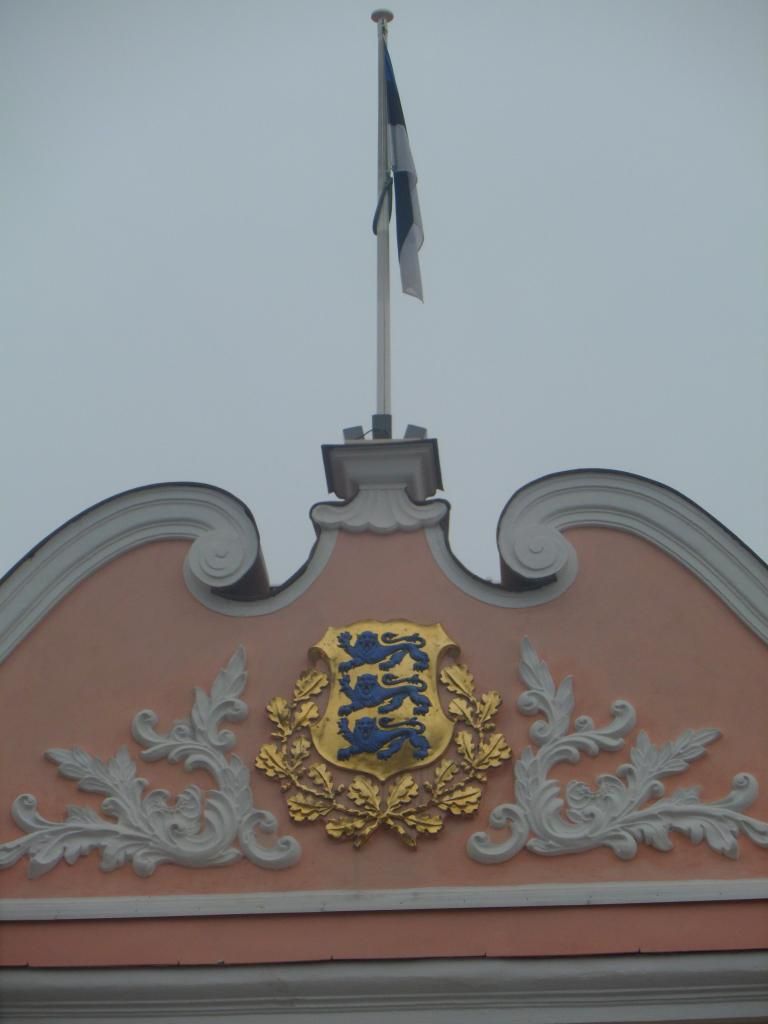 If you would rather go to a museum you might want to try this one… or maybe not: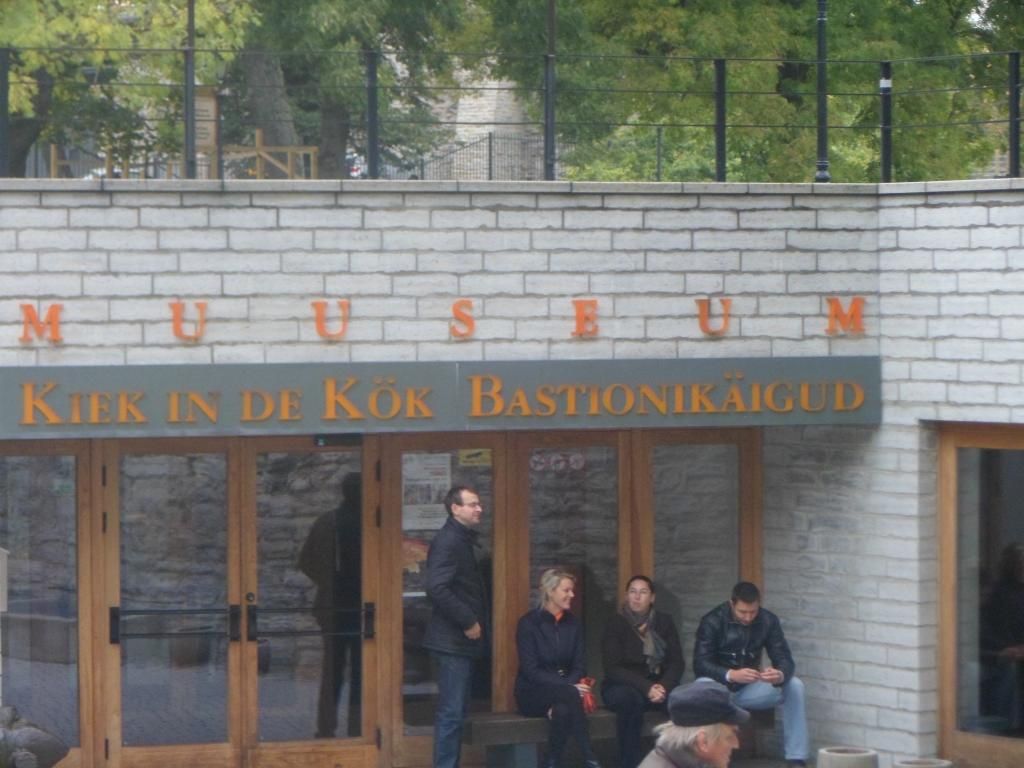 A trip to the ground allowed me to put the flag up in a reasonable spot. I'm not too sure what that woman is doing with the chair though: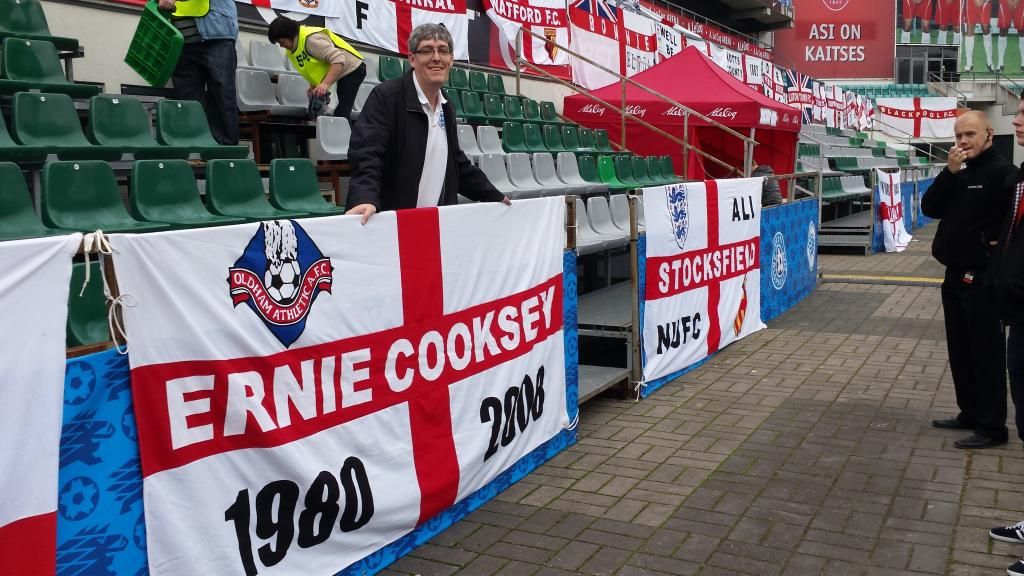 After a few beers back in town it was time to head back to the ground for the game. It had become increasingly obvious all day that there were more ticketless England fans than I had seen at any game for years. Outside the ground security was very lax. There had been multiple messages from the FA that it would be impossible to get anywhere near the ground without a ticket. In reality, anyone could walk right up to the turnstile unchallenged. Not only that, the stewards on the turnstiles themselves were far from the kind of animals that you might expect to find in a former Soviet country. It was hardly a surprise a few minutes later, inside the ground when we saw fans rushing into the stadium at the far end. Clearly they had managed to storm the entrance.
The England end was no less chaotic. The travelling fans who had bought tickets for the home end were able to simply walk round and climb over the fence into our section. I'm not sure that health and safety would have been happy in the Uk but we all squeezed in.
After the fantastic result in Switzerland and the uninspiring but very comfortable win against San Marino, everyone was confident that we would have no problem making it a maximum 9 points from the opening three games. At the back of my mind, though, I was aware that it had been far from plain sailing in 2007 when we last played Estonia and they had picked up a fantastic win against Slovenia in their opening group game.
The atmosphere in Switzerland had been one of the best I had experienced at an international since the Croatia game a few years back but somehow it just never got going in Tallinn. There was plenty of attempts at getting some singing started but it just wouldn't happen.
From the kick-off Estonia had a couple of half chances but for the next twenty England seemed to be in complete control. There has been plenty of grief given to Rooney in the aftermath of the game but for me he worked hard and the chances aren't quite going in at the moment. Again, he had a couple of opportunities but by half time it was obvious that we were going to really struggle to break down the Estonian defence.
Our job was made much easier just after half time when the home side's captain got himself sent off with a daft second yellow card. The floodgates didn't open though. England continued to struggle and it was difficult to see how we were going to claim the victory that so many took as a foregone conclusion.
Just as I was coming to terms losing the 100% record, we were awarded a free kick on the corner of the box. Rooney's free kicks had been shocking all night but yet again he lined this one up and the keeper failed to deal with it ending up in the back of the net with the ball. We really had got out of jail here.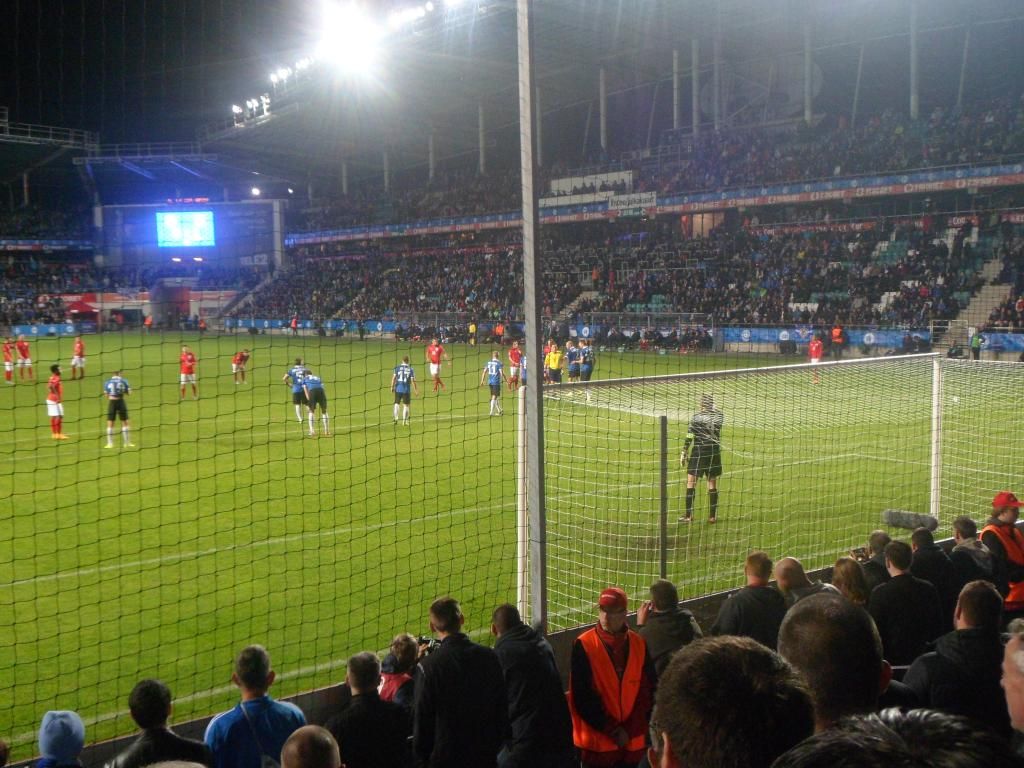 There was still time for a scare from the Estonians but they had little up front and we hung on for a very unconvincing victory.
Despite the difficulties in securing the win, it was still a win. We might not look great at the moment but when you look at the recent results for Holland and Germany you can see that there are very few easy games in international football.
A walk back into town included a trip through the kind of underpass that I wouldn't fancy at a game with a more hostile atmosphere. It certainly didn't appeal to one local drunk who provided the best entertainment of the night by trying to walk up the embankment and over the train tracks. The vodka he'd been drinking had other ideas though. Every time he got almost to the top of the hill, he wobbled before staggering back to try and regain his footing and rolling back down to the bottom. This must have happened five or six times before he finally made it to the summit. I think we all feared that when he did eventually conquer his Everest he would step forward and be flattened by an intercity train but I think he made it.
The rest of the evening is a bit of a blur. There was a jazz bar with a couple of great singers. There was a pizzeria that was clearly closed but wasn't going to turn away business. There was a bar full of English who'd plugged in an ipod into the sound system and a Harry Potter lookalike proved a more than adequate DJ. This bar also included one young Estonian couple trying to have a romantic meal whilst surrounded by Villa fans downing the pints. I had to feel sorry for them. I think the lad took it quite well but I'm not convinced the girl had the best night of her life. Having a fan follow you outside to confront you about why you have left your boyfriend inside after he's 'bought you a lovely bottle of wine' probably wasn't ideal.
Other bars were found and lost and eventually we reached the point where there was nothing open except the one bar we had tried to avoid. We'd attempted to frequent local bars but if the Irish bar is the only one you can find, you have to reassess your principles.
We were down to just three of us by this point and finally decided to call it a night. Peter headed back to his apartment and Neil and I wandered back to ours. When we'd gone back the night before at 1.30 the front gate had proved a bit of a challenge but I had managed to open it using the strange key that we had been given. The outside door of the apartment block had not been locked.
It seems that at 3.30am on a Monday morning, that outside door is well and truly locked. Not a problem we thought, as we had a key. What we didn't have was a key that fitted that bloody lock. Neil tried, I tried, Neil tried again. We tried to ring the letting company but we knew they wouldn't be there. There was no other option so we were soon on the floor in Pete and Keith's apartment.
It wasn't the best night's sleep I've ever had but it's a lot easier to sleep anywhere after a night on the ale and we'd have been in much more trouble had we all just booked the one apartment.
At least we knew that we had our 'easy' journey home the next morning. And so we found ourselves sat in Tallinn airport with one of these feeling smug as we talked to those who were heading off in all kinds of directions on their budget airlines.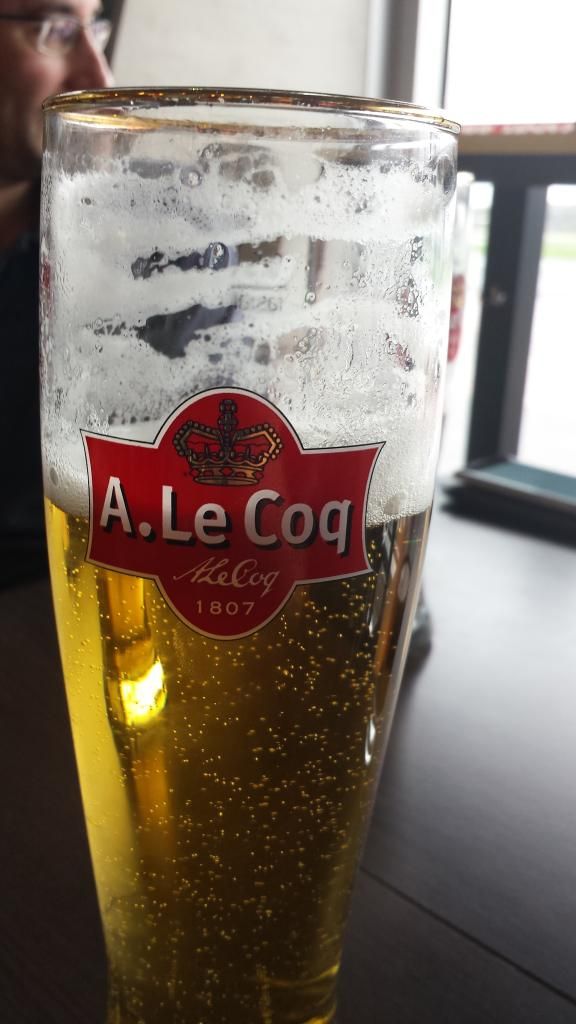 When the announcement was made that we had a 90 minute delay we knew we were in trouble. Our connection time in Frankfurt was well under an hour even if we took off on time. That smugness had disintegrated. The flight had 65 people on it that were transferring to Manchester and another 30 who were connecting to a Birmingham flight which departed at the same time as ours. Surely they would hold the flights.
Those who spoke a bit of German knew the outcome before the rest of us as we sat on that plane. The London flight would be held. Of course it would! The Manchester and Birmingham flights had gone and we'd be allocated another flight the following morning. This was not good. I didn't fancy breaking the news to the wife and I had to be in work in the morning.
The organization was appalling . We queued for 2 hours in Frankfurt before we were finally booked onto a flight that would mean we'd arrive in Manchester 18 hours later than planned. They managed to get just 2 people home that evening. At least we managed to get on the same flight. There was a married couple in front of us in the queue who were put on different flights. I think even the staff could see how ridiculous this situation was but once those flights had been allocated there was no opportunity to make changes. I believe that the following morning, they went to the airport early and did manage to get on the same flight but it was still farcical.
The hotel that we were taken to was clearly there for just this situation. There is no way you would choose to stay there if you had any say in the matter. Without doubt the food served up was the worst I have ever had in a hotel. I read afterwards that it is supposedly 4*. Sorry but I think that must be a mistake.
We finally made it home at lunch time the following day and within an hour of leaving the airport I was back in the office trying to catch up on everything I should have done that morning.  It had been a long but enjoyable few days with a couple of minor disasters along the way but I guess that is what makes these trips memorable… it's definitely not the football.
---
Last Updated on Friday, 17 October 2014 06:41