Written by Mark W
Tuesday, 30 June 2015 22:29
Slovenia v England
Stožice Stadium, Ljubljana
Sunday 14th June 2015, 18:00 K.O. (Local time)
Arriving at Manchester airport just five days after returning from Dublin I was a little apprehensive over what was to come. The Ireland game really was the most disappointing England trip I had done with both the match and atmosphere being way below what I have come to expect. This was a qualifier though and surely the team would be fully motivated to maintain the 100% record in the group. The forecast promised sun too and there would be plenty to do and see as Neil and I were fitting Frankfurt and Ljubljana into the next 48 hours. Anyway, this was Terminal One so we got to kick the journey off at the excellent Grain Loft so all was good.
I have been to Frankfurt twice before but neither occasion was ideal. The first was on the way back from Moldova (there's a report on here, look it up) when I spent an afternoon in the city with Jazz having not slept in two days. We'd had a look round Eintracht's ground but other than that we'd spent the time in some kind of sleep deprived trance. My other visit, if you can call it that, was an unexpected night in a dodgy hotel after the Estonia game (hey, you know what, there is a report of that on here too). I'd never actually seen anything of the city so I'd set Neil the task of coming up with some sightseeing options based on his previous visit during the 2006 World Cup.
We'd got about eight hours before our onward flight to Ljubljana so we headed straight into town. We waited for the train… which never came, then we waited for the next one… which was late. Every time I visit Germany I am amazed at what a misnomer German efficiency is.
The sightseeing was fairly whistlestop but I think I got to see the main sights: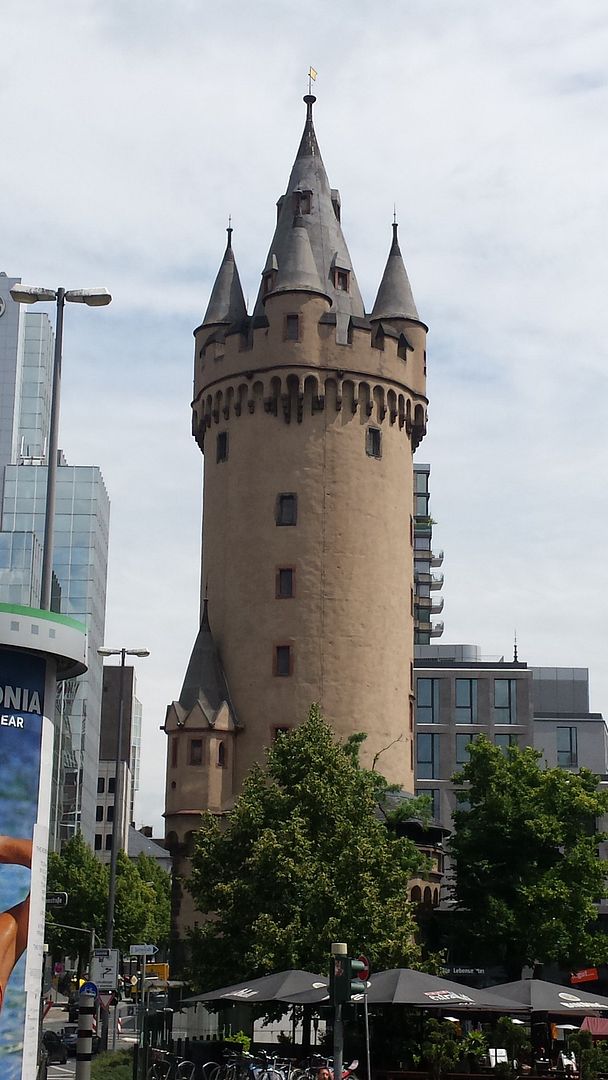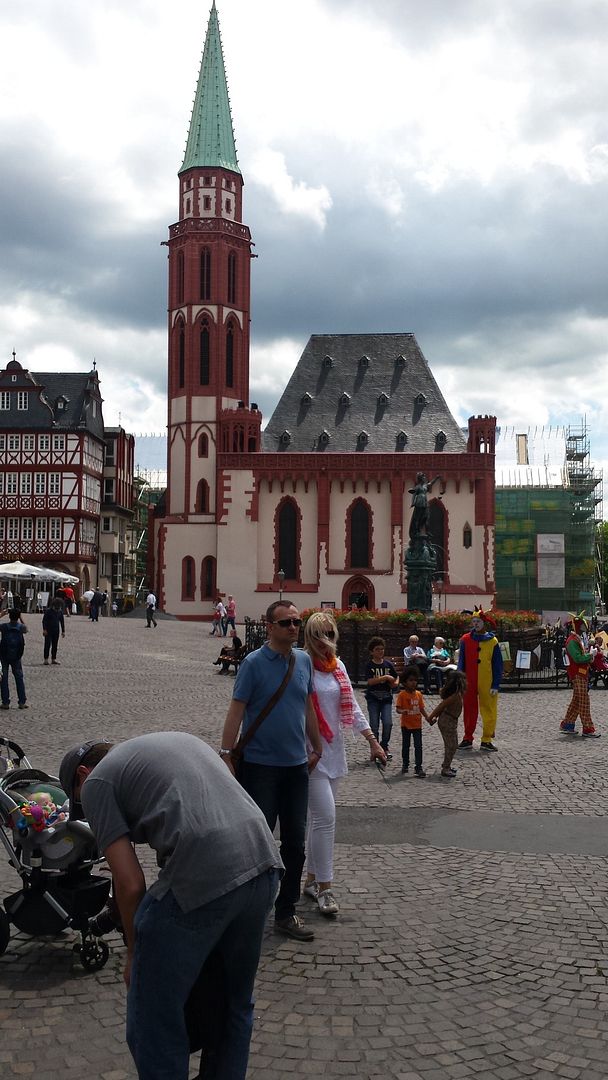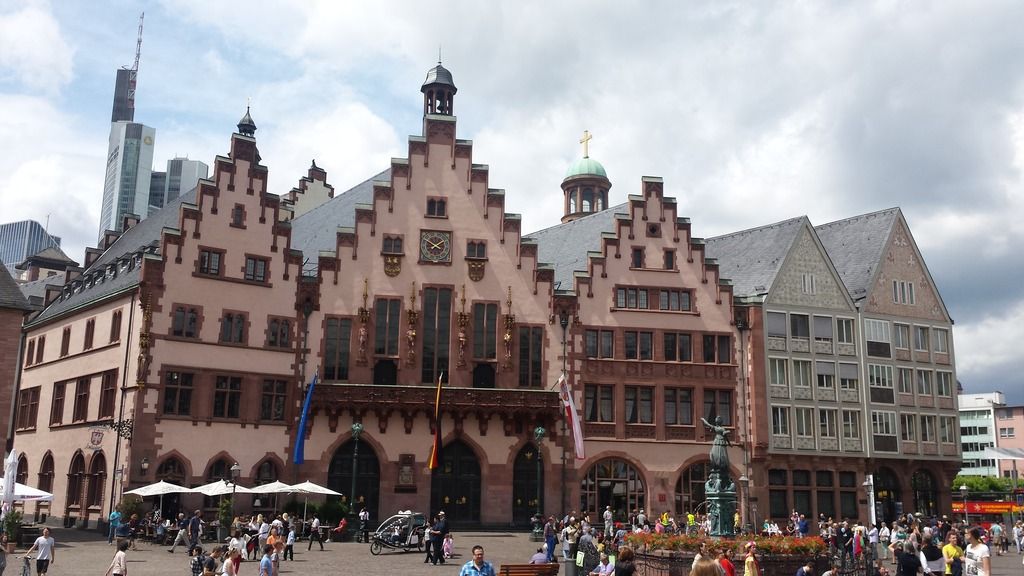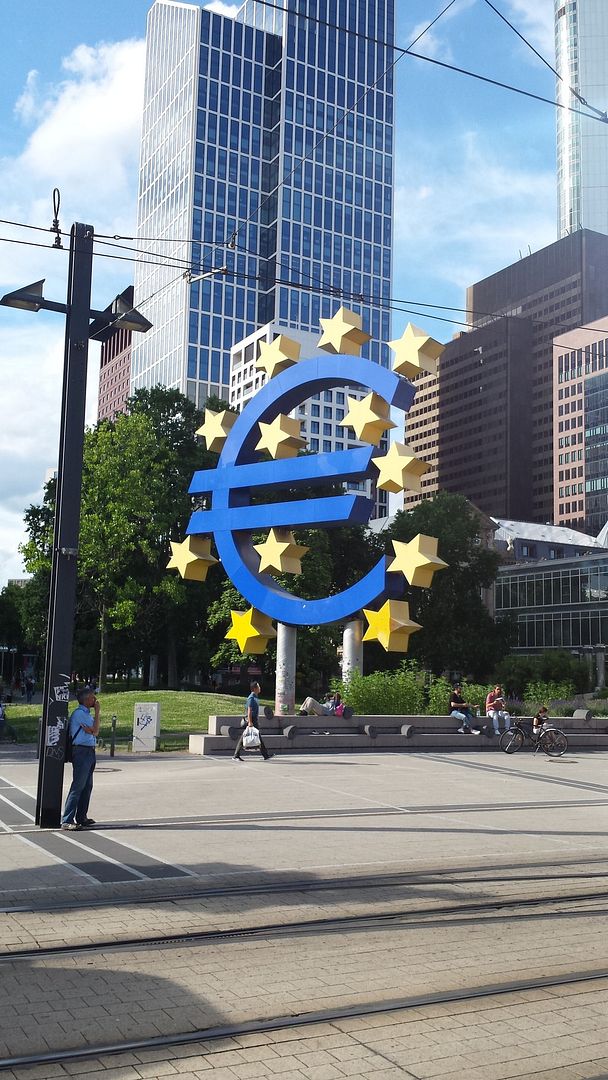 The quality time, however, was spent testing the German beer. Everyone knows that German beer is up there with the best in the world so it is always sensible to make sure the quality is still being maintained. We opted for lunch at one of the squares in the city centre where they were holding some kind of food festival. It was a similar concept to the Christmas markets that originated in Germany but have now become a staples of most major cities. A huge kebab of pork with a bread roll speared on the top looked too appetizing to pass up on. I wasn't disappointed. It was the best meat I have eaten in a long time. I've no idea what it was marinated in but it was fantastic. The beer wasn't bad too.
Another square meant another beer as we made the most of the opportunity to drink al fresco. We then headed to an area where Neil had drunk during the World Cup. This allowed us try some local apple wine (drinkable but not for me) and a few more local brews. Finally we opted to be a bit more touristy and after a stein over very overpriced beer we got a picture with one of the waitresses with the flag.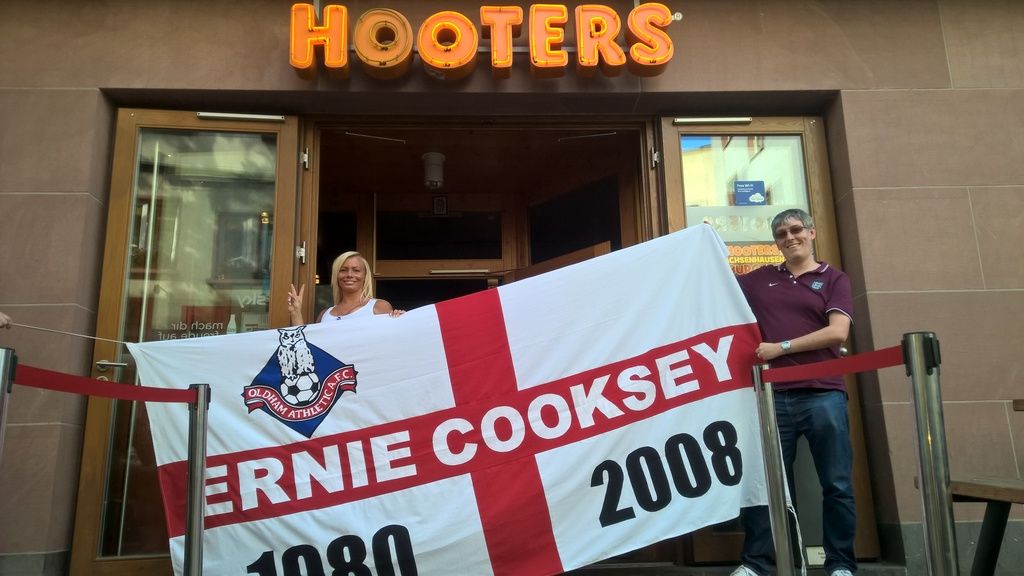 The day had passed in a blur and we were soon on our way back to the airport to meet up with Peter in time for the next leg of our journey.
It was going on ten by the time we made it to Ljubljana and so there was no real choice other than to hail a cab if we were going to make it into town in time for a night out. The most notable element of the journey in was the excitement of the taxi driver to have all these crazy English fans in his city. We couldn't shut him up as he told us about the Grimsby fans he'd taken earlier in the day, and the Barnsley fans… and the Chelsea fans. He was totally made up to have us all there. He was insistent that English fans were the best in the world. It seemed churlish to argue.
We'd booked the apartment on-line and so we didn't really know what to expect. When our new-found friend the driver told us that he couldn't take us all the way there we started to fear the worst. Far from it, the reason he couldn't take us to the door was that we'd struck lucky and landed somewhere right next to the main square no more than 20 yards from the river. Credit goes to Neil on that one.
It was just a room in a house but we really couldn't have asked for any more. Our landlady wasn't concerned that we arrived outside normal operating hours and the apartment had everything we needed for about twenty quid a head.
There was no time to be wasted and we went straight out to find some beer. We started by the river but these were more like restaurants and not long after we tested the local brew, Union, we were being kicked out as they closed up for the night.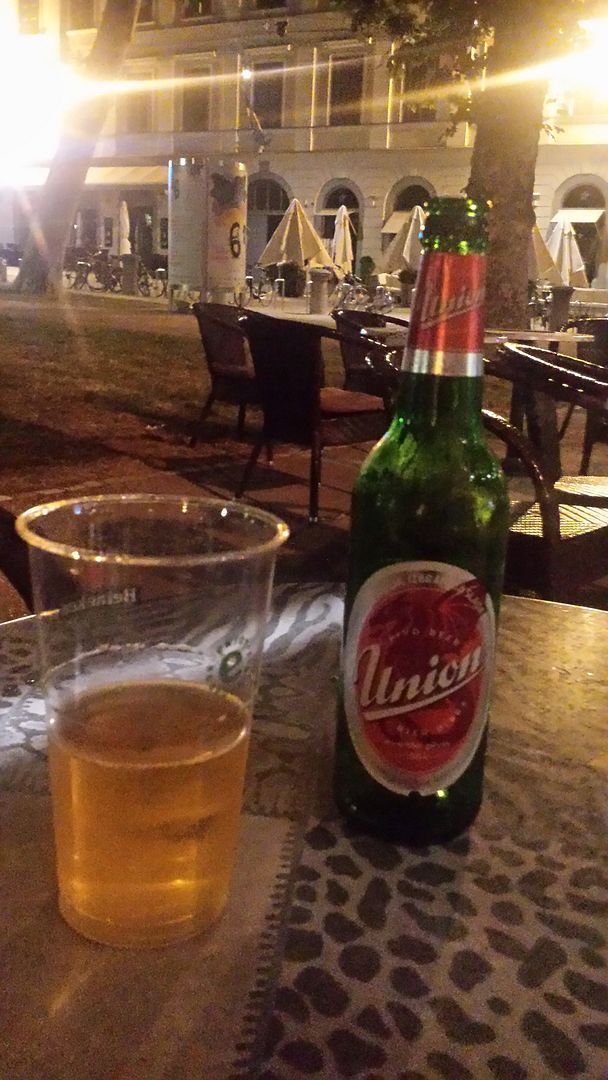 We met up with Oldham boys Dave and Ian at the bar in the main square where some poor local duo were expecting a quiet night singing to a handful of regulars. Instead, they couldn't get off stage as more and more demands for songs they had never heard of were made. They only knew two Oasis songs so these were sung several times. I hope they were paid overtime as they certainly earned any extra Euros they got.
We ended up in a bar-cum-nightclub which seemed more upmarket than the kind of place we usually frequent on away trips. What I couldn't understand was that they let us in. Both Neil and I were in shorts and t-shirts as it was very humid. This was not a shorts and t-shirt type of place but nobody batted an eyelid.
I lasted until about 2am but then I was done for. It had been a long day and I wanted to ensure I could make the most of the following day. When Neil and Pete arrived back at the apartment several hours later I knew I was a lightweight.
Matchday started with me leaving the night-owls in bed and going for a walk mid-morning to try and clear my head. The centre of Ljubljana was deserted. Clearly we weren't the only ones to have made the most of the Saturday night. As I walked towards the team hotel I noticed a figure walking away from it on the opposite side of the road. I'm not great at recognizing people but even I know Roy Hodgson from a distance. To my surprise, as our paths were about to cross he started to make his way across the road. His hand was outstretched and he wanted to thank me for travelling out there to support the team. What an absolute gentlemen. It is such a refreshing change to have someone managing the England team who 'gets it'. Yes, clearly the most important role for an England manager is to get the team playing well and winning but that is not the only role. The England manager is the face of the Football Association and as such, small gestures like this make a huge difference. Roy is never one to give it 'the big I am '. He loves football and seems to feel honoured to have reached the pinnacle of his profession.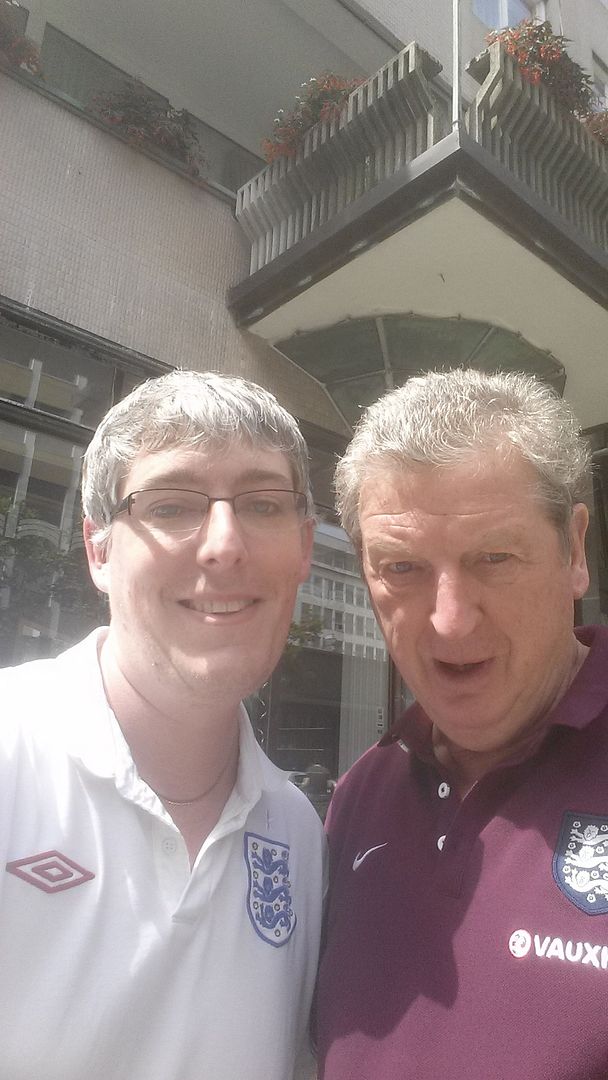 After my travelling companions surfaced there was a chance to do a bit of sightseeing before moving into pre-match mode. This involved a climb up to the castle, ignoring the much easier funicular option. This was an impressive castle although not much appeared to be left of its original form. It gave good views of the city and served beer so all was good.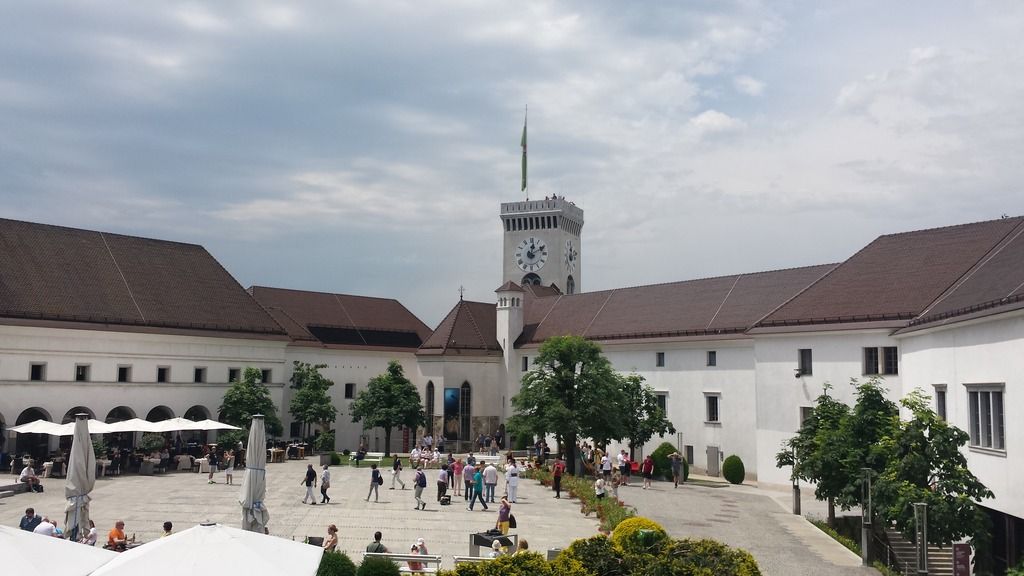 At the bottom of the hill was a kangaroo. No idea why!
There were also a few typical Eastern European architectural buildings but beyond that, most things revolved around the river.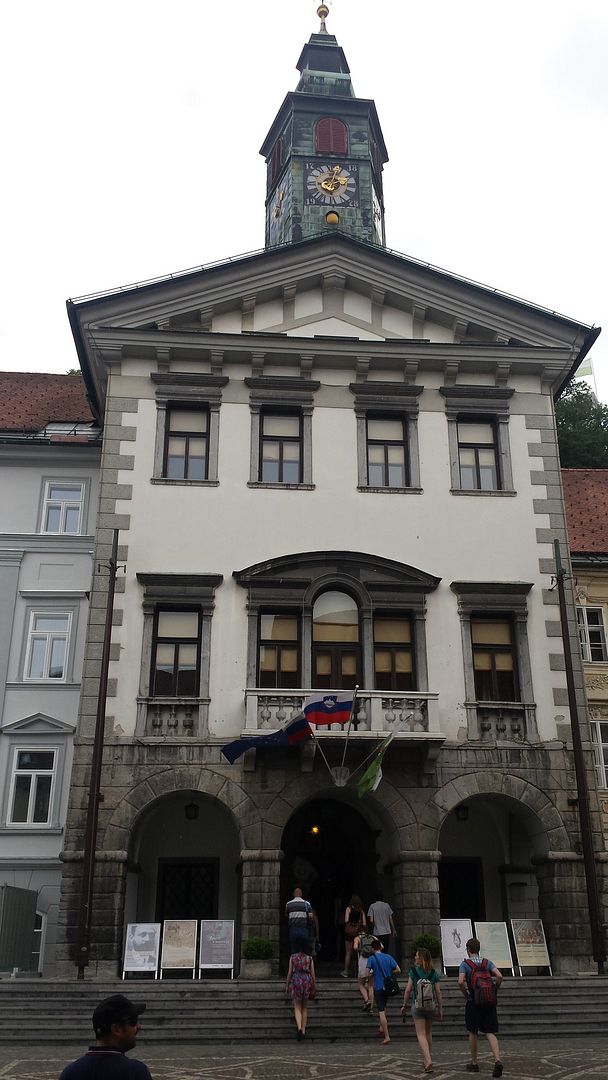 In the morning the river looked like this: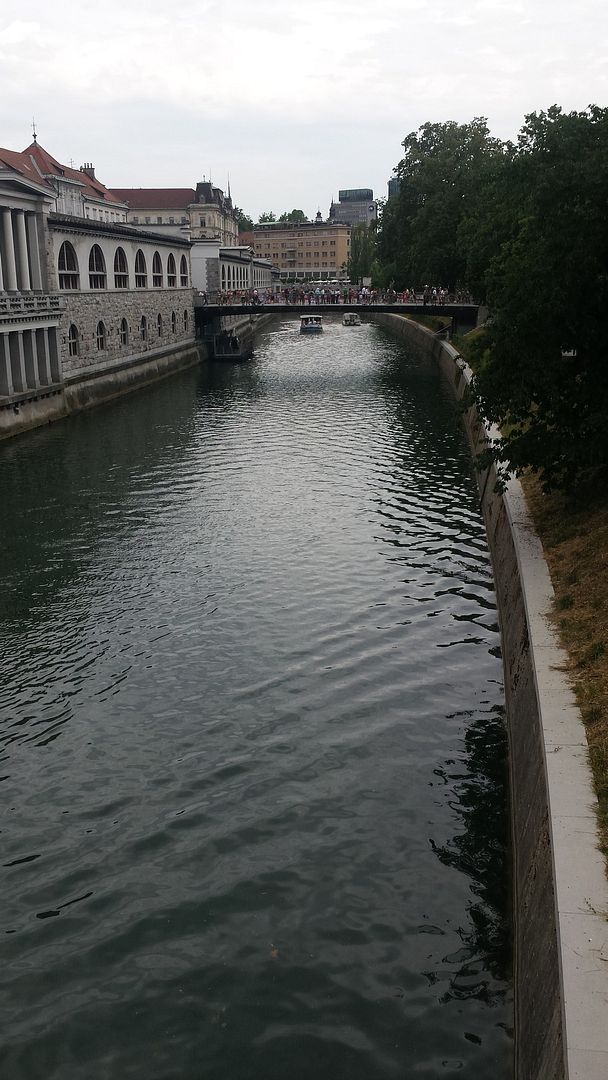 but by lunch time it looked more like this: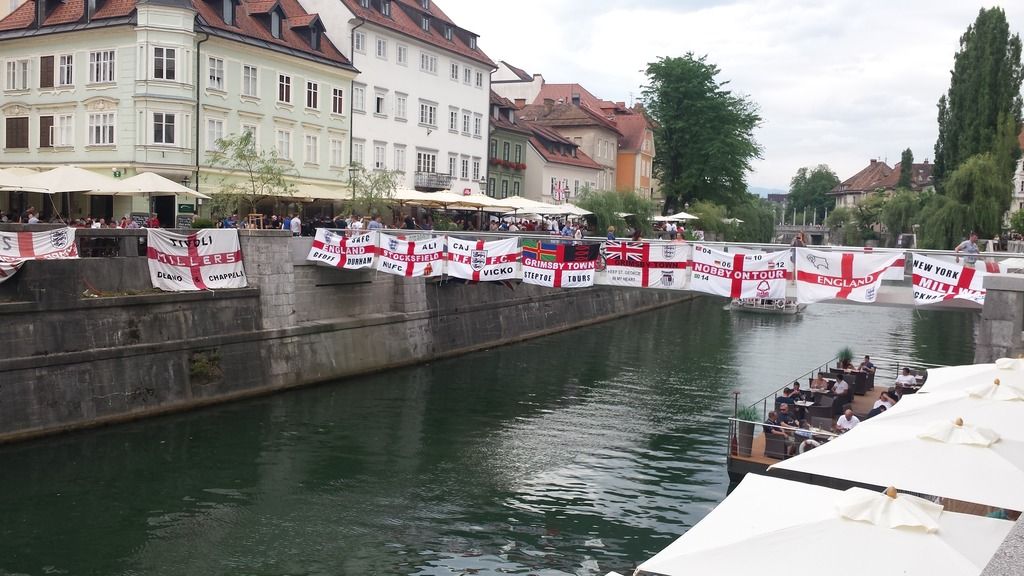 As we positioned ourselves in one of the quieter bars on the river bank it seemed rude not to add to the spectacle.
We watched from afar as the majority of England fans congregated on the other side of the river and could only laugh as the local ladies were given rounds of applause as they walked along the packed side-streets. You could have questioned the acceptability of this were it not for the fact that most of them turned around at the far end to walk back and take the acclaim again.
Uncertainty about how we would get to the ground led to an early departure from the city centre but a decent pub selling good beer en-route delayed us slightly. That said, we arrived at the stadium a good hour before kick-off to find a fans-fest event for home fans set up. Nobody objected to us gate-crashing so we drank with the locals and tasted the Slovenian football experience. Not sure what these were all about though.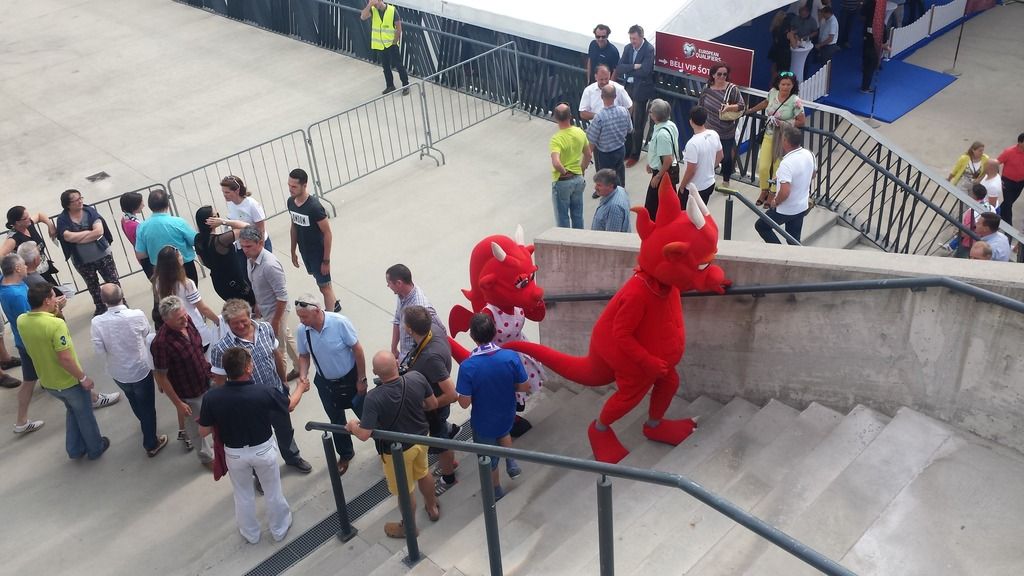 It was chaos getting into the ground and for a while I though this was going to be the occasion where I finally lost the flag for good. The security guards were searching everyone's bags and there was a huge pile of flags that they had clearly confiscated. As I got to the front they simply waved me through, not even a cursory glance in the bag. The bloke in front had lost his flag and as I turned round they were adding another to their pile. I think that's called striking lucky.
The atmosphere in Dublin had been shockingly bad but in Ljubljana it was bouncing well before kick-off. The difference a day on the ale makes can't be under estimated I guess.
The first half was nothing to write home about but I was confident that we would keep up that perfect start to the campaign. Slovenia weren't offering much in the way of an attacking threat and although we weren't either, it looked like a nailed on 1-0 win. Then they scored. It came from nowhere but it created a much better game.
I was a bit shell-shocked at half time. All of a sudden I was far from confident that we would complete the victory. It was going to take a lot of character if we were going to step up and turn this round.
It was like a different team that came out after the break (I'm sure Adam Lallana would point out that it was a slightly different team). The urgency we needed had returned and Slovenia didn't know how to control us. Was it not for the fact that Rooney was having a nightmare we could have soon been out of reach. It wasn't that our captain was lacking in commitment but nothing seemed to be going right.
When it came, the goal was provided by a surprising source. Jack Wilshere had impressed me in the 1st half but largely for his defensive work, covering superbly when the full backs pushed up. Having failed to break his international goal scoring duck he wasn't the person we wanted a difficult chance to fall to outside the box. It turned out he was exactly who we wanted it to fall to.
Rooney continued to miss chances including a couple of real sitters but with about twenty minutes left, Wilshere outdid himself with a goal that ticked every box. Not only was it a wonderful finish, it came at the end of a wonderful passing move. The away end was bouncing. This was what following England is all about.
It looked like it was game over but out of nowhere we threw it away. A cross on the break for Slovenia found the head of one of the substitues and the ball flew past Joe Hart. Now it was the home fans celebrating. You could tell that this meant everything to them. I won't overplay the importance of a draw against England. Slovenia have qualified for a major tournament previously (and played us there) so they have played much bigger games than this qualifier. That said, this would have been something special for them.
There was only five minutes left but for some reason I was calm. I just had a feeling that we'd still win it. They thought they had done the hard work and claimed the result. They hadn't.
Rooney's head had definitely dropped following his series of misses but an elbow to his head that had gone unpunished by the referee seemed to have created a feeling of injustice in him that sparked him back into action. It was no real surprise when he popped up to send the 2,200 English fans back into raptures. There was no time for another Slovenian comeback and so we had moved one step closer to the perfect qualifying campaign.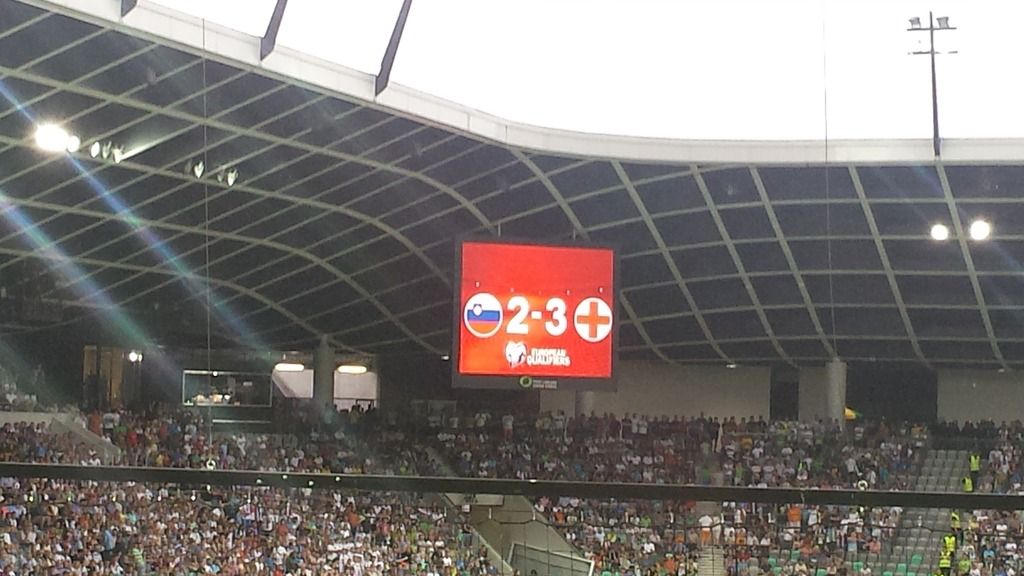 WE were kept in the ground for half an hour after the final whistle and after the celebrating had calmed down we were kept entertained by one England fan who decided to climb the netting in front of us. It is common at European grounds to watch the game behind netting and this must have been a good 40 feet high. Like Spiderman he set off having presumably been challenged to scale the net. It was madness but without doubt impressive. He contemplated going over the top before opting to return to his seat. As he descended chants of "You're getting banned in the morning" rung around the now ¾ empty stadium. I dom't think there is any doubt that we will not be seeing him at any games for the foreseeable future.
We returned to town for a few celebratory beverages but our night out was cut short by the knowledge that we needed to be up at 4am to return home. It had been a great trip and a great result made even more satisfying by the Dublin experience.
---
Last Updated on Tuesday, 30 June 2015 22:43