Written by Mark W
Monday, 04 July 2016 22:38
A Summer With England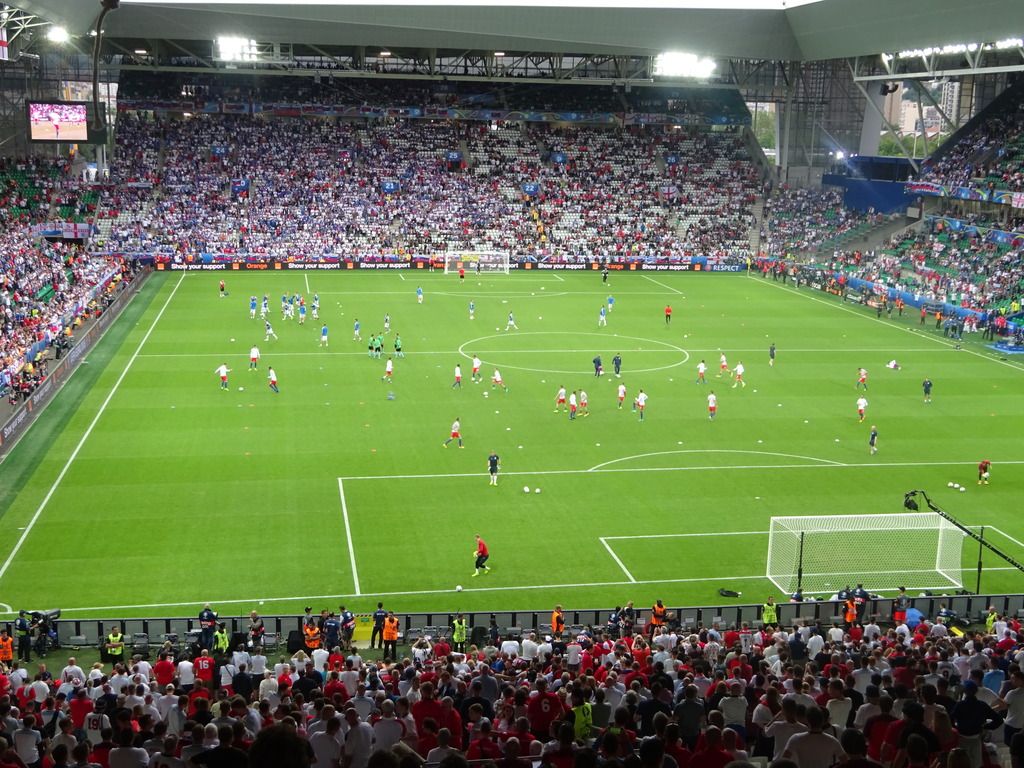 It wasn't meant to be like this. I wasn't supposed to be writing this piece this week and it was supposed to be a real feel-good article with a happy ending. I didn't really think I would be writing about England finally lifting a piece of silverware, but I did hope that it would finish with us doing ourselves proud. I don't want to spoil this for anyone who doesn't know how it ends (there might be someone), but don't get your hopes up that it ends like that.
After the upbeat second half of last season with Latics grabbing the most unlikely safe spot outside the relegation zone it was all set for England to lift my spirits even further. It started with a couple of home friendlies which unexpectedly provided the opportunity to take the flag to new grounds. Turkey and Australia at the Etihad and Stadium of Light respectively as the FA chose to give us Northerners the rare opportunity to see the national team on our doorstep.
It felt strange going to the Etihad to watch England, it had been 12 years since we had last played there. In fact, I remember hat last game well. A 6-1 win against Iceland. It was an impressive victory but it was only against Iceland, who the hell are Iceland?
It was good to meet up with old friends who had to travel to us for once. It doesn't matter whether you are in the Green Man at Wembley or Pie and Ale in the center of Manchester, if England are playing it's the same faces that you see coming through the door. Everyone was excited about the summer ahead and were discussing their plans for France. There was a mix of views as to how far we would go but most agreed that it was a refreshing change to go into a tournament with so many players in good form.
The FA had priced the game very reasonably with members able to choose any ticket in the ground for £20. They don't get much right but you can't complain about that. After a picture outside we made our way to what was clearly the executive area, not far from the half way line. I put the flag up right at the front of the stand only for it to be moved because I was covering an advert (that'd be an advert advertising the game we were at – that's not really an advert is it?). In fairness, the stewards were helpful and simply relocated the flag to the back of the tier.
Man City fans love to have a go at their neighbours for losing their identity. The term 'Prawn Sandwich eaters' is a commonly used to portray the type of people who frequent Old Trafford on a match day. Imagine my surprise, therefore when checking out the menu at the snack bar.
Coconut water – really? Give your head a wobble Man City.
The game was uninspiring. An early goal from Harry Kane gave the false impression that this was going to be straight forward but it didn't take long for the Turks to get back on terms. In the end, after Kane had fluffed a chance to double his tally from the spot, it was left to Jamie Vardey to ensure that we started our warm up campaign with a victory. We didn't play well but it was a win and both the form strikers had bagged so confidence was still there leading up to the strip to Sunderland.
I hadn't been to Sunderland since the early 90s and was looking forward to my first trip to the Stadium of Light. Neil and I drove up and arrived with plenty of time to check out the local bars. I was pleasantly surprised by what the city had to offer. It helps when it is a sunny day, but there were loads of drinking establishments and a great atmosphere everywhere. We had a couple in the center before heading to a bar that really needs to change its name to meet Dave an hour or so before kick-off. The Isis bar was actually very good with an excellent beer selection.
The stadium was just a short walk across the bridge over the Wear and unlike the Etihad a few days earlier it was sold out.
I was impressed with the stadium and the atmosphere was good. What really let the evening down, away from the football, was the booing of Andros Townsend from large sections of the crowd. I understand the rivalry between Newcastle and Sunderland but this was an England game and I thought we had moved on from bringing club rivalries into the ground. Any player wearing the three lions should be treated as an England player. By all means boo him next time your clubs meet but that's not appropriate. It saddened me that it gives the FA a ready made excuse not to take games away from Wembley in the future.
Again the performance did little to convince me that the European Championship trophy would be residing at Wembley come July the 12th but again we won and it was great to see Marcus Rashford score on his debut. We needed to improve though.
That improvement did not materialize against Portugal and even the late goal to give us a perfect set of results couldn't paper over the fact that the performance was poor and we had badly struggled to break down a team who'd had 10 men for about an hour.
Friendlies mean little though so it was still with confidence that we went into the games which really mattered in France.
I didn't go to the opening game in Marseille. I had to pick and choose my matches as I could only have a week in France during the group stages. The choice was fairly straightforward. My experiences in Moscow meant that I had no real desire to spend a lot of time around Russian fans and I do not like Marseille. Although I haven't been there for football, my only visit was enough to convince me that I wouldn't be rushing back. Sadly, therefore it did not come as a huge shock when pictures started to emerge of the trouble which preceded the match.  It was also no surprise when the English fans were immediately blamed for what was happening. As I wasn't there I am not going to spend much time on this but what I will say is that it has since become apparent that England fans were being targeted by both Russians and local youths. It is massively disappointing that even our own FA couldn't wait to land the blame at the feet of England fans. I could only laugh when following the 2nd round game, the CEO of the FA sent out an email to all fans which praised those in Marseille for their dignified response to extreme provocation. You won't see that in the press and it didn't include any apology for statements the FA made in the immediate aftermath. Don't get me wrong, there would have been some idiots out there but the vast majority shouldn't be tarred by what they did.
I thought we played really well in that Russia game but our failure to turn it into a victory worried me greatly. I said after the game that my biggest fear was that we had already seen our best performance of the tournament. For weeks we'd been told that although the England squad was visibly weak at the back, our strike power would be enough to compensate. Against Russia, ultimately it was that weak defence which cost us but more importantly, for all our possession we had failed to put a poor Russian side to the sword. At that point we didn't realize just how shocking this Russian team was.
We drove down to Folkestone the night before the Wales game, ready for an early morning Euro-tunnel the following morning. Neil and I were sharing the driving and we picked up Keith en-route. We were all excited and for me it was extra special as, for all the ninety-odd England matches I've been to, this would be my first tournament. It's just never quite worked out for me. On several occasions I have been due to travel to latter stages for us to fail to get there. Hard to believe I know.
It was a strange situation at the Holiday Inn Express at Folkestone. The hotel had a restaurant but they were more than happy for you to order in take away to eat in the bar. In fact, they even provided the menus and then brought out plates and cutlery wen it arrived. I had expected the place to be full of football fans headed for Lens but whilst there were a fair few, we found ourselves outnumbered by car enthusiasts heading to Le Mans for the 24 hour race.
After a relatively painless crossing we arrived in Lens mid morning in torrential rain. Having located the stadium we looked for somewhere to park and having found a spot a ten minute walk away we were surprised to realize that we were right in the town center.
Much had been made of the fact that the mayor of Lens had announced that there would be a town wide alcohol ban. It was a little unclear what this really meant. Some said there would be no booze at all, whereas others claimed it would only relate to drinking on the streets with bars and restaurants still able to serve. As we walked through the town (with the rain having miraculously stopped as soon as we exited the car - strange trend which continued throughout our stay in France) it became clear that this was unlike any booze ban we'd ever seen. This was the kind of ban whereby every single business in the small industrial town became an off-licence. Whether you went into the fishmonger or the launderette, you found a hastily erected bar.
The English and Welsh were getting on perfectly and the atmosphere throughout Lens was wonderful. We based ourselves in a small restaurant which soon locked its doors as it was full. It was probably 75% English but both sets of fans sang their own songs alternately. After a while we ventured outside as the sun was now cracking the flags and it seemed a shame to be locked in. Outside everyone was singing together and all the streets in the town were packed. It's safe to say that outdoor drinking was allowed here.
It was chaos getting into the ground with every fan being searched. My decision not to try to get the flag in seemed a sensible one as everyone around having theirs confiscated. Strangely when I got in, however, there were plenty that had managed to evade security and there were George Crosses everywhere. We'd speculated whether the Welsh would come close to matching the number of England fans. That debate was put to bed. There was a red section at the opposite end of the ground but beyond that it was like a home match.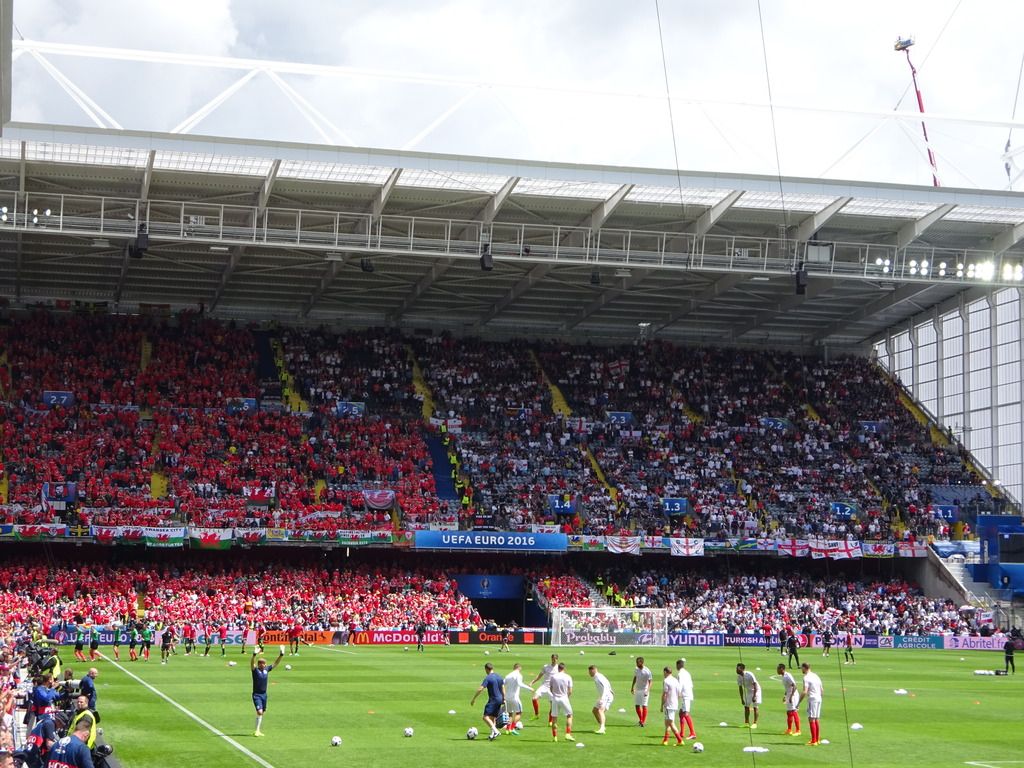 People have told me in the past that tournament atmospheres are something special. They weren't lying. It was bouncing in there. From the National Anthem to the anthem of the tournament "Don't take me home", you couldn't hear yourself think.
It soon became apparent that this would be a similar game to the Russia match. England were in total control but it was difficult to see where the goal would come from. There was certainly no suggestion that the Welsh had it in them to score though. Then, just before half time we gave away a free-kick 40 yards out. Surely the one thing we should have been trying to avoid was giving Bale a chance from a free-kick. It wasn't even a great free-kick but Joe Hart wasn't good enough and it managed to squeeze in between his hand and the post. How we went in a goal down was beyond me.
In many ways, I think the goal before half time might have been a good thing. If that had come just after the break, we would have struggled to change things round. As it was, however, we were able to prepare for the change in circumstances. The double substitution with Vardy and Sturridge coming on had to be classed as inspired with what happened next. Vardy's equalizer came quite quickly and we continued to dominate for the remainder of the match. As time ebbed away, though, the Welsh fans were loving it. "England's going home" they sang. "We are top of the league" they taunted. I bloody loved it when Sturridge scored. It was late enough to stop us chucking it away again too.
The next half hour is a bit of a blur. Once the whistle went the Welsh fans were soon gone but nobody was going anywhere in the rest of the ground. I think most of our fans had gone into the game expecting us to win, or at least believing that we could. To do it in that way, however, was special. We sung and we sung. We were asking not to be taken home and we weren't going anywhere. We'd put the group into our own hands. A win against Slovakia and we would get the preferred route through the rest of the tournament.
We were staying in the small town of Saint Quentin that night and it turned out to be the best night of the trip. The hotel was in the middle of nowhere but we were determined to go out and celebrate the victory and catch the Germany – Poland match so we made our way through a rather dodgy estate and stumbled across L'Oliver. It looked closed at first but when we peered through the window it had a fair few people propping up the bar. We ventured in and were met by a real mix of characters. It turned out that we were the first English guests they had ever had, and quite possibly the first non-French. Most spoke a smattering of English but luckily there were a couple who spoke it very well.
After finally working out how to switch on the TV which had potentially never been plugged in before we were greeted repeatedly by Pascale the owner and his girlfriend. I don't really know how to describe the girlfriend. She was rather a large lady of Caribbean origin and she was much more 'touchy feely, than we were hoping. Having said that, Pascale wasn't a huge fan of respecting your personal space either. We were there until the early hours during which time we; tried on a number of hats (no, I have no idea what that was about either), danced to some local folk music that Pascale chose specially for us, drank a lot of Leffes, drank some complementary Irish coffees, kissed everyone in there on both cheeks when they left, repeatedly stressed that we really didn't want to spend the night, drank more Leffes, moved onto Juliper because they'd run out of Leffe, had locals draw the Saint Quentin club badge on Neil's back next to his Latics' tattoo.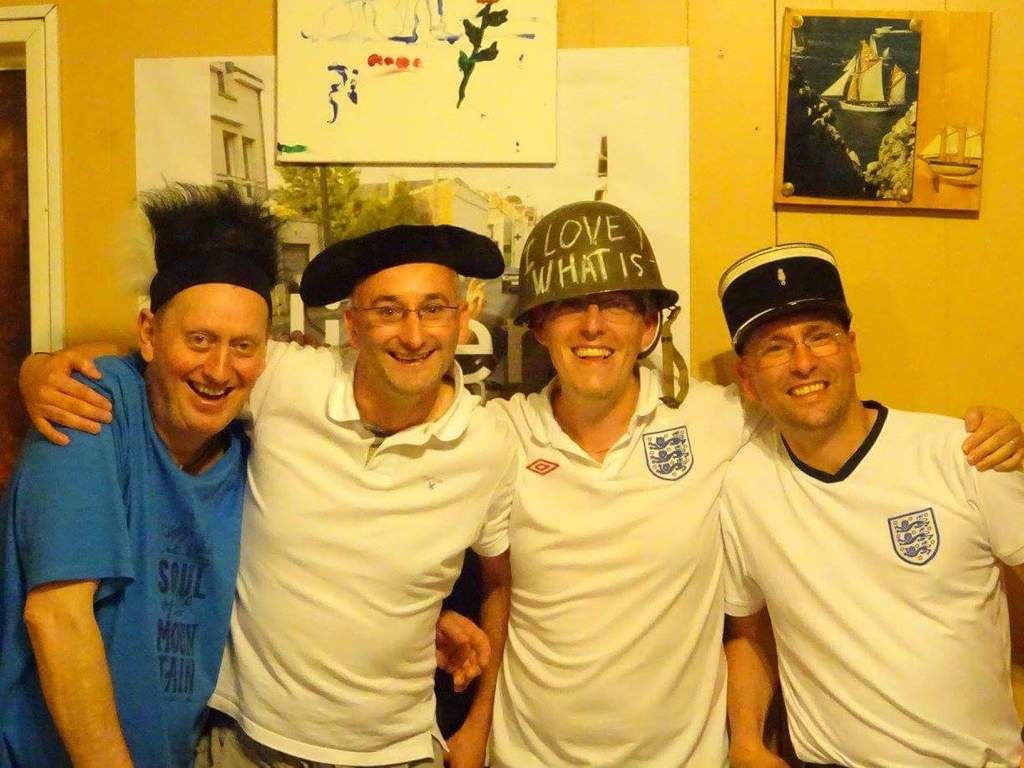 It was a fantastic night but very, very surreal.
Over the next few days we made our way South, stopping off in Reims, Dijon and Lyon. We had a fantastic time everywhere we went. We didn't really slip into that stereotype that the press like to portray of England fans. Be it champagne tasting at Veuve Cliquot or looking round a number of cathedrals and churches we tried to take in a bit of culture. I'm afraid to say, that this is also the kind of thing that most other England fans were upto too. Difficult to believe that we weren't all spending all day every day standing outside bars throwing chairs at passers by, I know.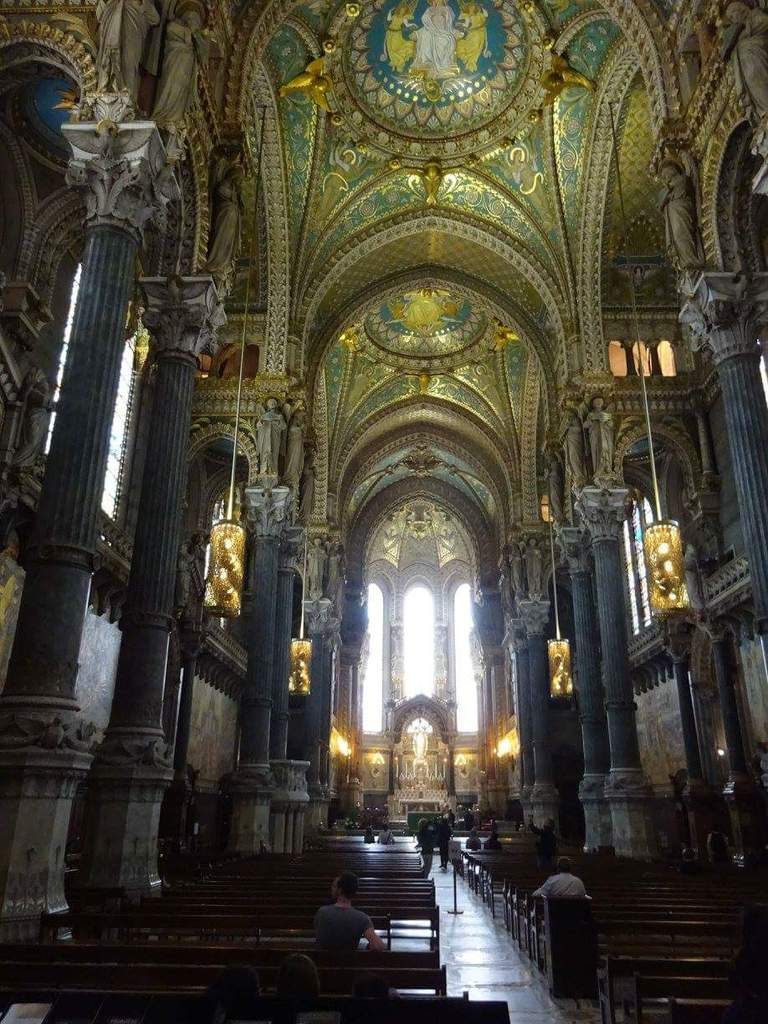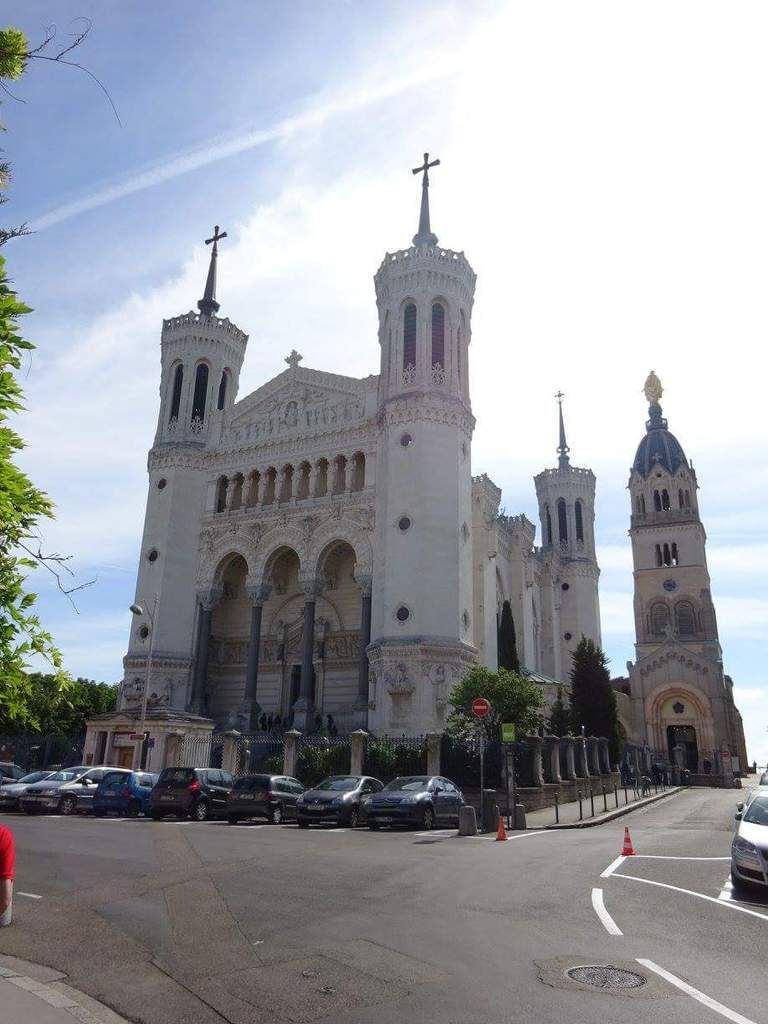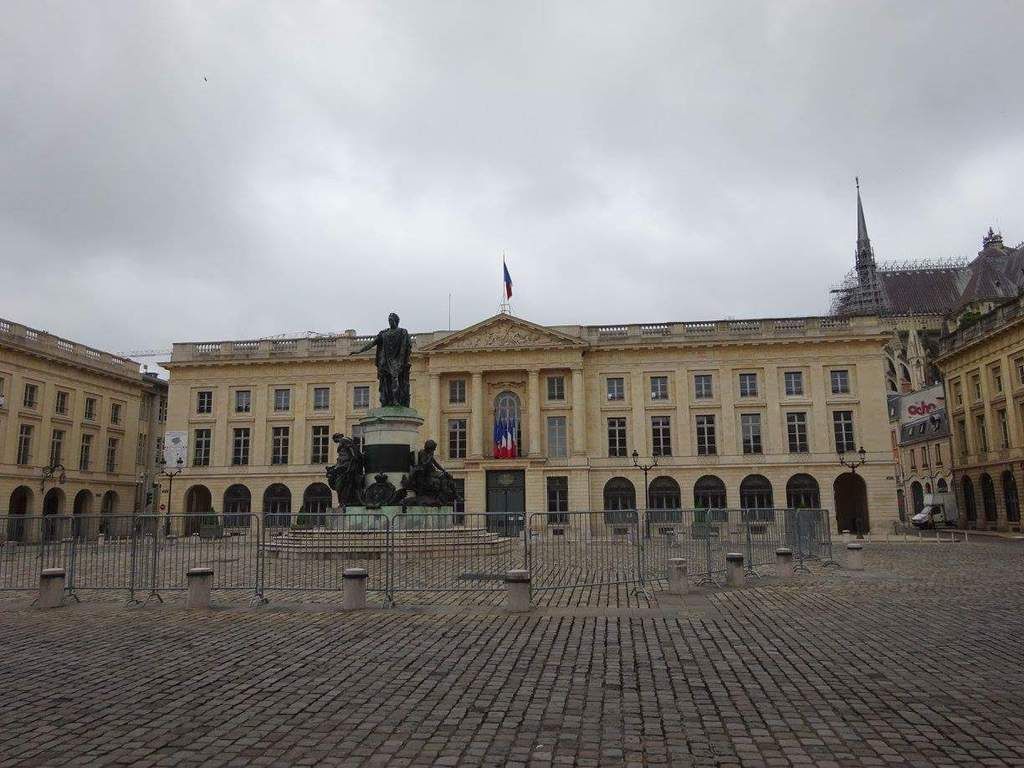 This isn't to say that there were no nights out having the odd beer and it is surprising how many people you know that you can bump into in random towns in France during a tournament. Be it a relatively quiet night sampling escargot and frogs legs in Dijon or a more lively night in Hemmingway's bar in Reims with Dave, Doug and Bob we never went thirsty.
We had some interesting places to stay during our stay too. I think my favourite décor was this one in Reims: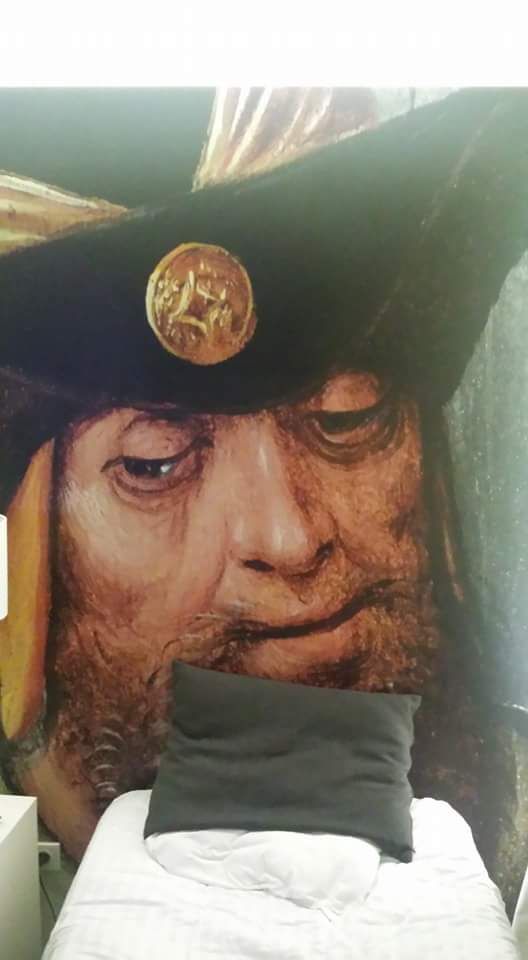 Our night in Lyon coincided with the city hosting a match between Albania and Romania. It was fascinating to see how different sets of fans act in different ways. Whereas England fans largely head to bars and spend the hours leading up to the game drinking and congregating, the Albanian pre-match ritual seems to revolve around their cars. We watched as hundreds of cars cruised round the streets with people hanging out of windows with flags, or standing through sun-roofs or even just balancing on the roof or bonnet. Wherever you could position yourself to wave your flag seemed to be appropriate. The most bizarre thing we saw was a top of the range Ferrari with an Albanian flag covering the bonnet which was doing do-nuts in the middle of a cross roads in the center of the city while the other cars were stopped for a red light. He must have wrecked a couple of grand's worth of tyres in the space of thirty seconds.
On the morning of the Slovakia game we woke up in a lady's spare room somewhere above Lyon. It had been supposed to be a hotel but it was definitely just a lady's spare room. She had another spare room too and two lads from Manchester appeared out of that one as she dished up some breakfast (mainly a baguette, we were in France after all).
After calling at the ground to take some photos, where we met up with some Slovakian fans, we headed into the town center.
Saint Etienne was amazing before the game. We set ourselves up just by the main square with the flag on a bandstand and split our time between catching up with friends and visiting the square to soak up the atmosphere. What an atmosphere it was. There must have been tens of thousands of fans on and around the square and song of the day was definitely "Vardy's on fire". Every time Free From Desire was played the whole place went mental.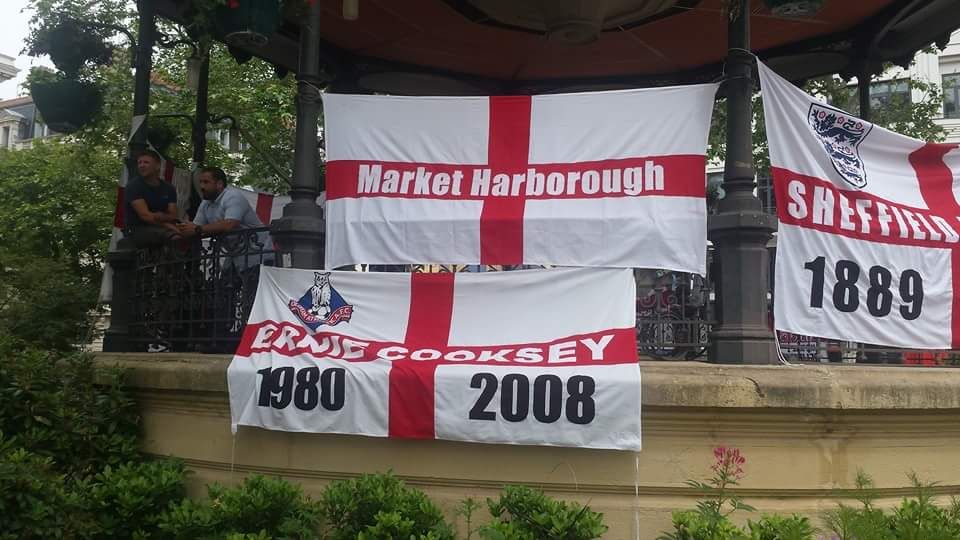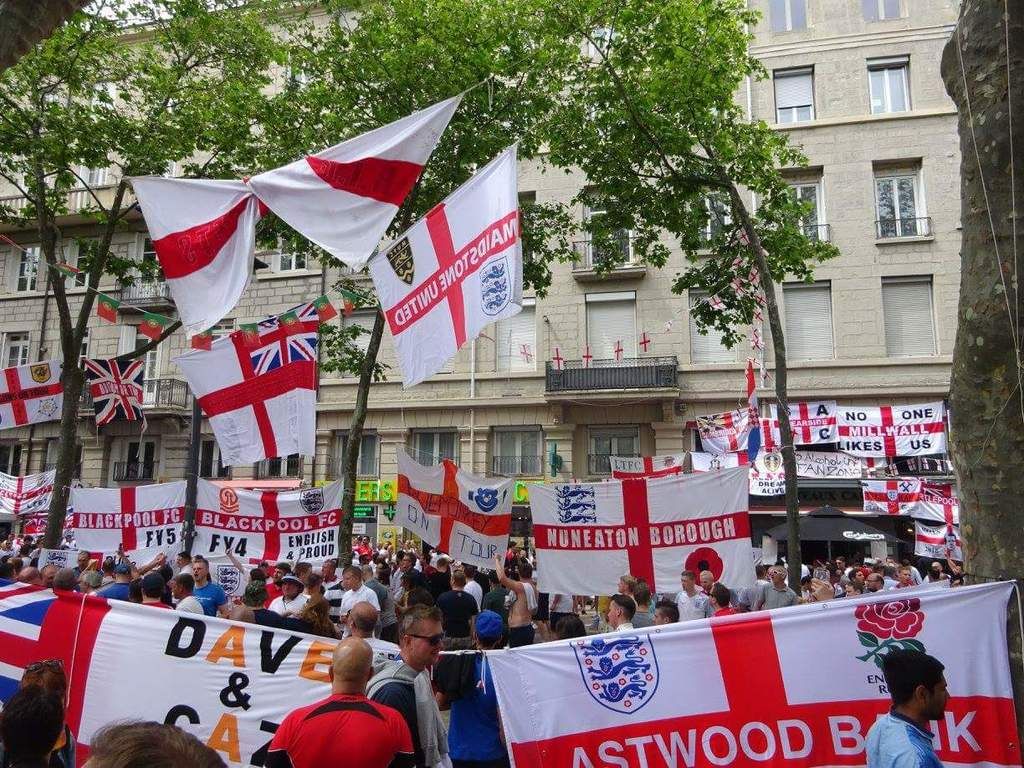 Having opted for the cheapest tickets we found ourselves right down by the corner flag in the ground for the second game in a row. We chanced our luck and moved to the back of the stand right in the middle. We had to move once but ended up with some cracking seats. Omce again the atmosphere was outstanding and this game will be remembered for the 20 minute rendition of the Great Escape. This isn't something I am usually a big fan of but it sounded awesome with everyone singing.
I actually didn't think the first half performance was too bad. When I had heard the team, I'd feared the worst but actually we were completely dominating and although we couldn't break through I was confident that we would go on the win the game and top the group. Others were not so forgiving of our toothless attack and sadly they turned out to be the ones who would be proved right.
The second half was very poor. The Slovakians moved up to defend on the edge of their own area and we had no idea how to break them down. Although the stats showed that we had a plethora of shots, we never really looked like scoring. By midway through the half it was clear that we weren't going to find the winner and the Wales scoreline meant that those who had already booked their travel for the second round game in Paris would have to make alternative arrangements.
We needed a good night's sleep before our 800 mile drive back to Oldham the following night but after I drove back to Lyon it became clear that the hotel we'd booked wasn't going to really allow for that. It was a very basic hotel without even towels for us to have a shower. Far from perfect when we'd been showered in beer in the main square in Saint Etienne during the afternoon's festivities. What helped even less were the Slovakia fans who arrived back several hours later and decided to test out their English by singing all the songs they had learnt during the day until about five in the morning. I might have been able to cope with it if they had any concept as to the tunes for most of the songs. How can you know all the lyrics to Three Lions but not have a clue as to the tune?
It was a long drive back (about fifteen hours door to door) but we swapped the driving duties every couple of hours which worked well to keep us both awake. Keith never fell asleep either apparently but he must enjoy resting his eye lids if that's true. Much of the journey back was spent arranging what we would do about heading back out for the later rounds. Keith had no more tickets until the final but Neil and I were just giving round 2 a miss before re-crossing the channel for however many games we stayed in the competition.
We knew now that the quarter final would be in Paris and we found that there were some decent priced flights available. Clearly it would be a gamble to book them but we knew that should we make it through the second round prices would shoot up. We didn't know yet who we would face in round 2 but we agreed to keep an eye on flight prices and book something if they seemed to be rocketing. We just weren't quite ready to take that gamble as we'd seen England fail in knockout games too many times over the last couple of decades.
The delight the following evening when we avoided Portugal in the next round was cut short when we realized that a game against Iceland meant that flights for the quarters had risen 400% in about an hour. We decided to wait until after the Iceland game, we still clearly didn't have full confidence in this England side.
I watched the Iceland game at home. It was a disgrace. It was one of those games where you say to yourself "We need to get an early goal and then they'll fold". We cot the early goal but boy did they not fold. I can't say that Iceland didn't deserve their victory because they did. I am still angry and I still don't know what happened? The clues had been there, particularly with that second half performance against Slovakia. We had no idea how to break down a resolute defence and our defending and goalkeeping was shambolic. The worst thing was that when we needed a leader, everyone went missing. I have heard a lot of people blaming Rooney for this and as the captain he should have been able to take control. They should all have been able to take control though. Every one of those players out there should have been prepared to get stuck in and take the rest of the team with them. Nobody did.
Roy Hodgson has to take much of the blame too. He has to accept that it was his job to motivate the players and to ensure that they went onto that pitch fully aware of what was expected of them. I don't believe that they'd not had it drummed into them that they needed to be ready for the long throw but the manager has to ensure they actually know how to stop it.
I was always a big fan of Roy. He was a really nice bloke and I never doubted his passion even though he has a personality where he doesn't show it. He let himself down badly, however, in refusing to talk to the media after the game and then giving a shocking interview the following day. I have my own views about what is wrong with the England team but Roy is the one who is perfectly placed to know what went wrong. If he cares about the England team he has to tell us what it is. If he will only speak to the FA, nothing will be done. It seems to be the case that whenever an England manager leaves he never speaks out.
I genuinely don't know who the new manager should be. I can't remember a time where there was no logical candidates. I genuinely believe that there are more fundamental issues that need to be addressed than just the manager though.
It is gutting to see how well Wales are doing in this tournament. They are living our dream. We still bang on about making a semi-final twenty years ago. We see it as an amazing achievement. Wales have turned up at their first tournament in over fifty years and sauntered into the semis. I can't want them to win because it hurts. That doesn't mean that I am not delighted for their true fans. Sorry, but I am just so envious of what they are experiencing at the moment.
---
Last Updated on Tuesday, 05 July 2016 07:59