Written by Mark W
Sunday, 11 December 2016 17:50
Oxford United v Oldham Athletic – League One
Kassam Stadium, Oxford
Saturday 10th December 2016, 15:00 K.O.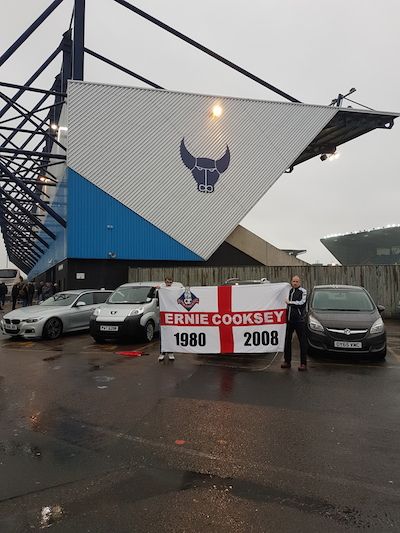 Coming just five days after the fiasco at Lincoln it would be difficult to argue with the claim that anyone thinking of making the three hour drive to Oxford to watch our bunch of misfits should probably have their bumps felt.
I've had mine felt before and I know that I am beyond help. It wasn't just a trip to Oxford, it was a trip to a ground that Latics have never played at. I knew I would be far from the only idiot getting up early for the drive South. At least the weather was decent.
I picked Neil up on the way and it was actually a pretty pleasant drive down. A bit of rain as we neared Oxford but pretty painless despite the never ending roadworks on the M6. I had done no research beyond checking that I didn't need to buy a ticket in advance. Luckily Neil had checked out the pre-match options. As with so many of these new grounds (yes, it's still new even if they have been playing there for fifteen years), it is miles outside the city itself. It's a shame as I would have quite likes a mooch round Oxford. Neil had, however, identified a pub a 'short walk' from the ground.
Arriving a few hours before kick off we were able to pick a decent spot on the car park that should lead to a quick get away. Rumours of an hour to get off after some games were already ringing in our ears. The drinking establishments by the stadium were definitely not what the doctor ordered so we decided to venture to the George pub as already mentioned.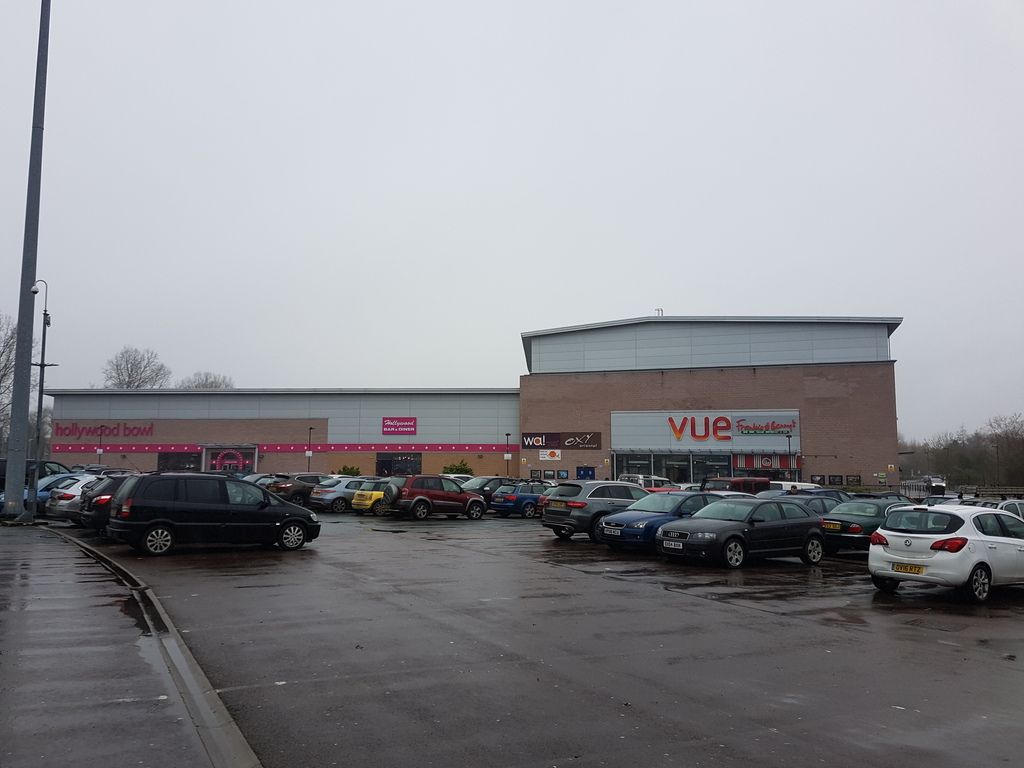 It might be a short walk to the pub if you go the right way but when you take a wrong turning and it starts lashing down, it feels a little bit further. The estate you walk through is just lovely though!!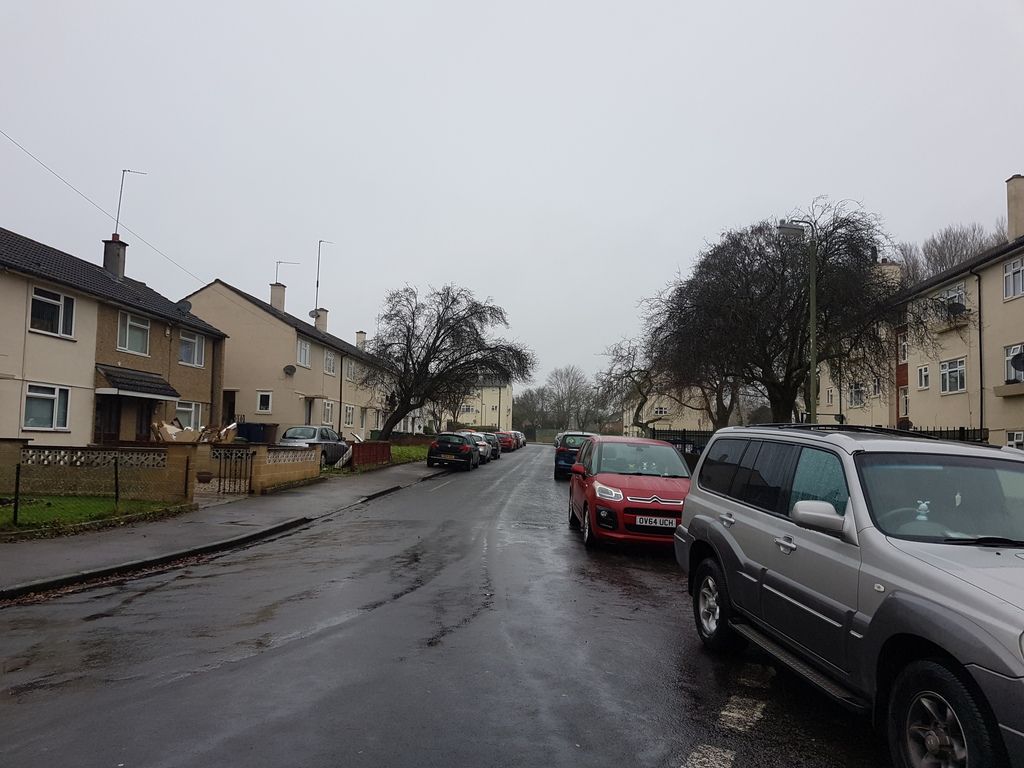 Actually, that photo really doesn't do it justice.
We might have been drenched but the pub really didn't disappoint. I would go so far as to say that this was one of my favourite away pubs for a long time. Everything was geared up for what you want. There was football memorabilia on the walls and ceiling, they had a burger van and covered seating area outside (complete with big screen TV), a decent beer selection, a friendly landlord and a great mix of fans.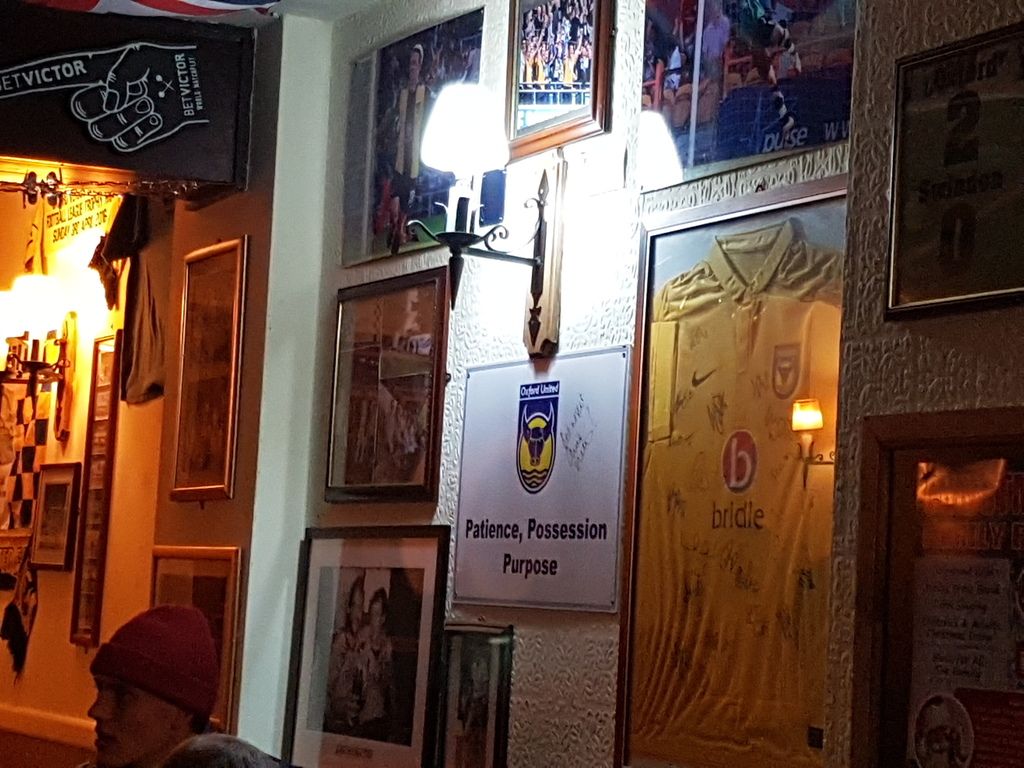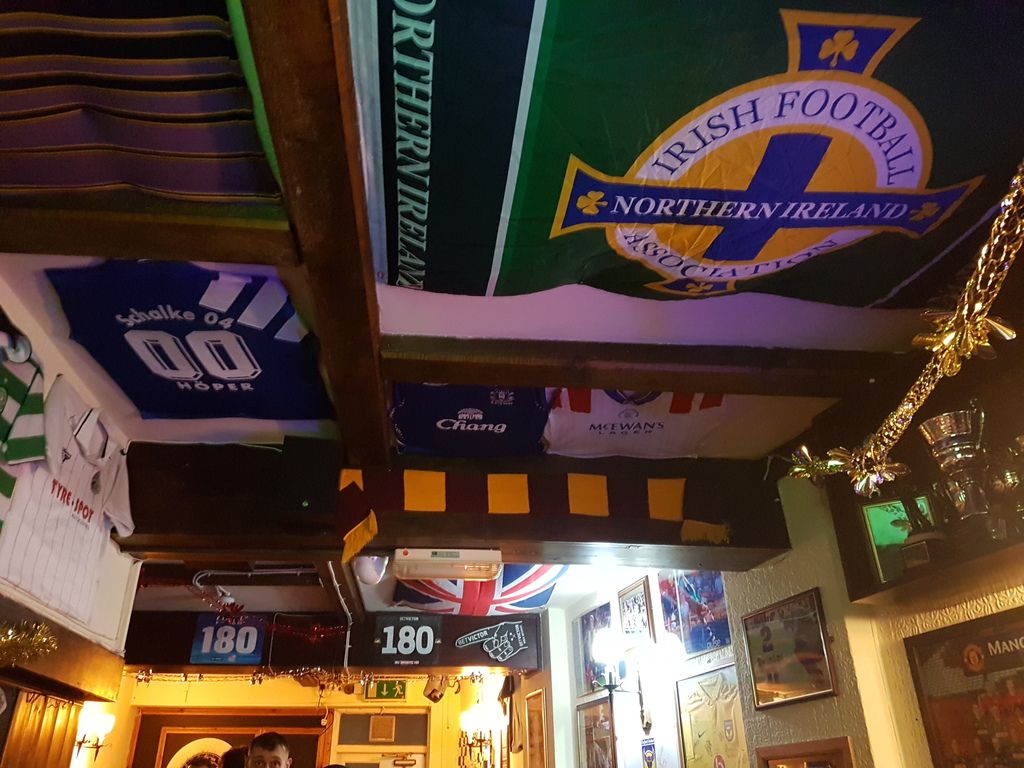 The landlord certainly wasn't disappointed with his takings today, helped along by the now customary influx of Eintracht Frankfurt fans. There doesn't seem to be a game goes by recently where nobody turns up from Frankfurt. And to think, I feel hard done by having to travel from Oldham to watch this dross!
It can be difficult sometimes to spend a few hours in a pub when you are driving so can only have the odd beer. It wasn't a problem here though as there were so many locals more than happy to discuss the pros and cons of League one football. I think the odd one might have regretted asking how I thought we would get on. I am not sure they really wanted to hear about all our woes. At least by the end of it they were completely confident that they would be seeing their team walk off with three points later in the afternoon.
There was time for a photo with a few of the travelling support outside the pub before we made our way back to the ground (without the detour this time) in the now even heavier downpour.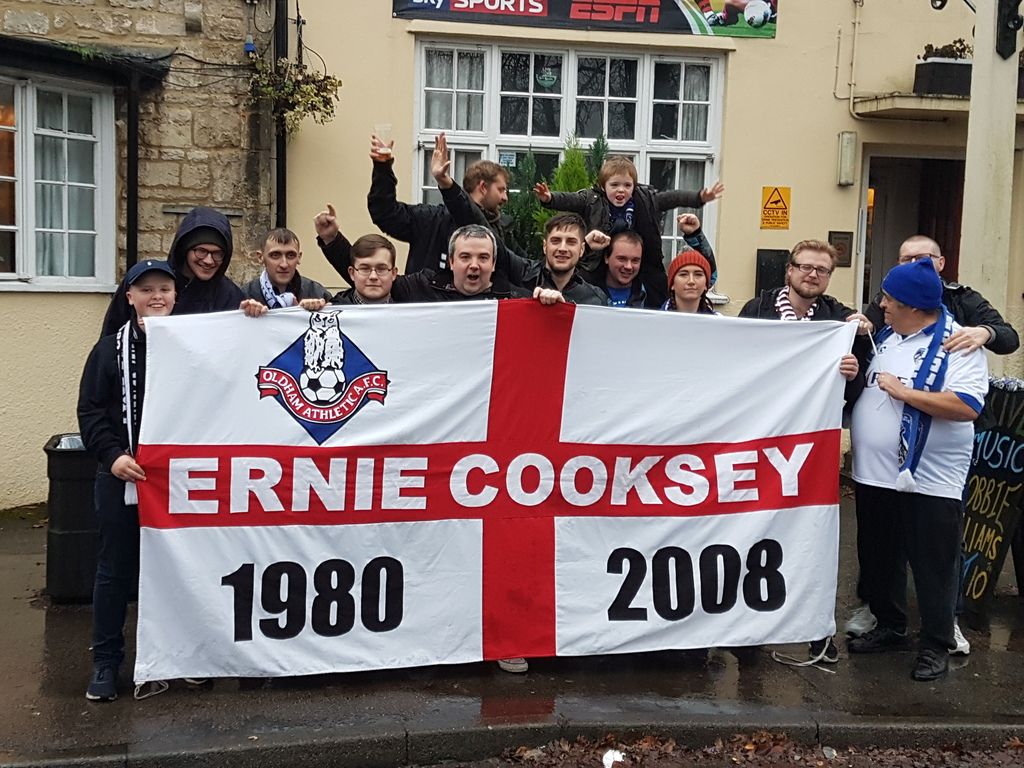 The Kassam is an impressive stadium, well, the three sides of it that exist are. I am not sure what the capacity is but the crowd was in the region of 7,000 and it looked far from full. I particularly liked the fact that they had left an area on the back of the stand behind the goal where fans could hang their flags… but more of that soon.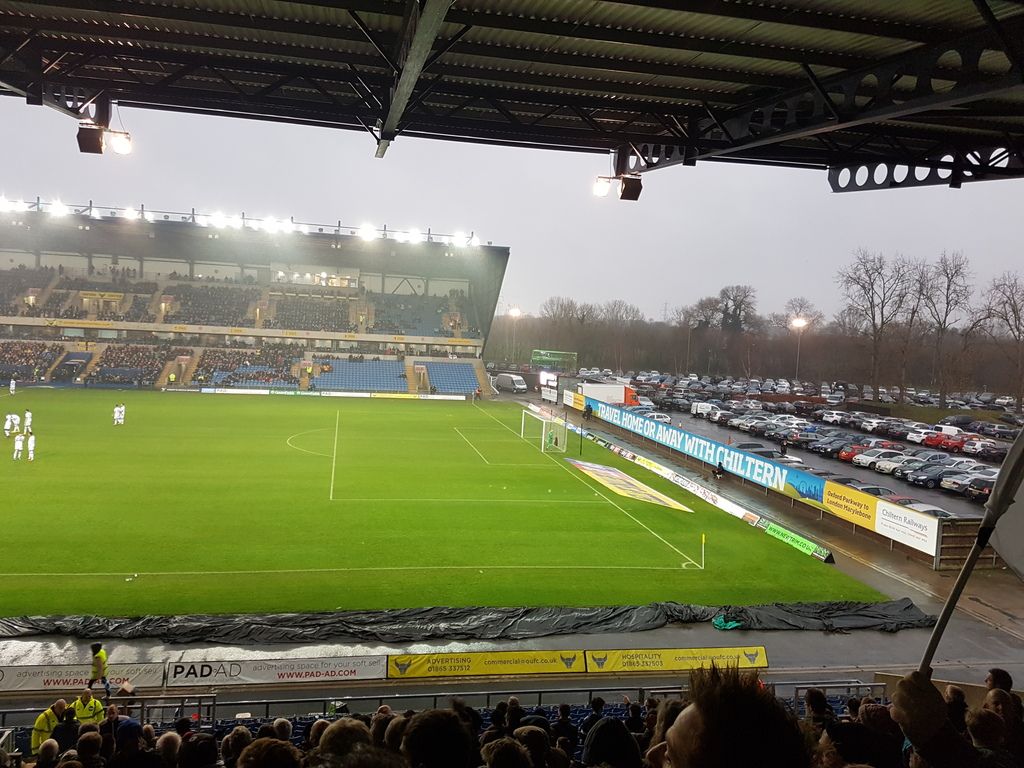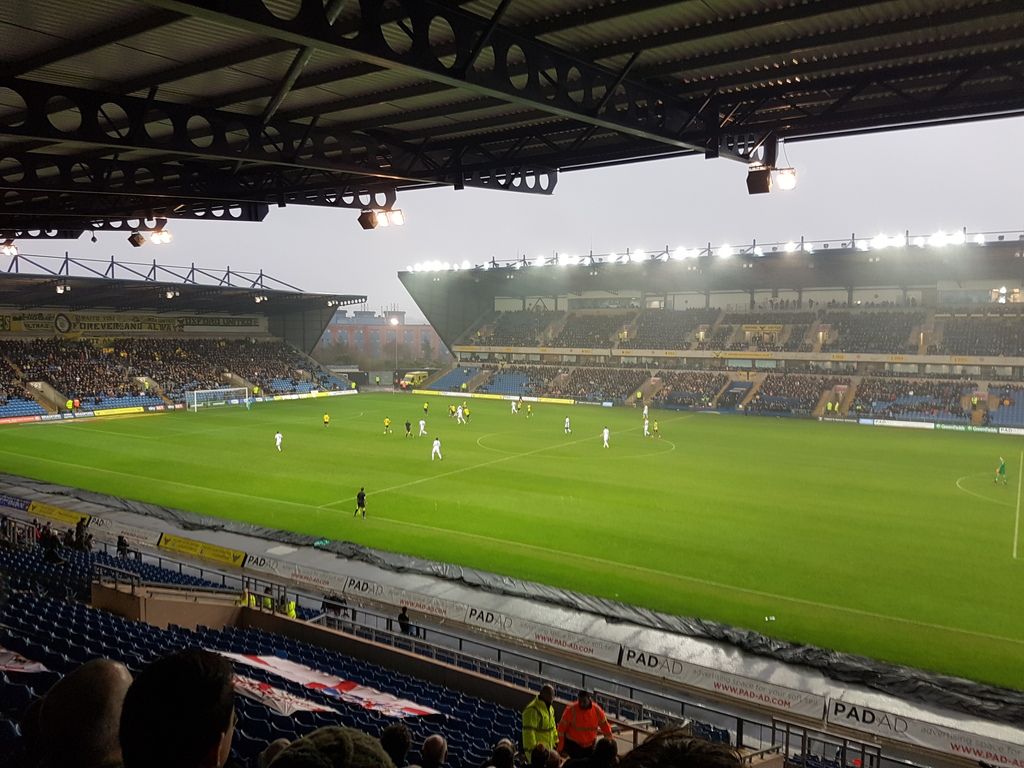 Despite the warning from the lads in the pub that Oxford tend to set off like a house on fire in home games we actually started strongly, encouraged by a very vocal travelling support. This was not what we have come to expect and after ten minutes things went really weird. We scored a goal. Yes, let me say that again, Oldham Athletic scored an actual goal to take the lead in a football match against real opposition. It was scrappy, as the home keeper failed to take a cross and the ball fell to Cameron Burgess with an open goal gaping in front of him. Who cares how scrappy they are, we'll take anything right now. There was a moment of stunned silence and then the hearty band of Latics' fans exploded into raptures.
Only 80 minutes to hang on then.
To be fair, we played well for the remainder of the half and although Oxford dominated possession and chances we didn't look to be in too much trouble. The strangest thing to happen was when the home supporters started to take down all those flags behind the goal. Apparently the stewards had confiscated two flags that were being waved behind the goal and the other fans decided to take down their own banners in protest. It was bizarre because it seemed to really affect our fans and the atmosphere went very muted for a while. Nobody knew what was going on but there was a clear sense of unease. It must have been twenty minutes later before the stewards came over and requested the two large flags being waved in our end be put away. The steward's statement that flags are "not allowed in the ground" was an interesting one. If that's the case, how did they get them in? I can actually answer that as I think this is the first ground I have been to in many years where there were no stewards at all by the turnstiles. I know the drill by now, if you have a bag it gets searched. Not here it didn't as there was nobody there to do so. Understandable really as it's not as though we are in some kind of heightened terrorist threat, is it?
We only hung on for ten minutes in the second half before Oxford equalized. It was a cracking finish but we should have defended it better. They had their tails up now, though, and were being assisted by some very questionable refereeing. He'd given some strange decisions in the opening 45 minutes but soon it was clear he had lost the plot. There were some tasty tackles going in which were remaining unpunished and then some innocuous ones that were leading to yellow cards.
It wasn't really a surprise when we went down to ten men. I wouldn't really question the fact that Fane got the yellow that led to the red but I have no idea at all what his first yellow was for. He's one of those players who is a potential disaster waiting to happen once he's been booked but it seems harsh when that initial booking is apparently for nothing. Having lost the players, the ref went on to lose the managers. I have no idea what happened on the benches but a few minutes after speaking to our bench the man in black was back over to speak to Oxford's manager who was dispatched to the stand.
Some of this came on the back of a decision not to dismiss the Oxford player who pushed Ollie Banks in the face, sending him sprawling to the turf. I think banks made a lot of it but I am pretty certain you can't do that.
The next paragraph is for everybody reading this except for Aitor Karanka and any members of the MIddlesbrough backroom staff (it's highly unlikely that they are reading but I like to cover all potential scenarios):
The fact that we ended up coming away with a point despite playing over half an hour with ten men was in no small part down to Connor Ripley. Along with Peter Clark, he is the reason that we are not cut adrift at the bottom of this division. We have had some great keepers down the years and this lad has the potential to be right up there. It is a real concern that we could lose him and that even if we keep him until the end of the season he will be plying his trade at some other club next season. At Oxford he was, once again, immense making a number of fine saves. The home fans may have given him grief for timewasting towards the end but I can't hold that against him. We were down for ten men away from home and under the cosh, of course he looked for any available course of action to get us a much needed point.
This paragraph is for Aitor Karanka and the Middlesbrough backroom staff only:
It's amazing really that we managed to hold on despite having Ripley in goal. Middlesbrough must be so glad they got rid of him. If I was them, I would be looking to pay up his contract and allow him to sign for us permanently. I certainly would even contemplate recalling him or trying to send him to a Championship club.
OK, everyone can read again:
It was a fantastic result under the circumstances and the roar that greeted the final whistle showed what our fans thought of it. In the position we are in, draws are only good results if we can get a home win on the back of them, but at least we have put ourselves in that position and it is now down to the lads to perform next week against Southend.
There wasn't much time to savour the victory as we wanted to be near the front of that queue to get off the car park. I don't know what the fuss is about as we were off in 2 min and despite some horrendous weather all the way home I was sat in the house with a Chinese by eight o'clock. Another ground ticked off and for once an evening not fuming over another defeat.
---
Last Updated on Sunday, 11 December 2016 23:07