AFC Wimbledon v Oldham Athletic – League One
Cherry Red Records Stadium, Kingston Upon Thames
Sunday 30th April 2017, 12:00 K.O.
I had to wait all season to get my second new ground in after December's game at Oxford. Back in June I scanned through the new fixture list hunting for Wimbledon and there it was, right at the bottom. Never mind, at least that makes for a great weekend in London. Then they announced that League One would finish with a 12.00 Sunday kick-off. What is that all about? There was a time when the fans were taken into consideration but that appears to be long gone. It is now much more important that Sky get to pretend to care about lower league football by putting a game on one of their 'secondary' sports channels. If this is in doubt, just look at when the Play-off semi-finals have been arranged for… Thursday night with 4 days notice and then a 6.30 kick off time next Sunday. Ridiculous.
It didn't change the general plan though, in fact it actually made a weekend in London even more of a necessity unless you fancied getting up at some ungodly hour to do it in the day.
With the game looking for most of the season like it would either be crucial to our survival hopes or the final chapter in our League One story, it was abundantly clear that the smallest away ticket allocation in the division would not be suitable. Four factors that increase an away attendance; a new ground, the last game, a trip to London, and a must win game were all thrown into one big melting pot meaning that only 5 tickets ever made it to open sale. The fact that we ultimately secured our safety prior to the match simply turned it into more of a party atmosphere.
A London weekend is always a balancing trick for me with a wife who has no interest in football. Several months ago whilst chatting to Matt at Oxford he had expressed concerns about the game falling on the day of his wife's birthday. Not a great position to be in. A plan was hatched involving an expensive meal on the Saturday night and the girls having a fancy lunch on the Sunday whilst we headed to south London. Nothing could go wrong as the noon kick off surely meant that we wouldn't even have much to drink before the game!
A not too early train and a pleasant, relaxing day in London was crowned on the Saturday with said meal and it certainly lived up to the hype. Let's just not look at the bill. A few weeks of bread, water and maybe some gruel for special occasions will get us back on an even keel. The most important thing was that the girls were happy and that they had been particularly impressed with the first three minutes (they timed it) where we managed not to mention football.
We had made our arrangements for the morning and the 10.30 meet in the pub had been brought forward a little (but not too much).
There were a few Wimbledon fans hanging around when I got to Waterloo the following morning at about nine. They looked at me suspiciously which I thought was strange considering I was wearing neither colours nor fancy dress. I realised it was probably because the venue had me unconsciously singing Abba's greatest hits. I was relieved to see a familiar face walking across the concourse. Newport Paul had decided to make it an early one too, heading back to the bar in Kingston that he had checked out the night before. From what I could see we were the only Oldham fans on the train but as we pulled into "Britain's busiest station" at Clapham Junction there were hoards of us waiting to get on… well, definitely into double figures.
When we arrived at the pub it was already busy, largely with visiting fans but also with the odd local looking quite bemused. Whilst ordering the beers, I could hear a little bit of a commotion from the other room. I went to investigate and was met with quite a sight. Twenty lads in Craig Dudley masks singing "There's only one Craig Dudley", led by Craig Dudley. That's not normal, but then our fans aren't normal so maybe that is a normal kind of thing to see.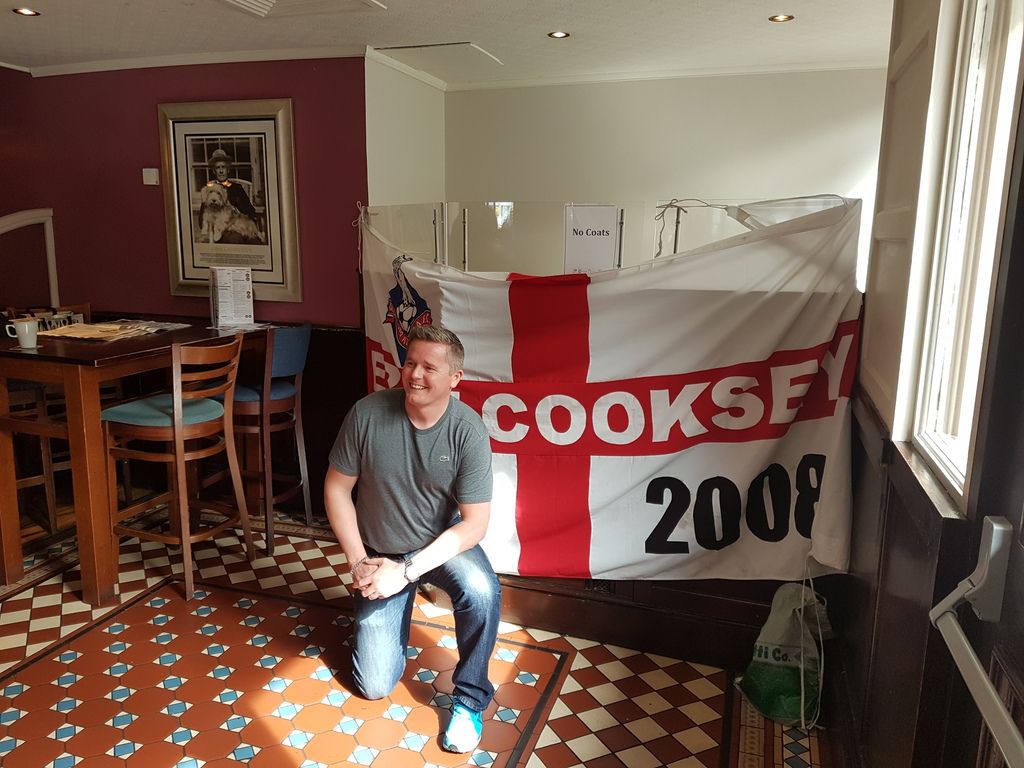 Things didn't improve. I don't think it was the increasing number of beers I was downing but it may have been. In some parallel universe somewhere I was joined by the Simpsons, and subsequently a scoreboard. Yes, you heard that right, a scoreboard. I have mentioned it twice because you might not be sure from the photo exactly what it is. Sorry Tom, harsh I know. It's not like I even bothered to come up with something!!!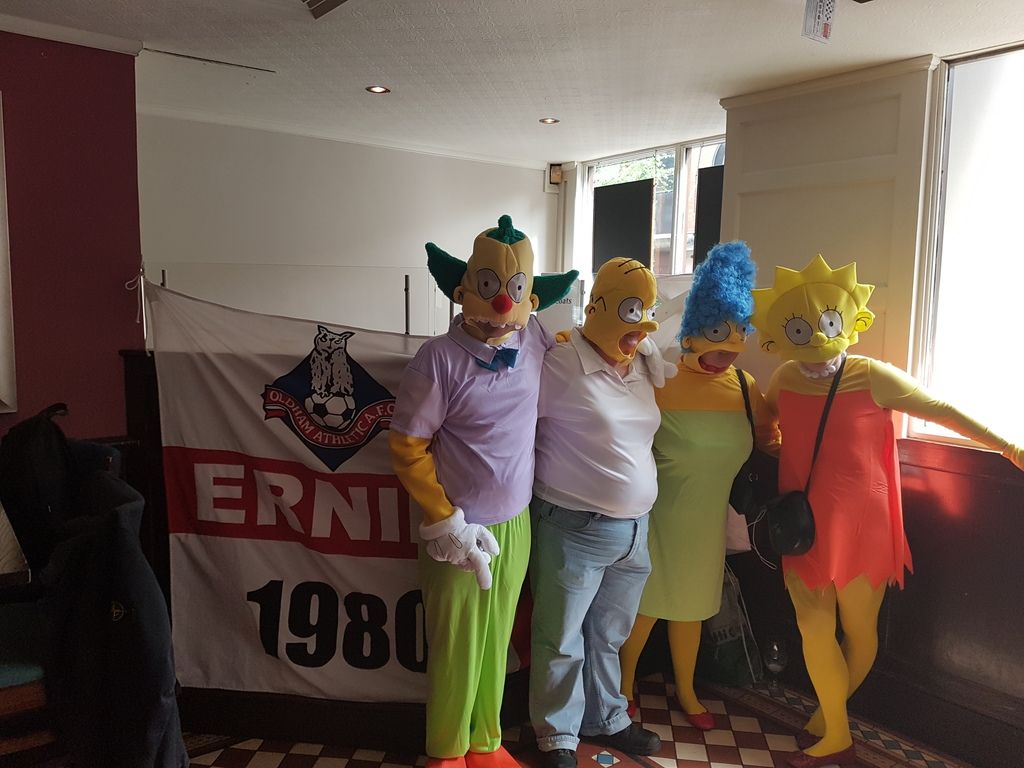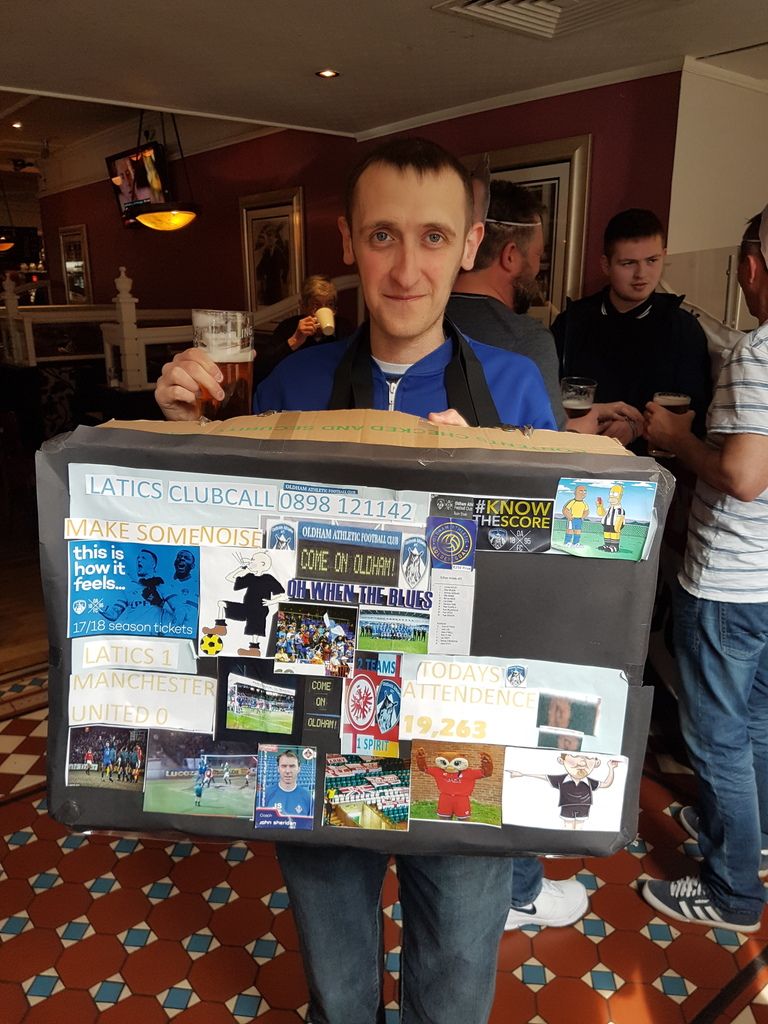 By the time the German homebrew was being passed round it was very clear that the 'not drinking too much before the game' plan had gone completely out of the window. Neil and Dave had joined us by now too, they had some catching up to do.
For the first half of the season, it had been assumed that this game would be the end of our 20 year stay in League One. For the second time in as many seasons John Sheridan had returned to the club with us appearing to be beyond salvation. My own view is that the miracle he pulled off this time round eclipsed what he achieved in the last campaign. On both occasions we looked unsavable but the squad of players he inherited in 2017 was clearly poorer than the 2016 vintage. What makes it even more remarkable is that as I write this now, he has managed to not only turn the season around, he seems to have made footballers out of some of those we had long since given up on. Having the best goalkeeper we have seen at Boundary Park for many a year clearly helps as does a captain who has given everything for the club including being second top scorer from centre half.
It was hardly surprising, therefore, that the fans were here to celebrate.
A short taxi ride took us to Kingsmeadow, the temporary home of our hosts.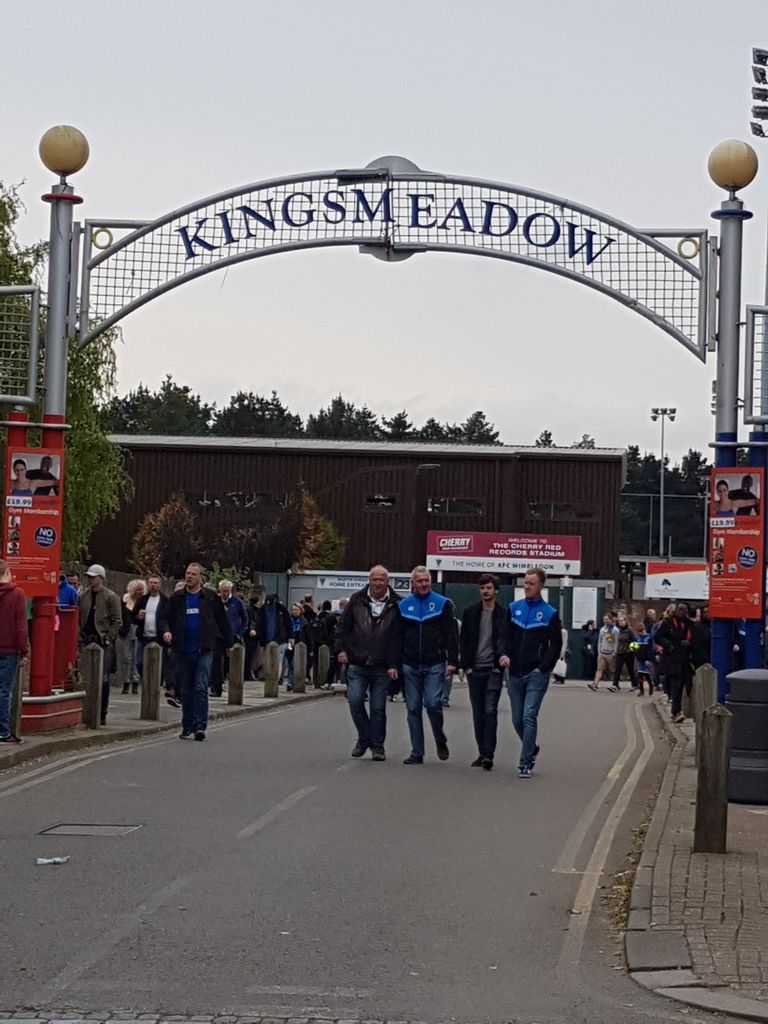 We found the right spot and one of the Met's finest took a photo for us. Another league completed for the flag.
The ground isn't going to win any awards for its away end, especially when it is full. It is a shallow terrace half way down one side of the pitch with a low roof. On the plus side, however, you are right on top of the action and it is always a bonus to get the opportunity to stand at a game. The atmosphere was great… the pre match lubrication must have helped. Both set of fans were clearly there to toast their sides prior to the summer bleakness that is a year without a tournament.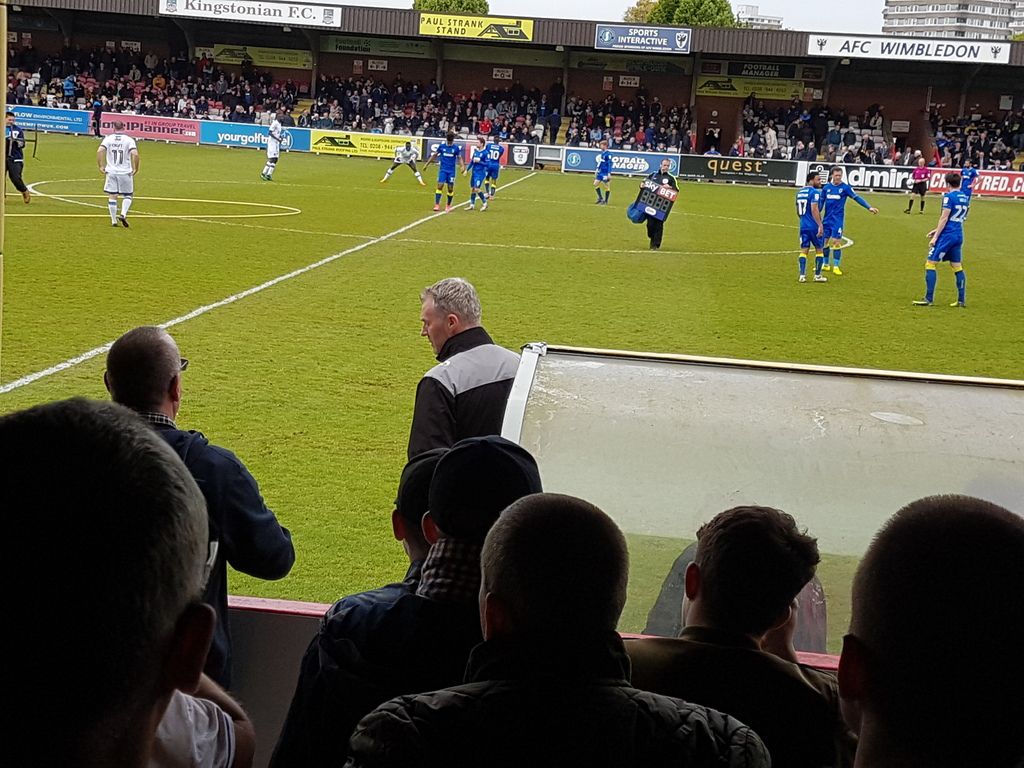 It was also fantastic to see that some of our friends from Frankfurt had made the trip. This relationship appears to be growing and growing and there were also some Latics fans who had come all the way from Detroit.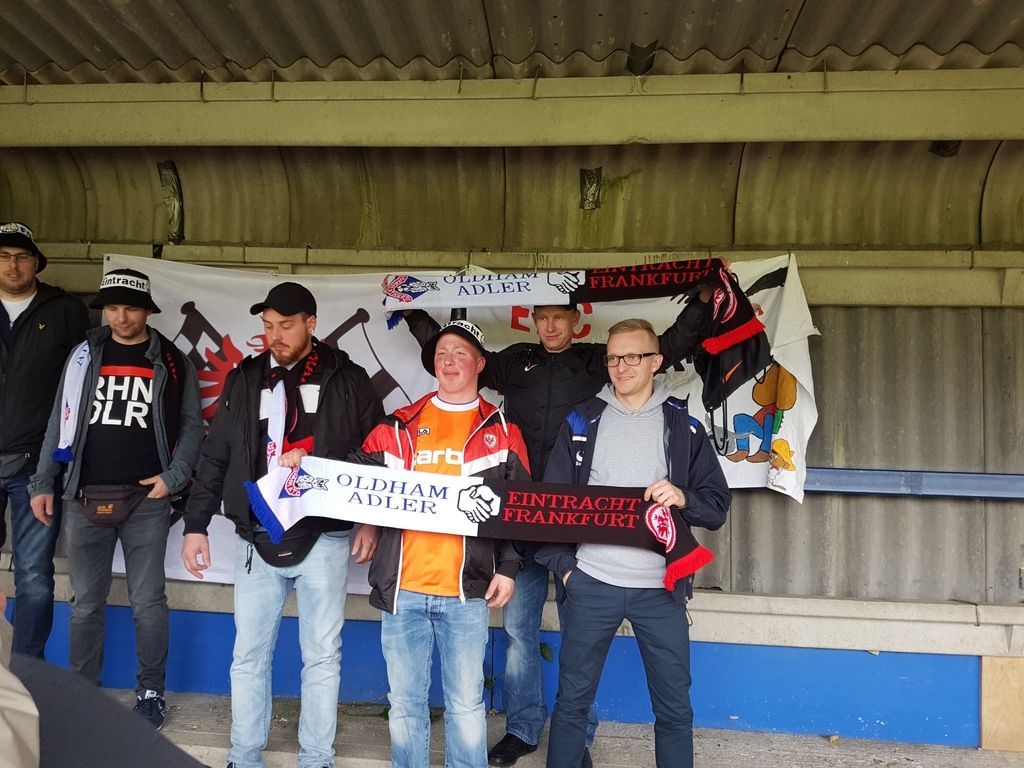 Now to the game. There are nil-nil draws that live long in the memory. End to end matches where neither team is able to convert but that fails to take away from the excitement. It wasn't one of those. I am sure that our hosts will feel that they should have won but realistically very little happened. The highlight was clearly Peter Clarke's goal line clearance which enabled Connor Ripley to take a share of our clean sheet record. The way he celebrated it cleared up and doubts (if they ever existed) as to how much it meant to him.
Our chants of "Who the **** are MK Dons?" on the way out were cheered by the home fans but we were soon heading back into central London to act sober and make sure Emma enjoyed what was left of her birthday. It seems to have become common practice now to have a flag photo on the station platform. Not sure when that became a thing but we did it anyway.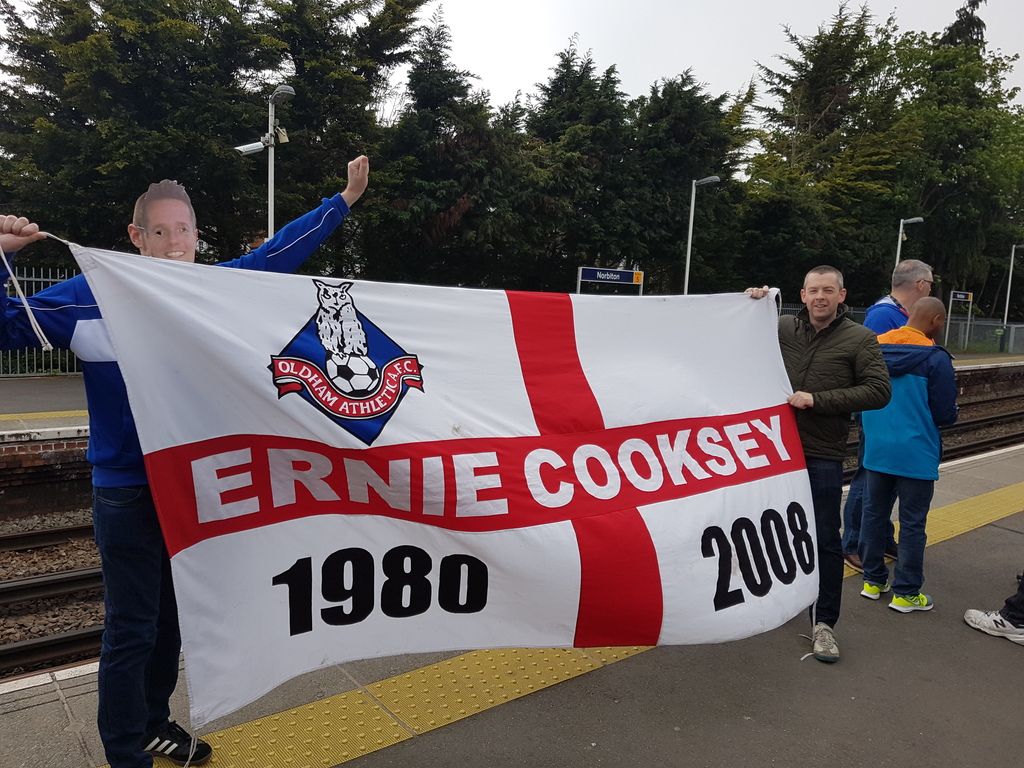 What a great weekend in London, with the traditional disappointment of the actual football. It seems wrong that the season is over. How ironic considering that for so long I couldn't wait to see the back of it. We have now got to hope that for once we can build on a promising end to a season. I don't see Shez being given much of a war chest but we have a basis of a team and if he can find a goalscorer, you never know, next season could see us move forward. We have had spells which have been very enjoyable but ultimately we have finished between 16th and 19th for each of the last eight seasons. The fact that we can still take over 700 fans on a 500 mile round trip on a Sunday lunch time is remarkable. There have been 75 goals in our 46 league games this season, that is an average of just 1.6 per game. That's 20% lower than the previous most dull season in our history. You've got a summer to build John… bring us the entertainment factor back.
---