Written by Mark W
Wednesday, 13 August 2008 22:24
Rochdale v Oldham Athletic – League Cup 1st Rd
Spotland, Rochdale
Tuesday 13 August 2008, 19:45 K.O.
As local derbies go, I found this a bit of a strange one. When the draw was made a month or so back, this was the one tie that I would have chosen above all others. Never in my lifetime had the two teams met in a competitive match and this would make up for the fact that we were denied league meetings by Rochdale's play-off defeat by Stockport. At the same time, it somehow lacked the spice of other derby matches. I think the problem may be that I don't have any mates who support Rochdale. In the build up to a game against City or United, or even Huddersfield or Leeds, there is plenty of banter with mates but this lacked that ingredient. In addition, we didn't really have anything to gain. If you want bragging rights, we'd already got them. We've been in a higher league than Rochdale for longer than I can remember but this game gave them the opportunity to take some of those rights away.
Despite all this, I still spent the afternoon at work in no condition to do anything constructive as match-day nerves started to take hold. The arrangements were simple; Mike and Rachel would pick me up from home at quarter to five so I needed to get out for four. Unfortunately, things needed to be done and it was going on twenty past before I finally made it back to the car. A quick detour to pick up a copy of the Chron was needed after I'd been told that they had run an article on the flag, and I was left with three minutes in the house to get changed before it was time to get on our way.
We'd made arrangements to go in the Dog and Partridge as it is only a fifteen minute walk to the ground but is just far enough away not to get over busy. We'd decided to get there nice and early so that we could get parked up. That's always the problem when you go to a big game at a club that doesn't get a large crowd on a regular basis, the infrastructure just isn't there. I don't think it had stopped raining since the Millwall game on Saturday and sure enough, as we parked, it was still lashing it down. There wasn't much we could do, so we ventured up to the arranged pub where at least we were met with a promising sign 'Food now available'.
The sign may have been promising but the news inside was less so. "Sorry, we've stopped serving food now". Oh well, at least it was dry in there and the beer was good stuff. A genuinely good pint of Amstel always goes down well. This was the kind of pub that has very impressive pint glasses and inadequate security measures. I shan't be pointing any fingers but as some people left the pub, there was a distinct 'chink' to be heard. Not any of our party, though, needless to say! The pub also appeared to have one other attraction. I can't say that I noticed personally, but it seemed that the barmaid was the type of barmaid that every pub should have. She certainly had a couple of things going for her and a criminally short skirt to go with it. The shocking news was that it was actually the girls amongst us who felt the need to bring up the young lady's attire. For the record, I still do not know how the laws of gravity can be defied.
We managed the best part of a couple of hours in the pub before the hunger pains became too much. We strode back out into the pouring rain and started to make our way towards the ground. Luckily we passed a chippy and so managed to get a bit of sustenance to help soak up that Lager. After finishing these off, luckily in a short lull in the weather, it was time to get our now customary picture of the flag outside the main entrance. It was while doing this that we saw a steward trying to make himself the most unpopular man in Rochdale by telling Ernie Cooksey's dad that he couldn't park where he wanted to.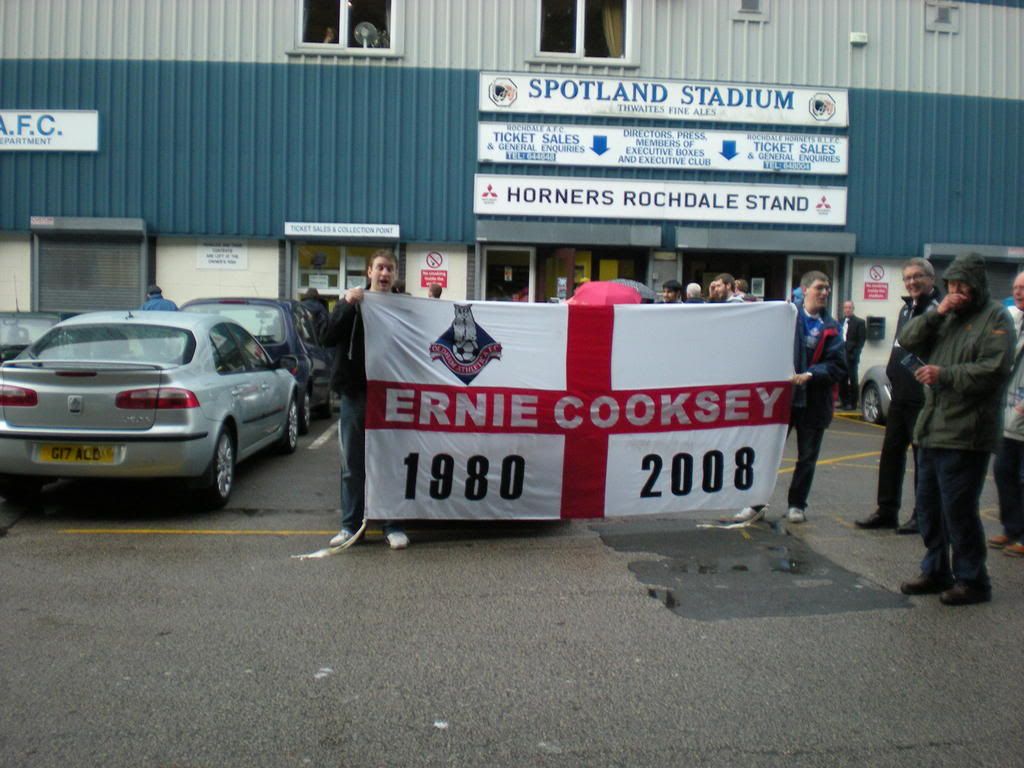 Once we got into the ground, the main tasks were to find some decent seats and to locate a decent spot for the flag. The first part of this task basically involved finding enough seats together that were not covered in bird droppings. Surely it cannot be too much to ask that they send someone into the stand with a wet cloth at the start of the season to make the seats vaguely acceptable. The second part proved more of a task. There was nothing at the back of the stand that could be used to tie the tapes onto and it was clear that there wouldn't be many empty seats to lay the flag over. Eventually we found a fence between the two sets of fans and managed to get it up without upsetting any stewards.
As we got closer to kick off, it became apparent that the atmosphere where we had chosen to sit was not going to be the greatest but that at the opposite end of the stand, things were hotting up. Matt and I decided that we weren't going to be able to make any difference where we were so we headed own the other end to join the singers. There were no seats left at the other end but that didn't appear to matter as nobody was sitting and there didn't seem to be any issues with standing in the aisle.
The atmosphere built and eventually the players came out onto the pitch, wearing t-shirts bearing Ernie's name. As with the Millwall game, the players surrounded the centre circle as everyone who had previously been seated rose to acclaim Ernie. Ernie spent twice as long at Spotland, compared with his time at Boundary Park and it was apparent that he was as loved there as he was by our fans. The whole stadium sung in honour of him. Markoasis (sorry, he's another one of those fans I only know by his 'cyber name') ,a Latics fan based in London, had done a fantastic job making a large number of banners made featuring the face of Ernie along with a variety of slogans. These looked fantastic as they were held up throughout our stand. This will probably be the last formal occasion where Ernie is remembered by Latics fans but his memory will stay with us throughout the season and for many years to come.
The match itself was more than a little disappointing. In the first half, it was exactly what it looked like on paper, a good League 1 side against a very good League 2 team. We were clearly the better side but we didn't create a great deal and Rochdale always looked dangerous when breaking. The clearest chance fell to Chris Dagnell who had proved himself to be a quality player last season but he slipped in the treacherous conditions. The first key moment of the game, however came when Deane Smalley was upended by a defender and the referee pointed to the spot. It looked like a clear penalty from where I was at the other end of the ground and the reaction of the defender backed this view up. With Andy Liddell rested, the responsibility fell on the shoulders of Lee Hughes.
Hughes stepped up and hit what looked a very good penalty to the keeper's right but somehow he was denied by a superb stop. Not only did the goalie manage to parry the ball, he got to the rebound before the oncoming Latics players. Had the penalty gone in, I have no doubt that we would have gone on the win the game fairly comfortable but instead, it changed dramatically just before half time.
Again, Hughes was involved as he tussled with a Dale defender and as they battled, the defender started rolling around as if he had suffered a stamp. The referee gave a free-kick but no more and that should have been the end of it. Instead, for some reason known only to himself, Craig Davies decided to get involved. He got into an argument with the defender and the next thing we knew, he was thrusting his head in the Rochdale player's direction. There was nothing to it but it was a crazy thing to do in front of the referee and nobody had any argument when the red card was brandished.
A couple of minutes later, the ref blew for half time and we were left to discuss the stupidity of what we'd just seen. Half time should have been very moving as it saw Louise Cooksey, Ernie's wife bring baby Isabella onto the pitch where she was presented with two signed shirts. Unfortunately, this was ruined a bit by the fact that the tannoy could not be heard and so it was unclear exactly what was happening. It was still a sight to behold, however, and so much credit must go to that brave young lady who is now left to bring up a child with the help of just family and friends.
There's not an awful lot to say about the second half. We had a chance just after the restart but that was the last time we really did anything up front. Dale took control of the game but I never felt that we were under too much pressure. It soon became apparent that unless there was a mistake on the slippery pitch, the game would be heading for extra time. Mark Crossley made a couple of good saves to make up for his moments of madness on Saturday and sure enough, the final whistle went without the scores being bothered.
The atmosphere throughout the first half had been superb, at least from our end of the stand, but the sending off took the wind out of our sails. We kept the singing up for the early part of the second half but it started to wane as the match progressed. The fist period of extra time was very quiet and for the first time we could hear the Rochdale fans who must have believed that this was going to be their night. Again, however, not much was happening on the pitch and I think both teams were probably already content to settle for a penalty shoot-out.  As we moved towards that inevitable conclusion, the atmosphere started to pick up again in anticipation. With a hundred and nineteen minutes on the clock, Shez brought on Andy Liddell to give him the chance to maintain his 100% penalty record and with that, the ref brought the game to a conclusion.
The penalties were to be taken at the other end but we were happy with where we were stood so we didn't follow those who went to stand by the corner flag. The atmosphere was buzzing again now as the two keepers headed down to the penalty area. We were up first and it was Eardley who slammed the ball past the keeper to give us the lead. As the Rochdale player stepped up, I was starting to thing for the first time since the first half that this might be our day but there was nothing Crossley could do about the penalty and it was all square again.
Next up was Chris Taylor who had probably been our best player on the night. Midway through the second half of normal time, I'd turned to Matt and uttered these words "We'll lose this on penalties and Taylor will miss the crucial one". As he comfortably beat the keeper, I was allowed to believe once more. The next penalty was from Dagnell. He was bound to score after his slip earlier but instead he blasted it way over the bar. We'd got one foot in the second round now. There were no signs of nerves from Danny Whittaker as he stepped up and dispatched to give us a three one lead and when Crossley saved from Dale's other danger man Le Fondre, we only needed to score and we were through.
Following his miss in the first half, it was inevitable that Lee Hughes should turn out to be the penalty hero. He had no reason to show nerves because he knew that even a miss would leave it for penalty king Lidds to put us through but in the event, Hughes wasn't going to miss twice and the Rochdale fans who left even before he stepped up must have known that. As the net billowed, the three thousand Latics fans down the side of the pitch erupted, probably more in relief than anything else.
It had been an eventful evening but at least we had shown after the defensive farce we'd watched three days earlier that we could defend well when we have to. More importantly, we were in the draw for the next round and we now have a trip to Burnley to look forward to and for what it's worth, I guess those bragging rights are just about still in tact.
---
Last Updated on Saturday, 11 June 2011 20:49