Written by Mark W
Sunday, 17 August 2008 18:18
Leeds United V Oldham Athletic – League One
Elland Road, Leeds
Saturday 16 August 2008, 15:00 K.O.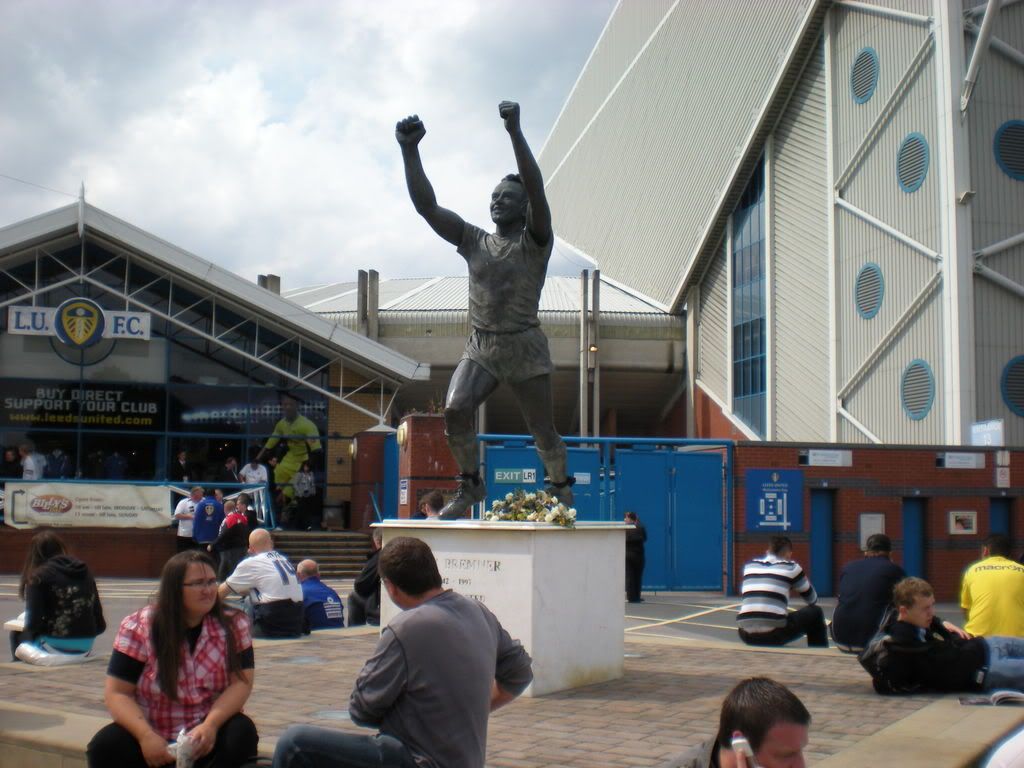 Following a shaky but ultimately hugely successful opening week of the season, Latics faced the ultimate test for the first away league game of the campaign. If the press were to be believed, the title race had been decided before a ball had been kicked in anger. Leeds United would walk this division and, if some were to be believed, would potentially do it without losing a game. Personally, I didn't buy any of this but I would certainly have taken a point if it was offered. Leeds had picked up enough points for automatic promotion last year, had it not been for their deduction for breaking Football League rules. What many chose to ignore, however, was how many of those points had been picked up due to the siege mentality caused by the points deduction. In my opinion, Leeds would have finished 2007/8 with a similar number of points to their actual total, had they started the season at parity. They had clearly strengthened over the summer and had started with two wins, as we had. Despite not expecting them to dominate League one, I also couldn't see them slipping up in their first home league game. Sometimes it is nice to be wrong.
My travel arrangements were more complex than usual as I was getting a lift over with Mike, but as he and Rachel were not coming straight back, my dad had kindly offered to bring me home. Last season's trip over the Pennines on New Year's Day had taught us that the 'away pub' shouldn't be relied upon for food unless you have a penchant for grotty burgers so we decided to go over early and find somewhere for some sustenance en route. Upon leaving the M62, it was time to look out for a likely looking establishment. Mike spotted a sign for a Brewers Fayre (not great but it'd do) and we soon found ourselves at the Old Brickworks. Ironically, this was something that I had often seen travelling along the M62 as it has a huge chimney with 'Old Brickworks' on it but I'd never known what it was.
It was only quarter to twelve and so the place was quiet but as we ordered our food it started to fill up. Sometimes it is very easy to criticise Oldham but then you go to other towns across the country and realise that maybe it isn't so bad after all. The patrons of this place appeared to fall into three categories, you had a couple of families, bringing grandma and granddad out for a bite to eat, then you had your (very rough looking) single mothers with four or five kids each and the mid-teen chavs who couldn't get served so spent most of their time outside smoking a tab while swearing away into their mobile phones. Any suggestion that this may not be the world's greatest pub were confirmed when the food was brought over by a local Mensa member. My chicken kiev had been completely nuked and didn't look like it had ever contained any garlic anyway. Those burgers we were avoiding suddenly seemed quite appetising but it was all about providing a base for the alcohol so we ate up and moved on towards the ground.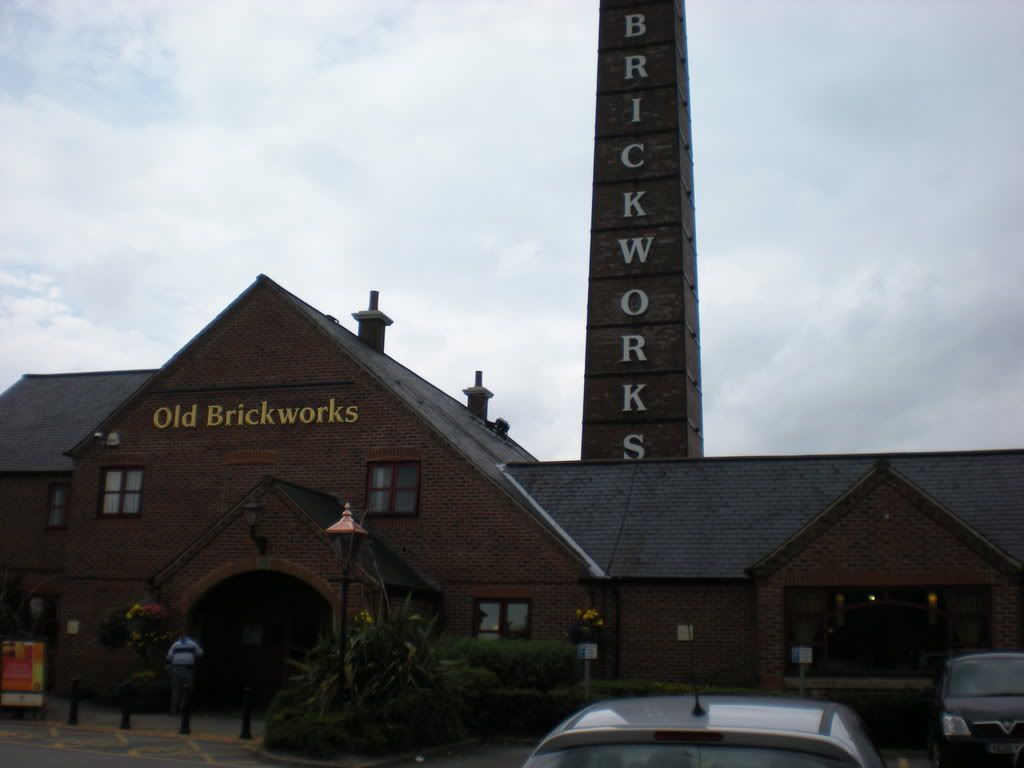 After parking up in the industrial estate near the ground, we made the fifteen minute walk to the main entrance so that we could get a picture of the flag before things got too busy. I was amazed to see how busy it was, even at quarter to one. There were a few bemused looks as we unfurled the flag and posed for the customary photo. A couple of stewards looked on as an alarm went off just as we leant against the gate guarding the main entrance. As soon as we moved away the alarm stopped. It's always nice to be made to feel welcome! A second photo was taken of the Billy Bremner statue but we kept the flag out of it this time as a group of locals appeared to be taking a little more interest in us than I would have preferred.
It was then off to the Drysalters pub, the home of that burger. The weather had been unsettled while we'd been driving over the hills but it was now a glorious day and very warm in the sun. The beer garden at the front of the pub was heaving while inside, there were very few people paying any attention to the first Premier League game of the season that was being shown on numerous TVs. After joining a queuing system that should have worked well, but somehow didn't, we joined the throng outside. It was as if there was an imaginary line across the garden with all Latics fans on one side, and Leeds on the other. Amongst the Oldhamers were a number who had walked from Royton, setting off at half six on Friday evening.
The walkers looked, to a man, completely shattered. I have to give them all the credit in the world. There's no way I could have walked that distance and when you throw in the fact that the first half is very much up-hill, I wouldn't have fancied it one bit. The lads had collected a significant amount through sponsorship in the name of Ernie. One of the lads asked whether they could have a group photo with the flag but unfortunately, despite agreeing to this, they left without actually doing it. The mood outside the pub was not overly confident. I think most people were of a similar viewpoint to my own. This isn't the kind of place that you come to and win two years on the trot. At the same time, the talk was that this could be a good season. The players we've brought in seem to have strengthened the team and there is no reason why if we can get on a roll, we shouldn't go on to have a very good year.
Once we were suitably watered, we headed up to the away end and made our way into the ground. Upon entering the ground, I looked for a spot for the flag. I identified a potential position and spoke to a steward to ask if it would be OK to put it there. He said that it would be covering an advertising board and so unfortunately not. Just as I was wondering what to try next, he suddenly said, "It's not the special flag is it?".  Quite clearly, the answer to this would always be "Yes" but as it turns out that was an honest answer. The steward then led me round to the opposite side of our section where he assisted me in hanging the flag over the front of the upper tier.
Looking around the ground it was amazing to think that twelve years ago this was an automatic choice as a venue for Euro 96. It's a big enough ground and one stand is fairly decent but I suppose it just goes to show how many other grounds have been significantly improved or even replaced because much of Elland Road is really looking old and decreped. It was also apparent that the Leeds fans had bought the hype from the press as they had certainly turned up in numbers. Our fans, on the other hand, were a bit more sparse. A large number had refused to pay £27 for League one football which, while understandable, was a little disappointing for those looking for a sizable following. Despite the large numbers in the ground, I was surprised to find that I immediately spotted a work colleague amongst the Leeds fans to our right and the two of us quickly exchanged a little 'friendly banter'. There would be more, via text, before the day was done! Mike pointed out a Leeds fan in a pink T-shirt to our left who was gesticulating in our direction and expressed a view that he would be the first to be kicked out this afternoon. He was escorted out just before kick-off.
Just before three, the teams emerged from the tunnel, with Oldham looking like a bunch of giant yellow highlighter pens in the new day-glow away kit. For the third match in a row the game was proceeded with a minute's applause, this time for Leeds supporters who had been killed over the summer while serving in the armed forces. This was well supported by all and our supporters managed to sing a short song for Ernie without taking it too far, so as to spoil the intended sentiment.
The first twenty minutes of the match saw Leeds dominate possession. They had a couple of half chances and although the central defensive duo of Hazell and Gregan looked to be on top form, there was a suspicion that it was only a matter of time before we found ourselves one down. The atmosphere within these opening stages was not the best. The game had originally been designated 'all ticket' for our fans and although this had been relaxed a day or two prior to the game, it had led to the usual dilution of singers. If you turn up to a game where it is pay on the turnstile, those who want to create an atmosphere tend to all sit together, whereas when you buy tickets in advance, they buy them separately and so end up spread out across the stand. It was one of those days and, while the atmosphere was far from 'dead, it wasn't what might be expected for a big Roses clash.
After the early surge from Leeds, though, we started to come more into it. We were not creating much in the way of clear cut chances but we were certainly seeing a lot more of the ball. There was still danger at the back as Leeds looked the better side going forward but by the time the half time whistle came, there was nothing to suggest that we couldn't get something out of the game. It wasn't quite the same as last year, when we'd been three up at the break, but I was certainly happy to take it.
I had a chat with Rick at half time and flicked though his programme. As with all away games, Terry had written to Leeds asking them to put an article in the programme about the flag, Ernie and malignant melanoma. As would be expected, Rochdale had included such an article on Tuesday but we'd not heard back from Leeds and had assumed that they would not include it as they would already have plenty of things that needed column space for the opening match. However, as I turned the page I was greeted by a picture of the flag and an article that not only took what we had sent them but went on to talk about people with Leeds connections who had suffered from the illness. This was a fantastic gesture and will hopefully give that little bit more publicity to the cause.
As the second half kicked off, the atmosphere had moved up a level in our section. I don't know whether people had moved round at half time, but now it was starting to buzz. As the noise levels rose, the players seemed to react. We were suddenly looking in control of the game and five minutes into the half, we found ourselves in front. As we attacked down the right wing, a cross was swung in to the near post. Lee Hughes, to a chorus of boos from the home support, latched on to it just in front of the keeper and diverted it towards goal. The Oldham fans rose in expectation but the ball thudded against the crossbar. Looking up, the only player who was following in was Chris Taylor and as we held our breath he calmly nodded it over the line. Our corner of the ground erupted as the other 95% of fans fell silent. Scoring for your boyhood team in a game like this is something that most of us can only dream of but the look on Taylor's face as he reeled away gave us a little indication as to what it must feel like.
It would be expected that this would lead to a Leeds United onslaught but it didn't happen. I don't know if the players remembered how they had ripped Leeds apart last season but we were launching attack after attack. A few minutes later we were awarded a free kick just to the left of the penalty area. Another superb training ground routine was executed almost to perfection. The ball ended up with Allott on the edge of the box who shot, Alessandra stuck a boot out and deflected it past the keeper. Again the visiting supporters went crazy but the linesman's flag went up and we still only had a one goal advantage.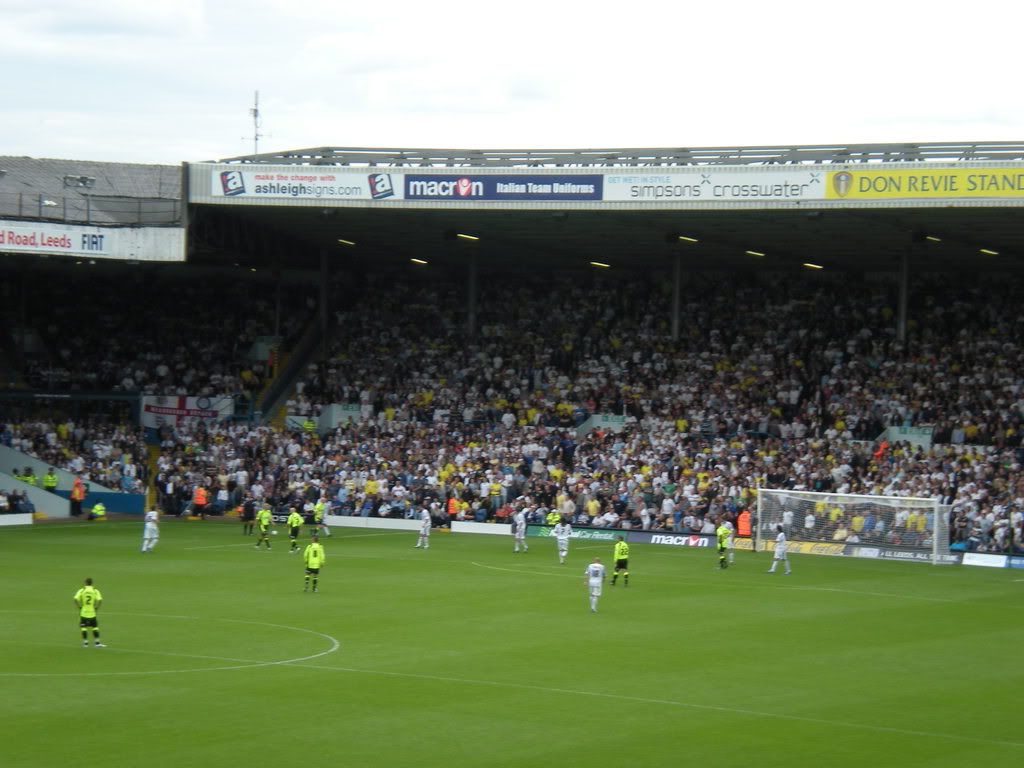 The second goal came fifteen minutes after the first. Taylor had been presented with a gift for number one but produced something special for number two. Again, Hughes got the assist but this one was all Taylor's. Hughes had the ball in a similar position to the free kick a few minutes previously and passed it back to Taylor who was stood  outside the top right hand corner of the box as the keeper looks at it. The advantage of having a right footed player on the left was demonstrated as he cut inside and just before reaching the area curled a beauty round the goalie to double the lead. Poor Rachel, who was next to me had to try and stay on her feet as I leaped on top of her for the second time in quarter of an hour. If the fans had been quiet in the first half, the decibel level had been cranked right up now.
The singing never stopped for the remaining half hour. Leeds started to get more of a foothold in the game but never really looked like they were capable of mounting a comeback. The only real moment of concern came with a penalty appeal. It didn't look like anything had happened but you never know if the referee will be swayed at a ground with over twenty thousand appealing for it. Luckily, he stuck to his guns and the danger had passed. A couple of hopeful efforts from the half-way line as the Leeds keeper came off his line kept us amused and with a few minutes to go we had a great chance to score the goal that would have put us top of the league. A throughball put Lewis one on one with the keeper but unfortunately the custodian managed to smother it at his feet.
By the time the final whistle blew, there were swathes of empty seats all around the ground. Fans had been leaving for a good fifteen minutes. I guess their optimism had been shattered but it's a good job our fans didn't give up two goals down with fifteen minutes to go last week. The players looked as happy as the fans as they all came over to acclaim us along with John Sheridan as the remaining Leeds fans headed for the exits.It is usual to try and make a quick get away after an away game but nobody wanted to leave the ground and most of the players were acknowledged in song one by one.
The faces of some of the Leeds fans as we left the ground were priceless. A number stood outside the away exit making threats but there was no real hint of trouble as we headed back to our cars. Elland Road is a bit of a nightmare to get away from but after a win, that's not something that matters. This has been an outstanding start to the season and we can really start to dream. The nature of the division is already apparent with only ourselves and Carlisle boasting 100% records despite being just two games in. There's still a long way to go but we really couldn't have asked for a better start.
---
Last Updated on Saturday, 11 June 2011 20:50