Written by Rick
Sunday, 07 September 2008 21:15
Colchester United V Oldham Athletic – League One
Western Homes Community Stadium, Colchester
Saturday 30 August 2008, 15:00 K.O.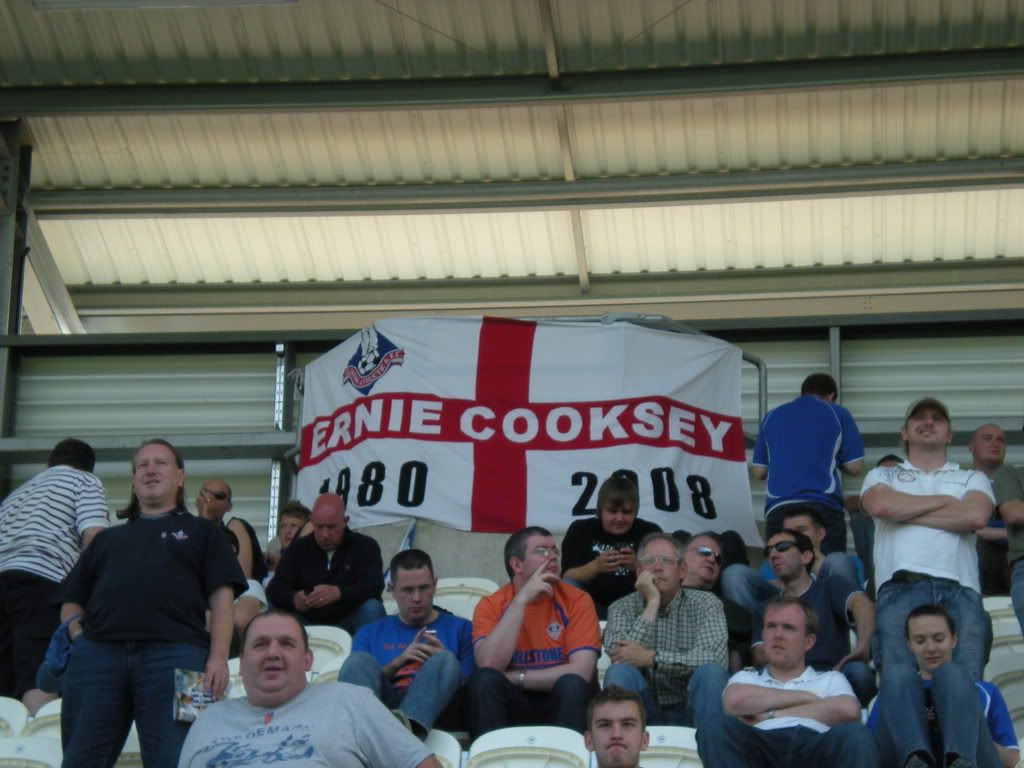 The alarm clock belts out Stones Roses, its Saturday morning and only 6:15 am, that can only mean it's a long Latics away day!
It's the second league away game of the new season, but its time for the traveling Latics to visit a new ground. The tickets are pre-bought and its time to visit the Weston Homes Community Stadium of Colchester United FC.
By 7:15 am, Johnny, Paul, Mark and Hayley are all aboard the 307 charter to Colchester, bags are packed and "Dave" the newly names Sat Nav is ready.
With Colchester being over 230 miles each way, we decided to make this game our first overnighter of the season, hopefully enabling us to have a few celebration beers straight after the game.
The route was set via the A57 and before we had even left Oldham the banter had started and autopsy of the previous 3 league games had begun.
The Snake Pass was completed in good time (no thanks to slow drivers and several speed cameras) and the A1 was reached, which meant it was nearly time for a coffee break once we got to Grantham. Upon arrival we noticed the solitary Frasier Eagle coach had already arrived, so we ventured inside the service station for supplies. Now I know that the credit crunch means prices have risen, but £4.50 for a punet of strawberries that Hayley had to pay is extortionate, even Dick Turpin wore a mask!!  So with myself already being £ 8.10 lighter thanks to a chicken and salad sandwich, 2 bottles of water, Flap Jack and a packet of crisps, it was time for a quick chat with Mark W who had decided to make the return journey on the coach (unlucky Mark). We were just about to embark when "Beep- Beep" a picture text arrived upon one of the traveling fans mobiles in our car! This photo shall forever be known as "Matersons" sponsored photo, thanks to the sender posing to try and impress a young lady shall we say. For legal reasons, I'll not describe the photo or say of whom it is of, even though I should be suing the "Right Back" for my counseling sessions I'll now need, but he did give us some good fuel for banter for the rest of the journey.
Cambridge was soon passed and we started to see other Tics on the road with Chickers flying by with what the youngsters these days are calling music blaring out!
We arrived in Colchester just after mid-day in good time. We parked up at our Hotel for the evening "The Riverside" and checked in, it was clean but basic and if anyone is staying over in Colchester, I'd recommend the Premier Inn. Although for £27.50 you can't grumble. So it was now time for us all to grab a beer before the game. We were turned away from the first pub has they operated a no away fans policy but we soon found the "Norfolk" a friendly pub with a sun kissed beer garden.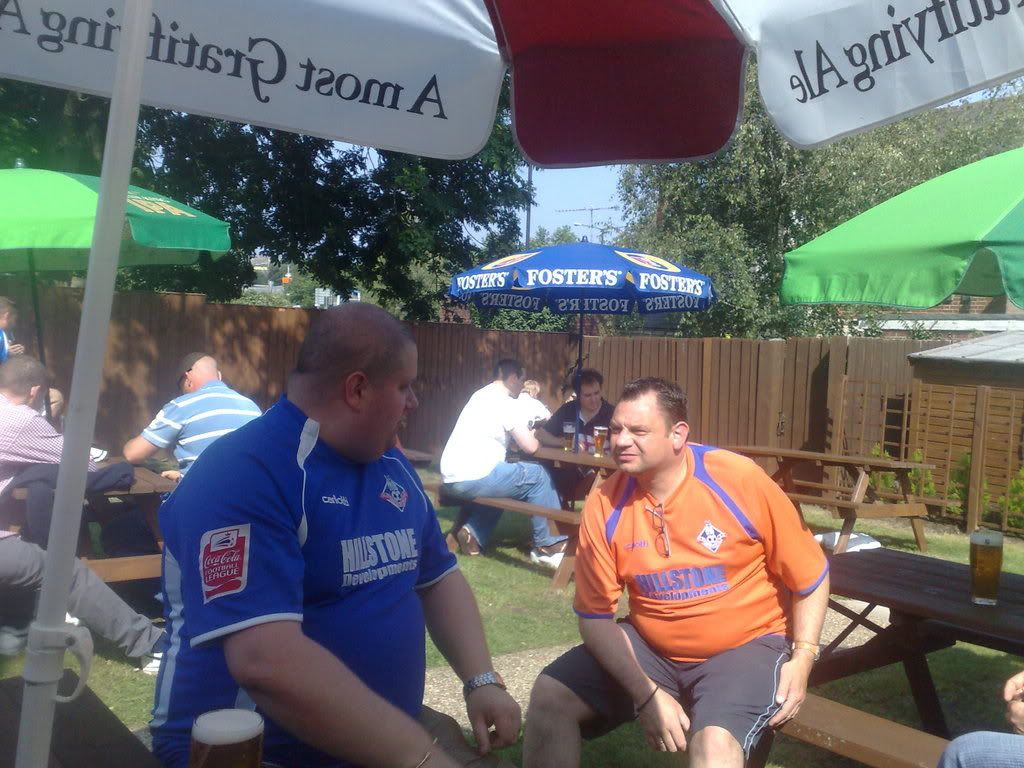 Wouldn't you know it, the beer garden was already full of the usual suspect Tics, Mr. and Mrs. Diego and Son, Lags, Jacko & Son, Lee, the Oasis lads.  While enjoying a cold beer we quizzed each other about our thoughts of the game ahead and journey down.
It was soon 2pm and time to find our free bus to the ground. Within ten minutes we had found our bus and started the 10 min or so journey to the ground. On first impression all looked good. Quite often with new grounds they lack soul or character like Doncaster and Darlington who's grounds a are just basic shells of concrete erected around a new pitch, but the WHCS looked new, tidy and welcoming. After a quick hello to some other friendly faces we took our seats anticipating the match, looking for at least a point to take home.
After the mid week loss to our 6 fingered neighbours, Shez opted to recall, Lidds, Norm and Gregan back into the starting XI , with Hughes and Lewis upfront, Allot and mini Hughes in centre mid, Lomax and Photo boy at Full backs, Hazel partnering El Captaino in defense along with "you can *….* My wife" on the left wing. The game was held up for ten minutes due to CUFC failing the seemingly simple task of having all fans into the ground for kick off.
The first half started slowly with both sets of players finding it difficult to pass to their own players, Hughes came close on 16 mins when he got a good shot in, only for it to fire straight at the CUFC keeper. "Who put the ball in the City Net "came close for CUFC with a header. The passing got better; Latics midfield pushed up and was then able to get some shots on goal. One thing for New Boy Danny "Mini Hughes" Whittaker is that he's not afraid to shoot from outside the box which is refreshing after last season. Again OAFC dominance nearly prevailed when Lidds was able to get a shot in from a sweet angle only for it to hit the wood work and bounce safely away.
Up till late Eardley even manages to hit a cannon of a shot, through a jungle of players only for the keeper to see it late and make a good save, palming it away to safety.  The OAFC of old then came forward, possession was lost and so was the advantage, Possession doesn't win games alone but goals do and it was first blood to CUFC. Scott (thanks for the goal ) Vernon found Yeates in enough room to swing a Rhino, Lomax and Hazel must have been in dream land to allow Yeates the room and time to hit the ball across Norm and into the Net on 42 mins. One nil Colchester and Yeates entered his name in the CUFU record books for scoring the first league goal at their new ground! Moments later it was half time and time for a Bovril!
The second half started with the fans still believing. The traveling support of over 350 cheered the boys on. The OASIS members gave a dazzling rendition of 'Oh when the blues' accompanied with dance and Jazz hands that got the fans going for the start of the game. The players may have looked tired and sluggish in the first half but the fans were vibrant and buoyant, doing their own bit to be the 12th man.  Hughes did well shortly after the break, even-though at times he looked liked he was running through syrup, he managed to run onto a pass from Lewis and fire in a shot from just inside the box. Now a few things started to happen off the pitch which due to pending legal reason I can't comment on too much, but the over zealousness of CUFC officials meant that cheers and smiles turned into tears and tantrums. Now my old Nan used to say, Talk to others as you wish them to talk to you, so if you're up their Nan, can you pass on your words of wisdom through a medium to the stewards to CUFC!
Colchester scored their second on 63 mins, I'd love to me able to say what happened but due to receiving a text I missed it, so note to myself, turn off your phone at games! A minute later Latics were back in the game when Chrissy Taylor scored on 64 mins to make it 2-1 but I missed this goal due to being obstructed by the for mentioned stewards and the next ten minutes of the game were lost (now only available on Latics World) due to conversations at the front of the stand with unprofessional CUFU officials. Ex Dale and MK Dons man Clive Platt almost made it 3-1 only to find the woodwork, spoiling his joy and Latics misery and maybe putting the game to bed keeping the score at 2-1.
O'Grady and Deano then replaced Lidds and Lewis who were brought into the game to try and keep the blue flag flying high and give the Latics any chance of being at the top of he table at 5pm. The minutes soon passed with the blues pushing hard for an equalizer, the story was almost written for CUFC to record their first league win at the new stadium.  Another Ex Dale player, Perkins was now on and snapping "Darren Sheridan" style at the Latics midfield picking up a yellow for his effort. Then with 2 minutes and seconds left to go on the official clock, Eardley stroked in a great free kick with his tired legs, Gerken the CUFC keeper couldn't hold onto the ball and it found its way to Hughey who with his back to goal, 6 yards away from the near post , controlled the loose ball and turned showing his "class" flighting the ball back across the danger area for Deano to ghost into the box "Palmer style" and smash the ball into the net and send the traveling fans into a chorus of song and cheer. 2 – 2
The players re-grouped for the kick off and there was an air of optimism buzzing in the away end, surely not, we did it against Millwall coming from behind to snatch a winner late in the dying second's ala Leeds 2007/2008 style, but could we do it again? Alas no, a Moriarty  was at play in the form of CUFC MOTM keeper Gerken who had other ideas and pulled off a great low save from O'Grady who had an excellent chance to win the game. The game finished 2-2. The fans were happy with the point and later found out we were second losing out on top with goal difference.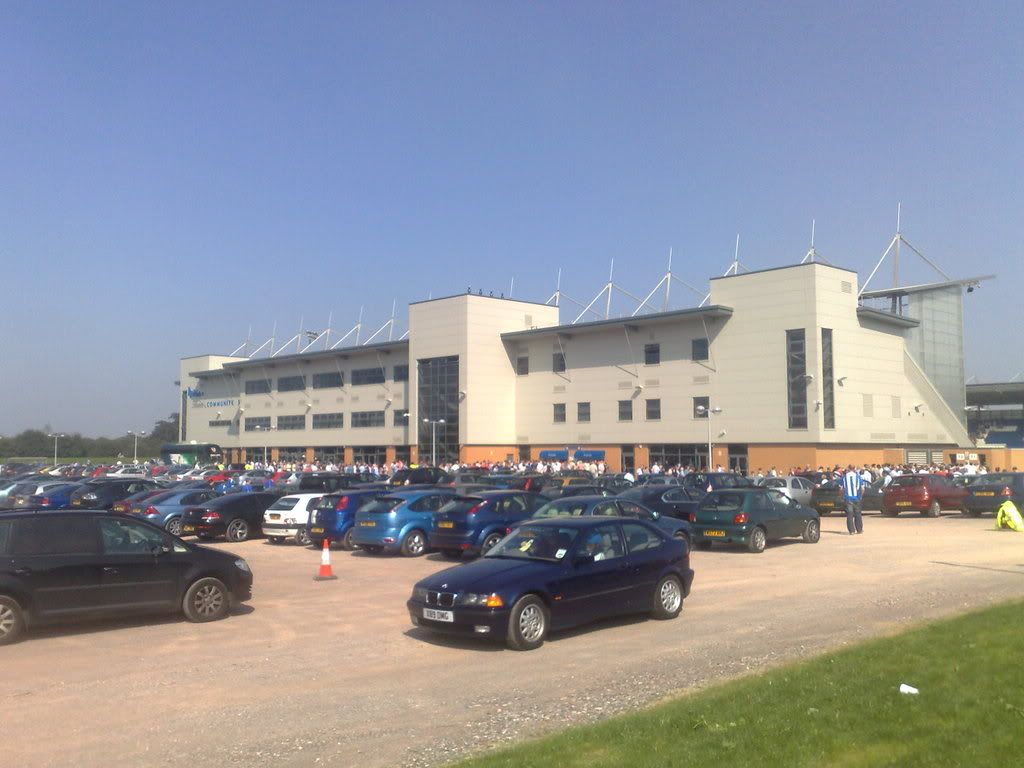 We board the bus back to town while I had a few calls to make. 20 mins later we were back at the Norfolk chatting to a few CUFC fans and reliving parts of the game. It was a good day for the football and the sun was out in full force which was welcoming after having rain in Oldham since 1848!  Two hours later we were showered, fed changed and out in Colchester, plus one more to the party, who we felt, we were honor bound to cheer up, so we made off to a few pubs and bars before settling in "The Bull " to listen to a live band. The talk of the evening and what happened next is I'm afraid under law of the tour "What happens on tour stays on tour".
---
Last Updated on Saturday, 11 June 2011 20:51