Written by Mark W
Sunday, 21 September 2008 16:54
Hartlepool United V Oldham Athletic – League One
Victoria Park, Hartlepool
Saturday 20 September 2008, 15:00 K.O.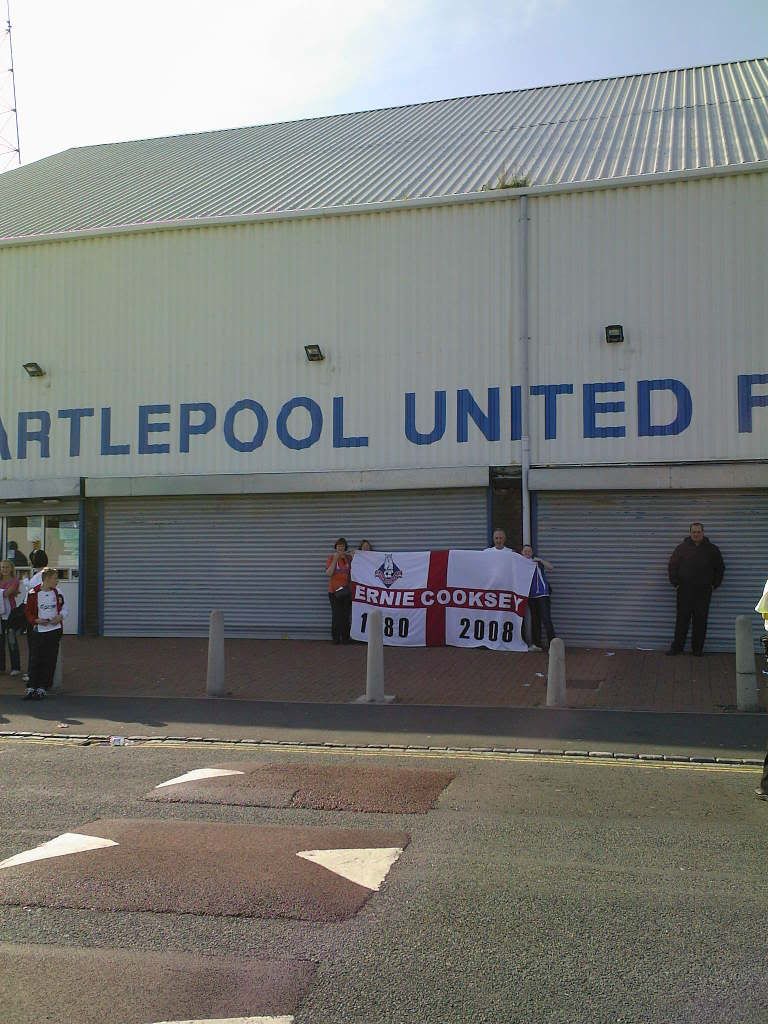 Watching Latics at the moment certainly isn't boring. I'm lucky enough to remember the "if they score three, we'll score four" days of Big Joe and the season so far has been like a throw back to those times.
I don't buy a programme at Boundary Park and I no longer get the Chron on a regular basis. I do tend to have a glance at the Official website but unless it is of great interest this usually doesn't go beyond the headline. It had never, therefore, crossed my mind that there might be an issue getting tickets for Hartlepool. There's never any problem getting tickets except for the odd game that you can spot a mile off and this wasn't one. Imagine my shock, therefore when I read on the Thursday night that there were only 400 tickets left. Luckily, with the Friday being my birthday I'd booked the day off work and was able to get down to the ticket office to secure entrance for Neil and myself.
I woke up in Manchester on the Saturday morning after being treated to a night at The Hilton by my wife and after a hearty breakfast, it was time to weave our way round the roadblocks set up to guard the Labour Party conference and head back to Oldham where Neil had agreed to pick me up at home. By the time we got home, Neil was sat outside waiting and so I literally had time to put my shirt on and we were off.
We 'chose' to take an unusual route up to Hartlepool. By the time I was asked to look at which junction we were supposed to come off the A1, we were a good thirty miles plus further up. It wasn't a problem though as we were able to come off around Darlington and cut across easy enough. A slight diversion but nothing catastrophic. We had wondered why there were no Latics fans about at the services we'd stopped at for a McDonalds! I don't know whether this was anything unusual but I was amazed by the number of military convoys travelling South. The whole way up the A1 to Catterick, we passed hundreds of (mainly goods) vehicles coming the other way. Perhaps I should have known then not to see any defence in Hartlepool.
After the late departure and extended route, it was almost two o'clock by the time we reached our destination. Hartlepool is somewhere we've played a large number of times recently but I think it was only the second time I'd been up there. Luckily Neil knew where to park and we headed for Jackson's Wharf at the marina. There was plenty of free parking next to the Jackson's Wharf pub and we headed in for a drink. There were lengthy queues at the bar with only two bar staff on duty. Surely these places must have a fair idea when there is a game on and when it is likely to get busy but they seem to choose to ignore it. After a good fifteen minutes at the bar it was certainly time to double up as we wouldn't be queuing again.
It was a gorgeous sunny day and so we went out back to the beer garden which overlooked the marina. There were a hundred or so Latics fans enjoying the sunshine and so we sat and chatted football while making the most of our pints. While most of the usuals were there, I noticed that there were quite a few notable exceptions who you would expect to see at a game like this so perhaps we weren't in for the bumper away following that was being touted.
With the ground still a fair walk away, we headed up shortly after half past, stopping to take a photo of the flag once we got to the ground. There were clearly no problems for people wishing to pay on the day and so it was apparent that the ticketing hoo-har had been over nothing. On entering the ground, I was searched as usual and was told by the steward that there was nowhere for the flag to be tied up inside as the stand would be all but full. Once inside this information was duely ignored as I found a barrier on an old bit of terracing in the corner that was ideal.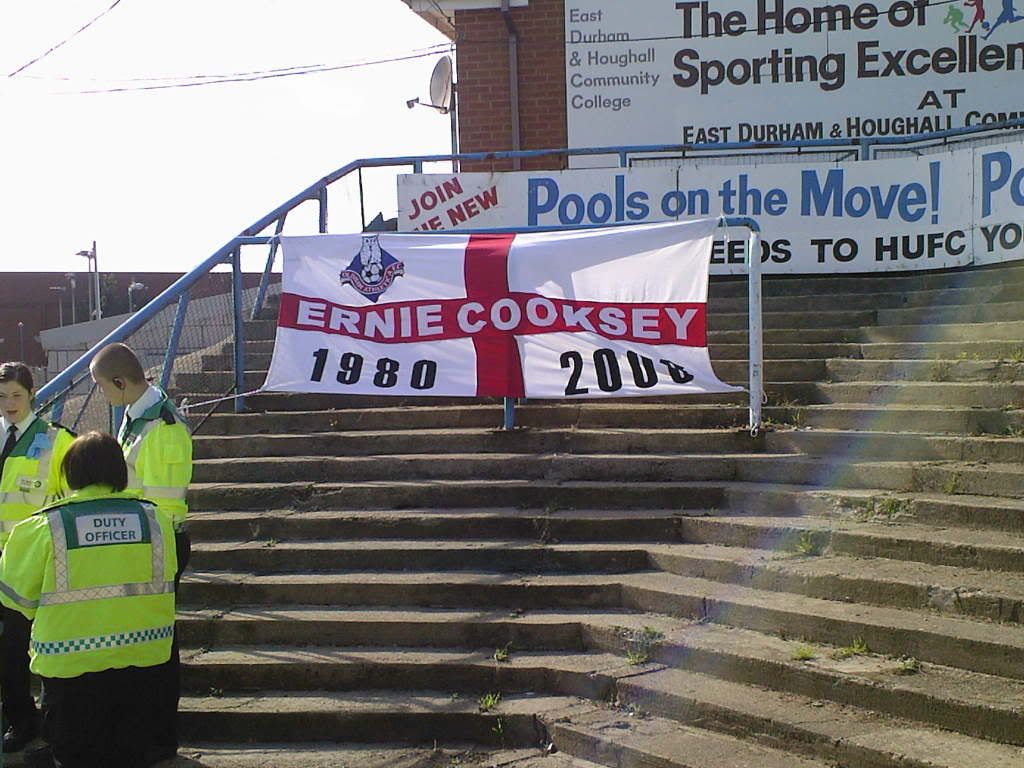 The seats we'd been allocated were only about three rows back but unfortunately the away end is the one part of the ground that has stantions and our view was adversely affected by one just to our left. Luckily it did not obscure either goal and with a bit of weaving about, it was still possible to fully follow the action.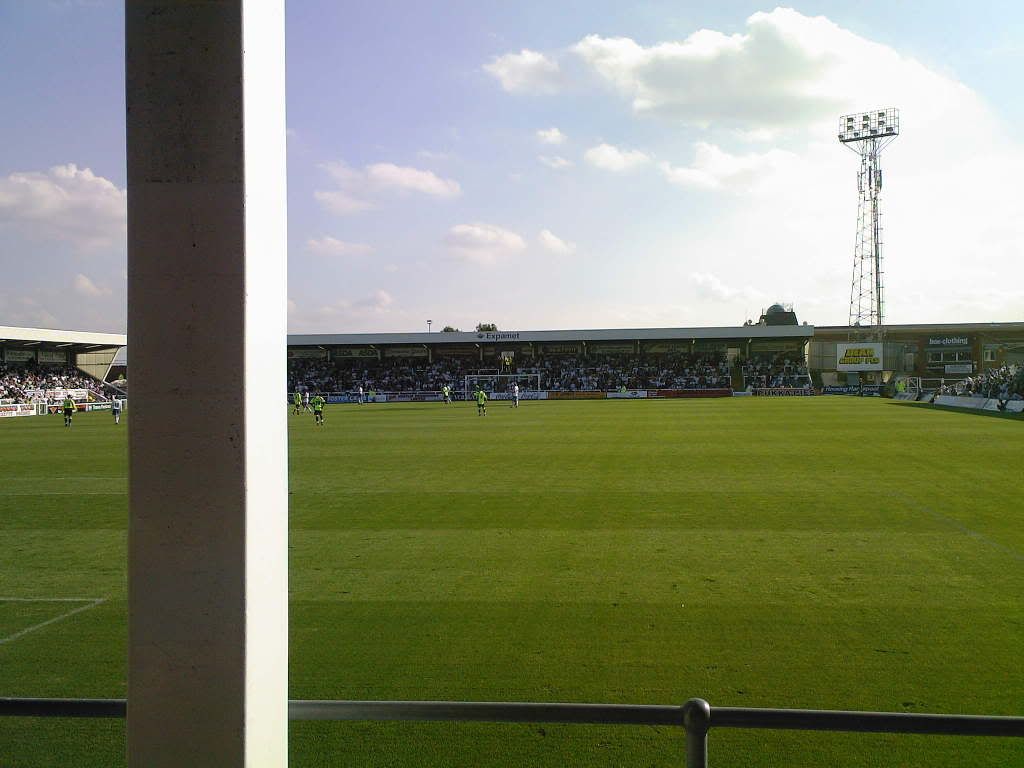 There were no shocks in the starting line up with Hughes again passing a late fitness test. The game started well. We had a couple of decent early chances. Hughes created something out of nothing to sting the keeper's hands with a shot before Eardley cut inside from the right, beat a defender and put in a superb shot which the goalie did exceedingly well to tip over. It wasn't one way traffic but Crossley had been given very little to do and things were going well.
The atmosphere amongst the seven hundred (yes, that's right, there really had been no need to panic) Latics fans was good without ever reaching the heights that it can do but I think you need to take into account that it was absolutely baking in the sun and I suspect that quite a few had been quenching their thirst for several hours. After 23 minutes though, the noise levels rose significantly. A short corner was passed to Danny Whittaker who swung a perfect cross onto the head of Lee Hughes. The keeper stood no chance as the striker rushed over to the home fans to perform his trademark dance.
The goal seemed to galvanise Hartlepool as they began to take the game to us. The Oldham defence looked strong though and Crossley was still little more than a spectator. The ball fell to United winger James Brown just outside the area not far from where we were sat and the fans appealed in vain for an offside decision that was never going to come. He slipped the ball past Eardley and was sent crashing to the ground. I was imagining Jeff Stelling switching on his "I feel good" dancing monkey as I waited for the ref to blow his whistle but amazingly he waved play on.
Just before the break, Lewis Alessandra turned his man expertly and threaded a ball through to Andy Liddle who was one on one with the keeper. Liddell hit his shot across the keeper's body and although it was parried out, Chris Taylor was there to bundle it over the line to give us the two goal advantage at the break. The fans were in great voice now as the referee blew his whistle.
At half time I was speaking to 'Big Fin' who commented at how strong we looked defencively. I said that my only concern was that after the comebacks we'd witnessed at home to Millwall and away at Colchester, we were due someone doing the same to us. They were only words though. He was right. We'd defended resolutely and I couldn't see us throwing this away. Half time also gave us a chance to shade from the sun and so I went at stood at the back of the stand to cool down. It is sometimes helpful being unorganised though. I'd never bothered unpacking the bag I carry the flag in after the game in Zagreb and so I found that I still had sun cream with me which was a huge bonus.
From the opening whistle of the second half it was clear that Hartlepool were in no mood to roll over and accept the result we thought was in the bag. They suddenly had a real threat from the left wing. Cross after cross was raining in and we didn't have a clue how to handle it. It came as no surprise when one such cross found the striker's head and we found our lead pegged back to one goal.
The Pools fans sensed a comeback and the mood around the ground lisfted. No sooner had they scored than it was all square. A shot came in that should have been comfortably tipped over the bar by Crossley but in an incident reminiscent of Millwall at home, he only managed to tip it onto the crossbar. As in the first game of the season, it was an opposition player who was the first to react and Sweeney had a simple job to nod it over the line.
It was difficult to see how this could get much worse but five minutes later it did. The ball found it's way into our area and in the panic that had now set in, Gregan pulled at one of the attacking players' shirts and the referee pointed to the spot. Crossley had saved a penalty last week but I think we all knew after what we'd witnessed in the last ten minutes that this one was going to hit the back of the net and sure enough it did.
We'd been two up at half time, yet found ourselves behind after 53 minutes. In the past we'd have completely crumbled at this point but it seems that we are made of sterner stuff this season. It took a few more minutes but eventually, they seemed to pull themselves together. Hartlepool were on the crest of a wave and continued to threaten but the defence knew what they were doing again and we had attacking options once more. From one such attack, Taylor cut in from the left and thanks to a wicked deflection managed to put us right back in the game.
Again, it was the turn of our supporters to start to sing. There was still over half an hour left and we could still win this. Not longer after the goal, we made our first substitution with Hughes being replaced by Chris O'Grady. It seemed that Hughes wasn't as fit as would have been ideal but this was a big blow as with him went our most potent attacking threat. We continued to push forward though and Taylor must have thought he'd be collecting his first match ball before the goalie tipped his drive round the post.
It was starting to look like we would take control of the game again when disaster struck. A ball forward by Hartlepool sent their winger over the half way line on the left. Gregan rushed over but badly mistimed his challenge. The winger was sent sprawling and the referee rushed over with his red card already in his hand. It looked harsh to me but having now seen it again on TV, the challenge was very high and he possibly deserved to go.
I expected us to now try and hang on for a point that we would have all taken at one of our bogey grounds, before a ball had been kicked. This looked even more the case when Shez sent defender Byrne on for Liddell but he then made a final substitution which was inspired. Off came Lewis, to be replaced by Craig Davies who'd missed the MK Dons game for disciplinary reasons. This suddenly gave us a whole new threat with an injection of pace up front.
In the remaining quarter of an hour, our ten men took the game to our hosts. Nobody could have possibly complained if we'd have gone on to win it by a couple of goals but unfortunately it wasn't to be. The best chance fell to Davies who's chip over the advancing keeper bounced agonisingly the wrong side of the post. O'Grady looked excellent with a display that should do plenty to win over his doubters.
The final whistle eventually sounded and I've no doubt that both sides left the pitch thinking about what could have been. It was a shame that we'd dropped points but we had picked up one which could be invaluable come the end of the season. I was more impressed, though, with how we'd responded to the sending off. So many teams would have tried to shut up shop and protect the precious unbeaten record but we took the game to them and it was just disappointing that our refreshing attitude hadn't been rewarded.
---
Last Updated on Saturday, 11 June 2011 20:53