Written by Mark W
Sunday, 19 October 2008 17:51
Belarus v England – World Cup Qualifier
Dynamo Stadium, Minsk
Wednesday 15 October 2008, 21:30 K.O. (local time)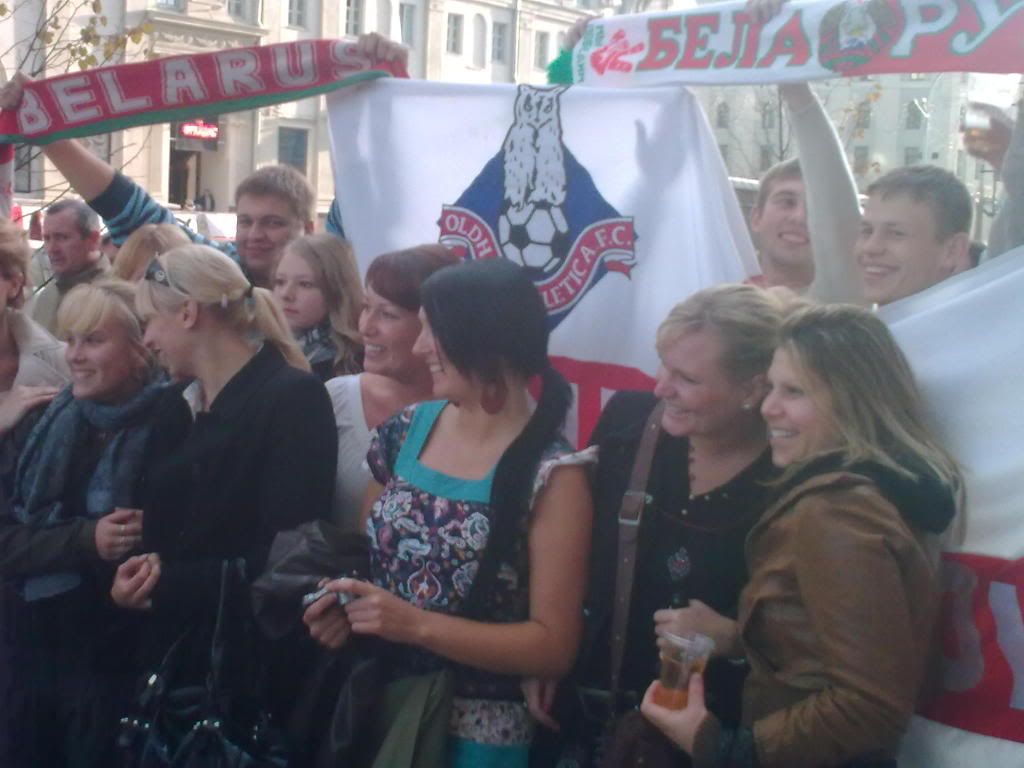 After a hectic weekend that had involved a trip down to Wembley for England's comfortable victory over Kazakhstan and Oldham's equally comfortable win at home to Hereford, a 3am start on the Monday was the last thing I needed. Unfortunately the 6am flight from Liverpool to Kaunas didn't give me much choice.
Planning for England trips can sometimes be like a military operation. It can be an expensive hobby but if you book things far enough in advance and are flexible about how you get there, it is usually possible to find a decent deal. So it was with this trip to Belarus. Ryanair flights to Lithuania's second city had been secured on the day they were released for less than fifty quid, a coach from the Lithuanian capital, Vilnius, to Minsk had been booked with a bunch of England fans and I'd also booked hotels in Both Kaunas and Vilnius. How we would travel from the airport to Kaunas centre, Kaunas to Vilnius and then back to the airport was something to leave to the imagination when we got there.
Rick and I were taking this route while Neil was going out via Warsaw and Mark was just going for the day, straight into Minsk. As always, Rick was as punctual as ever and our trip began at half three.
After a fairly uneventful trip out, we arrived at Kaunas' small but very modern airport where we were quickly through security and on the look out for transport. I'd read a few bits before leaving home but most of it was about travelling straight to Vilnius but we had decided to see a bit more of the country and have one night in Kaunas itself. The internet had suggested that it should cost about £30 to Vilnius in a cab but a couple of lads were saying that they had just been quoted 400 Litas (or 'Leroys' as they were inevitably christened) which was the best part of a hundred quid. A quick decision was made that we'd risk the local bus for the next leg of our journey.
We arranged to meet up with a few guys in Vilnius the next day and after a 30p bus journey that lasted about 45 minutes, we found ourselves at the main bus station in Kaunas. A young Lithuanian girl took it upon herself to help out the English that had descended on her bus and she took us all into the bus station where she explained to one of the ticket sellers where we all wanted to go. In turn, we were sold a tram ticket and given detailed instructions about where to get off.
After thanking our Good Samaritan, we easily found our lodgings for the night and set out to explore the city. This was something which, in all honesty, didn't take too long. I don't think we saw it all, but I don't think we missed much either. There wasn't a great deal in Kaunas but it seemed a nice enough place. The only thing I had been able to find that looked like it might be worth a look when I had done my research was the 'Devil Museum' which apparently hosts many thousand statues of Lucifer. Not really my thing but at the same time, not something that could be missed. Unfortunately, "Kaunas' number one tourist attraction" doesn't open on a Monday so after seeking it out, we were left unfulfilled. I was impressed to see that the Tourist Information office on the main shopping street doubled up as the FC Kaunas club shop. It was good to note that some towns really give their local team some support.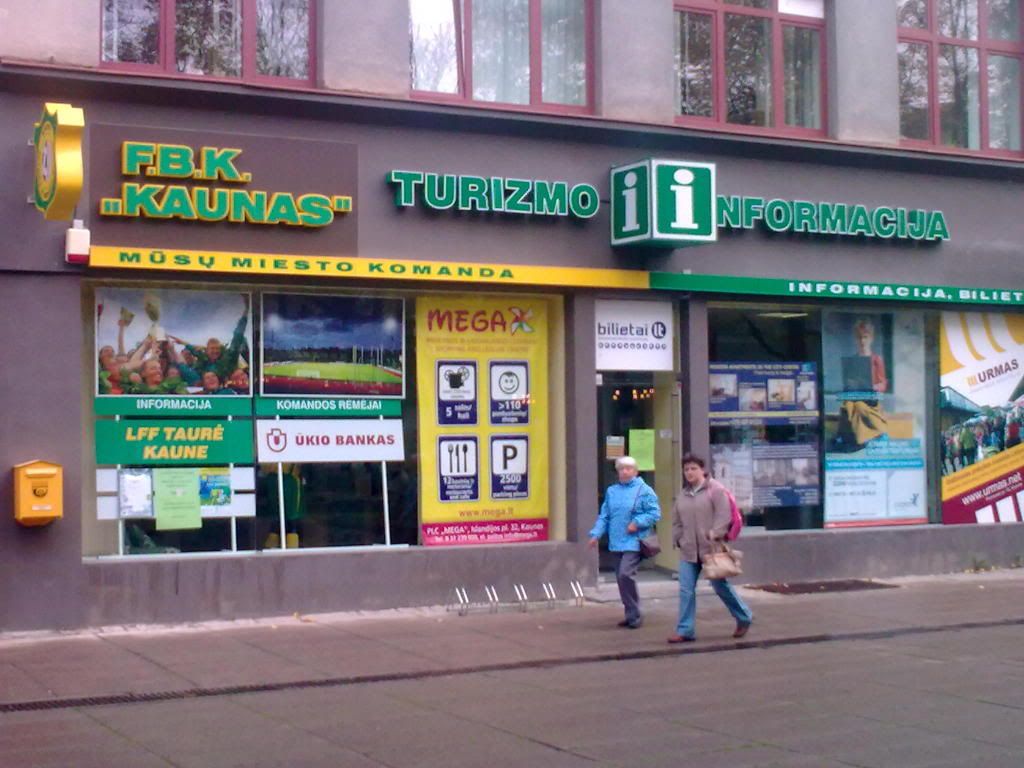 Monday evening is clearly not the most hip and happening in Kaunas either. After a hearty meal we found a bar with a few English in it. It is always pot luck what type of people you will meet in situations like that but most of them were good lads. Just as we were starting to get into the mood though, the clock struck eleven and we were told that it was closing time. Everywhere else followed suit and even the hotel bar only gave us another hour. It was probably for the best though after our lack of sleep over the last few days.
The next day was time to move on to Vilnius. We headed back to the bus station and boarded the number 1 bus as we'd been instructed by the girl the day before. Kaunas to Vilnius is about 75 mile so I guess similar to Liverpool to Leeds. The ticket cost 20 Leroys so that was between four and five quid. After an hour and a half travelling through some lovely countryside, we arrived in what at first appeared to be a very run down capital city but on closer inspection was actually quite pleasant in the city centre.
Our hotel was superb. No wonder it has the number one position for Vilnius on Tripadvisor. It also had Wifi in the room so Rick was happy. The Best Western in Kaunas was good enough but if you ever go to Vilnius, I would strongly recommend the Novotel.
We hadn't eaten all day so we set out to find somewhere, only to bump into Alan, Jazz and Matt that we had flown over with the previous day. They had been told that Lithuania U21 were playing Rep of Ireland U21 at FC Vilnius that afternoon. I immediately expressed my doubts as the Lithuania team had been staying in our hotel in Kaunas, with the Irish just around the corner. Surely if playing in Vilnius, they would have stayed in Vilnius. Jazz was adamant so we decamped to the Apple store where we spent quarter of an hour on their display machines unable to find any mention of the game. Eventually we found a one liner that stated 'Vilnius'. Half the England fans in the city had been told and were all on their way up to the stadium to put their flags up. I still wasn't convinced and after asking at the hotel, we were eventually informed that the game was taking place wee the other side of Kaunas. I think some people who made it to the ground are still looking for Jazz.
After a quite superb meal in a local Italian restaurant where I was left ruing the decision not to have the mixed grill when it came out looking like a carnivore's dream, we decided to make the most of our now free afternoon. It was time for a bit of culture so we headed for the castle where we were informed that there was a cable car type lift up to the top of the hill on which it sat. Predictably this was closed so we managed to get some exercise as we clambered to the top. It wasn't the greatest castle in the world but it did afford some great views of Vilnius.
It had been a knackering climb up to the castle so we decided to stop for a quick pint in the Paparazzi bar before carrying on to have a look at the rest of the city. The pint turned into two and then we were comfy so it was four hours later that we decided we should really carry on. Carrying on meant walking round the corner to a bar which made some impressive claims about the dress code for their barmaids. Unfortunately, after paying our two quid entrance fee, we were informed that the barmaids wouldn't be there for another hour. This was the perfect excuse to return to Paparazzi for another couple. Returning to the other bar about midnight, it was clear that there was still nothing happening so we made the decision to retire for the night as we needed to be up early for the coach to Minsk.
The start to the day of the game was a bit of a farce. The coach was due to leave a hotel by the main bus station at 8.30 and we got a taxi up there that got us there just in time. The two coaches were waiting and there were a fair few England fans milling about. About half past we all boarded but nobody seemed to be in charge. The coaches had been organised by a Tranmere fan called Chris. It soon became apparent that all bar one person who should be on the coaches had turned up. That one was the aforementioned Chris. Following some frantic phone calls it was confirmed that Chris was still in bed. Rule number one when organising something like this has to be TURN UP ON TIME. It was gone half nine before we were ready to roll and I thought Chris was going to get mobbed when he, in all seriousness, asked "Is everyone here yet".
The journey was not that far but it was not a simple one because we had to cross the border. For anyone who has never tried entering a Soviet or former soviet country via land, I promise you that they don't make it very easy. Just half an hour after leaving Vilnius we arrived at the border. The coach was parked up and we all joined a queue at a small office. One by one we were processed. It took a little time but was fairly painless. The guards took my passport, entered details in their computer and waived me through. It was at this point it struck me that they had not checked my visa. This could mean only one thing, this was not the border for getting into Belarus, it was just the border for leaving Lithuania. This explained why we had not needed to fill in immigration forms. After everyone had been processed we got back on the coach, travelled a couple of hundred yards and another guard got on. He handed out immigration cards and sure enough we had to go through it all again.
While we were stood waiting for everyone to clear the Belarus border, Rick stood outside chatting to a couple of other lads off our coach. They say that it is good luck to be dumped upon by a pigeon. Let's just say that we were now more confident of an England victory. It wasn't really his day so far. He'd been stung for over sixty quid for a visa back home, only to find out that you could get one for £23 at the border.
We were the first of the two coaches to arrive at the border and the drivers wanted to stick together throughout the journey so as soon as we got into Belarus, we pulled into the first petrol station to wait for the other coach to get through. This led to us all disembarking and heading for the shop that sold various food items (which were somewhat more appetising than the cabbage soup or beetroot soup that was available at the border) and beer. I would guess that in the half hour or so we were there, that shop probably took more money than it had in the last six months. The look on the shopkeepers face when we all walked in was priceless.
Less than two hours later we were in Minsk. The coach parked up at the top of the main street outside a very impressive looking building which was probably very important but could have been a supermarket for all I know. The first job was to get some cash. Belarusian Roubles are nor available outside Belarus so we had to find a bank. The currency is crazy. There's approximately four thousand to the pound yet they have notes for ten Roubles, that's a quarter of a penny. I decided that £25 worth would see me through the day as I wasn't having a boozy one. In reality, a tenner would have probably sufficed.
We headed to the stadium to sign in and on the way passed a bar full of English. Rick noticed that Mark C was in there so we now had a point to head back to later. Outside the ground we were chatting to Anne-Marie who is one of the Football Supporters' Federation representatives at England matches. She was telling us that advice to fans kept changing from the local police and that we should head to the ground fairly early. This disorganisation was demonstrated by the signing in procedures. A room is normally found for the FA representatives but on the occasion, we simply found someone stood on a flight of steps outside the ground.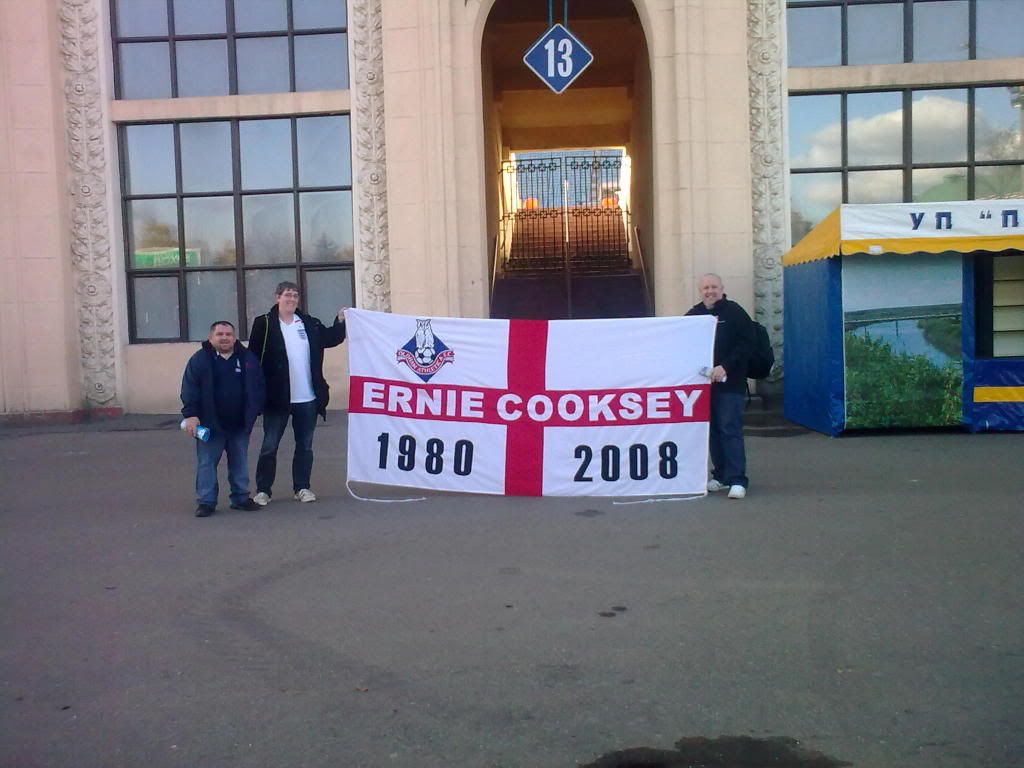 After signing in, we stopped for a couple of photos and headed back to the bar where we'd seen Mark. In reality it was more of a self service café than a bar but I think it was probably as close as you get in Minsk. Mark was sat with a group of local lads who turned out to be really good guys. We talked football and it was amazing to realise how much they knew about English football. One even had quite a bit of knowledge about Oldham. "I like to play Championship Manager" he laughed when we asked him about it.
The locals in general were clearly fascinated by all the England fans and were taking photos of us all. There were also some uniformed Bobbies who were clearly just there for photos with locals and to bring about a bit of good will. The lads we were with wanted a photo with the flag so they took it out into the street. The minute they unfurled it there was pandemonium. There were people running from everywhere wanting pictures. The press photographers were over too. The idea was one quick picture but ended up taking at least ten minutes before everyone was satisfied.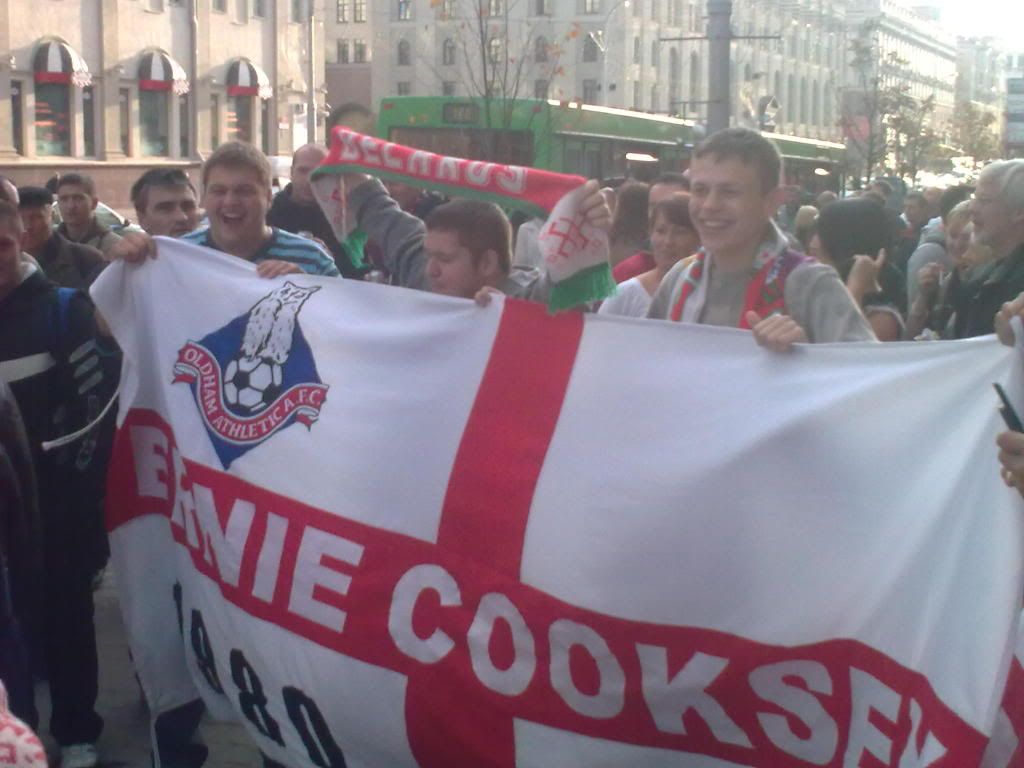 The girls in Lithuania had been stunning and those in Minsk were no different. They all insist on wearing knee length leather boots which is a real shame. It just wouldn't have been fair to deprive them of the photos they were after!
The lads that Mark had been talking to wanted t take us all to a local restaurant. I'm not the most adventurous eater and so didn't really fancy it but I decided that it would be rude not to go with them and Neil, Peter and Mark were well up for it. Upon reaching the restaurant the first item ordered was a bottle of vodka. I knew then that it was not a good idea and so I made my excuses and headed back. I was aware of the fact that I had a lengthy coach journey back later and decided that this was not the time for getting hammered.
When it was time to go to the ground, we took the opportunity to get some pictures of the flag. It is amazing the coincidences which can happen. Firstly we asked someone randomly to hold the flag while we got a picture and it turned out she was a Latics fan (Ps. That picture didn't come out Bev, so if you are reading this, please can you send me a copy). Secondly a guy asked if he could take a picture and when we agreed he explained that he was chief scout a Grays and so knew Ernie well. He kindly showed us some pictures of Ernie's funeral that were on his phone.
We managed to get the flag in a good spot in the ground, right at the front.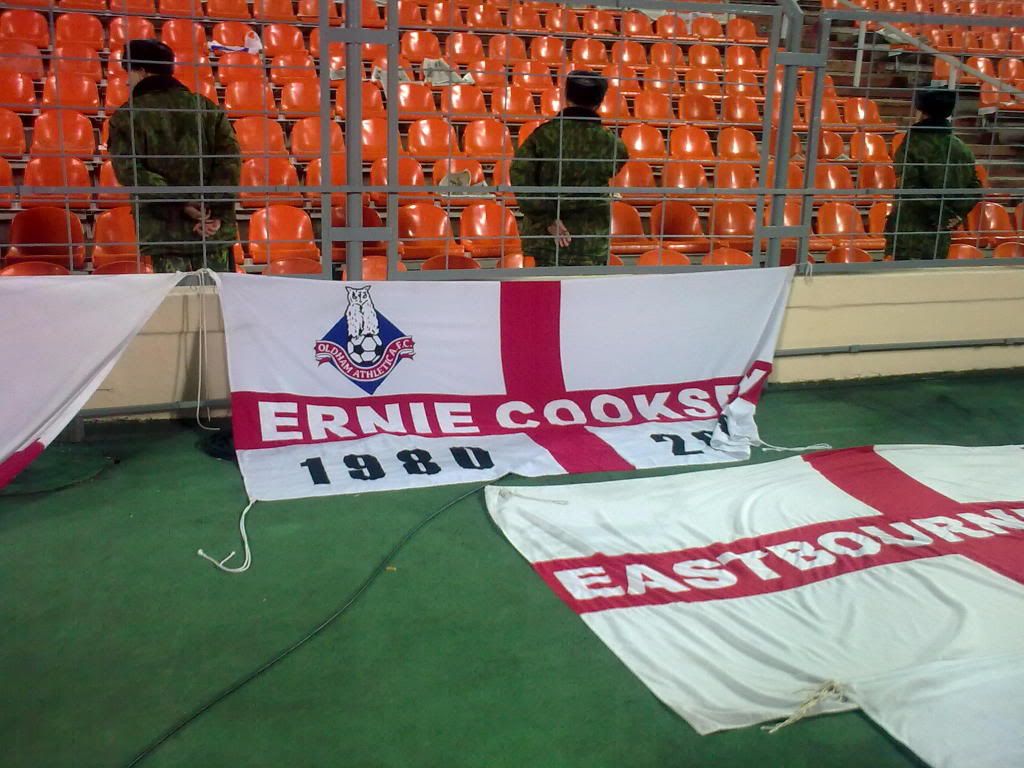 The Dynamo Stadium is a great ground. It is a proper old fashioned ground. It has a second tier on one side but that has been condemned despite only being built in the last twenty or so years. The best feature though, is the floodlights. They are huge structures with hundreds and hundreds of bulbs on each one. I'm sure that they are far from good for the environment but every ground should have them.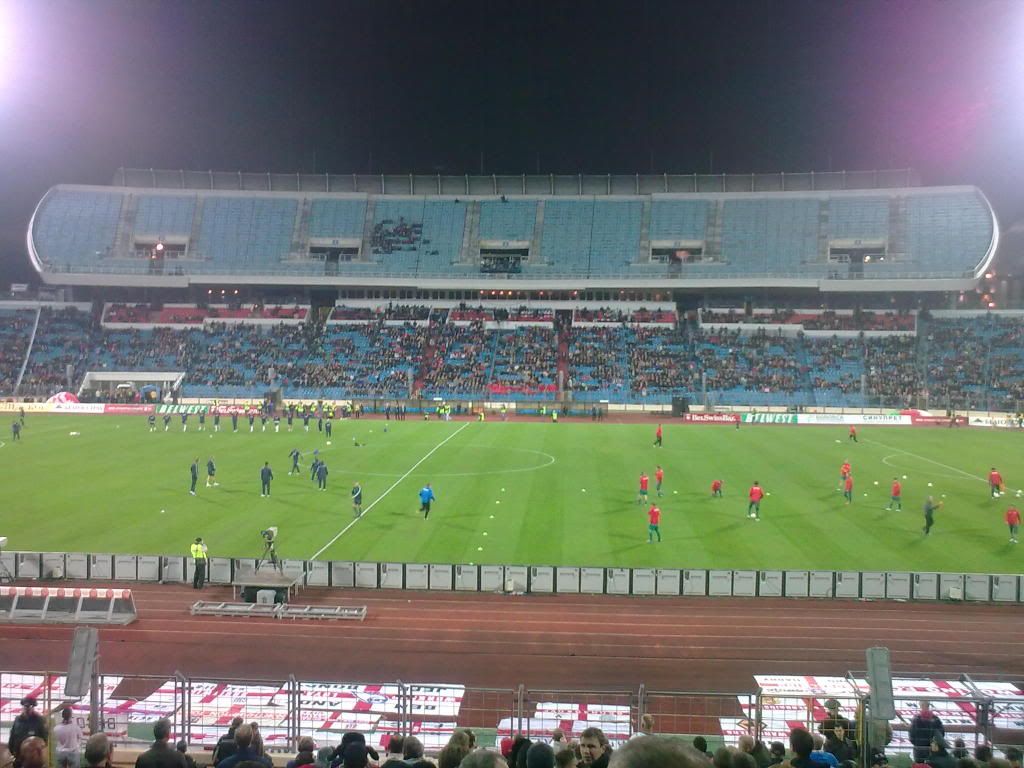 As the game kicked off, the atmosphere was good. The locals loved it and the English were trying to cheer the boys on. It wasn't a particularly hostile atmosphere like it was when we played in Moscow but it was certainly loud, helped by one of the loudest PA systems I can remember. They had a band on the running track which played throughout and as always the England band was there. Eleven minutes in though, the home fans were silenced. The ball fell to Steve Gerrard outside the box and he curled in a beauty. You would have imagined that this would have dented the home team's confidence but far from it. Belarus started to dominate the game and it came as no surprise when they equalised. It was a shocking piece of defending but a deserved goal.
At half time, confidence was not high amongst the travelling fans. It was clear that we would have to lift the tempo if we were to maintain our 100% start to the qualifying campaign. Fantastically, that's exactly what we did. From the opening whistle of the second half, it was clear that we were in no mood to let this one go. It took only five minutes before Rooney continued his brilliant scoring run. Heskey had been immense all game and his cross was slid home by Rooney. Twenty five minutes later, the striker was at it again. Gerrard was the provider this time and Rooney gloriously lifted his through ball over the advancing keeper to settle any nerves we might have had. There was still time for Gerrard to miss a sitter after he'd done all the hard work but the job was done. I don't think anyone would have imagined it two months ago but England are on maximum points after four games.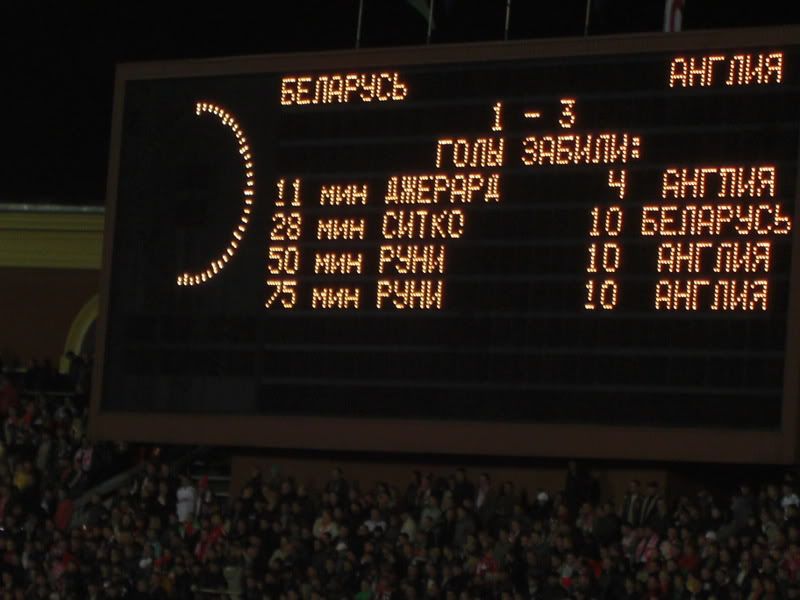 I wasn't sure what to expect on the walk back to the coach but other than for a minor incident in the underpass, it was all very calm. I was impressed to see that after a hard day's drinking, everyone made it back to the coach in good time and we were on our way back shortly after midnight.
The journey back was far from smooth. Firstly, some lads asked our driver, Elvis, to stop somewhere so that they could stock up on lager. He pulled over at what looked like a small shop on the highway, several miles from anywhere. We all piled off the coach and headed for the building. On opening the door, it turned out to be a small bar absolutely packed with Belarusian skinheads. They looked up, clocked us but just returned to drowning their sorrows. We didn't push our luck and simply retreated to the coach although one person went missing a returned five minutes later with some drinks.
About fifteen minutes from the border there had been a large accident on the road involving a minibus of English fans. We had spare seats on our coach so we pulled over to let them on. It turned out that they had been driving back to Vilnius when a car sped towards them along the wrong side of the road. They were all ok but the bus was badly damaged and the other car was upside down in a ditch. The car driver was in a bad way but stunk of booze and was only concerned that the police were not called. We took all bar two of the lads with us but had to leave the driver and a friend to wait for the police so that they could sort out the insurance on the minibus. I'm pleased to report that they all eventually got back OK.
The border crossing was much easier on the way back. We didn't need to get out this time; they just came on board, took our passports away for half an hour and brought them back fully processed. The highlight of this was the lovely girl who came on board to collect the passports. Based upon the reaction she got, I think some of the lads must have had a bit of a uniform fetish.
We finally got back to Vilnius about 4am giving us a good two hours to sleep before we needed to get up for the coach back to Kaunas airport. Luckily we had managed to blag our way onto a coach that Matt had organised which had a couple of spare seats. It had been a very busy few days and I felt as if we had never stopped travelling but we'd come away with a fantastic result and had a great experience. It is a shame that there are no more away qualifiers until Kazakhstan next June but we've only got a month to wait for the Germany friendly in Berlin.
For some more photos from the trip, please click here
---
Last Updated on Saturday, 11 June 2011 20:57