Written by Mark W
Sunday, 16 November 2008 23:18
Northampton Town v Oldham Athletic – League One
Sixfields Stadium, Northampton
Saturday 15 November 2008, 15:00 K.O.
The omens were not good as Latics returned to league action at Northampton. It was over two months since we'd won on a Saturday and even longer since we'd achieved a victory away from Boundary Park. On top of that, we were facing the only team in the division who could still boast an unbeaten home record. Looking on the positive side, though, Lee Hughes was back from suspension and we'd managed to bring in Darren Byfield to provide a bit more firepower up front.
For the second Saturday in a row, I was designated driver. I was going down with Neil and as he lives on the way, it made more sense for me to drive down. We wanted to go early enough to be able to grab some food when we got there but in the end completely over compensated. Northampton must be one of the easiest grounds in the league to find and a clean run down meant that we were parked up by quarter to twelve.
Neither of us had bought tickets so we headed to the away ticket office (portacabin) but found it still locked up. Instead we went round to the home ticket office. After they checked that we hadn't sold all our tickets (that was always going to be a safe bet) they printed us some off. The ticket office had opened early to sell tickets for their FA Cup replay against Leeds. The bloke next to us in the queue was buying some of those and my intuition told me he might not be a regular at Sixfields. "Which door will I have to use" and "Shouldn't this ticket have numbers on it, you know, like 1,2,3,4" were my favourite quotes from him. I'm so glad he clarified what he meant by numbers!
We were forced to improvise a little so as to be able to get a photo of the flag outside the main entrance. Being so early there were only the two of us around (I don't think that numbers man would have been much assistance) and so with one person required to take the photo and two to hold the flag we had an issue. Luckily a handily placed lamppost came to our assistance.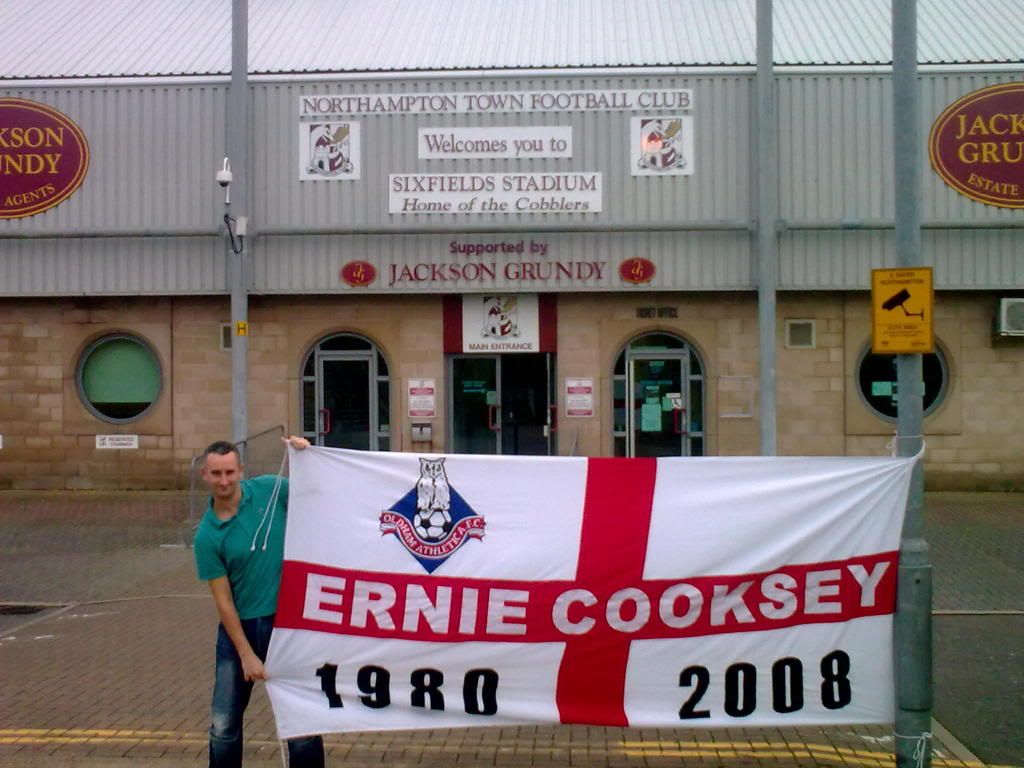 Traditionally trips to Sixfields include lunch at Frankie & Benny's. Our record on these trips isn't too bad, so we were not going to risk breaking such a tradition. Within minutes of ordering the beers Margaret and Terry arrived. Clearly they are all too aware of superstition too so we invited them to join us. I prefer to go to more of a traditional pub pre match but that's not always possible with the new grounds that have been built out of town and they were serving Estrella Damm so it wasn't a disaster. Even better, when we came to pay for the meal it turned out that there had been an unadvertised special offer with all drinks for the over 60s being free! We didn't argue with the bill and moved on to TGI Fridays where experience suggested that most Latics fans would gather.
After an hour or so of drinking coke… the joys of driving… I couldn't take it any longer and we headed down to the ground. As is customary, I was stopped by a steward as we queued to get in. Upon asking to search my bag, I passed it to him. "Oh no", came the reply, "I'm not allowed to open it, that's against the rules". I opened it for him and upon catching sight of the flag he asked, "Is that the flag for the player who died?" He then proceeded to explain to me that a section of seats had been specially reserved and he pointed out where I should tie it. Now, that's the kind of service I could get used to.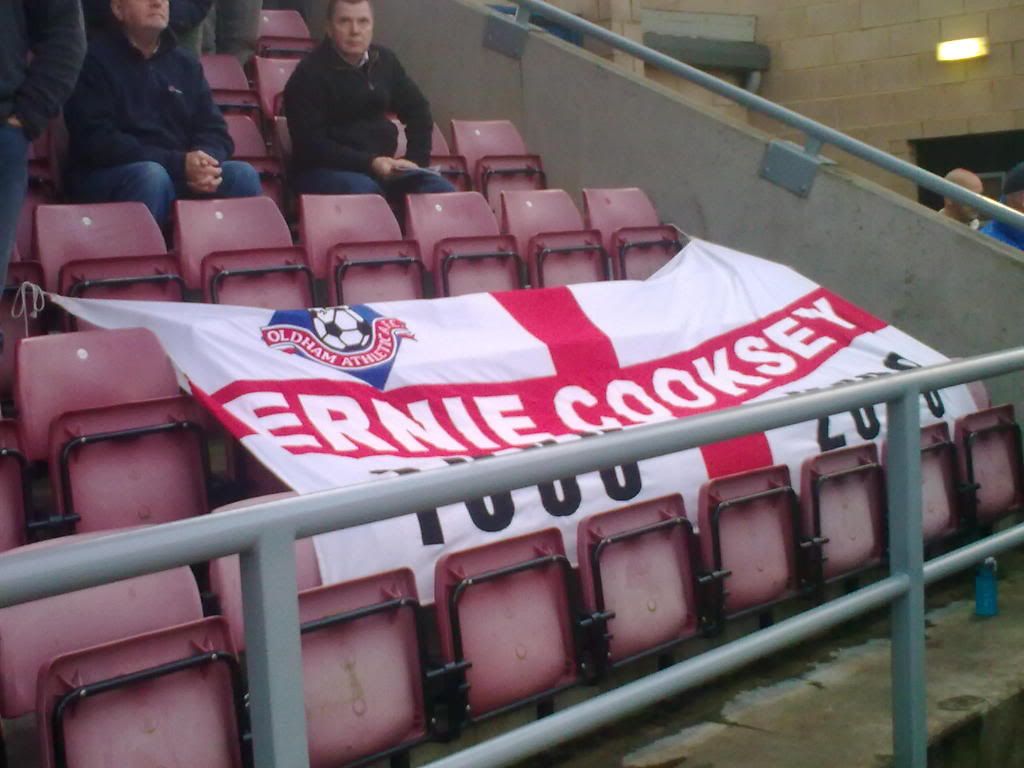 I was amazed by the turnout in the away end. I'd been expecting three or four hundred at best based upon our form going into the game. Instead, there must have been a good six hundred. It was also great to hear that there were a few different pockets of 'singers' which made for a decent atmosphere.
Shez had wrung the changes. Maher was in for Gregan, Byfield and Hughes started up front and Deane Smalley was given the job of right winger. These looked like positive moves as we tried to improve our patchy form of recent weeks. Gregan had been looking like his mind was elsewhere in the last couple of games and while Lewis Alessandra had been fantastic in the Scunthorpe home game, there was little doubt that this new look strikeforece promised a greater goal threat.
The first 45 minutes were about as far removed as you could imagine from the first half last week at Cheltenham. We dominated the game for long periods. The football might not have been the prettiest but when we did start to play, we carved open the Cobblers' defence. Hughes looked hungry and was exceedingly unlucky not to score. Twice, great moves led to Hughes being put through one on one with the 'keeper. Twice he found the back of the net and twice the linesman's flag went up for offside. I have no idea whether these goals were offside or not as it was impossible to tell from behind the goal. Whether the decisions were right or not, Hughes must have been cursing his luck. In his barren spell, which dates back over a month, he has had four or five goals ruled off by the tightest of margins.
The frustration from Hughes finally came to the fore late in the half. He felt that he had won a corner, only to see the linesman signal for a goal kick. Hughes belted the ball in the general direction of the official and nobody could argue when the ref pulled out the yellow card. If anything he should have counted himself lucky as if the ball had struck the linesman, no doubt the card would have been of a different colour.
Still Hughes' involvement in the game had not finished for the half as injury time brought about a chance that he looked like he was going to bury. The ball fell to him with his back to goal but he managed to turn and squeeze a shot it. From where we were sat, we watched it smash against the post and away to safety. Despite most of the key moments involving our number nine, that was far from the full story. The player of the half was undoubtedly Chris Taylor. At times he seemed to stroll past his marker at will and with a little bit of luck could easily have had a couple of goals himself.
After an eventful but ultimately fruitless first half I was fearing the worst. It isn't often that you can miss so many chances and keep creating more.
Sure enough, the second half was much more even than the first. The football became increasingly direct but we were still creating chances. Byfield was looking like he offered us a real threat up front and had a couple of half chances in the early part of the second period. Taylor was also still having a lot of success down the left wing. Unlike the first half, though, Northampton were looking quite dangerous too. When Constatine broke free, it looked like our former loanee would make us pay for those missed chances but a lack of composure saw him shoot high and wide.
It was difficult to see what was happening at the other end of the pitch. The floodlights were not too powerful and the Northampton players were very difficult to pick out in their dark shirts. Luckily we were in our day-glow kit so there was no problem spotting them. If we were struggling to see, though, I don't know how those on the hill behind the home end must have been getting on. There aren't many grounds left where you can still watch the game for free but if you are happy to only see about half the pitch, Northampton is one of them.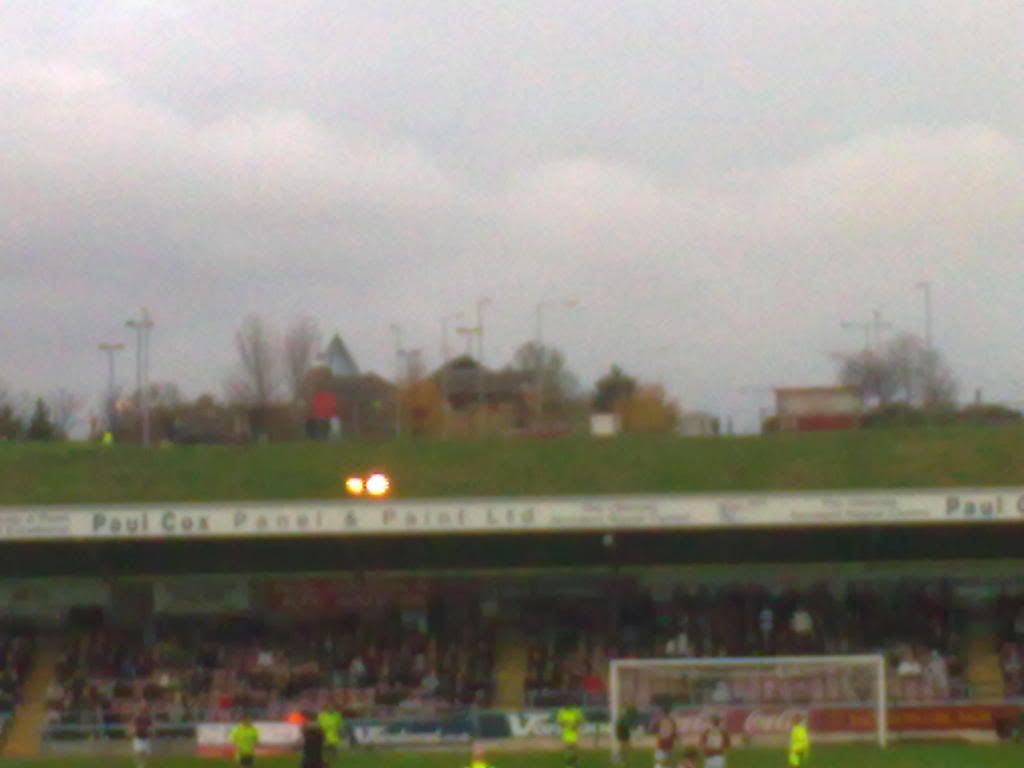 With the game in its final quarter, the breakthrough finally came. Hughes, who had been suffering dogs abuse from the home faithful, broke into the block and as he steadied himself to shoot was hacked to the floor. It is not often that you see a penalty given without the hint of an appeal from the defending side but I don't think any of them would have had the gall to complain about this one. Andy Liddell stepped up and maintained his 100% penalty record with Latics. The away end erupted and Mark Crossley danced for joy.
With a few minutes of normal time left I saw something that I can't ever remember seeing before at a game. The home keeper joined the attack for a corner. Of course, I have seen that before deep into stoppage time, but after 87 minutes? The corner was headed away for another one and I assume the home manager must have been as shocked as me because before the second corner was taken, the keeper was seen scurrying back to his own goal rather sheepishly.
Unfortunately the game finished on a sour note. There had been a few shouts for Lee Hughes to be taken off late on as he was looking likely to get himself sent off. The referee also looked like he was looking for any excuse to do so. Sure enough, into injury time, the red card was brandished. It was an innocuous foul which never warranted a card but the referee was in no doubt. Hughes was disgusted and for at least a minute refused to leave the pitch. I will give him the benefit of the doubt and say that he may not have been fully aware that he'd been sent off as the ref had shown the card from a long way away from the player and never spoke to him. That said, it was not a pleasant thing to witness and eventually Tommy Wright had to drag him from the pitch.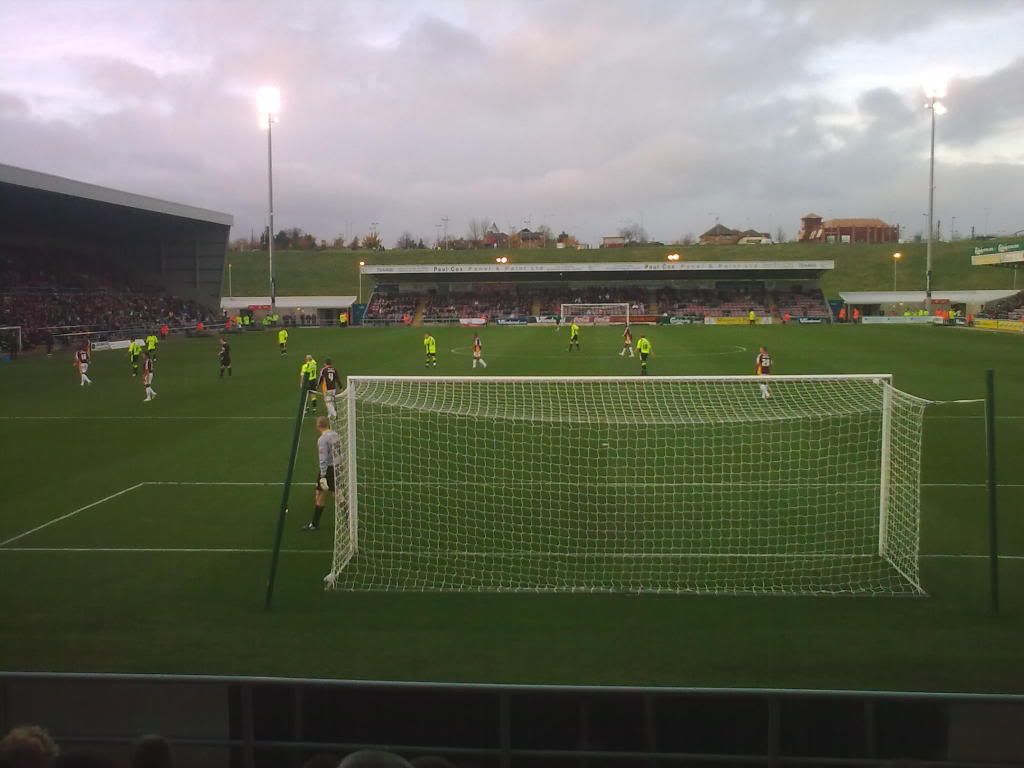 Despite this, Latics held on and we had finally returned to winning ways away from home.
In the first half, one of the Northampton players had slipped and a guy behind me shouted "He fell over" to which his young son immediately added "In Barcelona". It was one of the more bizarre things I had heard at a game but I'm sure it meant something to him. This hadn't exactly been like watching Barcelona today but we'll take it and hopefully, that will come with time.
---
Last Updated on Saturday, 11 June 2011 20:55