Written by Mark W
Friday, 21 November 2008 22:35
Germany v England – International Friendly
Olympic Stadium, Berlin
Wednesday 19 November 2008, 21:00 K.O. (local time)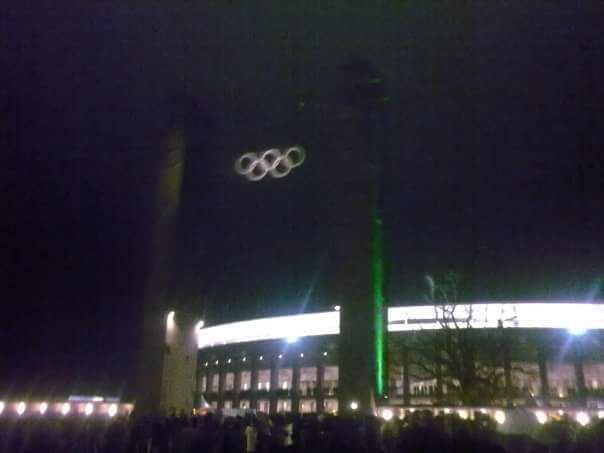 In an ideal world, I'd have quite fancied three or four nights in Berlin but unfortunately, with just a month of the calendar year left, I knew that I wouldn't have the holidays left to take that long off work. When the Germany fixture was announced, therefore, Neil and I scoured the internet and found some Swiss Air flights which gave us one night in the German capital. For some reason, Swiss tend to come out as the best available flights on a ridiculously regular basis when watching England and you can always rest assured that they will be full of English fans.
My spirits were dampened by the drab Oldham performance the previous night as we'd suffered expulsion from this season's FA Cup at the hands of Cheltenham. That wasn't going to stop me having a good time on my first ever visit to Germany though. I'd put up with the usual nonsense about "Why do you watch England", "What a waste of time and money" in the run up to the game, only heightened by the news that most of the senior players had pulled out through apparent injury. The signs were not good but this was only a friendly so the result wasn't ever going to be the be all and end all.
After dumping the car at Neil's we were kindly dropped at the Airport by Nia and after checking in retired to the Bar. It was almost 7am so the first beer of the day was long overdue. Just to complete the healthy start to the day I soaked it up with a bacon cheeseburger. Ah well, bacon is clearly a breakfast item.
The two hour flight to Zurich was largely populated by business men off to their vital morning meetings and I think most were completely confused by the forty or so England fans in their midst. Upon arriving in Zurich at a similar time to the flights from Birmingham and London, though, our numbers swelled and once we got through security and towards our gate for the connection to Berlin it was clear that the next flight would be more English.
We just had time for a quick lager at the airport and it was time to board. Sure enough, once on the plane there was no doubt that 90% of the passengers were off to the game. This was just a short hop of about an hour and as we decended it looked like we would be in Berlin ahead of schedule. The TV screens were showing our altitude and as we hit 80m from the tarmac we suddenly shot up steeply. Within seconds we were back at 500m and climbing fast. The pilot came over the radio to explain that this was 'standard procedure' and that nobody should panic. Looking around, I don't think anyone was panicking but this certainly wasn't standard procedure. As we reached cruising altitude he returned to the radio and explained that the aircraft in front of us had failed to clear the runway in time.
Once we'd finally landed, we cleared customs and as we had no baggage headed out to find a bus into town. All transport was free with a match ticket and after we'd worked out which headed into the centre of Berlin we had a half hour ride to a u-bahn station from where we could get the underground to the hotel.
After dumping our bags we set out to find Mark C who was with Peter and Irene at a bar/restaurant right in the city centre. By the time we got there it was almost five o'clock and we were in need of some refreshment. It was just my third drink of the day and they had come in three different countries. I'm a big fan of German beer but this was the first time I'd tried 'Berliner'. I wasn't to be disappointed. We decided that as we would need to head up to the ground by half seven, we would stick it out in this bar and so we asked for some menus.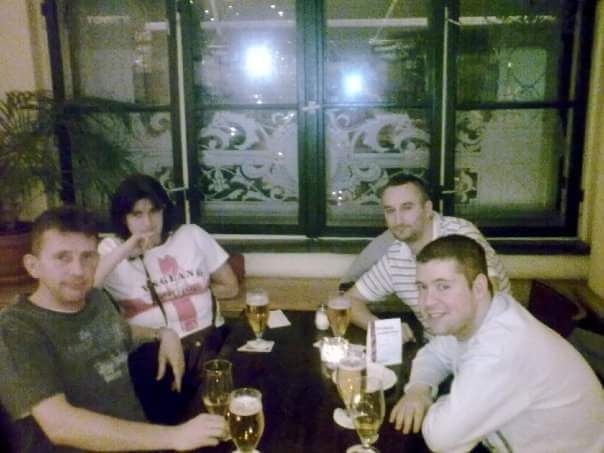 I was surprised to find that I still remembered some of my German at school so I was happy to try my luck with the German menu. Unfortunately the waitress wasn't having any of it and she quickly replaced it with an English version. It amazes me sometimes how literal some of these translations can be. I think we all know what Wiener Schnitzel is but for some reason they felt the need to put this on the menu as 'Sliced calf'. I'm sure that'd be enough to turn some people veggie but it sounded good to me.
We decided to try and get a photo of the waitress with the flag before we headed back to the u-bahn but she was having none of it. I can't possibly imagine what might have frightened her off but as we started to take the flag out and switch on our cameras, she darted for the other end of the restaurant. Strange but true.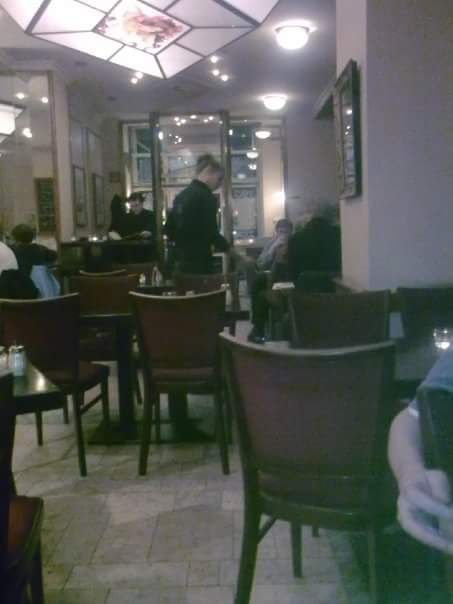 Boris Johnson should take note that the German's appreciate that it is a perfectly reasonable request to have a beer while on the underground. In fact, they sell exceedingly strong lager in rather large bottles at each station. Obviously, being in someone else's country it would be highly impolite not to immerse yourself in their culture so we decided that it would be rude not to have one for the journey.
We got on a carriage that was fairly quiet. There were a couple of German lads drinking from a bottle of coke. I suspect from the deranged giggling from them that the bottle may not have just contained Coke. As the train pulled into another station, the engine suddenly went quiet and we sat there for a couple of minutes. Finally an announcement was made in German. My language skills did not stretch that far and so we asked our 'giggling friends' what was happening. "People are punching each other in the other carriage" was the 'matter of fact' response. Fair enough, I thought, I was just glad we'd chosen this one.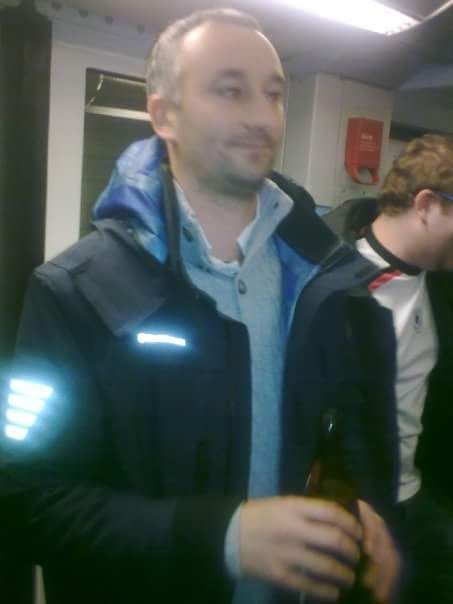 It must have been something of nothing as a minute or so later we were back on our way. The next stop saw the carriage fill up with English and it was time for a few songs. The German's get a bad press over their sense of humour but I think it is completely unwarranted as is shown by just how much they appear to enjoy the "10 German bombers song". This, along with the National Anthem and "5-1, Even Heskey scored" rung out for the rest of the journey.
Once we got out of the station at the stadium, I got separated from Neil, Mark and Peter so made my way up alone. This created problems with regards to a flag photo outside the ground but luckily I found a couple of English guys who were happy to give me a hand. It's not the best picture as the wind was gusting and there was very little light but it keeps up the tradition.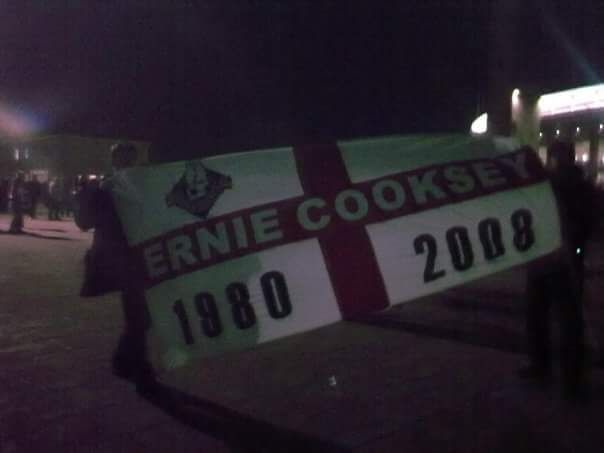 The Germans are famed for their organisational skills but as I queued to enter the Olympic Stadium, I couldn't help wondering why. It was unclear which gate to use and when I got inside the perimeter fence, I asked a steward for directions. Upon following them I found myself in the upper tier of the ground in an area occupied by Germans (no, it wasn't Poland!). I quickly decided that this couldn't be right and made my way round to the opposite end of the ground. Eventually I found my way in, just in time for the anthems.
Both sets of fans belted out their own anthem and booed the opposition's. I know a lot of people find this offensive but I can't say it is something that bothers me. As long as I am able to sing our anthem it isn't a problem if the home fans are booing it. The atmosphere was buzzing and it was wonderful to see that the whole ground was packed. It isn't often that happens in friendlies except when England are playing.
The match itself was superb. England dominated from the off. It was clear within minutes that the German's didn't know what to do with the pace provided by Agbonlahor and Defoe up front. It was no surprise when we took the lead on 24 minutes as a corner from Stuart Downing was eventually bundled over the line by Matt Upson. The visiting fans erupted. We were beating Germany in their own back yard. Germany don't lose many games and they certainly don't in Berlin.
Despite a couple of half chances for the German's we continued to play by far the better football and but for the linesman's flag, Agbonlahor would have made it two nil before the break. When the whistle came, the joy at the scoreline was tempered slightly by the knowledge that we should really already have had the game wrapped up.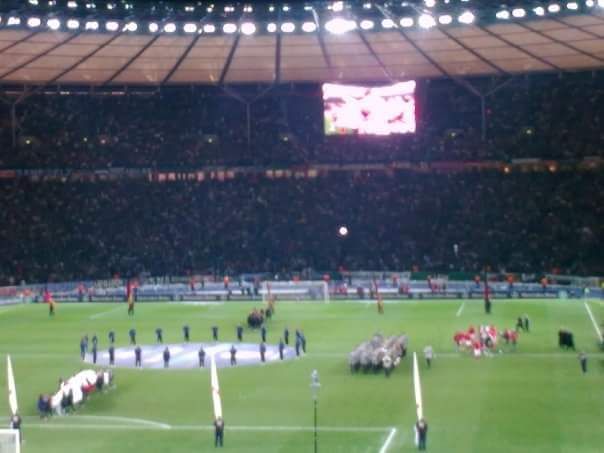 The second half saw the introduction of Darren Bent and Scott Carson who would both be involved in the two minute period that got the Germans back on level terms. We started as we'd left off and when Bent ran through the defence on the hour mark, it looked for all the world like we were going to double our advantage. The defenders couldn't touch him and with composure he rounded the keeper, only to slice his shot wide of the goal. Within a couple of minutes it looked like we'd blown it. A routine situation turned into disaster as John Terry and Carson looked at each other as a German striker nipped between them, knocked the ball through Carson's legs before sliding it home for the equaliser.
I was expecting our heads to go down now if I'm being honest but that couldn't be further from what happened. We stepped up the pressure and began to batter them again. Agbonlahor and Downing had decent efforts while Shaun Wright-Phillips hit the post. With five minutes left, Downing swung a ball in and John Terry rose to power home. I don't know why but I was convinced that the referee was going to disallow it. He appeared to signal for something and I stood there motionless but then he started to run back to the centre circle and the emotion hit me as I realised that we had done it. We were going to win in Germany.
I appreciate that it was just a friendly and that the Germans were far from at their best but it has been a real pleasure watching England play in the last few months and winning a game like that is what it is all about.
After posing for a picture with the flag in the ground, I headed back into Berlin with Jazz and Alan. Whereas the organisation going into the stadium was shambolic, what happened after the match was fantastic. All England fans were shepherded to the S-Bahn where we had a short wait for a train. The German's were taken to the opposite end of the platform and half the carriages were filled with home fans and half with away.
I'd finally managed to get in contact with Peter and so had arranged to meet him and Neil in a bar by a station in town. This bar was fantastic. It was a stock market themed bar where the beer prices changed every seven minutes depending upon demand. One minute Berliner was cheaper than Paulaner and then it had changed round. The prices on different sized glasses of the same beer were also independent of each other so it was necessary to work out whether it was cheaper to drink half litres or litres.  The novelty wore off in the not so early hours so we eventually headed back to the hotel via Checkpoint Charlie.
We only had a couple of hours the next day so I did a bit of the touristy stuff but that was curtailed by news of a fire at the airport which we decided mean that we should head up there in plenty of time.  Berlin was a good city with some nice people. When I get home from an England game, the first question people ask is always the same, "How was the trip". The standard response was always, "a great trip ruined by 90 minutes of football". It's nice at the moment when that sentence can stop after three words.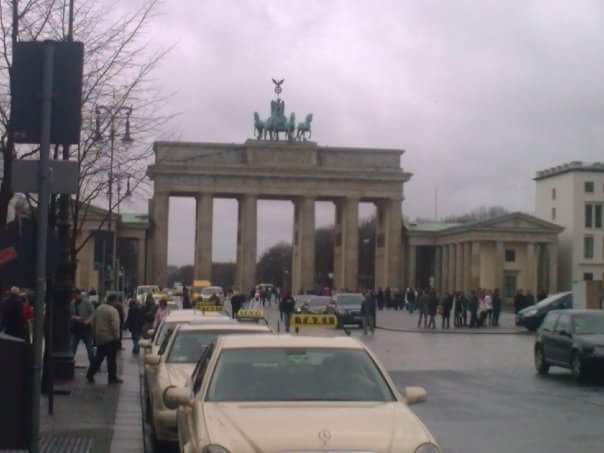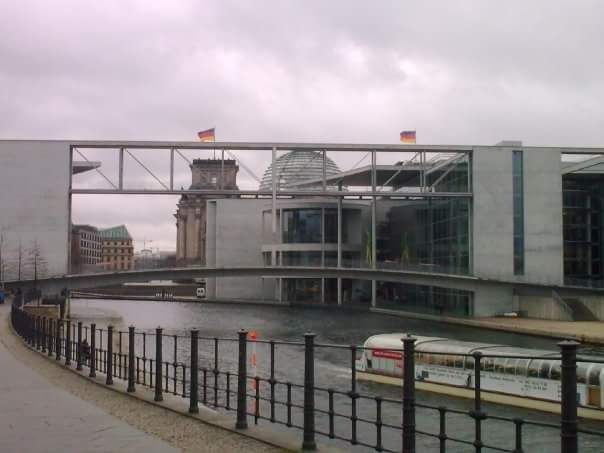 ---
Last Updated on Monday, 02 February 2015 12:24