Written by Mark W
Sunday, 04 January 2009 19:17
Huddersfield Town v Oldham Athletic – League One
Galpharm Stadium, Huddersfield
Saturday 3 January 2009, 15:00 K.O.
Having missed the last three games while on holiday, I was looking forward to the trip over the Pennines to face Huddersfield with renewed enthusiasm. This is always one of the highlights of the season, with a large following all but guaranteed, the Lancashire-Yorkshire rivalry and the added incentive that my boss is a Huddersfield fan.
The build up to the game was somewhat overshadowed by rumours about who would be leaving the club during the, now-open, transfer window, and also a bit of a farce regarding the ticket situation for the match. As is usually the case at this time of year, there were numerous confirmed reports that players were leaving, or had even gone. Both Lee Hughes and Chris Taylor have apparently signed for about five teams each. The ticketing confusion surrounded whether or not the game was all ticket. Latics were reporting that it was, whereas Huddersfield announced on the Friday that there would be 'pay on the day'. I say announced but in reality, they told a few people over the phone but refused to confirm in officially.
When I was picked up by Nia just after twelve, Neil, Mike and Rachel were already in and so we headed straight to the motorway. It's usually a straight forward drive along the M62 but a bit awkward dropping down towards the ground as the roads round there tend to be permanently clogged up. On this occasion, however, we must have struck lucky as we had a clear run, resulting in us making it before half past.
In recent years, we have always gone for a pre-match drink or three in the 'Gas Club' by the ground and so we decided that this would be as good a place as anywhere to park up. Mike, Rachel and I decided to head to the ground to take a couple of photos while Neil and Nia would straight into the club which was already looking busy with a sizable queue forming outside.
It seems that the Galpharm is one of those grounds without a proper 'welcome' sign for us to use as the backdrop to the photo. Instead, we had to make do with the sign which pronounced Huddersfield Town as the Family Club of The Year. I'm not sure what they had to do to achieve this accolade but I'd guess that charging everyone two and six for a season ticket probably didn't do them any harm.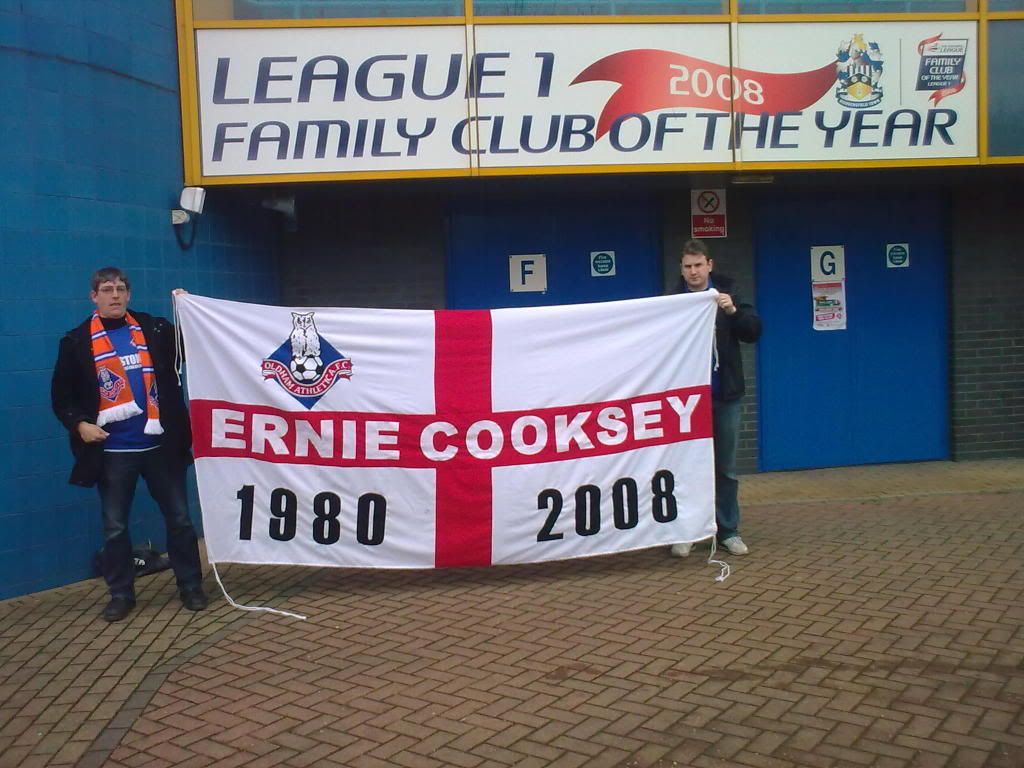 The news as we headed back to the club was not good. Neil text me to let me know that it was full and we'd need to find an alternative spot. I suggested the Market Tavern where I have drunk previously and we headed in that direction. On the way we passed a teenage lad on his pushbike who took the opportunity to abuse us. I assumed that he must be a Terrier as he started shouting "Oldham who" at us (clearly he was a bright soul) but then he let his colours slip. "It's all about Leeds" he started shouting over and over again. Well, quite!
The Market Tavern was pretty busy but we had no problems getting in. It looked a friendly enough pub with Latics and Huddersfield fans happily playing pool with each other. The bar staff, on the other hand, looked like extra's from Shameless. I certainly wouldn't have fancied my chances in an arm-wrestling contest with the one that served us. I always imagine that pubs round grounds look at the fixture list and so will be fully prepared when there's a big away following. I am also always surprised and disappointed. Rachel was on diet Coke and when that was ordered, a plastic bottle with about an inch of Coke was produced from behind the counter. "That's all we've got!"
We'd all been planning on eating in the Gas Club and so were forced to brave the burgers that were being served through a small hatch in the pub. They weren't of the quality I'd got used to on my cruise but they did the job…just.
About half-one, Mike returned to the bar to be told that they had run out of beer. Never has the term 'piss up in a brewery' been more apt. The lads near us who were drinking some vile looking substance consisting of half a pint of Stella and a blue WKD were going to have to make that last and we decided that the best bet would be to go to the ground as we knew that Carlsberg was available in the away end (The Pink Stand!?!).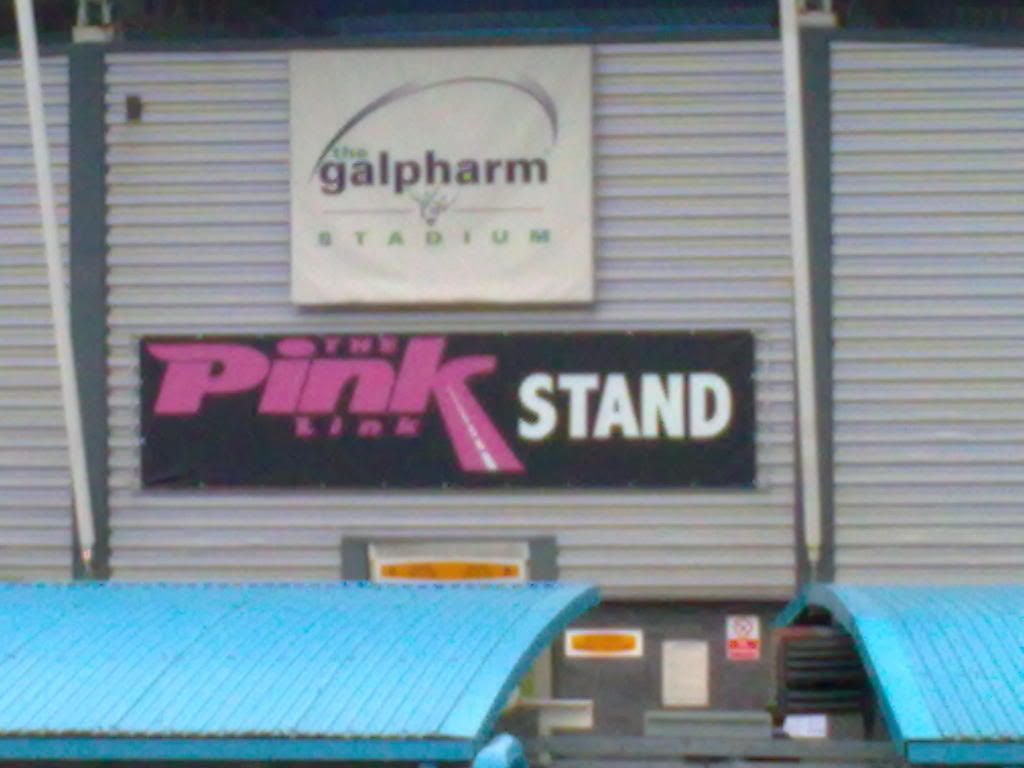 This also gave us an opportunity to spread some New Year best wishes and for me to see my parents who have to turn up to the football to get to see anything of me these days. I very nearly went to put a bet on. Nia had emptied out her pockets in the pub and found an old betting slip. Neil took one look at it and said "that's not going to do you any good today, there's no way Allott's going to score the first goal". It had to be a sign but there was a long queue and superstitious betting never pays off.
By kick-off, it was obvious that not only was there the opportunity to pay on the day, several hundred had taken advantage of it. It was far from our highest following to the Galpharm but it was still impressive. The home support was also sizable but the stand opposite us, the impressively named 'Fantastic Stand' was fairly sparsely populated. I still can't believe that they sold over sixteen thousand season tickets through their discounted scheme, yet cannot regularly attract crowds over thirteen thousand.
The rumours were clearly not true as both Hughes and Taylor started and as the game got underway, the travelling faithful were in good voice. Two minutes in, disaster almost struck. A decent shot was well stopped by Flaming but the striker followed it in and hit the ball home. The linesman's flag was up before he even struck it though and the home supporters' celebrations were short lived. Things got much worse for Town a minute later when an attempted clearance fell straight to Mark Allott who hit an absolute screamer. To quote two Huddersfield fans I overheard as we later left the ground "the minute it left his foot it was only ever going one place". So much for betting based upon superstition!
That was the high point of the game. From then on, Huddersfield dominated, although they didn't create a great deal. I don't know whether we sat back because we were a goal up or whether they were just a lot better organised than us, but we couldn't get the ball off them and when we finally did, we just hammered it straight back to where it had come from. Gregan, however was superb and seemed to stop everything. Flaming didn't have too much to do but when he was called upon just before half time he pulled off a great save.
Half time was a welcome restbite and so, for all the concerns about how we were playing, we had a precious lead that would allow us to put a bit of distance between us and the chasing pack as all other league one games had been called off either due to FA Cup commitments of the icy conditions.
The highlight of half time was the announcement by the guy on the tannoy when introducing one of the competitors for their prize game of trying to kick a ball to the centre spot. "Look, he's bought the Centenary shirt, give him a round of applause." It doesn't take much to get a bit of recognition round there, does it?
The second half started a bit more brightly for us. We had a fair amount of possession in the opening five or ten minutes and looked just as likely to score a second as they did to get an equaliser. Sadly, that wasn't to last as Huddersfield once again started to boss the game. One key consequence of this was that some of our players were starting to look fatigued after spending so long chasing the ball. It came as no surprise when we conceded an equaliser. We were on a rare attack when we lost the ball, Huddersfield broke forward and there was nothing that Fleming could do as he was beaten by a good finish.
I hoped that this would be the jolt that we needed to start pressing forward, ourselves. Unfortunately, even the introduction of Craig Davies couldn't inspire us. We did threaten slightly more than we had done previously and could have snatched it late on when Hughes found himself with a free header but couldn't find the target. It wouldn't have been deserved if we had nicked it at the end but it would have been some reward for the fans who made a superb atmosphere throughout.
Some people amaze me. As I walked back to the car, a fight broke out just in front of me. This basically involved a bit of banter, followed by a couple of people taking it the wrong way and a few punches being thrown. It must take a unique individual though, to decide to throw a punch literally, ten yards in front of a police surveillance camera that is focussed directly on them. I hope they enjoyed the last game that they will see for a considerable period of time!
Just as we were hoping for a quick get away we faced disappointment. The car in front of us getting off the carpark pulled onto the main road and a 'community support officer' (I believe the term 'plastic copper' is not appropriate) stepped in front of us and held us back while every other car in the West Riding of Yorkshire went passed. Even when there was no traffic, she still wouldn't let us go. Eventually after about twenty minutes, she waved us out. She thanked us for our patience which I thought showed she had a sense of humour. The look on her face from my response confirmed that she didn't!
---
Last Updated on Saturday, 11 June 2011 21:00