Written by Mark W
Monday, 16 February 2009 14:28
Spain v England – International Friendly
Estadio Ramon Sanchez Pizjuan, Seville
Wednesday 11 February 2009, 22:00 K.O. (local time)
Well, I guess that most people are probably aware of roughly what went on when we took the flag to Seville, only to return empty handed. To say that this was the trip of nightmares would be an understatement but I'll try and treat this report as much like the others I've done as possible.
For several months, there had been uncertainty regarding the venue of the game. It was initially announced as Madrid, only for the FA to immediately state that they would not play there due to racist chanting the last time England played at the Bernabeu. Over the next few weeks, Seville and Valencia were mentioned but then the FA's stance over Madrid softened. At this point, we took the plunge and booked flights to Madrid. Inevitably, within another week or so, the venue was announced as Seville.
Neil, Rick and I flew out to Madrid on the Tuesday afternoon where we met up with Watford fan, Peter who was staying with us in our 'luxury hotel'.
We spent a very pleasant evening doing a bit of sightseeing along with a spot of Tapas and the odd glass of Spanish lager or Rioja. After watching the end of the England U21s in a bar, we decided to head back for a good night's sleep before our early train to Seville the next day.
This was the point that it all started to go horribly wrong. Rick and I decided to have one more beer near the hotel while the other two headed back. When we got back to the hotel room, though, they were nowhere to be seen. An hour later I got a call from Peter to explain that Neil's passport had been pick-pocketed.
A trip to the British Embassy in Madrid the following morning proved fruitless so we all got the train over to Seville, hopeful that a replacement passport could be obtained there.
We'd paid a king's ransom for the train but it showed just what quality of service can be provided. It was more like a plane with a video and excellent legroom. That said, after the disrupted night's sleep, I was just grateful for a bit of shut-eye.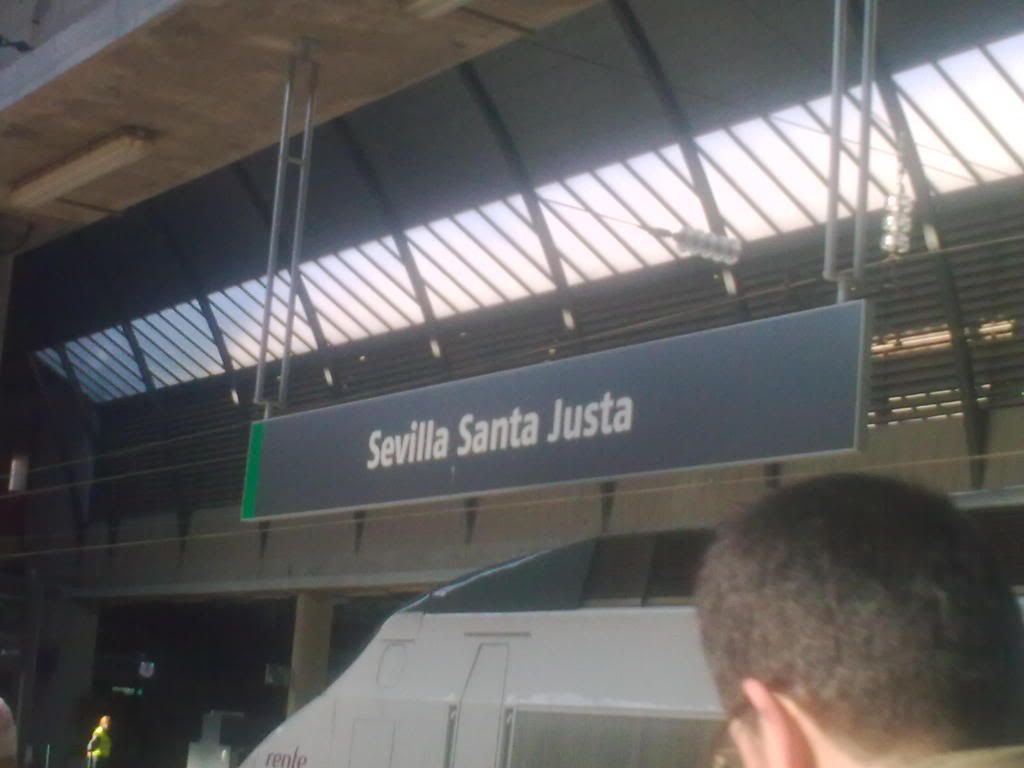 Upon arriving in Seville, we grabbed a taxi to take us to one of the main squares where, (1) We could sign in with the FA to prove that we had travelled, (2) Neil could speak to a member of the Football Supporters' Federation for advice regarding his passport situation and (3) we could meet up with Mark C who was just over in Seville for the day.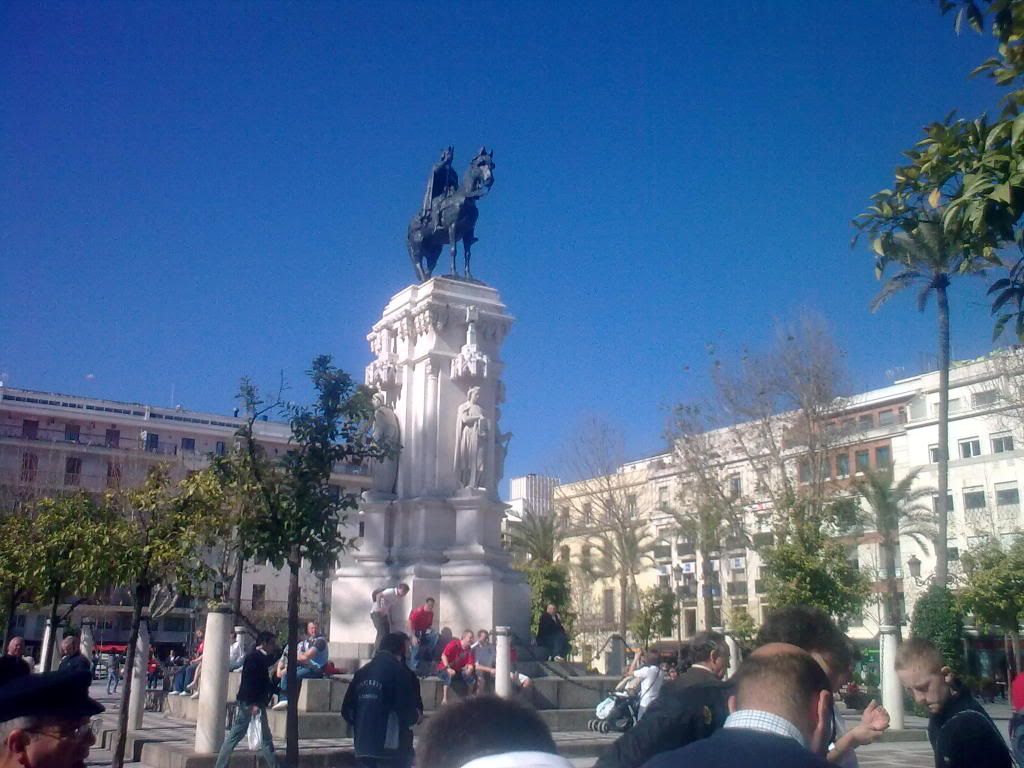 We sat and chatted with other fans we new from previous trips, while Neil contacted the English consulate, who was in Seville for the day from their base in Malaga. He eventually tracked them down and was told where to go and see them so that they could issue an emergency passport.
While he went on this mission, the rest of us went to find the hostel which would be our home for the night. I'm sure that you might be able to work out which was our room!
The weather in Seville was glorious, at least compared with what we have been used to recently so we abandoned our jackets and set out to explore a bit. The orange trees were amazing although I was surprised to hear that all the oranges in the city centre are treated to prevent the birds from eating them and so are not edible to humans either.
We eventually settled in a small bar not far from the centre of Seville but well away from the huge crowds of English where we met up with an Ex-pat who'd travelled from Malaga for the game. This was his first ever England game and we sat and talked to him about our experiences until Neil returned with his passport. As always, I was amazed at just how much interest he took in the story of Ernie and also by the number of people who asked me during the day whether I had got the flag with me. It is always pleasing ho hear that it is not just Latics fans to whom it means so much.
After going for a bite to eat and collecting our jackets as the evening was getting chilly, we headed up to the ground. It was a ten o'clock kick-off and I would guess that we probably arrived outside the ground about half an hour before then. We found a decent spot to take the photo of the flag and Neil took it while Rick, Mark C and I held it. As it didn't come out too well, I swapped with Neil so that I could take one with my phone.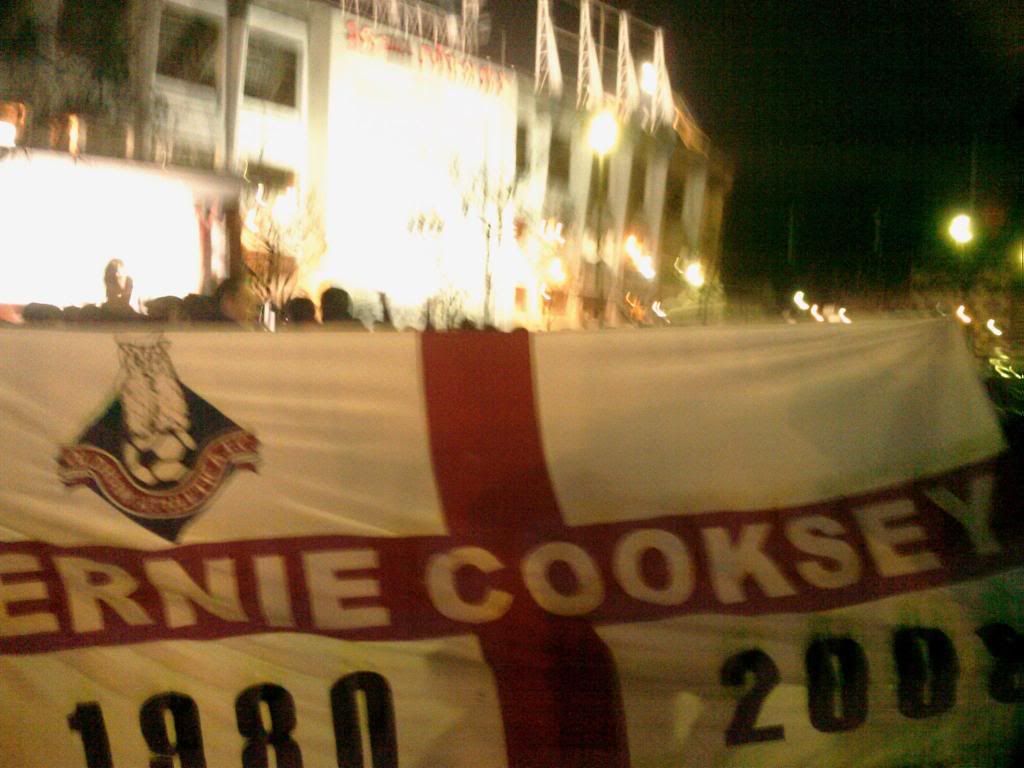 The next thing I knew, a group of Spanish 'fans' ran up to us and started trying to pull the flag away. We all hung on to it but after a moment, one threw a bottle at Rick and another one threw a punch at me. The bottle missed slightly but I was caught square on the jaw with the punch. My glasses were sent flying and I crashed to the floor. As the others picked me up, a kind Spaniard passed my glasses back to Neil. I didn't realise the damage that had been done to my jaw and was more concerned about what had happened to the flag but as the pain hit me, I realised that it could be replaced.
I went into the game with Neil and Rick but unfortunately my ticket had been lost, presumably as I hit the deck. Luckily, someone was able to pass me a ticket back through the turnstile and eventually I gained admission. Despite the fact that my face was covered in blood, it was disappointing that I was offered no medical assistance in the ground.
The match was disappointing but probably pretty much what I had been expecting. Spain are a very good side and on the day were far too good for England. I think that the Spain strikeforce of Torres and Villa, compared with the English pairing of Heskey and Agbonlahor probably summed up the difference in class.  We didn't play too badly though and I don't think a two goal defeat over there is anything to get too worried about. It has simply shown us the standard that we need to achieve if we are to become serious contenders in world football.
With about five minutes left, Rick and I headed back to our hotel as I didn't fancy leaving in the rush on the final whistle.
As if that wasn't enough excitement for the evening, Neil got a phone call about two in the morning from Mark C saying that he had missed his flight home and so he then made his way to our hostel. He's a happy go lucky kind of a guy though and last I heard he was still over there having the time of his life!
The train journey back to Madrid was a painful experience but I didn't fancy any time in a Spanish hospital so it had to be done. Neil, Peter and I decided to do the tour of the Bernabeu on the Thursday afternoon. This was something I'd been looking forward to as it is a ground I hadn't visited before but in the end, it just acted as something to take my mind off the pain in my jaw.
Upon returning to the UK, I decided to get myself checked out at A&E. I was expecting this to be a formality but instead found myself being transferred to a specialist facial unit at North Manchester General Hospital and missing Oldham's victory against Northampton as I was lying on an operating table under general anaesthetic at the time undergoing surgery on a broken jaw. I guess that's a better excuse than missing my plane though, isn't it Mr Corbett?
---
Last Updated on Saturday, 11 June 2011 21:03