Written by Mark W
Wednesday, 25 March 2009 19:12
Cheltenham Town v Oldham Athletic – League One
Whaddon Road, Cheltenham
Tuesday 24 March 2009, 19:45 K.O.  
I missed Joe Royle's last away game. Unfortunately, I was sat in the Queen Elizabeth Hall in Oldham at a school speech night as Latics bowed out of the league cup at Highbury. I don't like to miss two in a row so plans for the Cheltenham game had to change. Leaving MK Dons eleven days previously, I would have had anyone committed who suggested that I'd be arranging a half day off work to make my second trip of the season to Whaddon Road. A couple of days later, however, I'd booked the time off and arranged a lift.
After a morning's hard work, I headed home to get changed before Rick and Paul arrived for our journey south. The journey itself was uneventful although it did allow for some deep socio-economic discussions which can sometimes be lacking from these trips. That and the constant buzz of Rick's phone. If you were ever feeling a little insecure about the size of your circle of friends, I wouldn't suggest spending much time around him or you'll be suicidal by the end. He must have had twenty messages by the time we got off the M60.
The trip to Cheltenham in the cup earlier in the season had seen a group of us venture into the city centre to find a decent boozer but on this occasion, we only had a couple of hours to kill so we opted for the Cat and Fiddle by the ground. This isn't the most aesthetically pleasing pub in the world but it serves a purpose. I guess what it actually serves is beer but even that was nothing to write home about. Half the draught beers were off and the other half were as flat as Sporty Spice (hey, come on, we're still on Joe Royle early nineties nostalgia here).
It did, however have a pool table which gave us a little pre match entertainment. Eventually we were joined by a liberal splattering of other Latics fans including the Southern contingent of Mark S and Allan. The topic of conversation now turned to our upcoming television appearance on Soccer AM. I was able to join in with this topic enthusiastically but unfortunately within 24 hours, I'd pulled out through logistical issues. No doubt the other lads will do us proud though.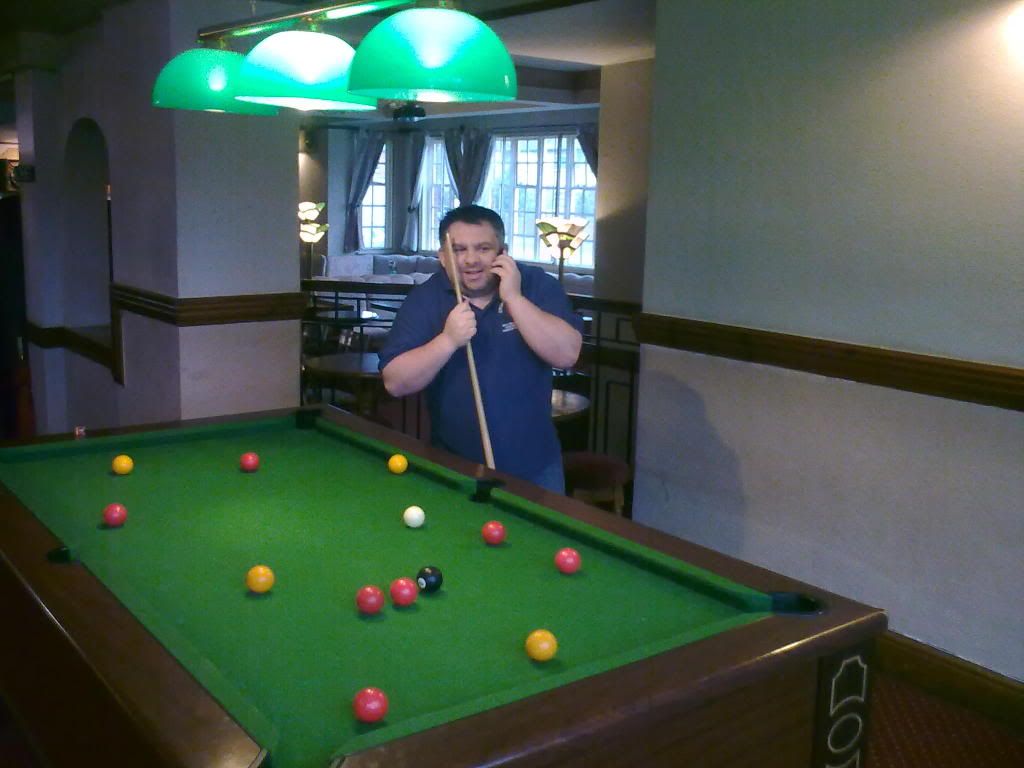 A trip to the chippy over the road proved rather unfulfilling and I needed to head back to the pub for another bottle of Becks to take the taste away. It soon reached half seven though and so it was time to head over to the ground to see if we could put Saturday's defeat behind us and try to turn around our dwindling play-off hopes.
As always, we needed a photo outside the ground. As it was the second trip to the stadium, I opted for a slight twist and took a photo below the sign advertising the game rather than the main entrance. A note to anyone doing the same for Cheltenham's game against Crewe: You might want to take a marker pen along with you because we saw the advert inside the ground and they appear to have missed an 'E' off Crew(e) Alexandra.
There was a surprisingly decent turn out when we got in the ground. Clearly the 'Royle factor' had taken some effect. Officially we had just under two hundred there but I thought there were a few more than that.
The team news seemed quite promising. We had reverted to 4-4-2 with Maher and Kabba back in the starting eleven along with Hazell and Lomax. I was full of confidence that this was a game that could be used as a springboard as we looked to launch an attack on those play-off places.
Unfortunately, as the game got underway, it soon became apparent that my optimism mightn't have been best placed. Cheltenham were bottom of the league but they had been on a great run and it appeared that even their injury and suspension problems were not going to stop them playing some decent football. While we struggled to make any real impact upon the game they were passing the ball around in a way completely alien to what you'd expect from a Martin Allen side.
It was no surprise when the Robins took the lead on the half hour. A fantastic passing move sliced open our defence and the guy they'd taken on loan just the day before made no mistake as he slid the ball past Supple.
The atmosphere hadn't been great but we'd had a bit of a sing-song and the Cheltenham fans to our right had made themselves heard. These lads had been great in the cup game coming up with some really unique songs. I guess that a long hard season had taken its toll as they had shrunk in numbers but they were still having a good go. They demonstrated just what I love about lower league English football, with real gallows humour. "Que Sera Sera" they sung, "Whatever will be, will be. We're going to Shrewsbury". Brilliant! It is because of fans like that that I hope they pull through their current problems.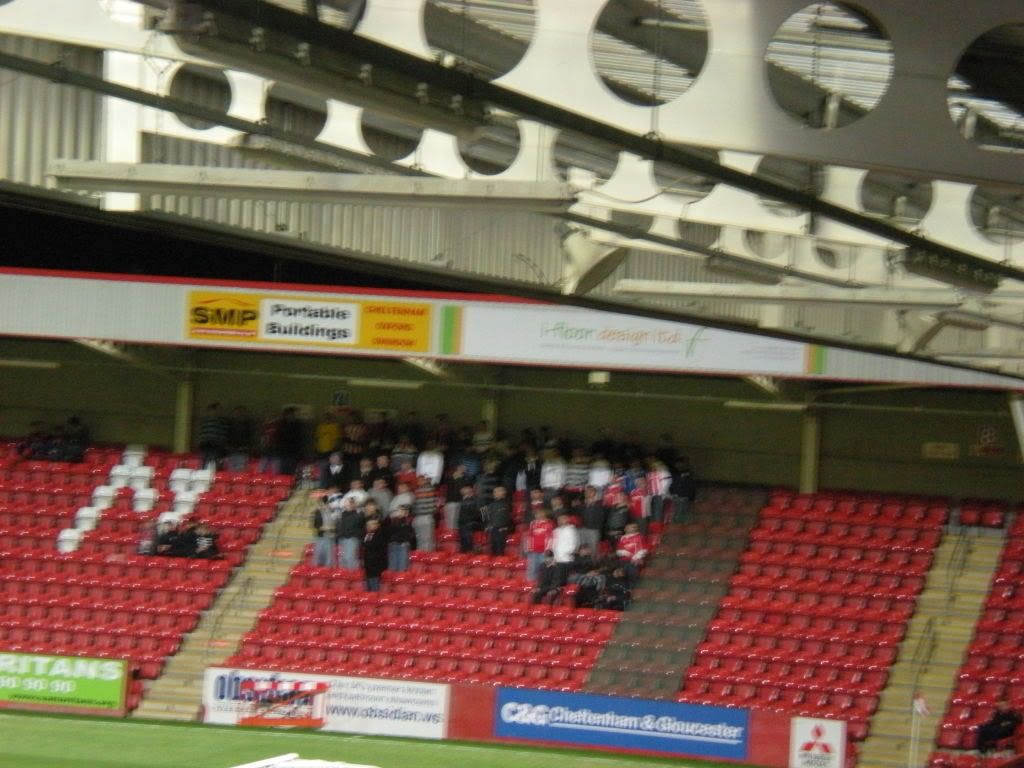 The goal killed the atmosphere in our end and lifted the home fans. By half time, I was starting to fear the worst. We'd created nothing and it was not looking at all good for either this game or our play-off aspirations. A couple of weeks back, the news that MK Dons were losing would have been greeted with cheers but it was irrelevant now.
The second half was much better than the first. We started to pass the ball around and although we were creating very little, it was a lot more like what we wanted to see. The introduction of Alessandra and Whitaker appeared to give us a new impetus and we had a couple of half chances. Once we brought on our new Portuguese winger, Fabio, the fans really had something to shout about. I really don't know what to make of him. He looked like Bambi on Ice at times but it kind of seemed to work. Within seconds of coming on, he had a chance with a header at the far post and other players started getting into the box more too.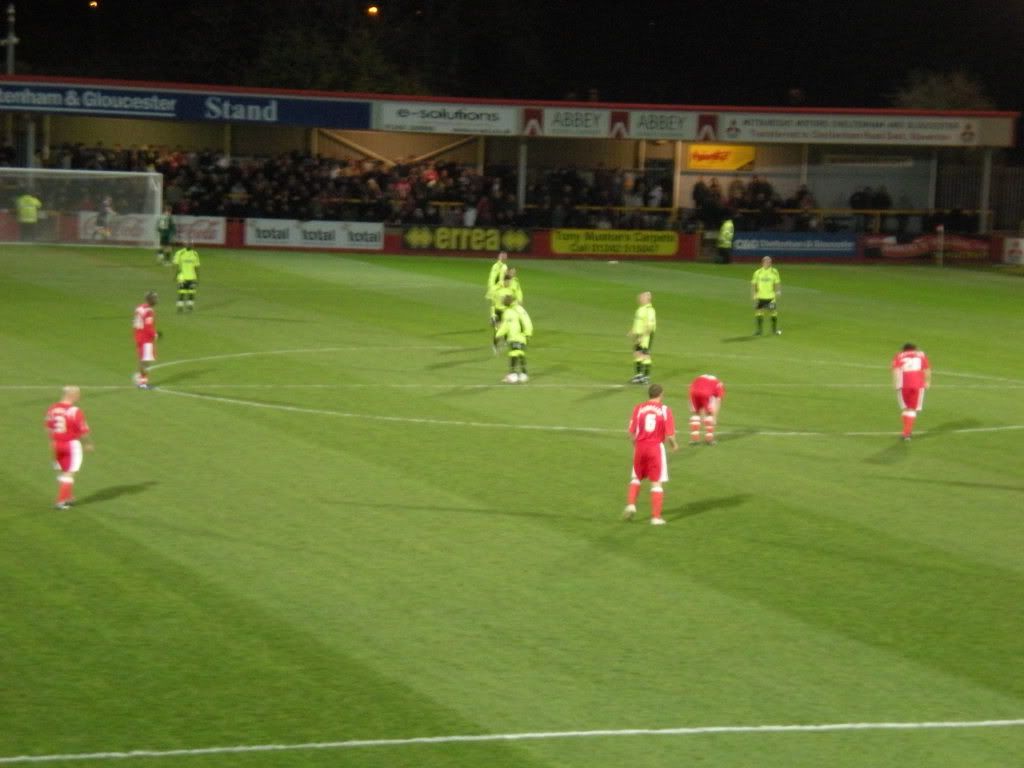 Mark Allott picked up a facial injury and at the insistence of our mate Martin Allen, was forced to change shirts on more than one occasion. Eventually he came out wearing one glove so that he could use it to soak up the blood. We also had a comedy moment as a player was receiving treatment and Danny Whittaker was stood ready to take a corner. For some reason, the linesman felt it was necessary to stand right over the ball to stop Whitaker kicking it. As the lino moved closer and closer to the ball, the fans started shouting at Whits to 'meg him. Eventually he decided to have a go and as he approached the ball, the lino put his foot on it and gave him a look that could kill. Sometimes, I think the officials need to remember that this is supposed to be a form of entertainment. I honestly think that has Danny touched the ball, he'd have probably been booked.
As we approached injury time, Mark and I headed over to the unused section of the stand to collect the flags. As I untied the flag, we launched a final attack. Allott was put through right by where I was stood and drew the keeper. He couldn't quite get a shot in but when he got to the by-line, he managed to square the ball where Whittaker struck it home. I was stood three rows back untying the flag. As Allot ran through, I stepped forward a row and as the ball him the back of the net I lept over the two remaining rows of seats. Half way there I had a sudden realisation that from a standing jump, I might not make it and I could just picture re-breaking my jaw but the adrenaline took me over. Allott ran to the advertising hoardings and grabbed hold of Mark and me. You could see just how much that goal meant to him and when Danny Jones came over and jumped on top of us, I was left in no doubt that they still believe they can make it.
It was difficult not to feel that we needed more than just the one point from this game but at the same time, the elation of a last minute equaliser is something special. As Paul said on the way home, last minute equalisers and last minute winners were always the Royle way. It's going to be difficult to make it from where we are but it's still not impossible… quite.
---
Last Updated on Saturday, 11 June 2011 21:07