Written by Mark W
Monday, 07 December 2009 07:15
Norwich City v Oldham Athletic - League One
Carrow Road, Norwich
Saturday 5 December 2009, 15:00 K.O.
Planning for the Norwich trip started a few weeks prior to the match, basically by accident. The FA Cup game against Leeds was moved to a 5.15 kick-off to suit the FA's new gimmick of showing matches on the internet which gave us extra drinking time beforehand. It was during this alcohol consumption that Mike, Rachel and myself started discussing the 'good old days' and the fun we used to have watching Latics. As we spoke about our favourite trips, we realised that it wasn't just about the quality of football we were watching, we actually used to just make a lot more of the day out. When Rachel said that we should have a game where we try to recreate the Premiership days, at least off the pitch, we laughed it off.
Several hours later, having seen yet another 'Oldham nil' performance, and continued the drinking for the late night boxing, it started to seem like a much more sensible suggestion. While we were never going to get a huge away following and the football was unlikely to inspire us, why shouldn't we nominate a game and try and have a bit of a party atmosphere? The game to choose was easy, Norwich would see us take a few hundred and it was happening while I was still in the country! Three hundred blue, white and tangerine balloons, a handful of beach balls and a bag of tickertape later, we were ready for the trip.
Norwich are one of the few teams that I really have nothing against. I can come up with a pretty good reason why I dislike most teams but the Canaries have always struck me as fairly harmless. The only slight problem with them, or to be honest, a bloody big problem, is that they are our angels of death. In my lifetime, Oldham have been relegated twice, in '94 and '97. In '94, the relegation was confirmed at Carrow Road while the relegation in '97 happened against Norwich at home. For this reason, I looked forward to this season's fixtures with dread and breathed a huge sigh of relief upon discovering we don't play them in the last five games.
As has been the way in this season's 'League One South', it was a nice early start. As I'd driven to Gillingham a couple of weeks previously, I was in the clear for this one with Mike picking me up about quarter to eight. For those unfamiliar with the route to Norwich, there is only one way to describe it – horrendous. The only bit of motor way is the M62, although the A1 is obviously not too bad. The problem is that once you come off the A1, you are nowhere near half way there. The remainder of the journey is along little A roads and if you get stuck behind a slow moving vehicle you are knackered.
Luckily Mike had learnt from my experience with the low sun on the way to Gillingham and was fully prepared.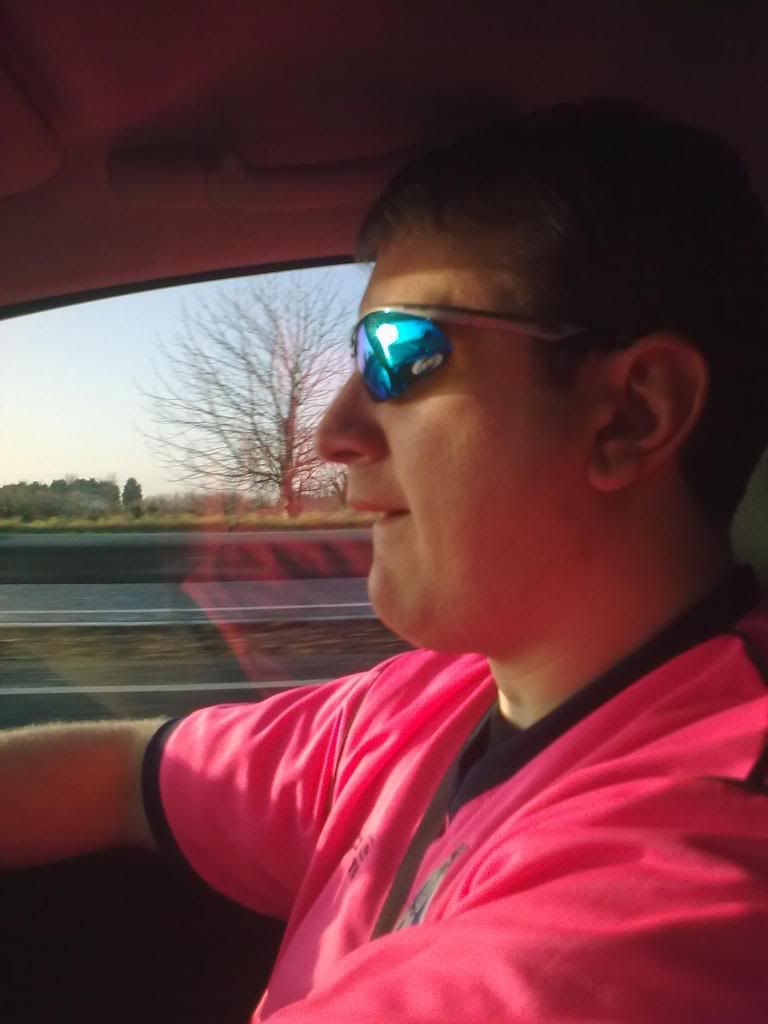 Other than for a good twenty minutes stuck behind a horse box, the journey to East Anglia was not too bad. The journey back in the dark, however, was. On the way down we did, at least, get to enjoy the scenery which makes a pleasant change from the normal motorways and we had a stop at one of the Little Chef's that Heston whatshisface hasn't yet turned into a culinary delight.
I'm not sure where it was, somewhere before we got to Kings Lynn. Those of you with kids might want to look it up as no doubt you will want to take them to see Santa (although he did look like he may have had one or two Sherries more than would have been sensible.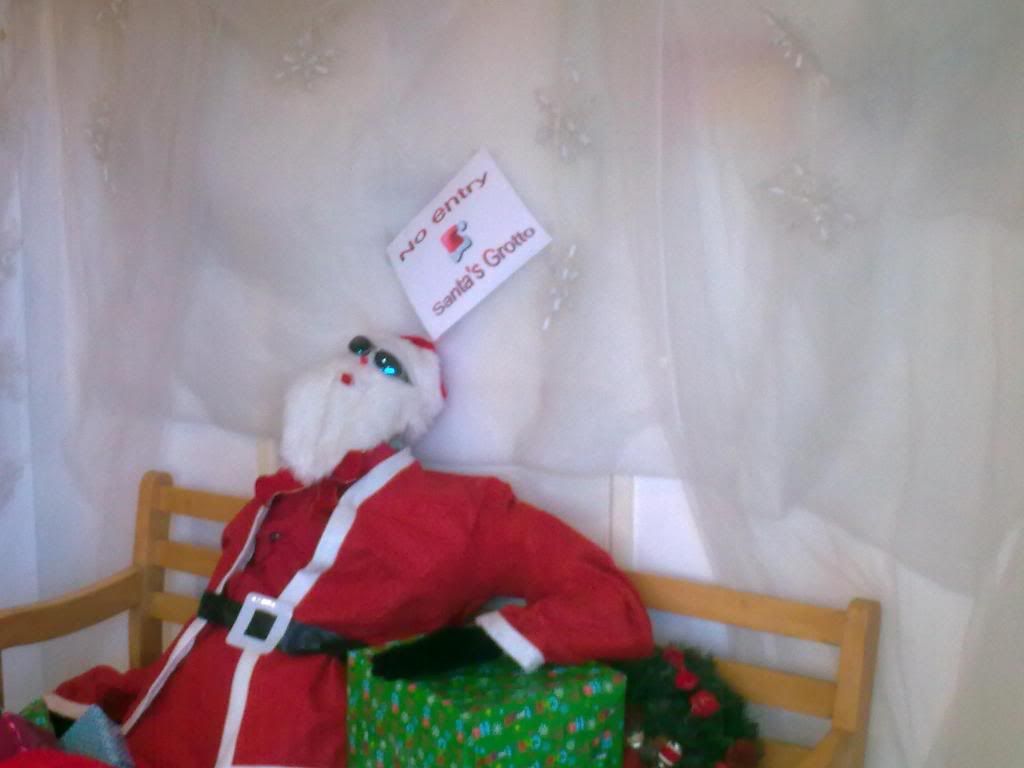 Upon arriving in Norwich, we found ourselves somewhere to park and came across the first ridiculously friendly and helpful local of the day. We had arranged to go to the Compleat (sic) Angler pub and so I asked the guy collecting money on the car park for directions. These directions were particularly detailed and as I thanked him, he called us back. He then proceeded to give additional directions for the best way from the pub to the ground. Again I thanked him and we started to move on. For the second time we were called back. He'd not given us the directions from the ground back to the car park yet. I must admit that by this point I just wanted a drink but you couldn't fault him for trying to help.
Most of you will be aware of Terry's record in pubs at away grounds and for those who aren't I would like to direct you to the Southend report last season and will simply say that there was an incident at Walsall (I appreciate that Walsall was my fault Terry, so don't feel the need to remind me). Clearly the Compleat Angler had heard he was coming because when we got there, it was all shut up.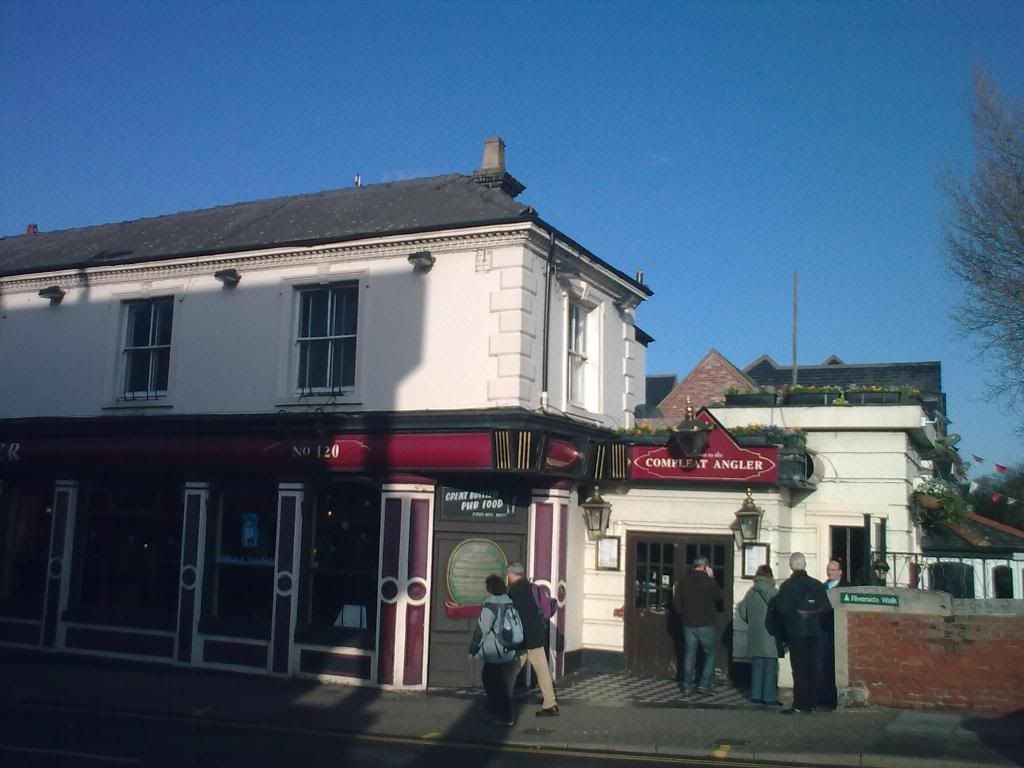 The Nelson opposite didn't look the best, a Brewers Fayre type place attached to the Premier Inn, but it did look like it might sell beer so we decided it was a suitable place to grab a bite to eat and wet our whistles while we contemplated the next move. The locals in the Nelson were also discussing the fact that the other pub was closed and so it was apparent that this was not simply a case of us arriving too early. We arranged to meet the others in the Coach and Horses after we'd finished our lunch.
The Coach and Horses was also full of exceedingly friendly locals who seemed pleased to see us and all had fond memories of previous meetings between the two sides. Of course they did, they weren't relegated, were they? More importantly, the Coach and Horses had Tiger Beer on draft. An unexpected bonus – though at a hefty price. Unfortunately, as we'd already eaten lunch, we missed out on the menu's most promising offering, the giant snorker on a bun. Surely a hot dog by any other name. The guys we were sat with listened with interest as Terry explained to them about the flag and Ernie and we also had lengthy discussions about Neil Adams and Craig Fleming.
Before we left the pub, we dished out some of our party goodies as we decided that we might struggle to get everything in to the ground if it was all in one bag. We needn't have worried as I soon realised that you could avoid being searched by simply approaching the away end from a different angle, thus completely by-passing the row of stewards outside.
Inside the ground it was a bit disappointing to discover that we had just been allocated a small strip of seats at the end of the stand. Not exactly conducive to beach balls and balloons! There was also only room for one flag, It's a good job we got in early.
I thought that when we started handing out the balloons for people to blow up, we were going to get some very funny looks, but everyone seemed to embrace it. We handed them out to everyone who was already in the stand and then to as many people as possible as they came in.  Soon balloons and beach balls were being punched around our section and amazingly, whenever some floated over to the Norwich fans, they just threw them back over. I told you that these were friendly farmers!
Everyone seemed to be enjoying themselves
When the teams came out, it looked great as th balloons and ticker tape were thrown into the air. I know this doesn't really add to the atmosphere in itself, but at least it felt a bit different. For the first time in weeks there were Latics fans who looked like they were having fun.
Unfortunately, then the game had to start. The atmosphere was good from our fans in the opening stages although I thought the home supporters were quite subdued considering the great run they had been on. It was fantastic to see a full stadium for once though. All that changed when Norwich took the lead. Poor defending allowed Grant Holt a simple header for his 19th goal of the campaign. How depressing a stat that was when you consider that we've scored 15 league goals in total so far. Ten minutes later it was game over when Wes Hoolihan scored a great goal from outside the box. This came as a great surprise as we'd assumed he had been arrested when we saw the 'Free Wes Hoolihan Poster' offer outside the ground before kick-off.
The party atmosphere had well and truly dissolved by half time with talk under the stand focussing on how many we'd end up conceding. There were people who'd got good odds on five or six nil who thought that their luck might be in. I don't think I heard anyone put forward an argument that we might manage to score one ourselves.
When the second half started, the gallows humour took over and the party was back in full swing. "Let's pretend we've scored a goal" was bellowed from the back of the stand and we erupted. This was followed by a chorus of "We're going up as ******* champions" and the Norwich fans looked bemused. I think it is probably fair to say that we acquitted ourselves slightly better in the second half but Norwich could easily have scored another couple and we never threatened their goal.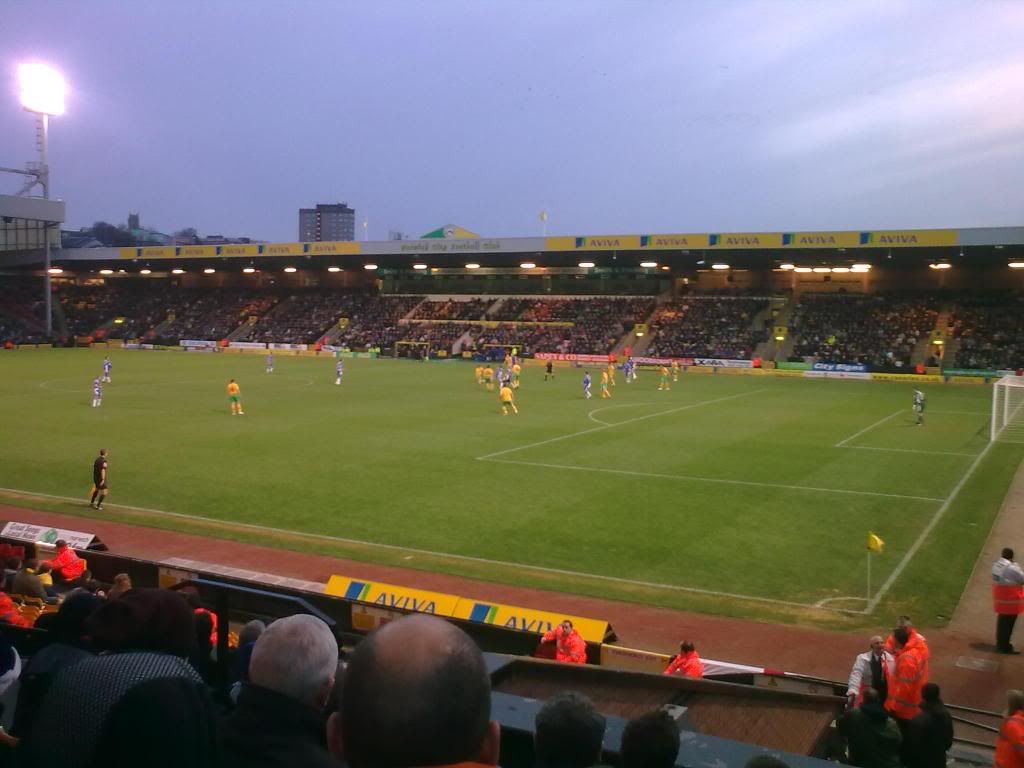 As the fans sung "We only want one shot", eventually one came. It was a scuff and it would never have threatened any keeper but it was a shot. Anyone watching the fans and not the game would have thought we'd just scored a goal to clinch the league title. Tickertape was being thrown as the fans celebrated and the Norwich fans stood and applauded as we began to sing "And now you're going to believe us, the blues are going up".
Looking on the bright side, we drew the second half. Although I'm not sure that it was exciting enough to lead to people watching it from their hotel rooms.
Anyone who reads this site on a regular basis will know that we try to keep it positive. There's no point going to games unless you are going to try and have a good time and we always try our best on that front. Despite this, we have to also keep it realistic and the football side isn't much fun when we've scored in one of our last seven games it's not easy to look on the bright side. It struck me that we take the flag in memory of Ernie to every game and I can't help but think that we wouldn't be in this situation if we had more players like him. That never say die attitude is just what we need. As soon as we go behind at the moment we look dead and buried because you can't see where a goal is coming from.
I've already mentioned that the journey back wasn't much fun. We made a mistake in believing the Sat Nav on the best way out of Norwich and ended up stuck in traffic for an hour trying to get round the ground. This was made even worse when we realised that the last half hour's delay was caused by the traffic all being stopped to allow the team coach out. Had they not done enough already to try and ruin our day?
I was glad that I wasn't driving as the weather turned and we found ourselves battling along seemingly never ending roads through the spray of other cars. A quick stop at the Golden Arches did little to brighten the mood and we finally made it home about fourteen and a half hours after we'd first set off. Was it worth it? The match? – certainly not. The day? – probably just.  Will we be there again next week? – you'd better believe it.
---
Last Updated on Saturday, 11 June 2011 21:13