Written by Mark W
Monday, 17 January 2011 22:17
Plymouth Argyle v Oldham Athletic – League One
Home Park, Plymouth
Saturday 15 January 2011
Nothing gets you more in the mood for making a ten hour round trip to a football match than watching your team get hammered six nil four days before but that was just what faced Latics fans.
The thrashing by Southampton came somewhat out of the blue. Our snow enforced five week mid-season break had clearly had a negative effect with both Hartlepool and Rochdale turning us over but the victory over Swindon suggested we were back on track. The problem was that Southampton were just too good for us. There's no doubt that we had a hell of an off-day, but it would have taken something really special to have claimed even a point against probably the best side I have seen in 14 years at this level. The big question, however was how we would bounce back and to find out meant embarking on the longest trip of the campaign.
Although we have played against Argyle a fair number of times in recent years, it was one ground I had never visited. I guess that I could always find something 'better' to do than make the journey. This time, however, I was determined to tick off another ground.
A 6.15 alarm woke me and I feared the worst as I could hear the rain bouncing off the bedroom window. Great, let's just make the journey even worse! My drive up to Hartlepool on New Year's Day meant that it was Mike's turn to drive which was a great result. He and Rachel were on time at seven o'clock and we set off South armed with the flag and some 90s dance music. More of that later.
Luckily, once we passed Knutsford, the weather brightened up although the wind continued to batter the car. The journey was a familiar one most of the way having been to Exeter last season. The first section, to Walsall goes quite quickly, then you turn onto the M5 to be told by the sat-nav that you remain on the motorway for 203 miles. You can soon get bored of looking at this…
We stopped at the Bridgewater services not too far from Taunton and it was like entering a parallel universe. First, we couldn't get along the road into the services because some chap in bright red pants was stood in the middle of it. When he saw us he looked genuinely amazed that there was a car on the road. It also had a 'picnic area' that I can't imagine anyone would ever want to use for a picnic.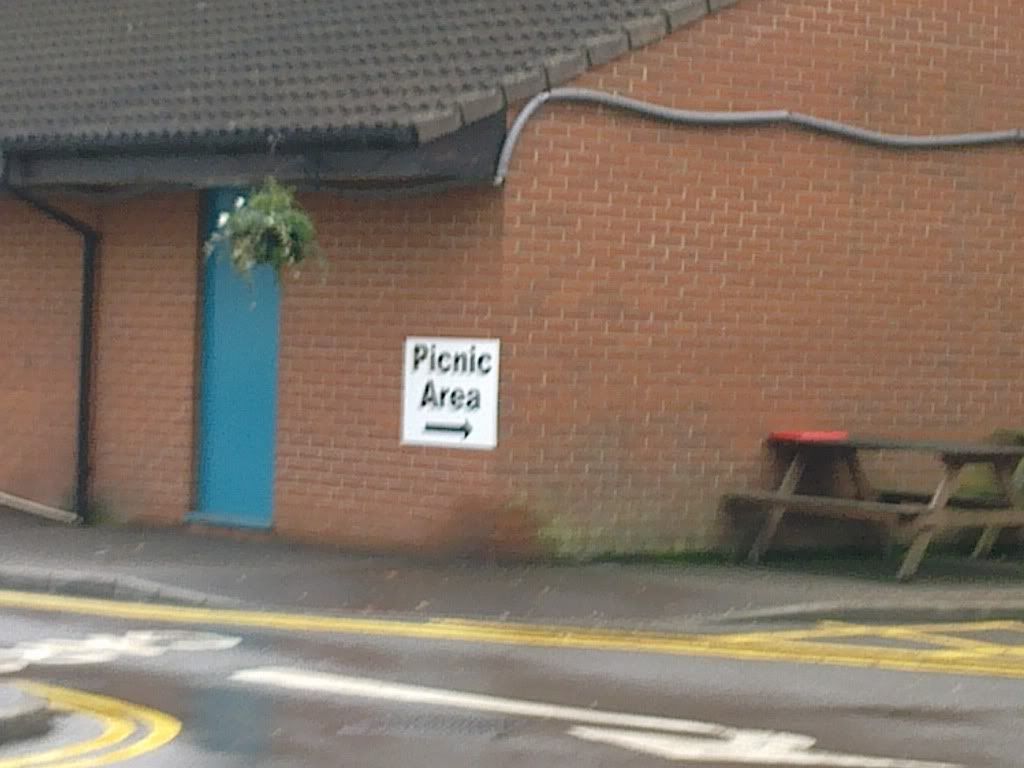 Inside, it got even worse. This is going to sound cruel but I can't think of any other way to put it. We probably saw about ten people in there, and not one of them looked 'normal'. Now, I have no doubt that they probably looked at us and thought the same but the amount of facial hair and some of the hats they were wearing were just not right. It didn't help when old red pants from outside followed me into the loos. I certainly didn't hang around very long.
You leave the service station through its multi-storey car park. I cannot imagine why the hell it would ever need a multi-storey car park. As we pulled back onto the roundabout that would take us back to the M5, the following sign possibly showed just what might attract the kind of numbers of people to need a multi-storey car park round there.
Once you reach the end of the motorway, you are faced with an A road that takes you round Dartmoor and into Plymouth. It is a good quality road but is constantly up and down hills the whole way there which isn't great with three of you in a little car.
As we needed to fill up with petrol, we pulled off at Buckfast, the home of Scotland's national drink. As everywhere in the country these days, we got fleeced for 30 litres of juice but as we were sat there I was struck by what I could see in the petrol station shop. It basically only sold one thing, booze. And shed loads of it. I can't imagine there were many brands of lager or spirit not available. Clearly drink driving's not an issue in that part of the world.
I should probably point out at this point that alcohol is a bit of a sore point at present. In a moment of madness two weeks ago, I decided that as part of my post Christmas and New Year diet/detox, I would have a month on the wagon and it's not been easy. It is difficult enough at home but when going out to the football, it is ten times worse.
Finding the ground was a doddle and very impressive it was too from the outside. It also has a giant free car park outside which is very helpful. I knew it was free because I had read Terry's guide to Plymouth before setting off. Coincidentally, the man himself pulled into the carpark right in front of us. As we got our stuff together, we watched him go and look for where to pay. I'm glad that he reads his own reports! Of course, he was just making sure that nothing had changed.
There was time to take a picture of the flag outside the ground before heading off to find a pub.
One thing you have to say for Terry is that he knows his pubs. It doesn't matter which ground you are at, Terry will be able to point you in the direction of a decent boozer and probably one that does real ale. Of course today, I was mainly looking for one that did Buxton water so that I didn't have to drink any of that French or Scottish rubbish! When he suggested a Weatherspoons, I was surprised but hail to the man with knowledge and we took the advice. What we didn't realise was just how far away this place was. Well over a mile through a lovely park
And then through a little village, and into another little village. I was really looking forward to this, it must be really special. This is where we ended up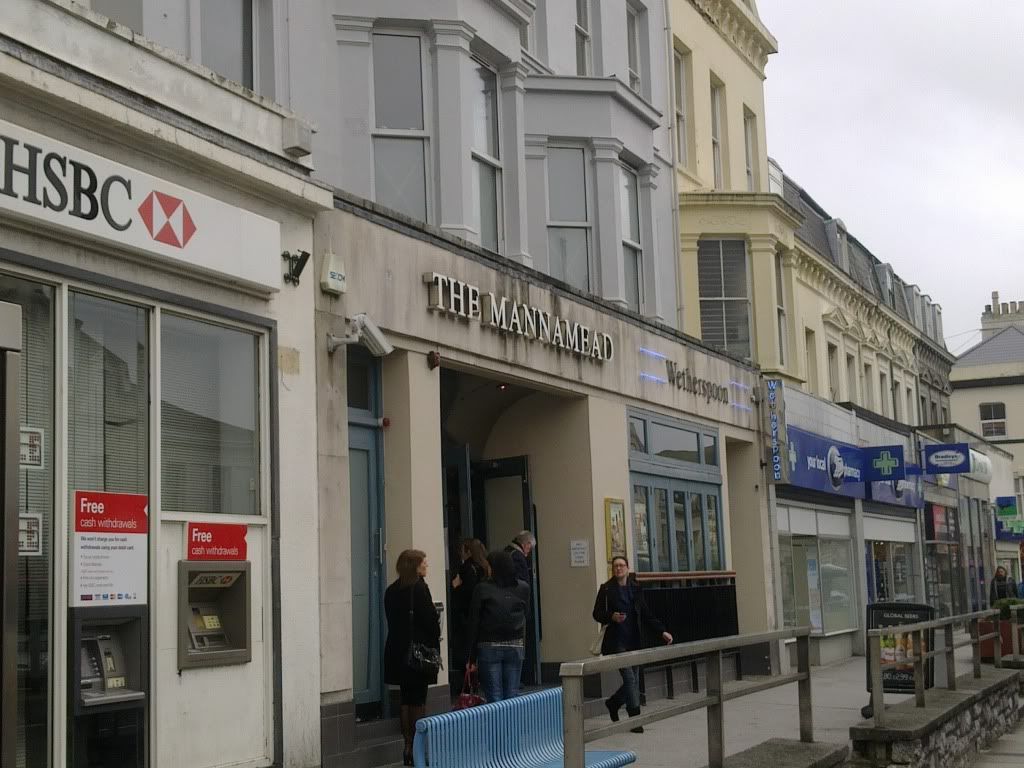 I'd given myself special dispensation for the day. Although I would keep off the booze, I was going to have one decent meal so I ordered the Surf and Turf to go with my bloody water. What a disappointment. I asked for the steak 'medium' which apparently meant burnt on the outside and raw on the inside. I can't believe that was my first real treat for a fortnight. Gutted.
We moved on to a better pub, CAMRA pub of the year no less where we were joined by a few more Latics fans. It was already apparent though that we were going to be few and far between. I had another H2O but it was not really doing it for me so come two o'clock I took myself away from temptation and headed back for the ground. En route, I found little more proof about just where it is that these Man Utd fans live.
Home Park is as impressive on the inside as it is on the out. Well, three quarters of it is. It is a lovely bowl, except one stand hasn't yet been built so it is more of a horseshoe. On the other side is an old stand that looks like it should be condemned (yes, I fully appreciate the irony that this is coming from an Oldham fan). The main thing that I noted was that the old stand is still hugely popular. Most stands were fairly empty but I would say that there were at least as many in there as in each part of the new ground. I suppose people still like history.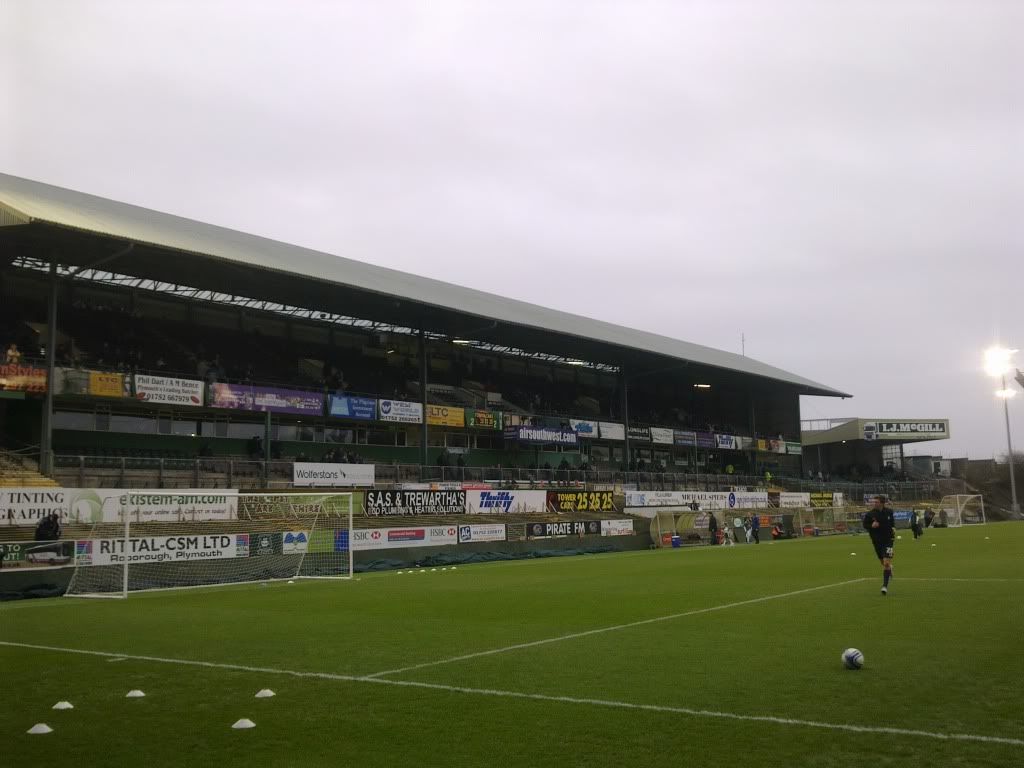 It was good to see Chris Taylor return to the wing and Warren Feeney start up front for the first time in a fair while. The away following of just under two hundred wasn't helped by the fact that the Rifle Range coach broke down somewhere near Worcester but actually created a decent atmosphere. This was particularly impressive considering how bitterly cold it was with the wind howling round the ground.
The first half wasn't great. Plymouth had the best chance with their pacy forward shooting wide when one on one with Amos but other than that there wasn't much action. Plymouth spent most of their time hoofing the ball up field with the hope that the pace up front could latch on to it but we defended it reasonably well. We didn't create too much ourselves but had a fair amount of possession.
At half time we disappeared downstairs to warm up after laughing at the Plymouth mascot who Mike christened Inbred Fred which was very fitting. After getting some feeling back into my fingers I headed back up and had a chat with Alan, the club photographer, on the way. "This has got nil-nil written all over it" he told me and it was difficult to argue.
From the moment the second half kicked off, we were like a different team. We were suddenly all over them and it didn't take long for us to make it count. Taylor managed to get to the by-line, beat his man and cut the ball back to Dale Stephens who blasted into the roof of the net. Half our fans were still down at the bar but the rest of us went mad. Could it actually be that the journey would be worth it? I don't know if Al was still thinking about his prediction of five minutes earlier, but as the players ran past him celebrating he spun round on his chair and came perilously close to flying off. He steadied himself at the last minute, thus robbing Soccer AM of a 3rd Eye moment.
The game continued in this vein and it was no real surprise when we doubled the lead with twenty minutes to go. Plymouth failed to clear a free kick and after the referee deemed that a shot hadn't crossed the line, the ball finally made its way to Tounkara who smashed it home.
Amazingly, a large number of Plymouth fans had clearly seen enough and headed for the exit in droves. As our fans started to chant "Is there a fire drill?" I was simply thinking that they mustn't have seen us play before if they thought it was over. In reality, though, it was over as we never looked in any danger other than a chance in injury time.
The players all came over to join in the celebrations at the end which is always good to see.
Obviously the fact that most of the home fans had left early had an adverse effect on how easy it would be to get off the car-park as we were expecting to be near the front but after a game like that, we really didn't care.
The return journey had been designated 90s club classics so we drove back with everything from Josh Wink to The Shamen pumping out of the speakers. If you happened to be on the M5 when you were overtaken by somebody belting out Boom Shake the Room by the Fresh Prince, I'm sorry that was me.
Other than that it was a fairly uneventful trip back if you ignore the fact that Mike pulled into the Lorry park instead of the car park at the services and then managed to nearly smash up the whole front end of the car trying to rectify the mistake. It was a very high curb and I reckon we got within a couple of inches of it before the breaks worked overtime. Oh, and there was a small incident when I visited the lav. I could have probably done with that chap in his red pants. I thought it was strange that there were no urinals but I'm amazed just how long it took me to work out it was in the ladies… and remember I'd not even had a drink.
---
Last Updated on Saturday, 11 June 2011 21:18