Photo Error

Season 9 - Germany

Season 9 - AFC Wimbledon

Season 9 - Oxford

Season 9 - Lincoln City
Written by Mark W
Sunday, 11 December 2016 17:50
Oxford United v Oldham Athletic – League One
Kassam Stadium, Oxford
Saturday 10th December 2016, 15:00 K.O.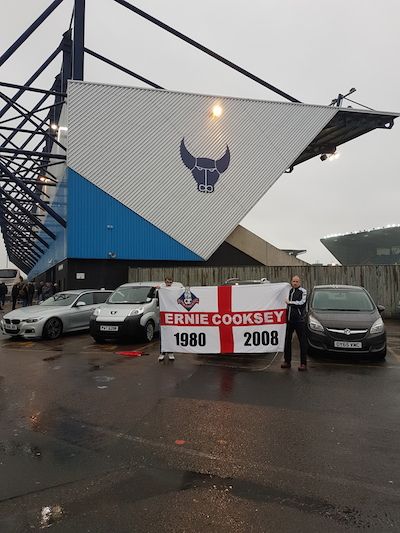 Coming just five days after the fiasco at Lincoln it would be difficult to argue with the claim that anyone thinking of making the three hour drive to Oxford to watch our bunch of misfits should probably have their bumps felt.
Add a comment
Last Updated on Sunday, 11 December 2016 23:07
Read more...
Written by Mark W
Friday, 18 July 2008 16:32
As well as Oldham Athletic games at Boundary Park and England matches at Wembley Stadium, the flag has toured England and Europe. Here is where we've been as part of the tour:
Add a comment
Last Updated on Saturday, 06 May 2017 16:32
Read more...
Written by Mark W
Thursday, 17 July 2008 21:13
The news of the death of Ernie Cooksey on 2nd July 2008 was hugely upsetting for a lot of people and a large number of Oldham Athletic fans in particular.

The passing of a former player is always a sad event but when that player was as popular as Ernie, it was always going to be hard for those who had watched him on a regular basis. What, of course made matters so much worse was the fact that Ernie lived to be just 28.

In the days following Ernie's death a group of Oldham fans decided that we wanted to do something to remember him by and the idea of a flag was conceived. Originally, that was it. A group of fans would have a flag made that could be taken to games to honour his memory but we also wanted to do something that may help in the fight against cancer.

We do not believe that we personally can do anything that can cure cancer and we are not saying that we want to specifically raise money. All we want to do is our own little bit to raise awaeness because we genuinely believe that every little helps in the fight against this terrible illness.

We decided, therefore that we wanted to try to use the flag in two ways. Firstly, we wanted to tell people about Ernie and why he meant so much to us and also to fans of the other clubs he played for. Secondly, we wanted to publicise the fight against malignant melanoma, the cancer that killed him.
In our first season, 2008/9, We took the flag to every game that Oldham Athletic played, starting with a  friendly match at Rhyl and ending with the final league game at Walsall. We also took it to the North West Masters tournament at the MEN Arena in Manchester where a team of former Oldham players competed and also every England game bar those which clashed with an Oldham match.
Since then we have tried to take the flag to as many games as possible and to date it has been to every ground that Oldham have visited over the last 8 years. The flag has also visited over 20 countries; as diverse as Kazakhstan, Brazil and San Marino where it has been displayed at England internationals. 

Not all 10 of us that funded the flag make it to every game but we do our best to ensure that the flag will make it to as many as possible.
Along the way, we take a photograph of the flag at each ground and publish a report of each away trip when we visit a ground we've not taken the flag to previously. Again, this was not always written by the same individual but hopefully it provides Oldham fans with a different perspective on these trips. It is also hoped that supporters of other clubs find these tales interesting. For supporters of Premier League clubs, they show why we follow our club and how our experience differs from their own. For supporters of clubs that we visit during the tour we hope that they will take an interest on our take on visiting their town and take the reports in the manner in which they are intended.

The plan is was never to produce a detailed match report, but to provide a record of our trip. This is be a personal experience and as different members of our group write, there should be a wide variety of views and opinions.
There have been a few hic-ups along the way with some reports lacking a little detail after more alcohol than planned was consumed on the day, and one occasion where the flag was stolen but the response that we've had from opposition fans and clubs has been amazing.

Thank you for taking a look at our site. Please take some time to read about Ernie and what he did for our football club and also to read about the fight against cancer. If you wish to donate to one of the charities we have provided links to, that would be fantastic but if not, please keep in touch and follow our tour.
Last Updated on Tuesday, 16 February 2016 12:38
« Start Prev 1

2

Next

End

»


Page 2 of 2