Season 10 - Blackburn

Photo Error

Season 9 - Germany

Season 9 - AFC Wimbledon

Season 9 - Oxford
Written by Mark W
Thursday, 02 March 2017 23:20
It is very rare that an issue at another club leads to me feeling strongly enough to write a blog. Today, however, I have been intrigued at strength of feeling on social media with Oxford United fans arguing amongst themselves. It has intrigued me because I understand it completely.
Last night Oxford won 3-2 at Luton in the final of the EFL Trophy to claim a spot in the final at Wembley at the start of April. Whilst a section of the Oxford fanbase looks forward to a 2nd trip to the national stadium in as many seasons, another sizable group of fans will continue their boycott of the tournament. Feelings are clearly strong with both factions trading insults throughout the day.
I have not attended one game in the tournament this season despite having previously been to most games in its predecessor over the last couple of decades. Indeed, I wrote a blog on the importance of the competition in 2011 here: http://www.ernieflag.co.uk/site/index.php/bloggs/14-oldham-athletic/127-jpt-a-golden-opportunity
I have never boycotted Oldham games before and not going to matches was not something that sat comfortably with me. Unfortunately, some things are more important and making a stand against the inclusion of B teams is one such issue to me. I genuinely believe that had fans simply accepted the inclusion of higher league U23 sides it would have only been a matter of time before the top Premier League clubs were allowed to enter a 2nd team into the Football League. This would be the death knell of football as we know it.
Clearly I am not alone as there has been the best supported cross-club boycott that I can remember in English football. Crowds have been over 50% down on JPT matches last season.
Ever since we kicked off the competition with a home defeat to Carlisle I had a real concern that we might make it to the final. I didn't want to have to make the difficult decision that the Oxford and Coventry fans are faced with now. I have to be honest and say that I wanted us to get knocked out as early as possible.
I did, however, go through the situation in my head and I can't 100% state what I would have done. I think I would have stuck to my principles and not attended the final but at the same time it would have been devastating to miss out on our first competitive final of any kind for 27 years. If I had attended I don't think I could have enjoyed it but if I'd stayed at home I would be missing out on a big part of the club's history.
This, in itself, is a reason why this tournament has been a disgrace this season. No fans should ever be put in this position. A trip to Wembley is something special so nobody should be put in a position where they have to even think about not going.
I hope the Oxford and Coventry fans make their own decisions and are not made to feel like they have let their club down whichever way they decide to turn. Above all, I hope that this ill-thought out experiment is abolished after just one season and that we can all get back to supporting our own clubs home and away in every game next year.
Add a comment
Last Updated on Friday, 03 March 2017 08:13
Written by Mark W
Sunday, 22 January 2017 22:57
On Tuesday 24 January, Oldham Athletic will throw open its doors to the public and allow entry to the game against Peterborough free of charge.
As there will be a number of people who will take advantage of this offer to make their first visit to Boundary Park or to return after a lengthy period of absence I thought it was worth providing a guide to the place.
Firstly, you will notice that I have just referred to the ground as Boundary Park. You might have read that it has been renamed Sports Direct Dot Com Park. Whilst we are very grateful to Mike Ashley for any cash he may be giving us, it's called Boundary Park. It has always been called Boundary Park and it always will be. It's a hell of a mouthful anyway, so just stick with the old school version and blend in.
I would never speak on behalf of anyone else without getting their express permission but as a season ticket holder, I would like to welcome you to Boundary Park and everyone I have spoken to is of the same view. There seems to be a handful of fans who have an issue with people getting in free when we have paid up front. These are few and far between. I want to see Boundary Park full with a great atmosphere. I am fed up with half empty stands. I want you to come, enjoy yourself and come back. If you can help cheer us on to a victory that would be even better.
If you used to come to games, you will remember the car park behind the Broadway stand. You will probably remember that you could drive up, hand over some cash and park on there. You can't any more. The car park will be half empty, it always is. If you want to hand over your hard earned money to take one of the empty spaces you will be turned away. Don't ask me why but I am sure there is some bizarre logic in there somewhere. There's plenty of free parking within a ten minute walk though, so don't worry about it.
Speaking of that side of the ground, there is a fancy new stand there now. It is supposed to have a supporters' bar in it, but it hasn't (though it is has been going to open soon for well over a year so that's something to look forward to). Despite this it is actually a good stand. There are bars below the stand itself and even TVs where you can check on other scores at half time. Viewing is good and despite the moanings of some, you don't tend to get wet, especially if you are near the back.
There's even a fancy bar-code entry system these days though I am guessing that with free entry, you won't get to experience this cutting edge technology.
You may have heard of the Athleticos who do a good job of trying to create a decent atmosphere. If you fancy getting involved, head for the large section of the Rochdale Road End (now the Jimmy Frizzell stand though you wouldn't know it). If you have got kids who would like to see Chaddy the Owl and partake in special activities like face painting, you should give the small section of the RRE a try. This is the family stand and you will find yourself with other likeminded parents.
For returning fans, I am afraid the Chaddy End is no longer an option. This is now the away end. It's a real shame as the heritage of the club has been diluted by that decision but it is what it is so you will need to try somewhere new. You'll be able to see how much noise the handful of Posh fans will be able to make with those famous acoustics.
I would ask that you try to show some understanding to those of us who go on a regular basis. As I have said, most will be delighted to have you there but we do have our quirks. If you invited me into your home you would probably be a bit miffed if I walked straight into your lounge and sat in your favourite armchair. Likewise, some of us have our favourite seats that we have reserved for the season. Unhelpfully, there aren't reserved stickers on season ticket seats so you might be asked to move. Many fans won't be precious over a particular seat but if someone is, just go with it.
As you will, no doubt have seen, we have John Sheridan back in charge. Shez did an amazing job of keeping us up last season and we are all hopeful he can do so again. There's been a bit of bad press about him over the last few days but as long as you don't dress like a referee it is unlikely that he will call you a **** and you could always take him some of your unwanted Christmas presents for him to pass on to his kids.
If you want to know who the star players are, it won't take me long. Connor Ripley is the keeper. He's on loan from Middleborough and he is fantastic. We've got one of the best defensive records in the league and that is largely down to him and our captain Peter Clarke. Clarke is also our top scorer despite being a centre half. Other than that, we have returning heroes in Anthony Gerrard (cousin of the one you have heard of) and Aaron Amadi-Holloway. They were both instrumental in our form in the 2nd half of last season and are back after 6 months away.
I had better address the elephant in the room. Whilst there is a new sense of optimism following the return of Shez, there is a chance (clearly an outside chance) that it might be a bit shit. If it is, please try to get behind the team. Remember that you have been given free tickets so try to give a bit back. Don't tell everyone around you how bad it is, we already know I promise.
It won't be though, it will be great. We are on a 1 game winning streak at home and the law of averages suggests that we are due to score a load of goals.
One last thing, some of you will support a different team, heaven forbid, you might even support one that has the word Manchester in it. That's fine (it's not, you should support your local team but I will ignore that) but please leave that at home for the evening. There is no reason to tell everyone around who you really support. You are there to support Oldham for the night. It will only lead to people thinking you are a bit of a cock and none of us want that.
Actually, it wasn't the last thing. There will be a minute's applause after 9 minutes for one of our fans, Dot, who passed away at the end of last week. If you could join in it would be much appreciated.
Enjoy the game folks and hopefully we look forward to welcoming you back on Saturday when we entertain Bradford and make it 3 home wins on the bounce.
Add a comment
Last Updated on Monday, 23 January 2017 18:07
Written by Mark W
Sunday, 11 December 2016 17:50
Oxford United v Oldham Athletic – League One
Kassam Stadium, Oxford
Saturday 10th December 2016, 15:00 K.O.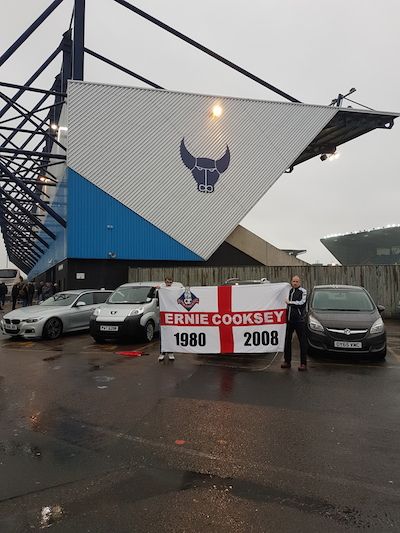 Coming just five days after the fiasco at Lincoln it would be difficult to argue with the claim that anyone thinking of making the three hour drive to Oxford to watch our bunch of misfits should probably have their bumps felt.
Add a comment
Last Updated on Sunday, 11 December 2016 23:07
Read more...
Written by Mark W
Friday, 18 July 2008 16:32
As well as Oldham Athletic games at Boundary Park and England matches at Wembley Stadium, the flag has toured England and Europe. Here is where we've been as part of the tour:
Add a comment
Last Updated on Saturday, 06 May 2017 16:32
Read more...
Written by Mark W
Thursday, 17 July 2008 21:13
The news of the death of Ernie Cooksey on 2nd July 2008 was hugely upsetting for a lot of people and a large number of Oldham Athletic fans in particular.

The passing of a former player is always a sad event but when that player was as popular as Ernie, it was always going to be hard for those who had watched him on a regular basis. What, of course made matters so much worse was the fact that Ernie lived to be just 28.

In the days following Ernie's death a group of Oldham fans decided that we wanted to do something to remember him by and the idea of a flag was conceived. Originally, that was it. A group of fans would have a flag made that could be taken to games to honour his memory but we also wanted to do something that may help in the fight against cancer.

We do not believe that we personally can do anything that can cure cancer and we are not saying that we want to specifically raise money. All we want to do is our own little bit to raise awaeness because we genuinely believe that every little helps in the fight against this terrible illness.

We decided, therefore that we wanted to try to use the flag in two ways. Firstly, we wanted to tell people about Ernie and why he meant so much to us and also to fans of the other clubs he played for. Secondly, we wanted to publicise the fight against malignant melanoma, the cancer that killed him.
In our first season, 2008/9, We took the flag to every game that Oldham Athletic played, starting with a  friendly match at Rhyl and ending with the final league game at Walsall. We also took it to the North West Masters tournament at the MEN Arena in Manchester where a team of former Oldham players competed and also every England game bar those which clashed with an Oldham match.
Since then we have tried to take the flag to as many games as possible and to date it has been to every ground that Oldham have visited over the last 8 years. The flag has also visited over 20 countries; as diverse as Kazakhstan, Brazil and San Marino where it has been displayed at England internationals. 

Not all 10 of us that funded the flag make it to every game but we do our best to ensure that the flag will make it to as many as possible.
Along the way, we take a photograph of the flag at each ground and publish a report of each away trip when we visit a ground we've not taken the flag to previously. Again, this was not always written by the same individual but hopefully it provides Oldham fans with a different perspective on these trips. It is also hoped that supporters of other clubs find these tales interesting. For supporters of Premier League clubs, they show why we follow our club and how our experience differs from their own. For supporters of clubs that we visit during the tour we hope that they will take an interest on our take on visiting their town and take the reports in the manner in which they are intended.

The plan is was never to produce a detailed match report, but to provide a record of our trip. This is be a personal experience and as different members of our group write, there should be a wide variety of views and opinions.
There have been a few hic-ups along the way with some reports lacking a little detail after more alcohol than planned was consumed on the day, and one occasion where the flag was stolen but the response that we've had from opposition fans and clubs has been amazing.

Thank you for taking a look at our site. Please take some time to read about Ernie and what he did for our football club and also to read about the fight against cancer. If you wish to donate to one of the charities we have provided links to, that would be fantastic but if not, please keep in touch and follow our tour.
Last Updated on Tuesday, 16 February 2016 12:38
« Start Prev 1

2

Next

End

»


Page 2 of 2